When you start drawing, your are often more focused on making a beautiful picture than getting a great idea. There is nothing much wrong about it as an artist. But let's look at a Designer's daily life.
A designer has to allocate most of his time into idea exploration. A client is not looking for a beautiful drawing. He will pay for a beautiful and innovative IDEA.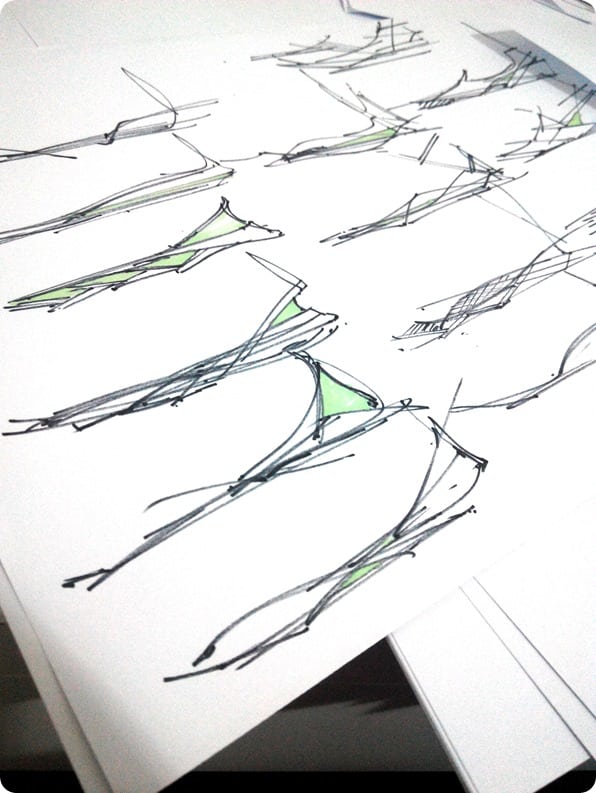 CHOU TAC CHUNG – RESEARCH ON OUTSOLE SHAPE AND CUSHIONING
Imagine that scenario.
You start a new day at a a new project. You sit on your desk, you are in a great mood and your first idea looks awesome. So you spend some time on it to develop it. Actually the whole day or maybe even a week. Sometime, you doubt of your idea. But you have already put in it so much effort that you think it deserves to be carried on. So you end with a beautiful picture !
The day your client comes excited to see your work, it happens that the client just don't like it. According to them that idea is not suitable for X reason. You wasted your time, and you have no Plan B. You did your best, but it didn't end how you imagined.
Start a project dropping multiple ideas on paper with thumbnails. You will save a lot of time. Your mind will explore multiple directions. Allocate yourself, half a day, one day, more. It's up to your dead line. Explore varieties of directions. Some will be more risky than others. Better you know your client better you know which direction you should push more. Make a selection of risky and basic proposals. Develop the selected miniatures into drawings than non designer will understand. They will be glad to listen to your recommendation and choose with you the direction to go. They may even merge your proposals into one ! When the winner proposal is decided, then spend more time on a beautiful drawing.
Create a project hand on hand with your client. That way, you will work much more relax and confident.
If you have any comments, feel free to share !
See you tomorrow for the next TIP OF THE DAY !