If you're a product designer,
you know how important sketching is for your creative process without rubber.
Sketching helps you:
visualize your ideas,
communicate them to others,
and refine them before moving on to prototyping.
In other words, the choice of your pen is about choosing your best partner.
Sketching is not just about the tools, it's also about your creative skills.
You need pens that are comfortable, reliable, and versatile to bring your sketches to life.
That's why I've compiled a list of the top 7 sketching pens of the year,
based on my personal experience and feedback from other designers.
These pens will make your sketching more enjoyable and effective, whether you're a beginner or a pro.
Read on to find out which ones made the cut and why!
---
Ballpoint pen and Gel pen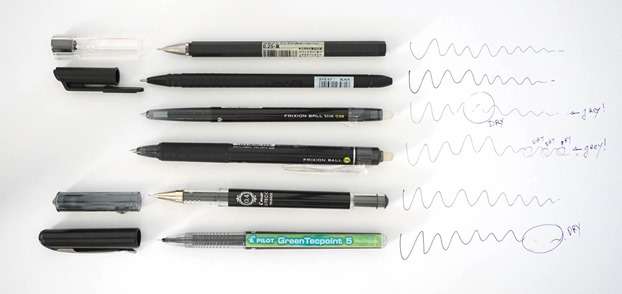 MUJI 0.25:
One of the thinnest pens I ever tried. Great flow.
Zeebra Z-1 S 0.7:
The black ink is deep.
Pilot Frixion Ball 0.25:
Erasable ink. Awful to draw with. Doesn't slide well on paper. The ink is grey. I use it for some detailing only.
Pilot Frixion Ball 0.5:
So promising, but disappointing for sketching (great for writing). The pen pressure is awful. The ink is grey.
Pilot G-Tec-C 0.4:
Awesome! The perfect size of pen and tip. Nice flow of ink. The black is deep.
Pilot Green Techpoint 5:
I didn't feel comfortable with that pen. I couldn't draw with it with a light hand.
If you want to know some tricks about the ballpoint pen,
you may have a look at the Tips you should know about ballpoint Pen.
---
Markers and Felt pen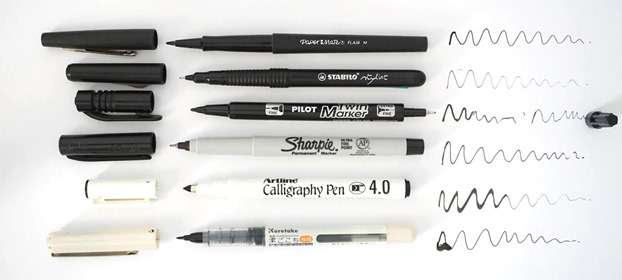 From top to bottom:
Papermate FLAIR M:
The classic pen that competes with Pentel
Stabilo Stylist:
Great with color markers (popular among Product designers). Note that the tip is fragile and tends to reduce quite fast.
Pilot Twin marker:
I mostly use the thin tip. Good quality, but the ink reserve doesn't last very long.
Sharpie Permanent Marker Ultra-thin point:
The size of the tip is in between both tips of the Pilot twin marker. Just nice.
Artline Calligraphy pen:
I bought this pen for playing with the line weight. I prefer using a brush.
Kuretake:
The tip reacts like a brush. It bends slightly with pressure. Love it! However, it dries very slowly, and I tend to make a lot of stains on my palm hand. (bought at Tokyu Hands).
---
My whole collection of pens!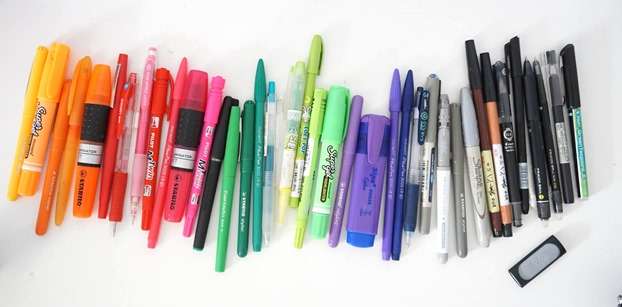 Just a picture of my pen collection.
Honestly, I don't even use a quarter of it. Most are considered as "toys".
I mean I rarely use them except for experimentation of fun doodling sessions.
I often get bored with them and reuse them days or months later.
However, testing new pens constantly is how I discovered amazing ones!
---
Top 7 pens of the year: WINNERS!!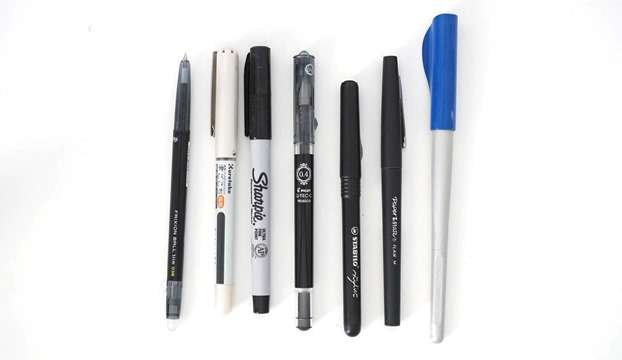 1- The Frixion Ball Slim 0.38:
I use it for details sometimes as the nib is so thin!
2- Kuretake, from Fudegokochi:
Love it !! This brand is not easy to find I guess.
Wonder if the pilot pr other established brand do something similar.
3- Sharpie Permanent marker Ultra fine point:
Nice flow, good pen pressure sensitivity
4- Pilot G-Tec-C, Maica 0.4:
Nice and constant flow, good pressure sensitivity for a gel pen. I love the tip size slightly thinner than the standard 0.5.
5- Stabilo Stylist:
A classic with thin felt pen. Great for drawing on layout paper. It doesn't bleed when you use markers (Pantone, Touchliit, Promarker…) with it.
6- Papermate FLAIR M:
This felt pen is more reliable than markers. The medium-sized tip is very smooth.
7- Pilot Parallel Pen (Bought at Tokyu Hands):
Prize of the weirdo pen! 🙂
That's my Discovery of the year!
---
Conclusion:
I love to try drawing new things and new styles with pens. It's so much fun!
However, in the end, I stick to the basics using pens such as:
Paper Mate Flair M,
Pilot Twin markers,
Stabilo stylist,
Sharpie
and any ballpoint pen to draw.
Only the Kuretake is an option I may use in the long term.
If you're new to this, it's fun to experiment with different pens.
It can help you feel more excited and inspired.

But don't get obsessed with finding the perfect pen.
That's not what matters.
Focus on your skills and your goals instead.
That will make you a better writer.
Got it?
As soon as you find a nice pen, stick to it.
Once again,
I recommend the basic ballpoint pen such as the BIC Cristal, or Papermate.
Then, you could even buy a pack of them on Amazon!
Meanwhile, let me give you some drawing tips with a ballpoint pen.
---
PS: Click here for a complete list of art materials you need