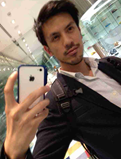 As a kid I was inspired by the world of animated cartoons. Then I grew up, and turned, naturally, to studying the classics. I decided I wanted to focus on marketing and multimedia. However, while sales, marketing, and analysis are all useful skills, they all serve to sell another person's product.
I realized that I didn't want to sell a finished product; I wanted to create my own instead. It was then that I decided to learn about design.

Whether in the context of studies, an internship, or a career, your best drawings can be a precious password; a sort of "open sesame" that unlocks foreign cultures and opens your life to positive experiences. In my case this happened when I decided to travel.
"Open your life to positive experiences"
While in my 4th year at Créapôle a Parisian product design school, I discovered the school's foreign exchange program. From there I departed for Hollywood, where I swapped my summer vacation for a renowned fashion school: the Fashion Institute of Design and Management, or FIDM, in Los Angeles. After that, I travelled to Japan for an internship with Daihatsu (Toyota group), where I dreamed up the cars of tomorrow. Next was Germany, where I entered the world of sneakers while working in the design department of Adidas.
"Do what is important to you."
I've been lucky, but I've also done everything possible to create the favorable conditions that allowed for these privileged experiences. For instance, while simultaneously completing my studies (and the tons of coursework they required), I trained myself in the intricacies of shoe design in order to prepare a substantial personal portfolio. At that point I travelled to Singapore and China, joining Charles & Keith* here I work on the designs of shoes worn by thousands of women across the globe.
* Partly owned by French luxury Louis Vuitton Moet Hennessy (LVMH)
It is while sitting in some café, scribbling in a sketchbook or on the back of a receipt that my best ideas begin. What these ideas have in common is their start in this sort of sudden improvisation.
"Together we can make progress and take steps forward."
Today I am thirty-three, and I've been travelling for nearly the last seven years with my portfolio under my arm like a second passport. If the artistic methods I've acquired aid me in my life and in my career, I believe that they can also help you to learn, and help you with your projects. Whether art is a job or a hobby it doesn't matter, so long as you do what is important to you.
The internet is an ideal platform for both you and me, where together we can make progress and take steps forward. If you have any question to ask me, feel free to tell me in the comments. 🙂