Wonder how is it to be a successful product designer?
This morning, let's Draw the Future with Michael DiTullo! We share an exclusive designer interview!
---
"There is someone behind every object you see around you!" 🙂
Today I have a special designer guest that matters to me: Michael Di Tullo himself
The first time I heard about Michael was when I was a student.
While he was sketching the next Michael Jordan sneaker for Nike,
I was at my design school trying to draw shoes for my portfolio.
He's one of the names that resonate in my mind to inspire me.
And I wish his great smile and humility will help you believe in your dream.
If you aspire to become a designer, Michael DiTullo's career is a beautiful lesson of persistence
(My voice is pretty low, please level up the volume a bit)
---
The Designer Coffee Chat #2 with Dwayne Vance. Toy designer for Hot Wheels!
https://www.thedesignsketchbook.com/what-it-takes-to-become-a-designer-the-designer-coffee-chat-2-with-dwayne-vance/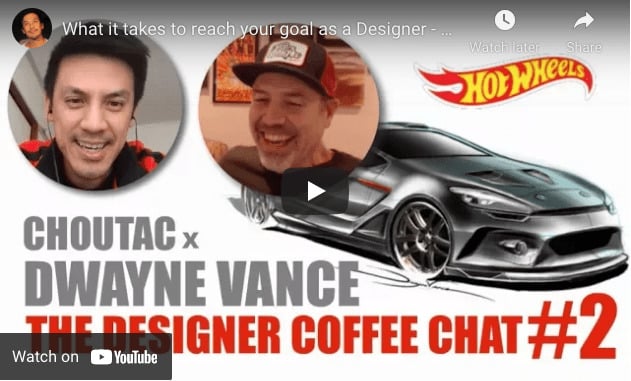 ---
(Start);
(0:02) Chou-Tac: Hey Michael, thank you for accepting the invitation to share your experience and inspire so many aspiring designers. The first question I would like to ask you is; How did you started at Product Design, and how do you become who you are today?
(0:21) Michael DiTullo: That's a great question. Every designer has a good unique origin story right? None of our parents wanted us to become designers most likely. We had to find design in our own way, and for me I always enjoying drawing things. I would always be as a child, trying to imagine what things in the future would be like. And so I would at home trying to draw the future of the next Walkman or the next Air Jordan. When my parents asked me; "what you want to do when you grow up"? I said; I want to draw stuff from the future, and now it's my first child life expression to explain who I wanted to be when I grow up, and it's still a pretty good explanation as who I am.
After grade school and high-school in the U.S., I went to Rhode Island school of design, and I also studied at Domus Academy in Milan in Italy as well as the Cleveland Institute of Art. I had some opportunities to do great projects with different companies. So I did some projects for Nike, Nissan, Chrysler. I started to expose myself in different types of design in different companies.
When I graduated, I didn't want to specialize in any kind of design. So I went to a consulting firm called EVO in the east coast of United States. Not too far from New-York city. And I thought it would be just a great way to start my career as a designer just by getting exposed to everything. While I was there, I did work for companies like Hasbro, Bose, Nike… in almost every category. Consumer electronics, footwear, bags, watch, I did maybe 20 watches for Timex, a bunch of work for Samsonite. And it was just a great way to immerse myself in being a professional designer, as like we say here "cutting your teeth".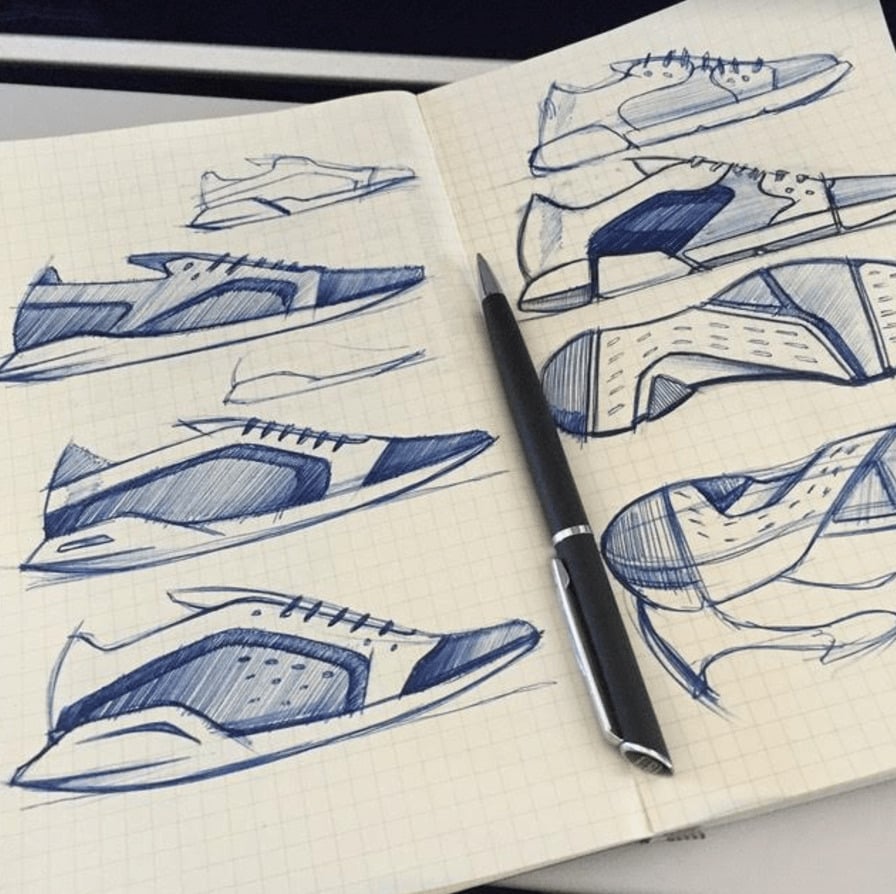 (2:25) Chou-Tac: Was it like a playground for you?
(2:28) Michael DiTullo: Yeah! For me. I was literally sketching for 10 hours a day for all different clients. It was great to learn the different ways you have to learn design in total different kind of categories and working with different companies. I felt I achieved the dream to draw the things from the future.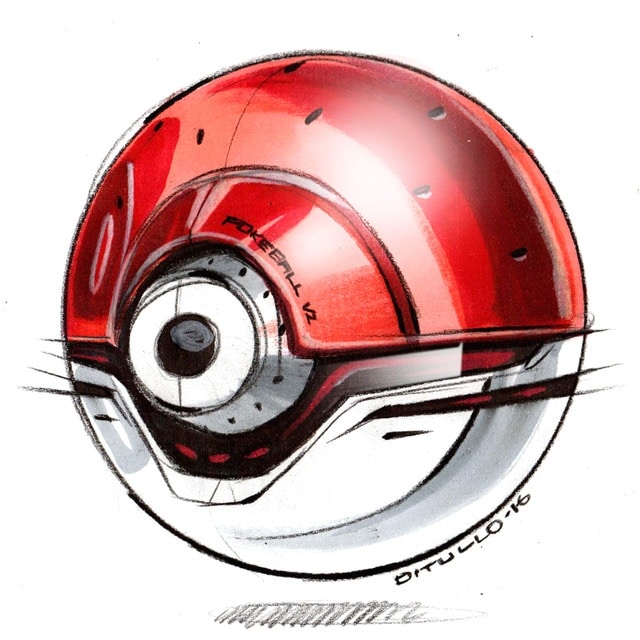 (2:55) Chou-Tac: You did your best already when you was student to exposed yourself and just after being graduated purposely chosen something with a wide variety of projects.
(3:05) Michael DiTullo: Yes.
(3:08) Chou-Tac: Would you say that even though all your projects come from different brands have similar way of processing, of thinking when you was creating?

(3:19) Michael DiTullo: What we were doing was most of the time advanced design group like the work we did with Nike. It had a lot to do with the Innovation Kitchen. IT was like the project design for Nike Free or projects like that.
(3:40) Chou-Tac: The Innovation kitchen at Nike is a laboratory is it? Was it the place where you was trying to find new things without having a specific brief?
(4:07) Michael DiTullo: Right. When I was at EVO, a lot of kind of these groups would hire us because they would be looking for fresh ideas. And there would be brief, but they would be a little bit different, more opened at that time anyway. And sometimes it would be production work but, the reason why a company would come to us while I was there was to get a totally different view on things, a new take, a new approach.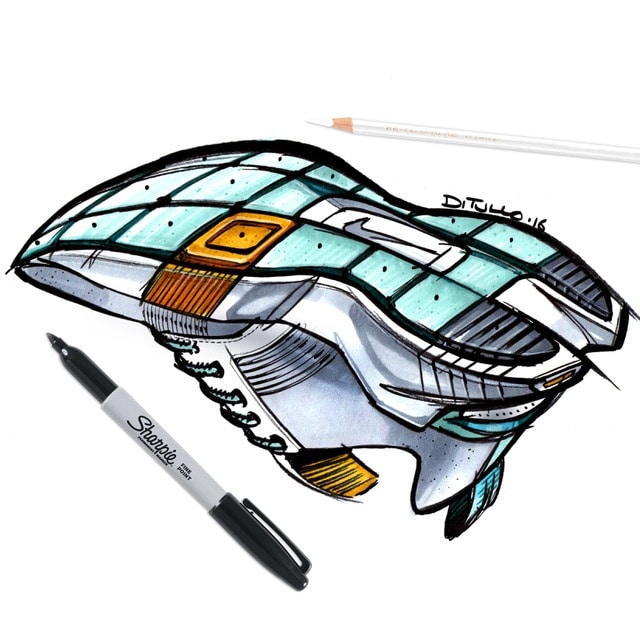 (4:39) Chou-Tac: So it's like, you had your freshness being younger, and also your personality being so curious about so many things.
Would you mean that Nike was interested in your profile because you were not only fan of footwear?
(4:58) Michael DiTullo: I think so. I worked for EVO for four and a half years, and I wanted to go to the corporate side. I was curious. We were at the front of the process, and I was curious about all the other steps that would bring something to production. When Nike gave me the opportunity to work right there, I jumped on the chance. For me it was interesting to work for one of the best brands in the world in footwear, which I am passionate about. And for them they were getting someone with a lot of outside experience, and not just a footwear guy. So I think it was a good match. I thought I would be there for a couple of years, and it ended up 8 years.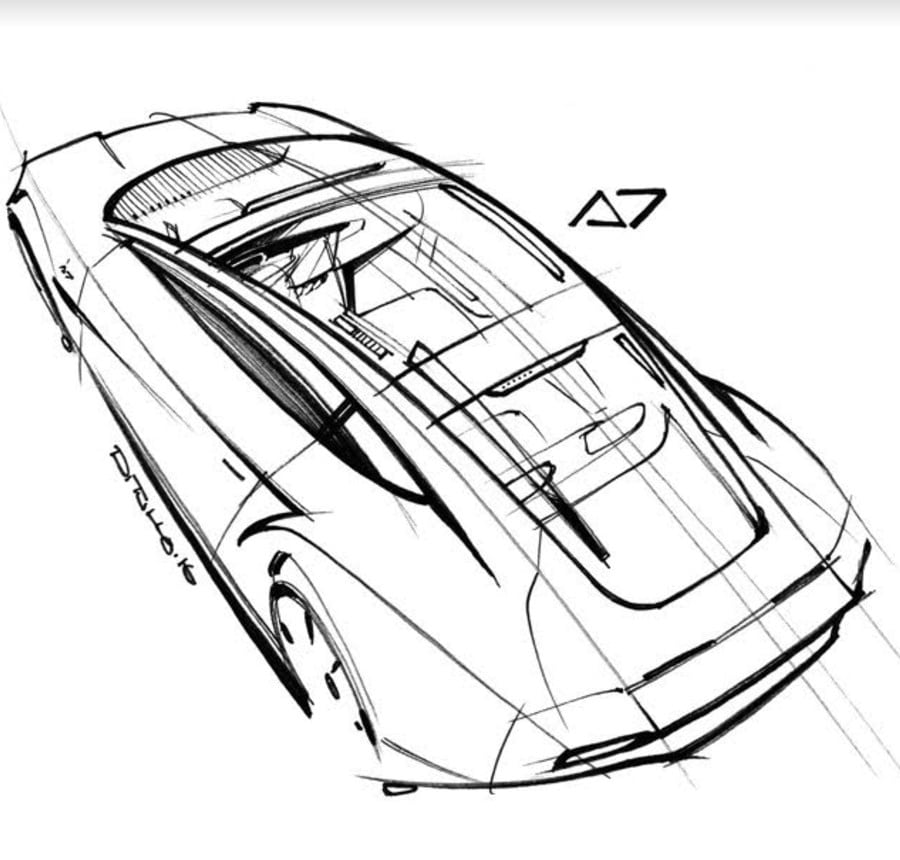 (5:45) Chou-Tac: 8 years! Wow!
(5:49) Michael DiTullo: At first I started with Nike sportswear, and then Jordan. And then when Nike bought Converse, they asked the small group of us to go to Converse in leadership position so that was my first time managing people as a Design Director for Converse.
(6:05) Chou-Tac: Congrats! Your evolution has been quite fast, no?
(6:14) Michael DiTullo: Mhm Yeah I've been graduated from College about 20 years ago.
(6:18) Chou-Tac: Ha ok ! Because you look so young in my mind.
(6:26) Michael DiTullo:
I have been doing this for a little while. So I think that was in the early 2000's I think. I went to Nike in 2003, and then to Jordan in 2005, and went to Converse in 2008 I think. And then I left Nike in 2010. I was not really looking to leave Nike. I loved it there. I still love the company, the brand and still have some of my closest friends to work there.
But I got a call from Frog design, one of the largest design firms in the world. I was a Creative director for their San Francisco studio. And so I just thought after 8 years at Nike it would be an interesting change to go back more to my beginning to consultancy.
When I worked in Frog, I worked with Intel, Google, Honda, a bunch of tech companies. So from footwear all the way to bleeding edge technology. Designed a bunch of smartphone when I was there, hardware for Google. It was just great to make things very fresh again.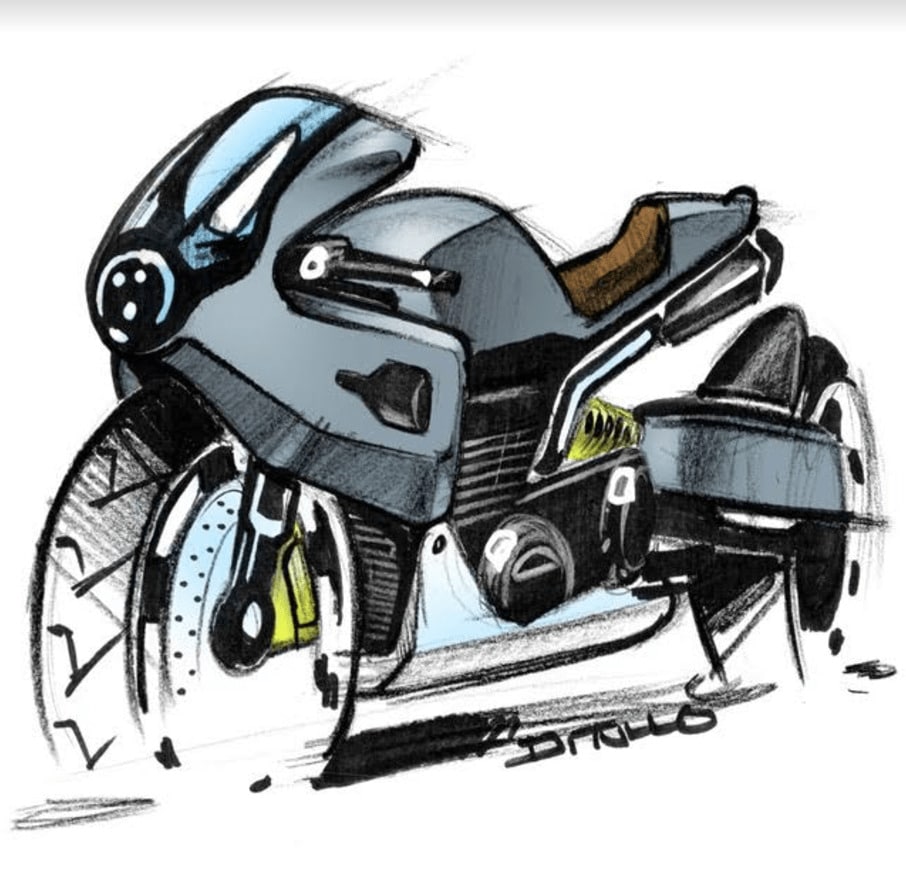 (7:45) Chou-Tac: You have been carry on challenging yourself with many more variety of projects. Do you think this how you get the most of fun, like on Monday you have a project about computer, then the week after about something totally different like about glasses?
(8:08) Michael DiTullo:
Yeah, it definitely suit my personality. And after a couple of years working at Frog, one of our big clients was a company I work for now, Sound United; Sound United owns many brands so, but they didn't have any design in house. So basically I got to set up a design consultancy that only work for our brands inside the company. The brands we own are Denon, Heos, Polk Audio, Definitive Technology, Boston and Polk Boom. Basically I recreated Frog inside of our company that just work in our brands. It has been a lot of fun as I got to work with different companies and brands, but I get to work for 1 company.
But to keep myself fresh, I do a lot of automotive work for this company called Icon 4×4. It's really high end custom vehicles.
And then everyone once in a while one of my friends from the footwear/shoe industry would call me up and want to do a project, and that's always fun to do. I still love footwear.
(9:22) Chou-Tac: You have created quite a big network around you. So many interesting people you've met along your career.
(9:32) Michael DiTullo: Yeah, I think for me I just want to do work with people I have fun with. If somebody wants to do a conservative project, I am not usually the best person to talk to. But if somebody wants to do something that push the boundaries, I want to play in that sand box.
I remember once, I was talking to a company that does faucets and bathroom fixtures. And they asked me like "what if we wanted you to make us a faucet that looks like it was from the 1800's". I said well, I could do that but we would probably end up hating each other by the end. I could recommend you people who would be better at that.  But if you want to like, design the future of what a faucet would look like and how it could fit into a home of the future, I want to do that project.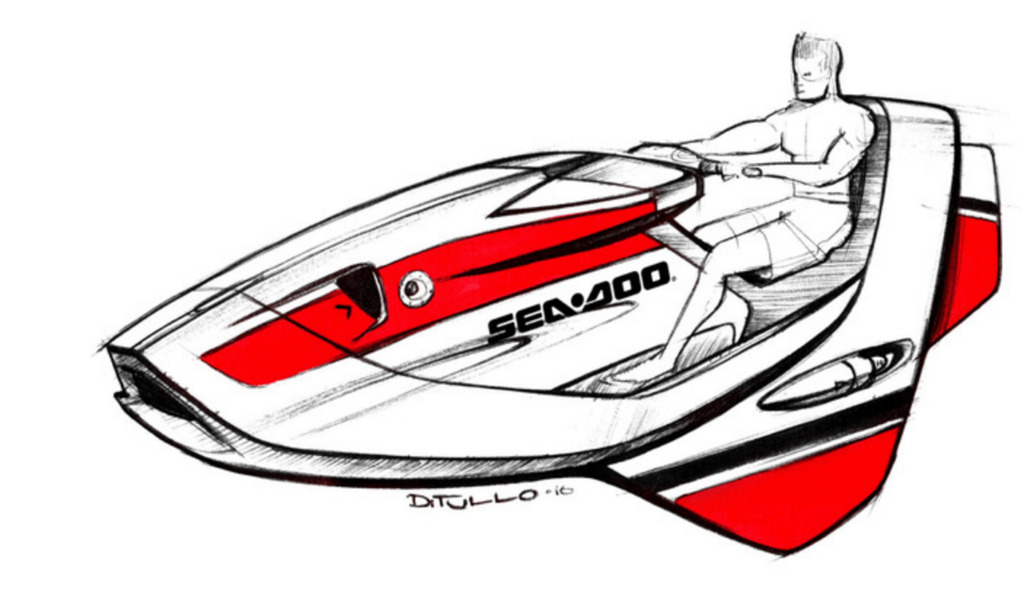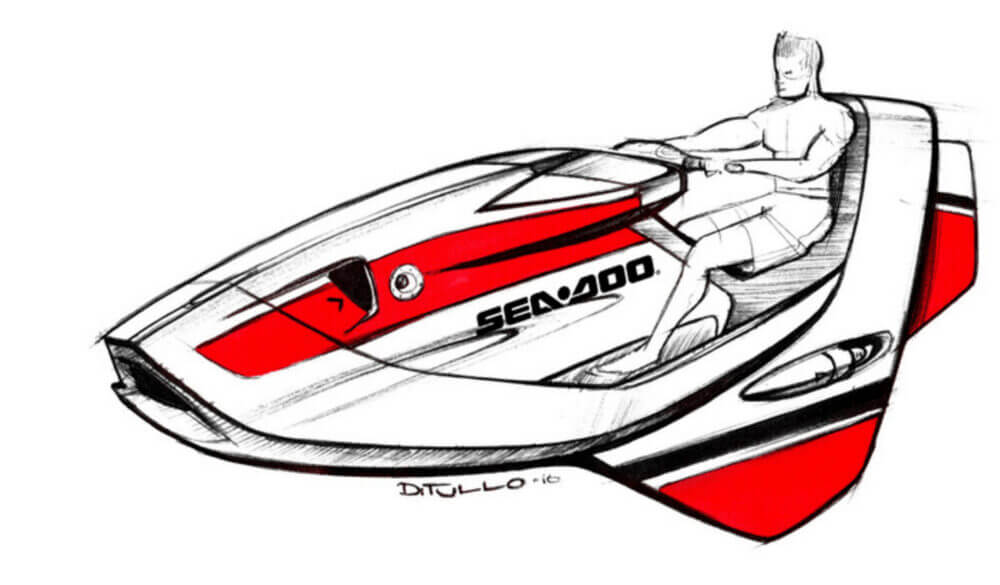 (10:28) Chou-Tac: Oh I see. You really fit your own personality to the project to make sure you can give your best into that project.
(10:37) Michael DiTullo:
Yeah, I don't want to do disservice to people I work with. It does mean no good to do a project that I am not suited for, and it just hurts my reputation, because our reputation is everything, so picking the right projects and the right companies to work for is so important.
(10:59) Chou-Tac: Does it mean like…now you have more experience, you know yourself well because I believe that when you are just fresh graduated, you see this covering yourself, but now you, from the front end, you can already tell your customers, what we can expect from you.
(11:20) Michael DiTullo: Yeah, I think for me I love learning about new technologies, new brands, I'm very comfortable changing style to fit into a different brand, but, my outlook is always very progressive. I want to do things that look forward and have an impact on the industry. It's not just another headphone or another sneaker or another what have you. It's defining the category. One of my favourite things that… (audio cuts out/incomprehensible).
(12:00) Chou-Tac: Um, I cannot hear you…
(12:06) Michael DiTullo: Oh. I want to create industry leading products. So, a product that all the competitors will looks at and say "I wish we did that".
(12:15) Chou-Tac: (Laughs). I see, so you want to make the reference, create a new reference.
(12:22) Michael DiTullo: Yes exactly.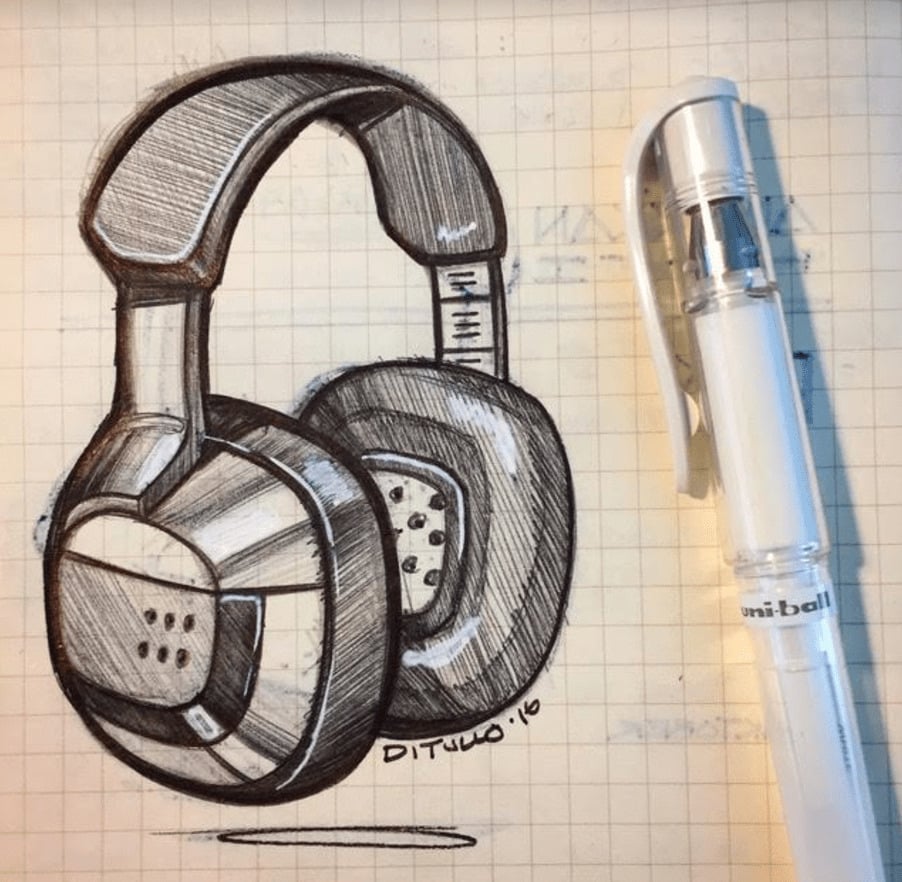 (12:24) Chou-Tac: But how, do you think you can give us some hint on how to do that, do you have some, because I believe it is not only by luck, it's not something, you have to make it happen, it might have some criterion to get closer to that goal, do you think you can tell us more about this?
(12:40) Michael DiTullo: Yeah, so…I think there's several things that I like to do in my process. One is to try to be as naïve as possible. To look at the end users, to take things from different industries to see if they work and apply them, and to try to develop a really pure core idea. That part I find is actually the easy part. Like, coming up with the idea is easy. Protecting the idea, is the hard part. So, how do you…Because there will be so many people in the process, we want to change it because it'll be cheaper, it'll be faster, or people will be scared and they'll want to make it more traditional, and…It's how I can inspire people to have confidence in the idea, and to get excited about it, I try to get people excited about the purity of the idea, to get other people interested in protecting it. Because I find that there's a lot of great designers in the world. There are a lot of great designers who are better than me. But I think what I have is, I'm very persistent, and I won't let it go, and I won't compromise and I'd rather be fired from my job than make something that I think is bad. It's hard because it sometimes, there's a lot of sleepless nights, and it's uncomfortable but I feel like it's better to have an uncomfortable conversations, than to have something on my wall that I think is bad.
(12:40) Chou-Tac: That is going to make uncomfortable, behind…
(14:25) Michael DiTullo: Right, it's got to go on the wall, so it's got to be good.
(14:30) Chou-Tac: So you were saying that, ok, most of the time designers see this position as something very visual, so it's very catchy, but you have just put inside this conversation, new criteria, which is persistence,  and can you share with us the few critera that make a good designer?
(14:48) Michael DiTullo: So there's two categories of characteristics. The first category is skills, right. So, you need to be able to creatively think. You need to be able to visualise through sketching, you need to be able to document your design for production. Those are all pretty easy to learn, and those are what we call "hard skills" right, you can judge how good a sketch is pretty easily, is it a good sketch, or is it a bad sketch? Then the second category I call it "soft skills", and those skills are things we said like "persistence". You have to have the ability to, ride through, to see through an idea. Another quality I think is "dissatisfaction", so the ability to see something, like this (holds up mouse), and be like "I'm not satisfied with this I can make it better" and then to see your own sketch, and your own concept and say "I can do better than that", and sort of beat yourself up to make the best thing that you can make. Then I think the third soft skill that I think is really necessary, is the ability to make relationships. So much of business is having to trust somebody, so you need to be able to get your ideas through by building up trust, with engineers, with marketing people, with business people so that they will trust you, even though they might be scared of your idea. They might be like "well he's been right before and he treats me like a professional and I'm going to try, because that's what we're paying him for", and so I think those 3 things allowed me to work for all of these big global companies and to have a portfolio that…I mean every single project in my portfolio, I would re-do it if I could. But I think I'm reasonably proud of it. So…
(17:09) Chou-Tac: And, 1 question because your position as evolution along the years in your career, how about the, because I know you love sketching, and when you took the position more into leadership, did you sketch lesser?
(17:28) Michael DiTullo: You know what, so, so, that's a good question, and I think, as a leader, I like to work with the team, and we do sketch sessions together, and I sketch with the team, we all sit around a big table and we put up ideas and we critique each other and that's kind of the design process that I can still participate in, right? I'm not doing CAD, I'm not doing many documentation drawings, or CMF documents, but I can get in with the team and sketch out some ideas, and overlay some of their ideas, they can overlay some of mine and I think that's where like in the design process where I can add the most value for my team, is to kind of like, to put some sketches up on the wall that are a little bit crazier than what they were thinking, to show them that "no we can go farther". Then, I think, like you said sketching it's very fun, it's very visible, I try to post a sketch every day on Instagram. I think it's just, that I feel like, I tell this to my team all the time "the person who puts down the first sketch wins". And why I say that is because a sketch is a conversation right? I draw something from my mind, and then, I put it on the page, I show you the page, you see something different, and then we have a conversation back and forth, and so if you do the first sketch, you dominate the conversation right? Now we're talking about your idea because you're the one that put it down on the sketch. So I will try to jump into the project as fast as possible in a way that will make sure that design leads the charge on the project. Otherwise, if you wait too long, other people will start influencing the parameters before, and it will start closing in the solution right? So "Engineering" will start to say "well we want it this big" or "we want it made with these materials", and Marketing will say "it needs to have these features". But if you can get out ahead of that, with a sketch that inspires people, all of these go, now the conversations on your sketch. Not on the features, or the bomb costs.
(19:48) Chou-Tac: Oh ok. I understand. I'd say the big mistake which we tend to do when we are student designers, is that when you sketch, it's more like a performance.
(20:00) Michael DiTullo: Yeah.
(20:01) Chou-Tac: Like, you are very happy, you have done so many sketches that you're so proud of it, but you're just by default rejecting all critics all around.
(20:12) Michael DiTullo: Sure.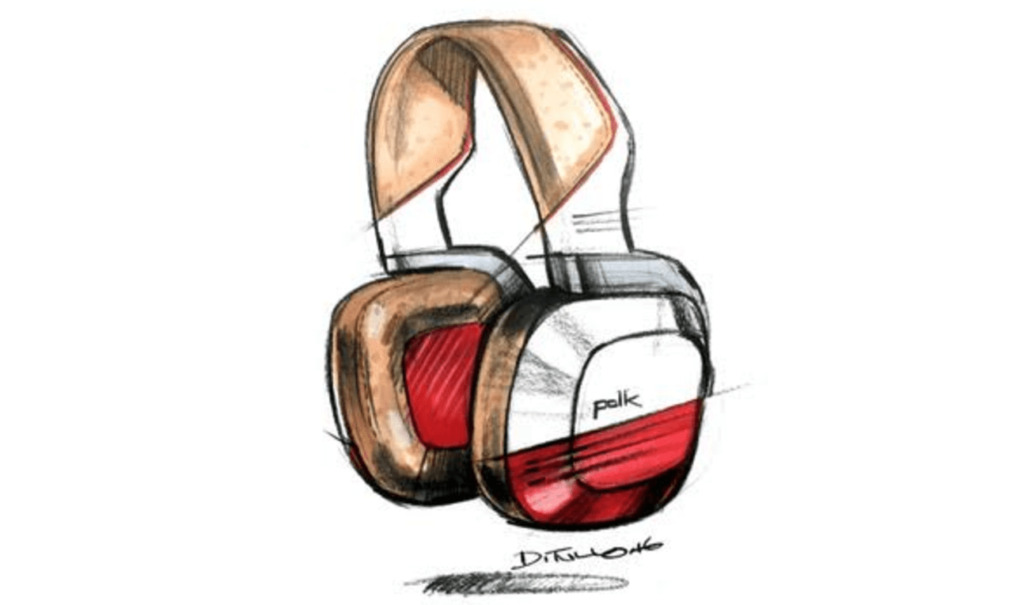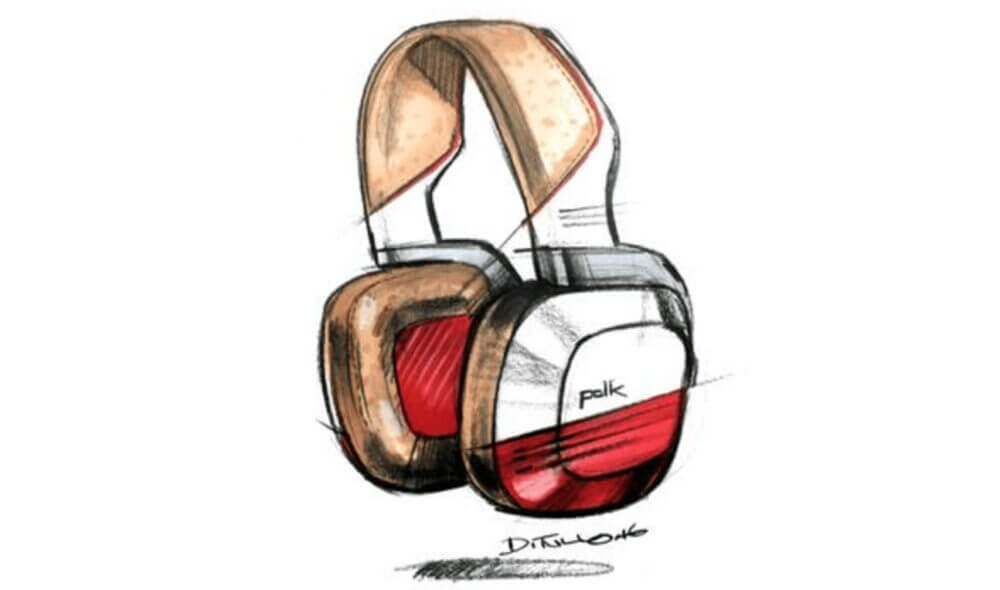 (20:13) Chou-Tac: And I believe that, how do you manage this from start? How do you put your pride, put it behind, and just accept that other people can just go ahead, go adding more ideas on top of yours, modify it and all that?
(20:27) Michael DiTullo: Sure. I think, I see a sketch as not a precious thing. It's like you do a sketch, you move on, and even when I work on projects by myself, I will sketch overlay, overlay, iterate, and so, for me it's not about it being my idea, it's about the best idea, so if I can do some sketches and then show them to you, and you can give me some ideas back, or you can do some overlay and make the idea better… We both win, right? So…It's not about me right, it's about making the best thing possible, and I think when you remove your ego from the situation, then you can have that approach right? But if it's all about "looks how good my sketch is", then you'll never progress. So like, when I show people sketches I'm more saying like "what do you think is wrong with this?" And I might not agree with them, they might give me feedback I don't agree with, but that's ok. Like I want to hear all of the feedback and then I can make a decision on what to do with that, and then I can make another sketch, and another one and another one. And so, I think that also comes with sketching so much every day, you don't view the sketches like "oh it's a, it's not a theme park right" it's a moment in time, it's a documentation of idea, and the end product is what's on the wall right? The end products are not a sketch. That's just a like, that's just a little stomp on the map on the road to get there…
(22:10) Chou-Tac: But how, one question that I receive is that, as a fresh graduate, let's say, more beginner. How do you know who to listen to because you have a project which might receive different feedback from different people and different departments, but from your early experience, how do you know who to trust and who to listen to…When do you have to stand for your side, or when do you have to take advice from outside?
(22:45) Michael DiTullo: That's a good question, and it's not possible to make everyone happy right? So if you try to listen to every single piece of feedback, you'll just end up with something that's mediocre that no one likes. I've found what helped me early in my career was to find some really good mentors. So, when I worked at Evo, the creative director there who's now the Senior Partner is a man named Arron Samante, and he took me under his wing, and mentored me and told me what I told you, that design is the easy part. It's understanding which design to choose, and how to push it, is the hard part, and so…I always took his advice and listened, and surrounding yourself with a group of three or four mentors is really important. And the same one, I went to Nike, you know when I was working at Evo it was very small, it was only five people when I started and when I left it was fifteen. I was there for about four years, and then I went to Nike, and there are 350 designers there right? 70 in footwear, now it's even a lot more than that now but this is in 2003. I felt lost right? And I had to find new mentors, and a peer group of people that I trusted, and the way I selected them was just by looking at their work. Like my good friend Scott Patt. I loved his work, and so I trusted his opinion, now he's the Vice President of designer "Cole Haan" And, there were a number of designers there, Robert Dolan who's now Vice President of design at Nike. John Hope is the SVP of design at Nike. So you just try to find people whose work that you respect, and spend as much time with them as you can so that you can soak in their goodness and understand the way they think, and you pick a little bit here and there, it's like…One of my good friends and mentor now, he's the head of interior and design at Nissan, his name is John Sa and he just told me this story about Bruce Lee, and how his philosophy to martial arts, was to study all the martial arts, and you pick this and you pick that, you know, you pick what works for you, and you leave what doesn't work and I kind of feel the same as a designer. I study everyone. You look at the work of famous designers like Mark Newson you look at the work of mentors and your peers and you try to assimilate all of these different ways of thinking, so that when you get a project, you can attack it in the best way for that project.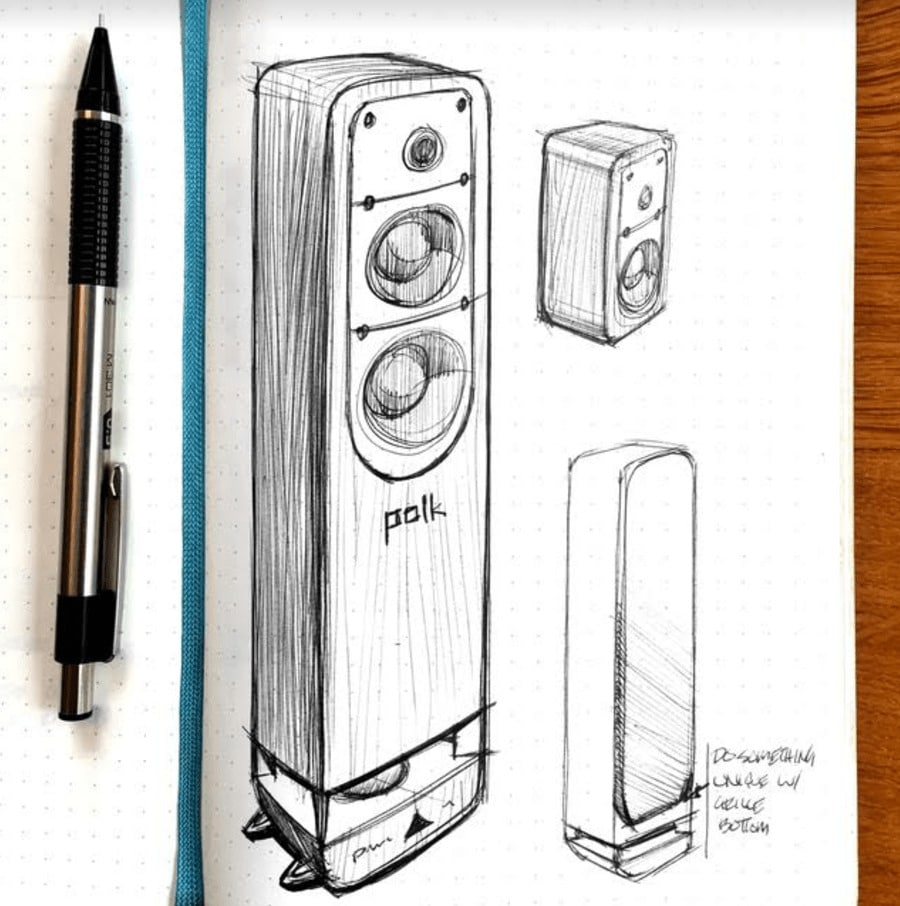 (25:36) Chou-Tac: That's actually, that's also fit the way that you think as looking for progressive projects.
(25:43) Michael DiTullo: Yeah that's true.
(25:44) Chou-Tac: Because like, Bruce Lee also last time, was not being so traditional in martial arts, he was also kind of considered "not respectful" to go and just cover so many things all around and try to tweak the things, change the rules, and some kind of design, what you're doing, is that nothing is 100% established…
(26:07) Michael DiTullo: Right.
(26:10) Chou-Tac: And we can always do it better and find ways to make it happen, yeah and new ways, new visions just because you maybe got the hint somewhere…You just implement it, and create new things sometimes.
(26:19) Michael DiTullo: Right.
(26:20) Chou-Tac: This is what is making it amazing. And what I like also is that, it's still now days, stick to your dream when you were 13 years old.
(26:32) Michael DiTullo: Yes. I'm very persistent.
(26:35) Chou-Tac: Yeah, it is all making sense. (Laughs).
(26:36) Michael DiTullo: Yeah.
(26:37) Chou-Tac: Who today as, who today inspires you as a designer? Or maybe not only designer, who inspired, what's make you the biggest inspiration of all your work?
(26:46) Michael DiTullo: And so, I mean one of my biggest influences, has always been Raymond Loewy and not just his work, but also the way he thinks. He started as an illustrator, a product illustrator for catalogues, and the company started to ask him "hey Raymond this product isn't quite done but it would kind of look like this", and he would draw it and then they'd say like "hey here's kind of like it's a prototype", and then the next year they'd come to him and say like "we don't actually even know what the next product is, can you invent it?". And so, he started the same way, as kind of like drawing stuff from the future. And he saw design as integral to making a successful business, one. And also being two, a part of the culture. So he saw design as influencing the way we live, and that companies that would be the most progressive, would be the most successful. And he had this philosophy, he said that "good designs are always those that are the most advanced, yet acceptable solutions". And I just love that saying, it's so simple. Because you have to push it, but you can't push it so far that no one wants it right? So, what's the most advanced yet acceptable? And then the second person that I've always been influenced by, is Frank Lloyd Wright, and that's just you know he had a vision for the future, you know, and he was persistent, through thick and thin. He had times when he had a lot of clients, and there were times when he had no clients. And he just stayed true to himself, and it probably wasn't the easiest guy to work for, but he built some amazing things. Today, I look at people like Elon Musk, and people like that who are just like, you know Jeff Bezos who just want to almost like do through the force of their will create the future. Right, because they want it so bad. And they will do whatever it takes. Leverage their entire business to try to bring the future faster. And that kind of, again that kind of persistence and thinking, and thinking about, not the way things are, but how they should be, that gets me, I get really inspired by people like that.
(29:08) Chou-Tac: Yeah that's it, this is how design is. That, pursuing how to make a better world, is how as a designer can we give a contribution to that, and we need like, very fascinating role, like, just I think the idea of contributing to all of us is just enough to wake up every morning, and feel happy about it.
(29:38) Michael DiTullo: Yeah. I look at, people, you know, people don't have Picassos and they don't live in Frank Lloyd Wright designed houses, but they have, headphones, and they have speakers, and they have shoes, and they have watches, and these are the objects that they have in their life every day, and you think about something like a watch right, it must be the first thing someone puts on in the morning, and the last thing they take off at night before they go to sleep. And they might have that watch for years, and how many times you'll look at that watch, and touch that watch, and so kind of like, you're in that person's life. Right? So…
(30:16) Chou-Tac: This is why…I always believe that design is really a social thing.
(30:19) Michael DiTullo: Yeah.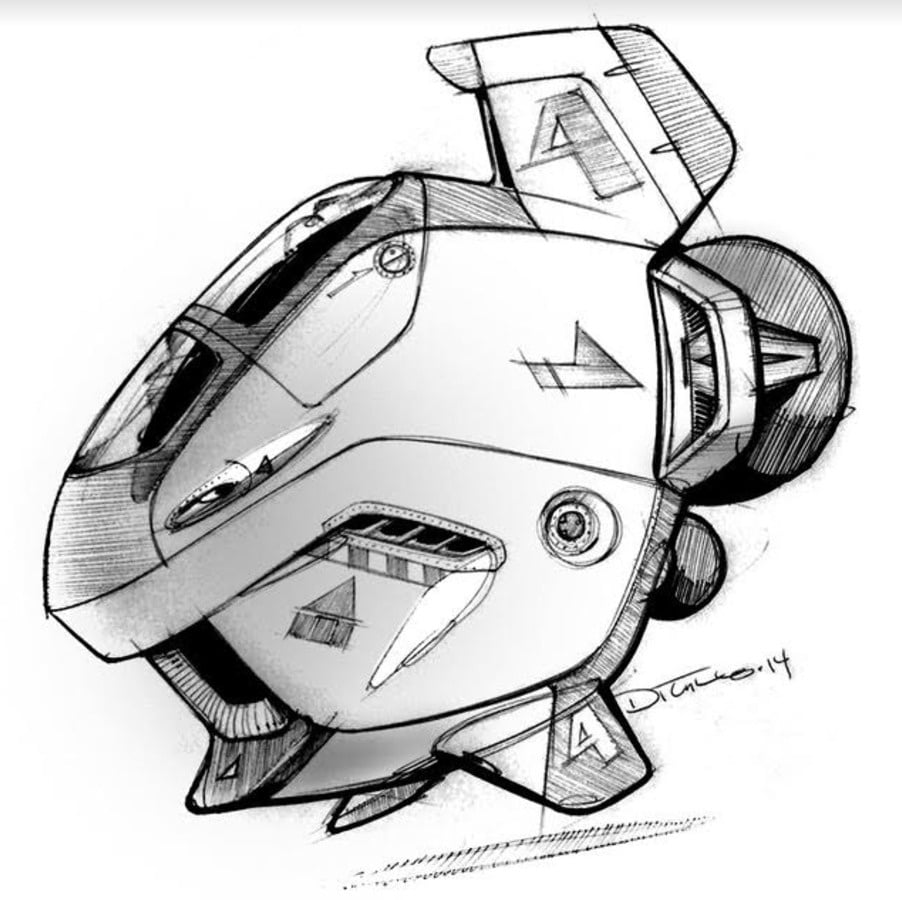 (30:20) Chou-Tac: But the thing, when we are approaching the design project the most important thing is that we need to think about the social part, not just about the eye static part which is once again one of the misconceptions of design…
And yeah, I believe that what's makes you so more persistent, is that you have this belief that you want to make things better, and it's like your quest I would say, can you say that?
(30:50) Michael DiTullo: What's that? The quest! Yeah! I like that.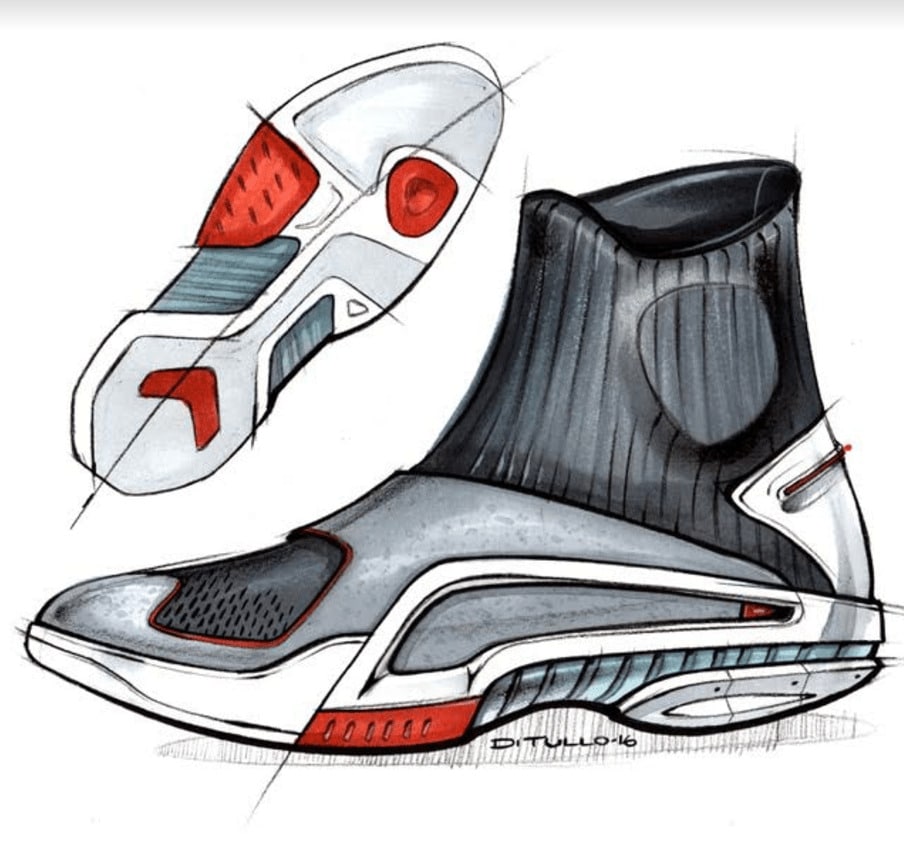 (30:55) Chou-Tac: And this is why, you're quest, I believe you're persistence comes from.
I've got one last question for you. It's; "How? What advice would you give to any fresh graduate or aspiring designer to believe in themselves, into product design, because a lot of people don't dare to go to big steps".
(31:22) Michael DiTullo: Yeah that's a good question. I think um. I'll tell you a little story. And then I'll get to my advice. So when I graduated school, and I did all these sponsored projects, and I graduated with the faculty award, and I didn't know how to get a job. I just literally didn't even know how to get one. And this was before the internet. I graduated in 1998, Coroflat, it was just beginning, it was hard to find design jobs.
It took me 6 months to get my first full-time design job.
So I moved back home to live with my parents, and in the basement they had this ping-pong table, and I thought to myself "well I could just sit on the couch all day and watch cartoons, or I could go downstairs and just use my ping-pong table as my studio table and pretend like I have a job.
So every day from Monday to Friday, I would be reworking a project from my portfolio, every day from like 8am in the morning to 6pm at night. Monday to Thursday I would do that, on Friday I would make new portfolio packets, and send them out to companies.
And you know, I finally started to get some freelance projects, I got like 3 freelance projects, and then after 6 months, every single project in my portfolio was completely different from when I graduated school, from doing it over and over again, and I finally started to get call backs from companies.
I think I just pushed myself. And I got calls back from big design firms from small firms, and I went to Evo because when I met Aaron Semanski I just felt like I was going to learn from him. And that seemed like a good choice.
So…My two pieces of advice based on that story are one; To push yourself. It's going to take hard work. Like this job, is not easy. And so, you have to be able to work harder than the next person if you want to succeed. So that's the first piece of advice.
My second piece of advice is when you pick your first job, make sure you find a place where you can learn, and they will be willing to teach you because that first job is kind of everything right?
That first job I think really set me up for success in my career because I found myself in a position where, they were willing to help make me better. And so, I was willing to push myself to be better because I wanted to be the best in the studio. So those are my two best pieces of advice.
Push yourself, and find people who will teach you.
Because when you graduate, when you graduate school, you're not done learning, you don't know anything yet, you've learned like the barest base minimum to get a job, where you now learn about being a designer, right?
(34:26) Chou-Tac: Then one question from that…When you first do your first interviews, is it better to pretend that you know everything, or to be totally transparent, and tell them "that's my work, but I am willing to learn".
(34:45) Michael DiTullo: Oh it's, it's 100% better to be transparent, because I will, and as ugh someone who now interviews designers, I will pick someone, all day long who is eager to learn and willing to push themselves over somebody who thinks they know it all. Because, I have, it's just not going to work with my team. My team is a team full of people not that dissimilar from me right? They are all people who put their ego aside, and they want to make the best thing possible, and so for me to bring someone into that team, they need to be the same way. I look at it like, as a team we're going to climb Mount Everest together, right? And, it's going to be difficult, it's going to be dangerous, we're going to run out of food, there's going to be a snowstorm, but we're going to reach the top of a mountain and it's going to be a magical moment together, so I need to know that the people on my team aren't going to quit, and turn back and go back down the Mountain half way up, ok?
(35:49) Chou-Tac: Yes, yes, yes. Yeah that's true. When you climb the Mountain, it's not finished you have to go down altogether, everybody safe.
(35:56) Michael DiTullo: Right, right, that's a good point.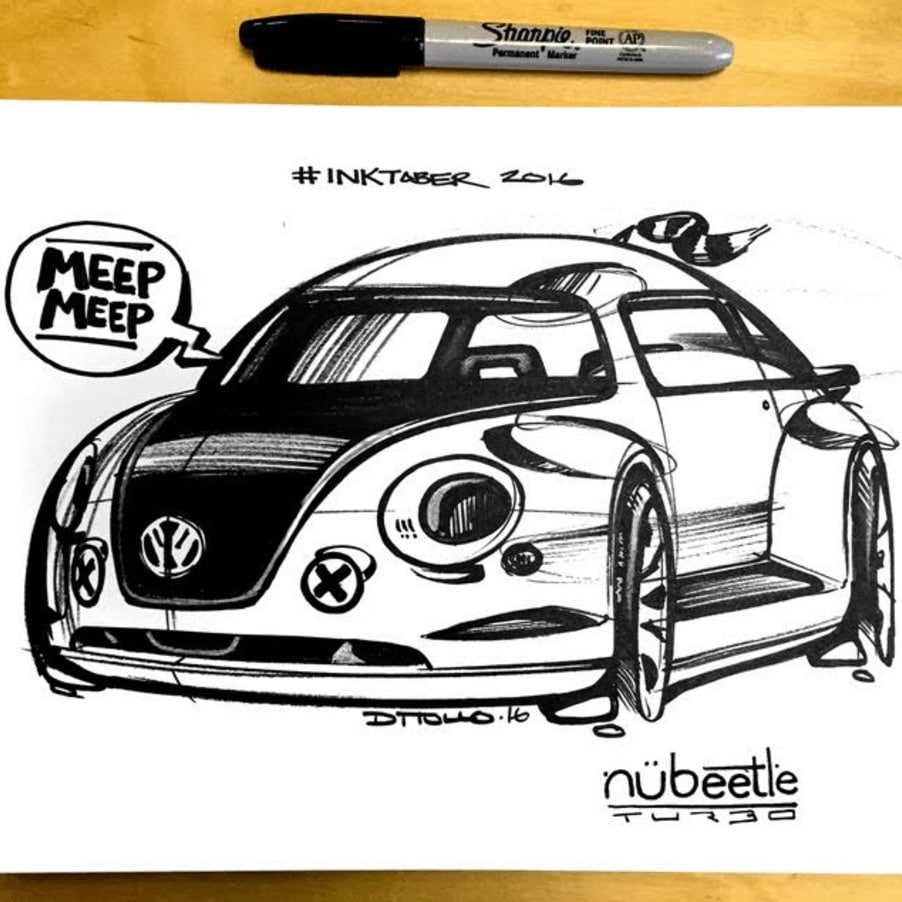 (35:59) Chou-Tac: Wow, wow. Thank you very much Michael for all your advice, and communication for experienced designers, and, then, where can we see more of your work, or more of the things you do if, for people who want to know more about you?
(36:13) Michael DiTullo: Sure. So, I try to post a sketch every single day on Instagram, and my handle on Instagram is "DiTullo", letter D number 2 L O ("D2LO"), um and, I also kind of frequently have a Facebook fan page that I keep updated, and Twitter, and then you can see my bigger portfolio of work you can see on "MichaelDiTullo.com".
(36:39) Chou-Tac: Ok. Thnak you very much.
(36:41) Michael DiTullo: Thank you, have a great day.
(36:45)
(36:47) Michael DiTullo: Yeah, well hopefully we'll get to change that.
(36:50) Chou-Tac: Yes, we'll try.
(36:51) Michael DiTullo: Right. Because what we do, and I think that's why sketching's also so popular, is because it's fun to watch, like a lot of what we do is not actually fun to watch, but, seeing someone draw something is like "I want to do that". It's like Michael Jordan dunking a basketball right?
(37:07) Chou-Tac: Oh yeah!
(37:08) Michael DiTullo: That's like actually not all of what Michael Jordan does to win at playing basketball, but that's the part you see in the highlight reel. And I think sketching is a little bit like that, like "wow look at that, that's so cool I want to do that too".
(37:20) Chou-Tac: That's the magic part.
(37:24) Michael DiTullo: Right, and you're like "oh I draw something" and then "oh look here's the final product it looks like the drawing" right? Of course, there are many, many steps, but it's the those are the two, the beginning and the end is what looks fun right? So…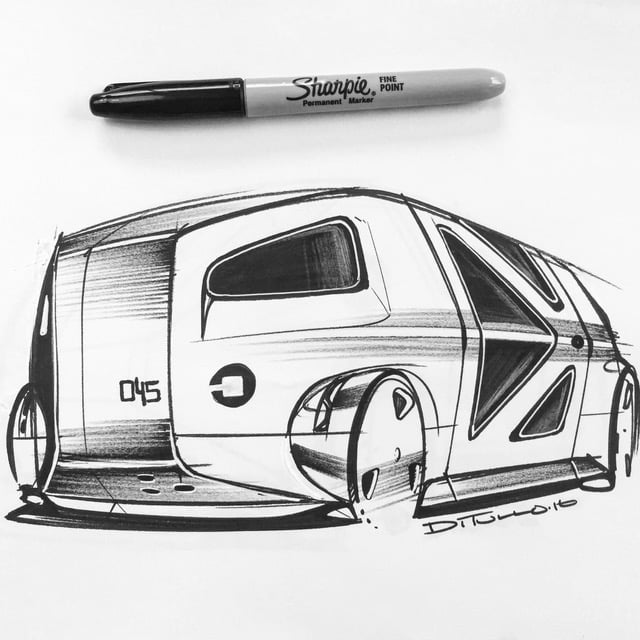 (37:36)
(End).