Do you draw always the same thing? Do you feel your sketching skills or creativity are limited?
Today I show a special design technique to draw new forms fast and easily!
How to Draw New Forms (Fast and Easy)
| Sketching SONY Earphones 11.59 minutes
I have a new sketching video tutorial for you. 🙂
If you face the blank page pretty often
or if you feel your drawings always look the same
Try this creative technique:
You will generate maximum ideas in no time!
---
> What to watch next:
I use this technique using bike elements as inspiration:
How to draw like a Concept Artist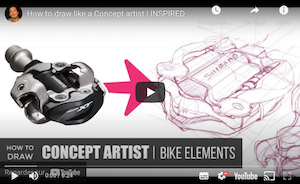 ---