Some of you told me about facing these 3 challenges when you start sketching:
"My sketches don't looks good"
"It's not easy to draw from imagination"
"I lose my confidence and give up fast"
If you are a beginner in Product Design Sketching, this challenging situation is actually pretty common.
You feel that your sketches look bad, and you don't know how to unlock this problem.
That's not your fault, and it can be solved :
How? By drawing Ugly doodles!
---
Draw with "UGLY DOODLES" (to Boost your Sketching Quality + Creativity)!
Let me introduce you to the 3 steps sketching process I often use in my professional design projects.
This process helps me to be more creative and provide better sketches at the end. If you think that your first sketches are ugly, then good!
Because that's actually our starting point. 😉
1 UGLY DOODLES >> 2 SIDE VIEW >> 3 WONDERFUL PERSPECTIVE!
---
The "What" and "How"?
Let's draw a Coffee machine
To illustrate that process, I was wondering what to sketch. I remembered the Nespresso coffee machine I have in my kitchen. So I draw it from memory for today's demonstration.
Whether you are a beginner or senior it's often overwhelming to start a project.
We tend to think at the same time as both the:
"WHAT"
e.g. what do I want to draw, what inspiration, what function, what elements, what are the users' needs…
and "HOW"
e.g. which proportion, from which viewpoint, analog or digital, which size, how many views, which composition…
An essential method that designers use to release stress, is to split them into 2 distinct steps.
Start your project dropping all the "WHAT" first on paper with fast doodles. Put your ego aside and draw as many "Ugly doodles" as you can.
Make a selection of the ideas you like the most and only then you can focus on the "HOW" to present much neater and attractive sketches.
To sum up the 3 steps:
1 EXPLORATION >> 2 PROPORTION >> 3 COMMUNICATION
---
Defend beautiful ideas:
Even though this technique gives results,
Many young students may might want to skip the 2 first steps.
Doing this, they will get average sketches with average ideas. Don't rush your creative process.
It's a pity because it's not about lacking talent or creativity, but impatience (or sometimes laziness?).
So keep in mind that as a Professional product designer, you sketch to defend Beautiful Ideas.
---
STEP1 Explore drawing "Ugly doodles"!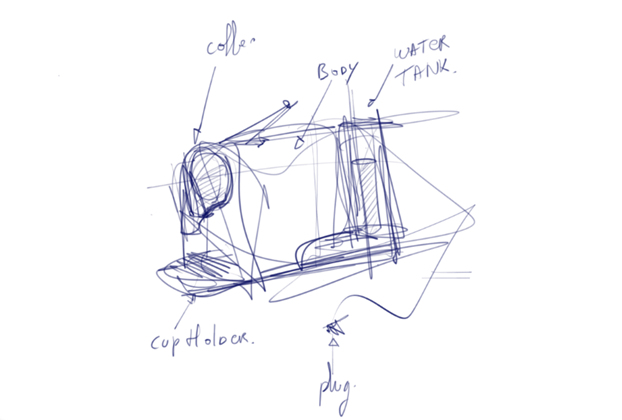 Start drawing "Ugly doodles" to drop as many ideas as you can.
Do not care whether the sketches look good or not – whether the perspective is good or not.
These sketches are personal and won't be shown to anybody except yourself. So relax!
Beautiful sketches are not the purpose here, but creativity.
Your best friend here is your imagination supported by creative drawing techniques.
Drawing with Ugly doodles is like taking quick notes, but with doodles!
(TIP: Imagine you are drafting sketches on napkins)
List down ideas, function,
and various components thinking about the user's needs, ergonomy, and how the product is gonna work, held, and so on…
As long as your doodle is comprehensive, it's fine.
(If you have bad writing, the minimum you can do is to make sure it's readable.)
Remember: "At this step, beautiful sketches are not the purpose here, but creativity."
Target quantity instead of quality. By drawing many sketches fast, you let your creativity flow regarding the WHAT – this is how you will produce a lot of ideas in a short time.
---
STEP 2 Get the right proportion with a side view.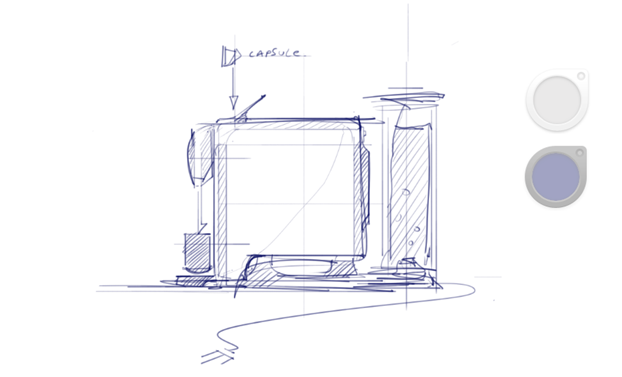 Side view proportion: I draw the side view to define the proportion. (Depending on the product, you may consider the front view as well)
TIP
"Even though the side view sketch is in 2D,
Think your object in 3 dimensions."
Let's say we have now selected a proposal from the "Ugly doodles", and we have decided on its components.
At this step, the challenge is proportion.
To make your life easier, draw it from the side or front view. You can adjust your dimensions easily and apply as many modifications as you want.
---
STEP 3 Communicate by drawing in Perspective.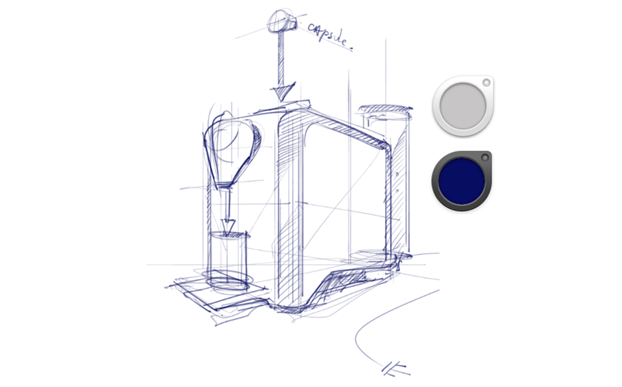 Step 3: I draw with a 3/4 view to better communicate the product.
Now the elements are pretty clear in your mind.
You have memorized quite well the elements, the functions, the proportions. You have already got "rid of" most of the creative part.
Since the creative part is solved, you can focus on drawing appealing sketches. Basically, all you have to think about now is the application of your drawing techniques to communicate your ideas.
"Ugly doodles" are the foundation of greater sketches.
Don't get me wrong.
I don't say it's gonna be easy at the start.
Practice these 3 steps and you will climb the ladder so much faster! 🙂
Cheers,
Chou-Tac
---
Testmonial of the day from Maria:
"It's amazing how inspiring it is to work with your guiides! And thank you for sharing that accompanies my best hours of drawing. :)"