How Marina's Love for Design made her a Shoe Designer
You want to become a Shoe Designer,
but it sounds too ambitious and you may have doubts like:
Am I legit to become a Shoe Designer?
I think I'm no special. I can't even draw…
Am I wrong pursuing a dream?
Today, we knock out these doubts away with Marina Aperribay.
She is a 26 years old Shoe designer. (And she's a VIP student of my course Sneaker Sketch Pros)
Why Marina's experience is inspiring in my opinion?

Marina doesn't wait for career opportunities,
she actually provokes them. 🙂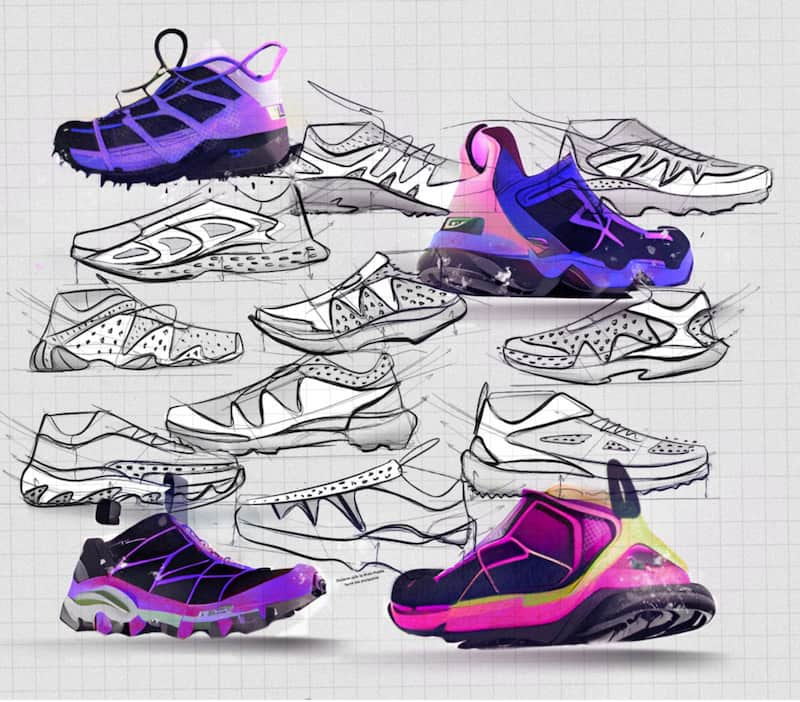 Marina will show you how you can succeed too by being yourself
and so, become special in the footwear design industry!
FUN FACT
Marina is not a Sneaker Freak. nor a "Sketching Addict".

But she loves shoe design creation.
She learns how to draw, and her sketches are pretty "Badass" (See above). 🙂
---
Marina Aperribay:
Hi Chou-Tac!
First of all,
thank you so much to you for giving me the opportunity
to answer these questions and put my thoughts into words!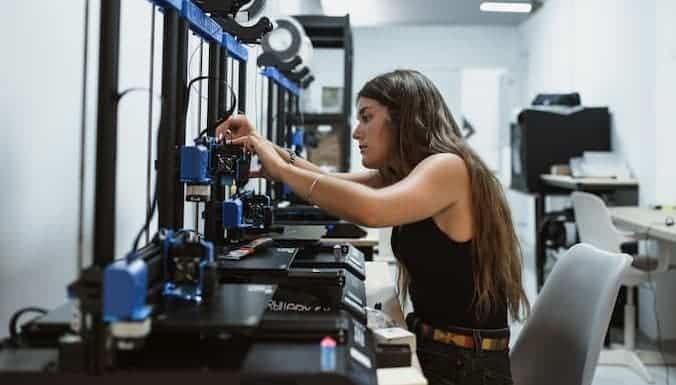 Ask your questions to Marina in the comment below the interview
or send them to me by email at choutac@thedesignsketchbook.com
INTRO
My name is Marina Aperribay.
I am 26 years old and I am from Eibar,
which is located in the Basque Country.
However, I have been living in Barcelona
for a couple of years now, since October 2020!
How your friends would describe you?
I would say that most of my friends perceive me
as an enthusiastic person with a zest for life.
I don't spend energy on things
that don't pique my interest.
They know that I'm an active person
who tries to enjoy as much as I can and does not
expend energy on things that don't pique my interest.
So the people who spend time with me
know that I appreciate their company a lot.
I like to spread positivity and they reflect it back
to me, so the plans we share are valuable for everyone.
---
SHOE DESIGN BACKGROUND
What is your background?
During my third year of studying Industrial Design Engineering (at Mondragon Unibertsitatea)
I started working in the Department of Materials Forming Processes at the university,
where I learned how sensitive machines can be.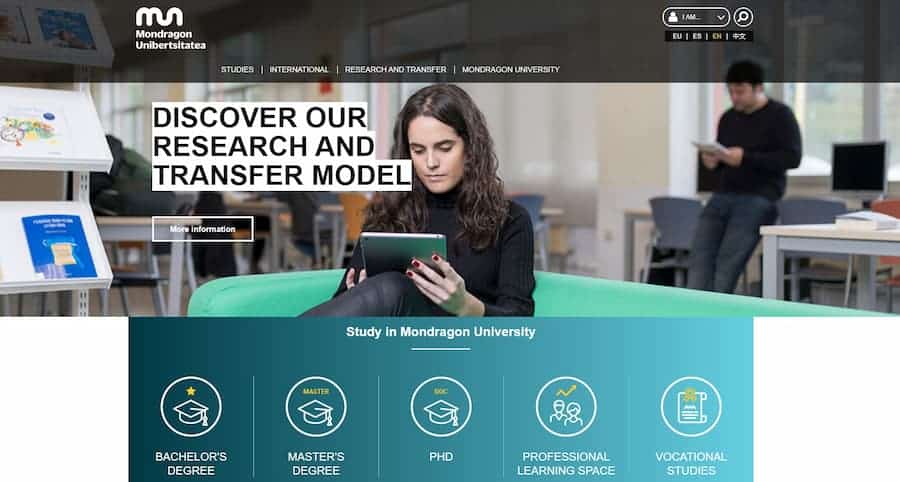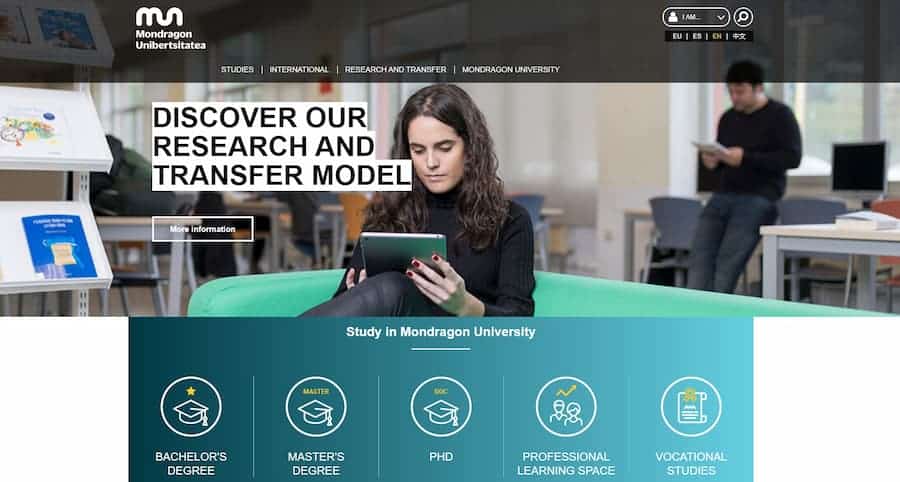 I found it really interesting to invest lots of time in trial and error,
perfecting the shaping of these metals until they came out with the expected curved structures…
However,
I realized that I was limiting myself
from exploring other aspects of design that also fascinated:
User research,
Ideation,
Sketching
etc…
So I decided to undertake my final project in a company located in my town,
which focused on the UX/UI and physical design of a sports betting ATM.
While working there,
I had the opportunity to learn about new workflows
and really useful tools that were previously unfamiliar to me.
I enjoyed this experience a lot,
especially due to the positive dynamics with my colleagues in the department.
I wanted to
gain experience working abroad.
That same year (2019),
I finished my degree, and it was pretty clear to me that I wanted to
gain experience working abroad.
After an application process,
I was granted a Global Training scholarship from the Basque Government,
which enabled me to take my first flight to Mexico City.
I worked at DIN Interiorismo for six months,
focused on 3D modeling and 2D technical drawings
of really interesting furniture designs.

Unfortunately,
COVID arrived during this period.
So thanks to another grant
I was able to do a Master's Degree in Industrial Design Engineering
(Elisava Barcelona School of Design and Engineering) in Barcelona the following year.


All of my previous experiences and learnings led me
to a key product that I saw a lot of potential in: Footwear.
I am personally very concerned about sustainability as well as technology.
So despite not consuming much lifestyle footwear,
skating made me acutely aware of the amount of
material and work that is wasted in such a short time
So I decided to analyze the current and
disruptive processes of footwear design as my final project.
My interest in learning more
about the context involved in footwear grew so much
that I decided to apply for an internship at Footwearology Lab.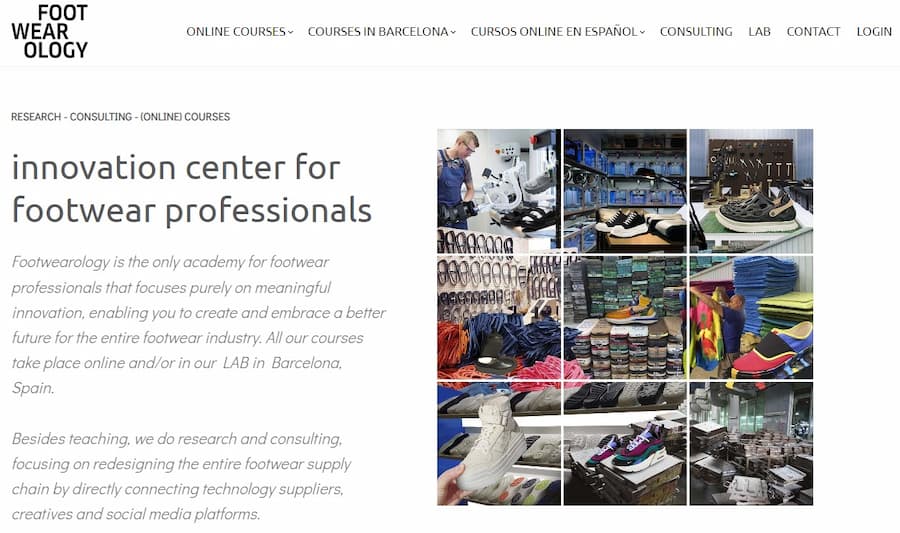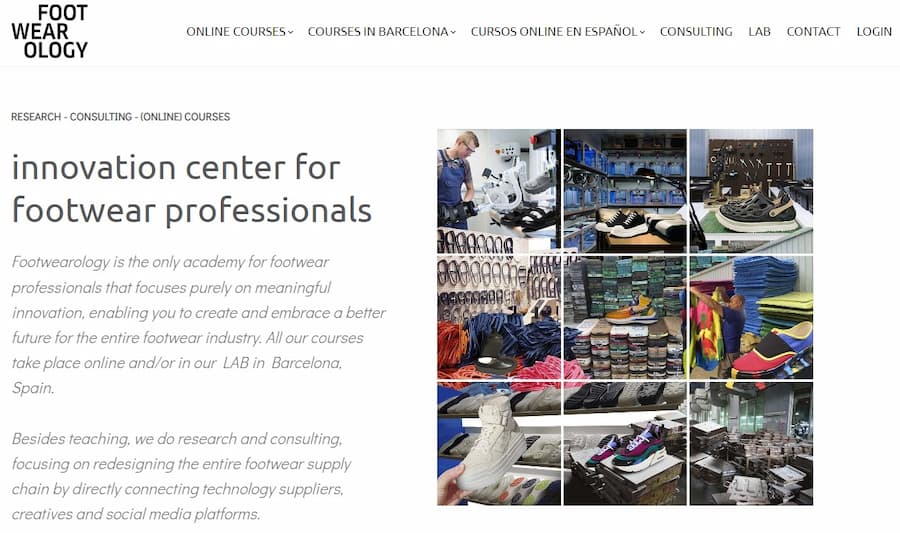 Footwearology Lab is a footwear education
and innovation company where I am currently working as a designer:
mainly focused on 3D printing,
some design projects
and learning a lot about knitting programming too.
All of my previous experiences have brought me here,
and I am still creating more that will take me to the next adventure!
---
MOTIVATION / JOURNEY
How did you discover your passion for Design?
How does it all started?
The ability of a person "coming up with an invention"
has always caught my attention.
When I was a kid,
I was fascinated by stories of exploration and pirates,
but especially the gadgets that these characters used.
I think that's when my passion for design started,
as I enjoyed making bows and arrows with wooden sticks,
playing with typical building toys… haha.
On the other hand I have always been quite athletic,
so the design of sports equipment and
performance apparel has also been intriguing to me.
Some years later,
despite doubting a bit whether to continue with more artistic or technical studies,
I discovered the Degree in Industrial Design thanks to a teacher and it became clear
to me.
Industrial Design is
the perfect balance of technical and creative skills!
During the studies I realized
the wide range of options that design could offer me,
which produced me the typical feeling
of uncertainty because of loving everything!
"I feel the same excitement
as when I was a child."
That's why I started working in different fields.
And with time and experience,
I have been learning what I like the most and the least.
Trying to gain skills that contribute to my creativity and functionality,
always motivated to innovate.
And I feel the same excitement as when I was a child.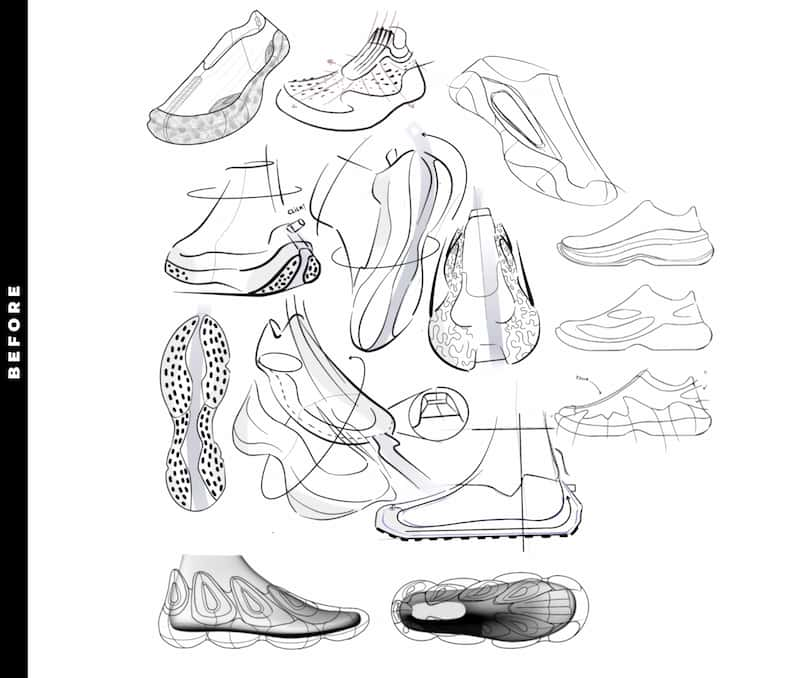 What makes you thrilled about Shoe Design?
First of all,
I find it very interesting to work on a product
that is in contact with the human body and the environment at the same time,
where each foot and each surface can be different depending on various conditions.
On the other hand,
the shoe is a historical product that has evolved a lot.
During a Road Trip around Europe with the Footwearology team,
I had the opportunity to visit the SONS museum in Belgium.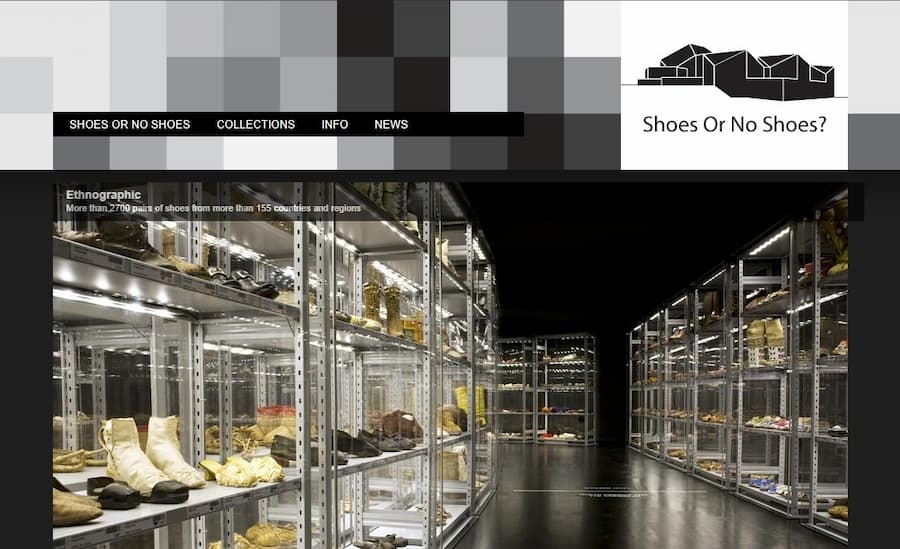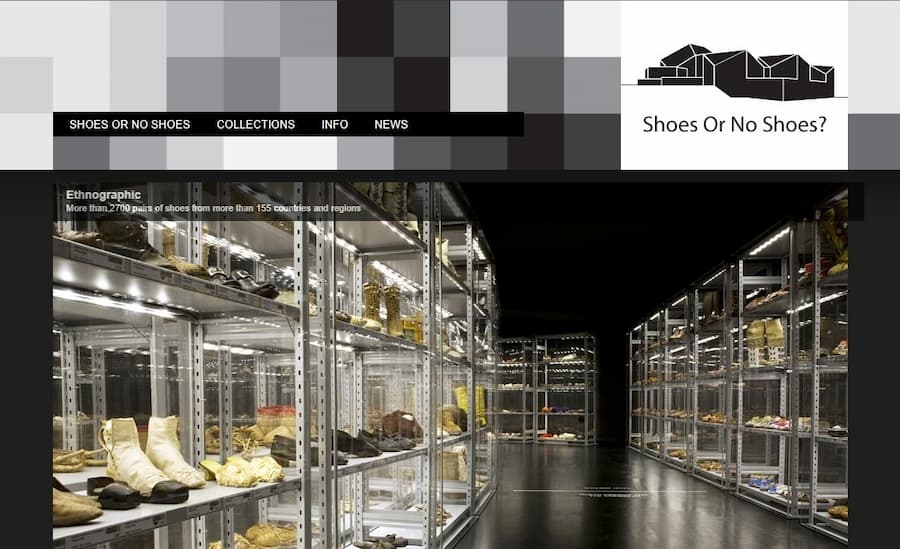 I was amazed by how the function and aesthetics of each shoe
change in each country, something that one takes for
granted but is even more impressive when you see it in person!
I also think that the wide variety of knowledge involved in a shoe is incredible.
I really admire the knowledge and experience
that professionals or 'Shoe Dogs' have in each area.
I am focusing on creating small seeds of knowledge
in most of the things that interest me.
Such as having amazing innovative ideas
taking into account many manufacturing processes:
Pattern making,
3D modeling and parametric design,
Mold development,
Making tech-packs,
Knitting programming…
Having advanced experience in everything is very difficult.
But for now,
I am focusing on creating small seeds of knowledge
in most of the things that interest me.
And little by little,
I will try to become a professional in what I enjoy the most.
---

CAREER
Can you tell us about Footwearology?

Footwearology has been my first contact with the footwear industry professionally.
I have to thank them for their confidence
in giving me responsibilities that, at first,
were beyond my knowledge but were also the reason to learn that quickly.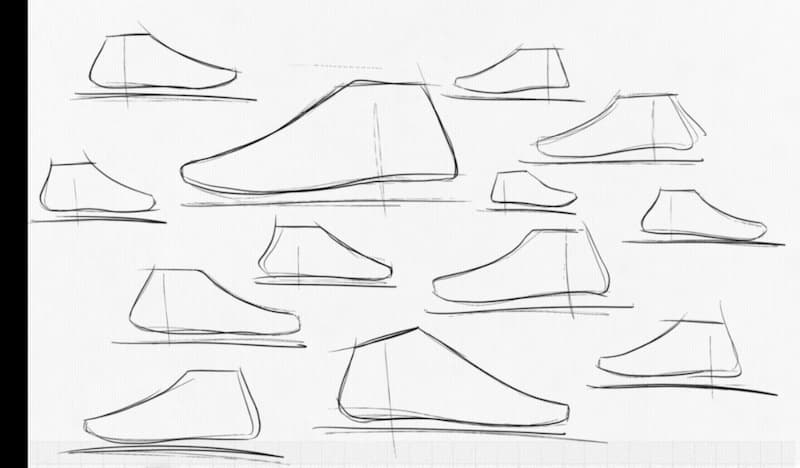 It is an innovative footwear company
that opened its first lab in Barcelona about two years ago, focusing on education,
consulting, and research in footwear, which allows us to apply our knowledge while learning
at the same time.
As I mentioned before,
I started my internship here with Jordi and Nicoline,
the founders of the company, when the place was practically empty,
so it has been quite a journey to get to where we are now!
I am happy that the team is expanding, as I enjoy
working in a team sharing knowledge and experiences.
You can find more information about the services we offer, including online and inhouse
courses on the website (www.footwearology.com) or on our Instagram
(@footwearology_lab).

You are at the beginning of your career.
What the younger version of yourself would say about you and your achievements?
I am very happy to be fulfilling my dream of designing
and traveling around the world thanks to my work.
I think about it every day!
However, every human being is a maverick
in a different sense and even more in any field related to innovation.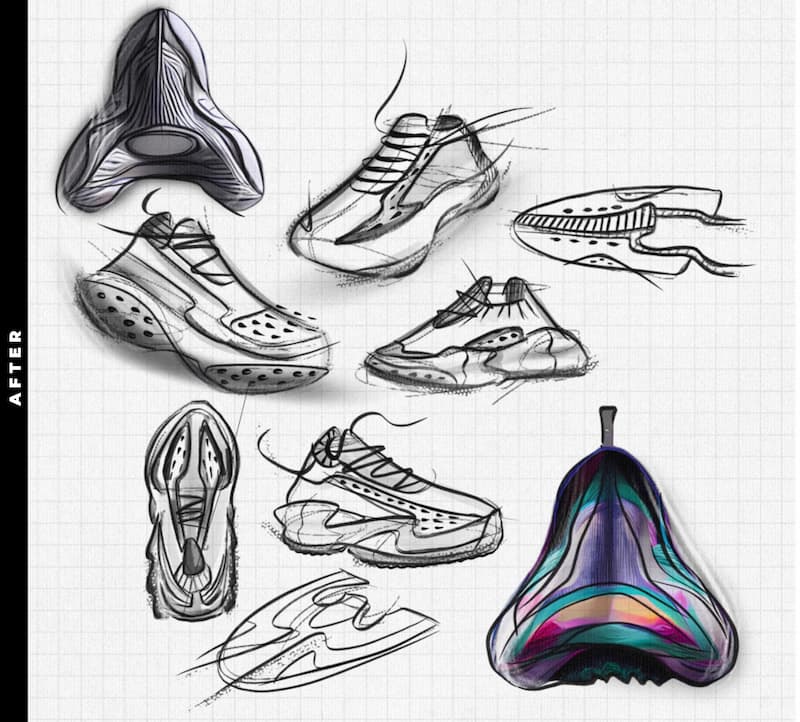 In my case and probably in the case of most people with a similar profile,
we are constantly learning about something we are passionate about,
and it is so engaging that it's never enough! Haha.
That's why Marina from the past would say:
Wow, setting realistic goals to your dreams works.
Keep it up!

The investment of energy becomes more powerful with time,
so don't get frustrated by being a 'junior' .

Because when you look back,
you will realize how much you have learned and what you have to teach too!

– What the Young version of Marina Aperribay would say.
So I am at this point right now,
working, learning and enjoying both as much as I can!
---
INSPIRATION
Who are your favorite artists, designers or brands ?
And why ?
Starting from the brands,
it amazes me how a shoe can be so different due to the diverse
technologies and techniques applied depending on its functionality.
That is why in more traditional shoe design brands AldanondoyFdez is a great example.


They make unique leather personalized shoes,
but always innovating making different constructions.


They also do education and this is something that I appreciate a lot, because it means that apart from
doing what they know they jump into the pool learning methods to reach the customers
ideas.
Another example is Helen Kirkum Studio.
I really like the idea of using parts of worn shoes to create shoes
with a different personality being sustainable at the same time.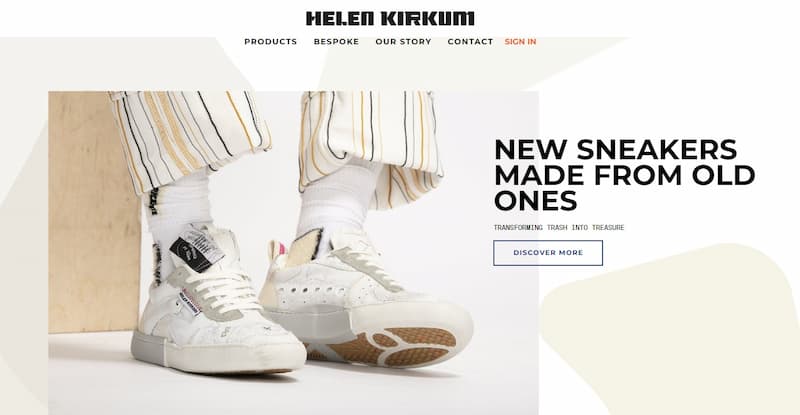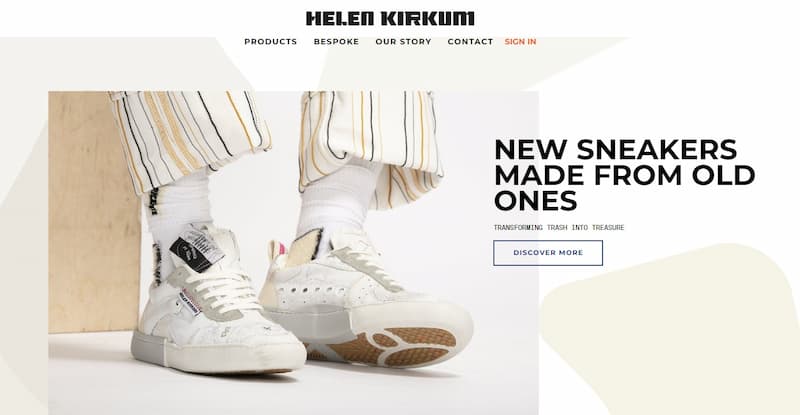 There are also larger companies like Nike, who innovate on an industrial level and it
impresses me very much how they apply the knitting technology in their shoes for example.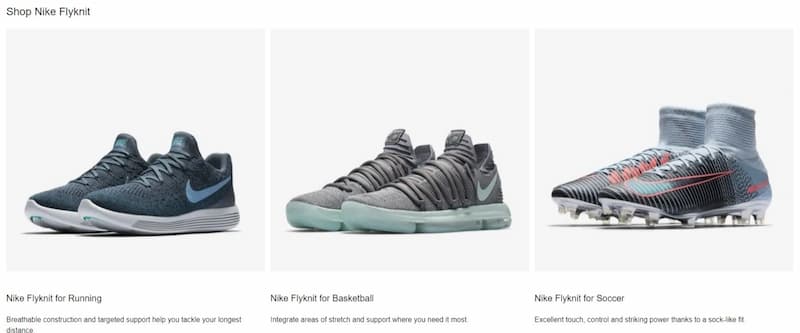 I am starting to learn about this technology and I find it so inspirational.
I also have to mention the brands:
Salomon
Patagonia
The North Face
and Hoka,
Their products are more focused on outdoor performance,
and the processes and materials that they use
are quite different from most of the lifestyle shoes.
Apart from this,
they take great care of the identity
of their products with an aesthetic that I personally love.
I also enjoy seeing how a shoe can be made in any shape from brands like Zellerfeld or
FUSED Footwear, the first 3D printed footwear brands with a completely different business
model.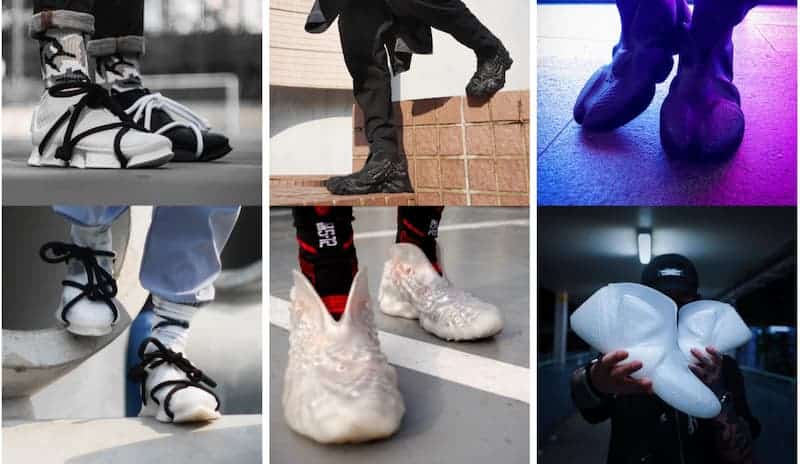 It gives designers the opportunity to think differently.
As I mainly work on these types of projects, they inspire me a lot.
About some of the designers that I admire for their ideation, visual representation abilities,
and how they mix a sporty aesthetic with futuristic concepts with a lot of delicacy I have a lot in
mind:
Dan Valentine,
Dennis Johann Mueller,
Aurélien Longo,
Arnau Sanjuán,
Elisa Payer…
And some design studios with a style of projects
that I've been following for a long time ago, such as :
KISKA,
Foarms
and many more!
Then I have to say that any artist who is inspired by nature picks my interest, like Neri
Oxman and the MIT team, who connects nature with technology in a really smart way, the
incredible representations of Ernest Haeckel and Rafael Araujo, representing nature in a
technical drawing style…
Where do you look for inspiration for your projects?
Whenever I come across something interesting
on the internet or take photos at trade shows, museums, or shops,
I save them in folders on my computer or iPad.
I categorize them into topics such as current shoe trends,
innovative fabrication processes, sketching techniques…
This way,
I have a collection of inspiring visuals
that I can refer to for future projects.
On the other hand,
I mainly use Behance, Pinterest, and Instagram as platforms to
find concrete inspiration, where I can follow certain accounts and share my own content.
I also believe that Artificial Intelligence has great potential
since it is a tool that helps me put my thoughts into visuals,
as it enables me to combine the characteristics of artists who are
not related to footwear with shoes for example.
Depending on my goals,
I typically use tools like Mid Journey, Dalle, or Vizcom.

Do you follow a creative workflow for your design projects?
The creative process I follow is almost the same one I learned at university,
but I apply some tools that I have learned over time, especially those applicable to footwear.
What I have noticed changing a bit is that in a work environment,
there is usually less time than in an academic environment, so setting limits always helps.
I always start by analyzing.
I spend a lot of time researching the context of
what I have to do and face the project as best as I can.
Then (and now much more fluently thanks to this sketching course):
I think that every creative process is iterative,
so I don't close the door to making changes based on new project information,
as well as technical, material, or production process limitations (or advantages).
Something that I also like is receiving feedback from other people.
Whether they have a similar or different profile,
since it forces me to have clear ideas so I explain them,
and new perspectives greatly empowers my projects.
---
SKETCHING
How does sketching help you as a shoe designer?
Sketching is the first step that allows me to translate my ideas
into something that will soon be tangible.
It's a versatile tool that I use
not only to generate multiple product concepts quickly,
but also to create visually appealing deliverables.
With sketching, I can explore different design directions
and refine them iteratively until I arrive at the most promising solutions.
I still have a lot to learn considering the high level that senior shoe designers have,
so I'm on my way haha, but honestly this course (Sneaker Sketch Pros) is helping me a lot, and I will never lack
motivation!
You are a student of my Shoe design course "Sneaker Sketch Pros".
You started the sneaker design course even though you already had some sketching skills.
How does the course helps you?
As you say, I have experience doing product concept sketches in general, since most of my
projects so far have been changing a bit, but I am trying to look for a similar style for the
shoes.
The course is helping me a lot,
on the one hand, giving me the necessary bases to apply my previous skills to footwear,
and on the other, teaching me theory that goes from the posture when drawing to the types of lines and basic proportions to take into account in a shoe.
I must mention that the dynamic of sharing my drawings with you
and receiving feedback gives me a lot of inputs,
since sometimes it's difficult to know how to improve your own drawings.
It is a learning process with which I already notice improvement,
so I still have to finish the course and apply it to many more drawings!

You like to draw on a graphic tablet,
what's your equipment and which software do you use?

I personally prefer the feeling of drawing on paper
because my mind thinks clearly and my eyes can rest more.
I consider the graphic tablet an incredible tool
which helps me to speed up my process
and iterate more efficiently.
Some time ago I decided to learn how to draw digitally on a refurbished iPad Pro
that I bought when I was in college (it still works great, haha)
and I use Procreate, which is undoubtedly the tool I use the most.
I also use Nomad Sculpt,
which allows me to make 3D sculptures with interesting textures and
volumes so I can create a simple 3D model from the sketches in the same iPad.

When did you start to learn how to draw?
I learned how to draw at school
but I think it's something very generic
and usually not given enough importance.
I have taken more technical drawing classes than creative drawing in
my life, so that might be the reason why I've never gone to a park to draw a landscape, but if
I have an idea at night I'll probably set an alarm to draw it in the morning before going to
work or I'll stay up late to do it.
In drawing focused on product design,
there are really useful techniques that can be applied (I've seen really good videos on YouTube),
but when I started in footwear, I was feeling a certain tension since I had less fluidity.
That is when I found "Sneaker Sketch Pro" course and I realized:
the importance of proportions
and other techniques that greatly empower your designs.
Technically this is the only drawing course I've enrolled in so far haha.

Do you think it is difficult to learn how to draw?
And does anyone can learn how to draw?
I think that the hardest part of learning to draw is looking at your drawing and feelingsatisfied with the result because it represents exactly what you had in mind.
Then there are many techniques or visual styles to play with, and little by little you feel comfortable with one
or the other, so yes if I am learning anybody can do it, it is just practice!

Do you use inspiration/reference pictures?
Yes, of course!
Sometimes they are:
my own images that I generated in AI,
others are photos that I have taken at Trade Shows,
and of course I always collect images of what is happening in the market
and of certain styles of design that can empower my creativity.

Besides working, do you draw as a hobby?
As I mentioned before,
I don't draw things that aren't about products very often.
However, sometimes, if I've had a good day,
I represent it through a simple comic panel
or draw some tattoos that I plan to get one day, haha.
I just like to mix important meanings for myself and relax while doing it.
---
LAST TIP
Any advice or tip for beginners
whom wanna start a career in footwear design?
I think that anyone
who feels a passion for footwear
can end up working on it.
It is a quite specific sector but very open in options.
As I said before, a shoe represents technical,
biomechanical, material science, manufacturing processes knowledge… so you can go into
the ideation part, the development, the prototyping etc.
My advice would be to:
Push the part that you enjoy the most
but always learning about complementary things.
Having a bigger perspective in mind
you will know better the limitations and possibilities
and your design process will be much more fluid!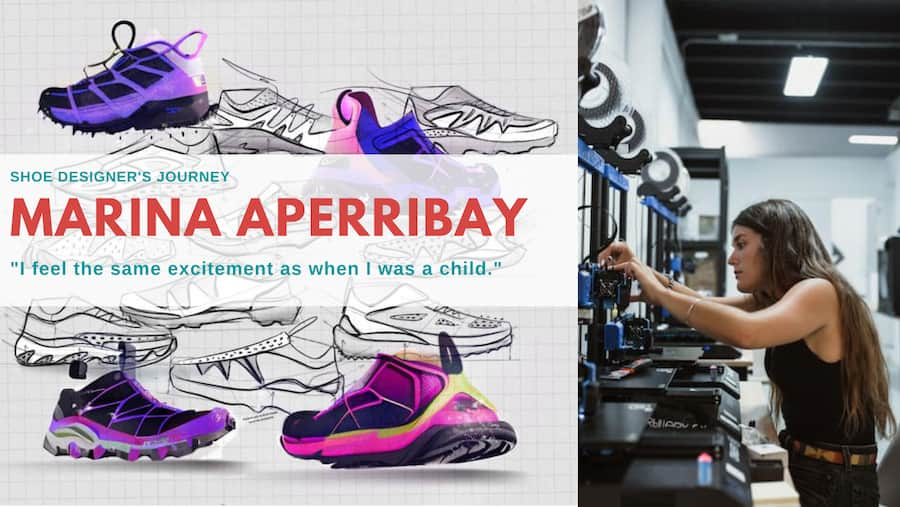 Where to find more about you and your work?

LinkedIn:
https://www.linkedin.com/in/marina-aperribay-055062190?lipi=urn%3Ali%3Ap
age%3Ad_flagship3_profile_view_base_contact_details%3B3KzMAVCETCKx
gdBjvTQJUQ%3D%3D
Instagram: https://www.instagram.com/marina.pdesign/
Behance: https://www.behance.net/aperrisme1d13b
Thank you Marina!