Shoe drawing is difficult at the start.
Wondering how to draw shoes, we often face these 2 issues:
Bad shoe proportion in perspective and side view.
Difficulty to visualize the shoe in "3D".
---
---
The 2 stages to drawing shoes the right way
What helped me to make a huge difference in my shoe drawing learning curve,
was drawing with this 2 stages method:
Stage 1: Draw the shoe last to get the proportion and the main form
Stage 2: Design the shoe design on top of the shoe last
---
This video below will give you 3 drawing Tips to constantly use + the common mistakes to avoid.
3 essential Tips on How to draw shoes – Side view –
As well as Palette (Sketchbook for sneakers and lady shoes),
I like to use templates before creating a new design of shoes.
My template is not an existing design of the sneaker, but the shoe last drawing.
If you wonder what is a shoe last, it is a standard shape of a standard foot.
In the footwear industry, the standard size is 42 for males and 36 for women.
They use the shoe last to create samples mainly for the fitting test and marketing team.
When I was at Adidas in Germany,
I remember trying the sneakers for multiple days and then giving them my fitting feedback.
It was a great experience as a user and also as a footwear designer.
---
If you want additional drawing tutorials,
I made a live drawing demo in Madrid with a few of my students in a cafe in Madrid:
How to draw a shoe easy in perspective.
---
00:14 | TIP 1
"Higher the heel, shorter the shoe length"
When we first draw a shoe, we often draw what's in our brains instead of reality.
However, to draw shoes as a beginner, our brain is not that reliable.
I show you in the video, 2 common mistakes that our brain likes to trap us in!
Of course, I will also show you how to solve them.
01:24 | TIP 2
"Draw the tail for 3D contour lines"
Your sketch looks flat.
It's a simple mistake that a lot of beginner designers do.
When they start drawing the side view, their brain goes into mode 2D.
The drawing becomes flat like a technical drawing.
But, in reality, perspective still applies.
To solve this, there is a simple trick:
Draw the tail when you draw your contour lines.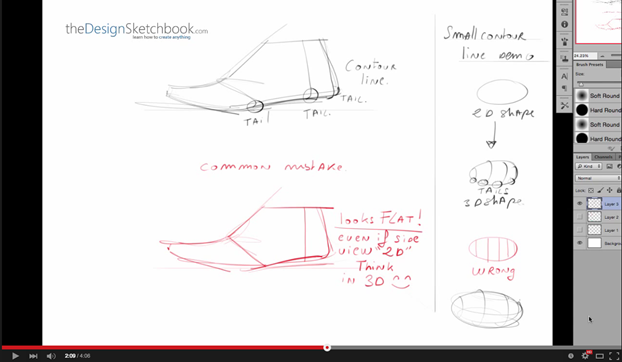 02:18 | TIP 3
"Visualize and draw with The shoemaker contour lines"
We usually use contour lines like 3D software.
For drawing shoes, we use a different logic.
The one the shoemakers use to create their designs.
I discovered created this method when I used to work in a shoe factory in China.
I was learning from the shoe last maker how he makes the shoes.
I get inspired by his techniques to create the shoe drawing method I teach my students.
These lines are used by the shoemaker himself to take measurements.
In further videos,
I will tell you more about How these lines help me to design shoes
with a "fluid movement" and create a dynamic sketching style!
---
IMPORTANT NEWS:
I am excited to announce I am creating a new website dedicated
100% to SHOE DESIGN for all shoe lovers like us!
The new website will be ready soon.
And to celebrate it, I will reopen
the registration for my Online Sneaker Design course:
SNEAKER SKETCH PROS.
If you feel impatient to draw professional sneakers,
do not miss the launch,
and be among the pioneers to be first informed,
I created this List:
> > Click here to join the: SNEAKER DESIGN COURSE | WAITING LIST
Cheers,
Chou-Tac
Hope it helps, let me know your questions and comments.
PS: Creating a template of shoe last allows you to get an easy shoe drawing method.
You can multiply your ideas by using them as an underlay.