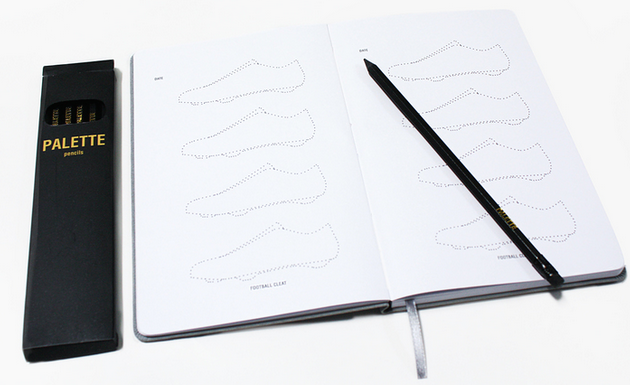 I am following a cool page about Footwear design on Instagram: @PaletteStudioCo
Credit featured image on the home page from Rob Maston or @raw_mass
---
It showcased amazing works of pro, beginner or passionate of footwear design – drawing with the Sketchbook Palette. What is there so special in ?
Palette offers 130+ pages of shoe template per sketchbook. (A set of common shoe templates of low cut, high cut sneakers…)
We can drop in ideas instantaneously without caring about shoe proportion.
Many young designers know how it's pretty hard to get that at start. Isn't it ?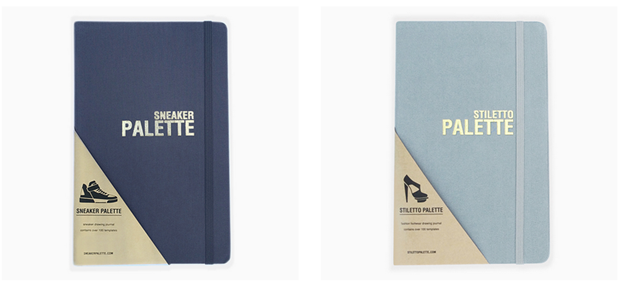 Palette Sketchbook – Sneaker and Stiletto – 25$USD  each
---
I haven't try the palette myself. So I can't make a review.
But, this product is interesting enough to be shared and considered. If you guys are already user of the Palette, I would be glad to receive your impressions.

 Thumbnails = Multiply ideas = Challenge creativity
I am not super fan of using template as a learning process. I believe that it's much better to learn from drawing fundamentals. However I foresee some real benefits.
---
Each designer start with a different background

eg. How to draw a shoe – Adidas sneaker
I was driven by sketching first, the love for footwear came later – when I was student at the Design school, I was looking and drooling at shoes from Conceptkicks footwear magazine. There was no footwear design course in my school, so I improved my footwear sketching skills importing Industrial design techniques. An example above.
---
But how about people "who are opposite" ?

Moodboard on palette
I mean people who love design footwear, but yet don't know how to draw ? And want to draw NOW. It might be frustrating to have so many ideas in mind but yet not able to translate them in sketch. I guess that's one of the problem that the creators of Palette want to solve.
---
Motivation booster
@SavethePanduhs artworks with the Palette
I start to believe that it's good to get some facilitators sometime. We may postpone a bit our learning of sketching fundamentals, we still experiment some shapes, curves and a good feel about footwear proportion. It may be a "simplistic approach" using 2D, we still feed our memory of forms. I believe that Palette is a great boost of motivation and confidence.
---
Inspired from professional workflow
High end Lady shoes Moodboard
Some shoe designers also use templates during the phase of research. They sketch a first template, then duplicate it x 12 thumbnails (more or less) per page.
Why ? When a design is reconducted from a season to an other, we don't need to redo the whole design. We keep it as a base and apply on it some minor modifications".
eg. adding tassels, perforations, stitches, prints, metallic accessories…
This method is a time saver. That's actually what Palette offers.
---
My impressions

Rob Williams Hand sketch – Nike designer.
Palette is NOT made to teach how to draw shoes – from an ID sketching perspective. Yet Palette inspire designers and let them express there ideas now. From what I see on Instagram, it works pretty well !
Don't get comfortable with shoe templates forever.
As soon as you got your confidence high, jump into learning the sketching basics – and look for your '"sketching autonomy". (Don't get me wrong, that doesn't mean you won't work with template anymore.)
Target the next level of sketching and you exploration of footwear design will reach an other dimension. You may create your own templates from side and even quarter views !
---
In few words, Palette is a great motivation booster and kick starter !
User of Palette ? Tell us about your story.
Leave the comment in the box below ! Thanks !