To draw shoes easily requires some skill and a few tricks only experienced artists know.
Check out my sketching tutorials to get the basics of shoe drawing and create stunning pieces of art!
---
The Secret to Draw Shoes Easily (FREE BOOK)
Have you ever wanted to learn how to draw a shoe, but didn't know where to begin?
It might be because you haven't heard of the "Shoe Last".
This is a simplified form of a foot used by professional shoe designers as a template.
Knowing this concept will make it easier for any beginner designer to draw the perfect shoe from their imagination.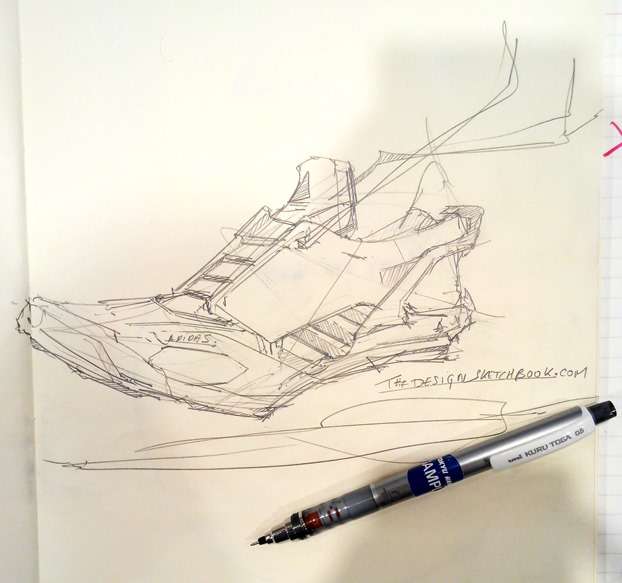 Learning how to draw a shoe may seem like an intimidating challenge,
but mastering it is easy with the help of the Shoe Last technique!
My Journey from Struggling with Drawing Shoes to Expertise
I remember my struggles with drawing shoes during my time as a student in Product Design school.
Although I had learned the basics of ID sketching,
I faced major difficulties in drawing a single decent design of a shoe.
I was unsure of how to go about it and kept failing my shoe drawings.
They were flat, disproportionate, or just awkward-looking. : /
Yes, I was frustrated.
I could not figure out a consistent technique.
I struggled to draw my shoe design ideas.
These were stuck in my head…
How could I communicate my ideas visually and succeed in innovating if I could not draw them?
I was so motivated to find the answer,
I took it upon myself to build a proven technique that worked for me and my students too!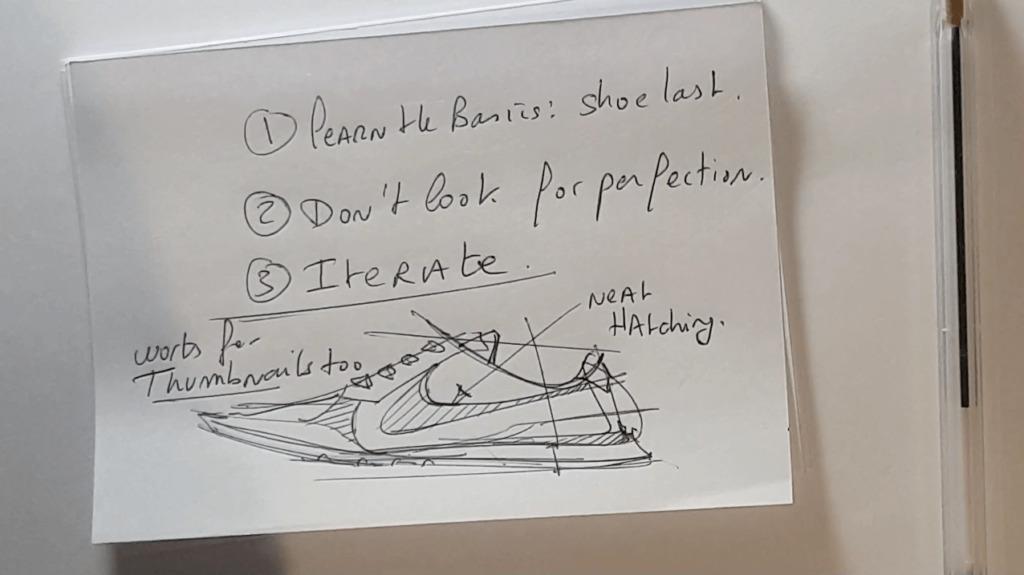 Yes!
I eventually developed a "Shoe Sketching Formula"
which can help others gain professional-level proficiency in just days or weeks!
That is the technique I used to build my portfolio
and succeed in working for Adidas as a professional Footwear designer.
(I created a step-by-step shoe design online course with all should know to draw your shoe design from a side view and also perspective! I cover a lot more about creative techniques, such as "the wind technique" among many others so you can create easily your own designs with your own style.)
This is why I'm so delighted to be able to share this knowledge with you
through my video tutorial on how to draw shoes (side view).
You'll learn:
How to draw like a footwear designer,
But also start to think like a shoemaker!
---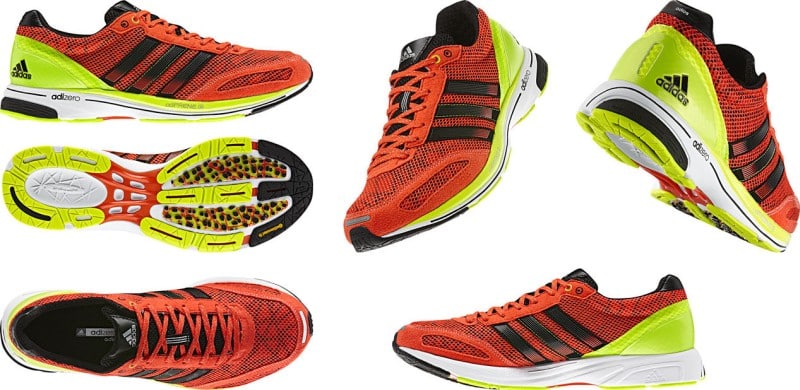 ---
Below, I share with you the 2 Must-known rules
if you want to start drawing amazing shoes easily!
Follow the tutorials and do not hesitate
to send me your shoe design creation by email at choutac@thedesignsketchbook.com!
---
RULE NUMBER 1:


The way to Draw a Shoe Easily?
Start drawing the "Shoe Last". – Chou-Tac Chung
WHAT IS A SHOE LAST?
A Shoe Last is a standard shape of a foot
that shoemakers use to make shoes in order to fit the human foot.
The better the quality, the better the comfort and aesthetic of the shoe.
You don't have to become an expert in human foot anatomy,
but you have to learn how the foot works for an athlete and its proportions.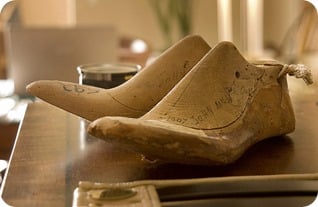 Drawing a shoe can be made much easier by using the "shoe last" as a reference.
This is used to set the overall proportion of the shoe, before adding in details and creativity.
With the "shoe last" as a reference, designing your own pair of shoes becomes easy and fun!
---
Design Innovations: Adapt the Shoe Last For Enhanced Athletic Activity
As a shoe designer for Adidas at Herzogenaurach in Germany (at the headquarters),
I was fortunate enough to have access to an impressive variety of shoe lasts in the storeroom.
There were hundreds of them on the shelves.
The "shoe lasts" provides the perfect foundation
and potential for any kind of shoe design,
from running and racing shoes to more efficient and comfortable forms.

Depending on what kind of shoe was needed, the appropriate last could be chosen.
For example, if you were creating a running or racing shoe, a more slender shape is more favored for its lightweight qualities.
The decision surrounding the ideal "Shoe Last" depends entirely on your planned design.
It can make all the difference in providing the comfort and stability needed to take performance levels up a notch.
The running shoes tend to be slim.
i.e. Adidas Ultra Boost.


Basketball shoes are bulkier
i.e. BasketBall shoe or Tennis shoe for high ankle support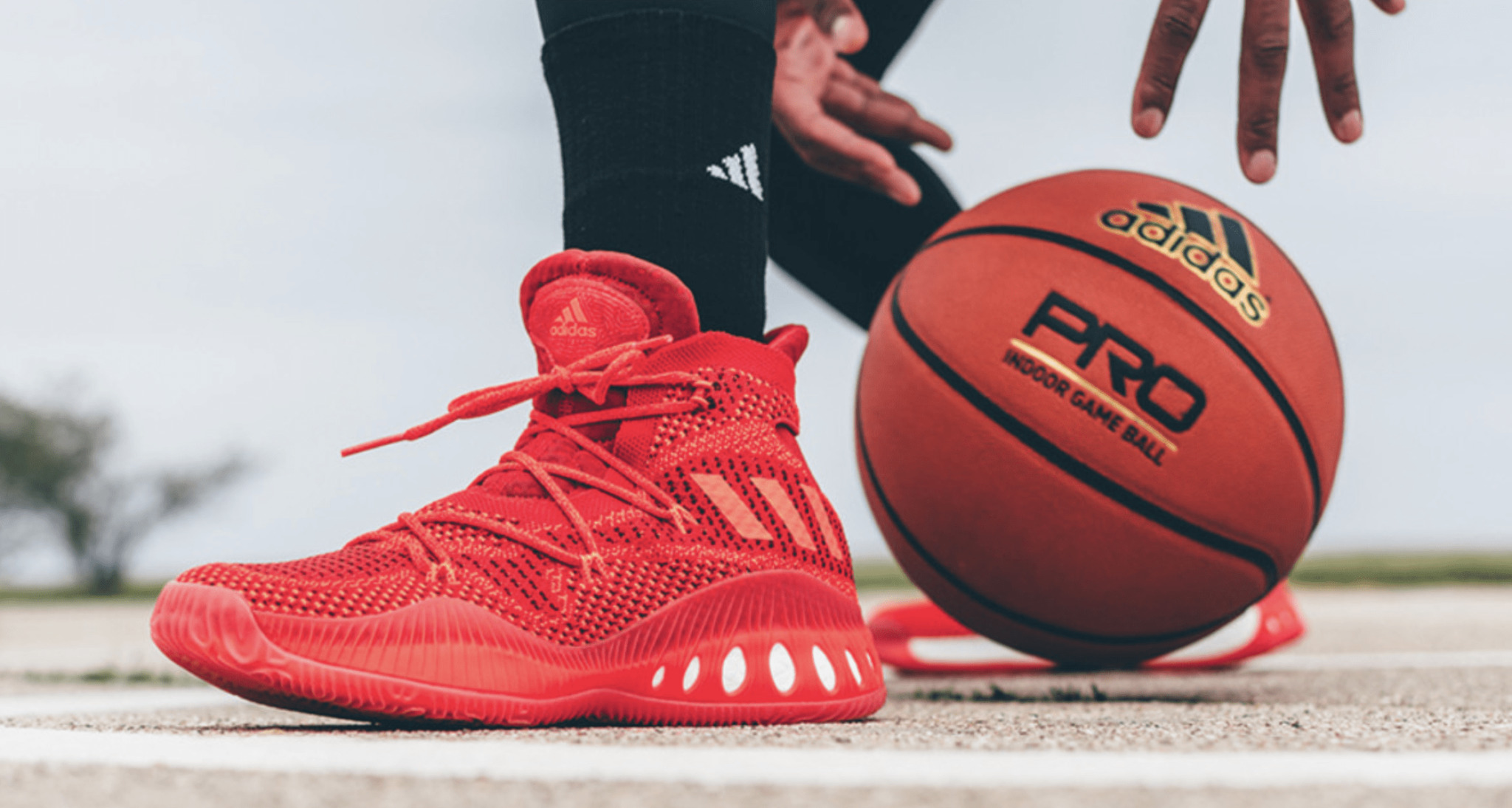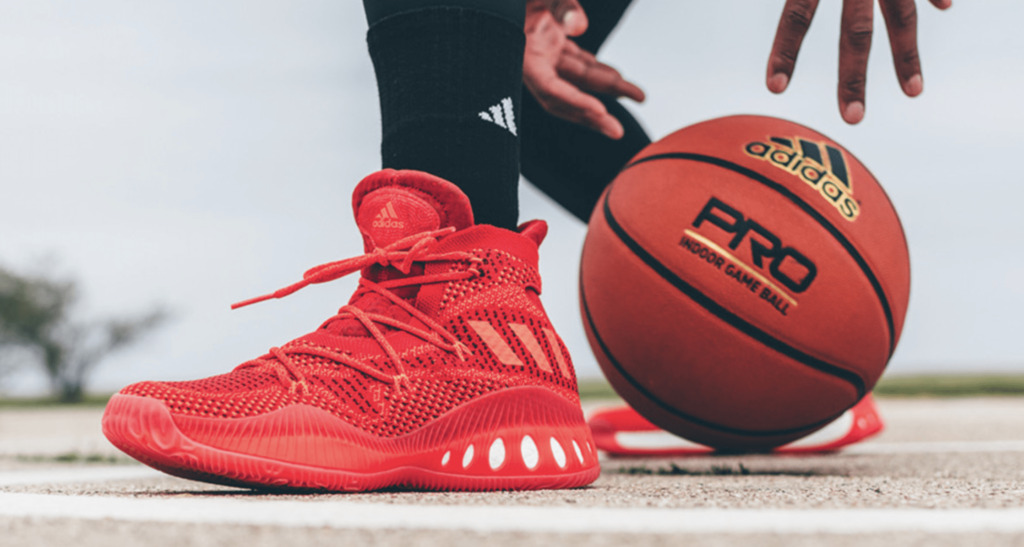 CREATIVE TIP:
When designing for athletics,
it is vital to keep in mind the needs of the athlete before beginning your design.
It is not all about aesthetics or "pretty designs".
To start this process, choose wisely the "shoe last".
It should be a key part of your approach, as this form will ultimately define your final output.
Taking time to visualize what the different movements of an athlete will be in order to create an optimized design for improved performance can make all the difference when creating a successful piece of footwear!
---
Learn the 2 simple steps to Draw a Shoe Easily
To draw a shoe, you need to:
Step 1- Draw the shoe last to set up a good proportion.
Step 2- Create your shoe design using the shoe last as a template.


Drawing the "Shoe Last" first is the only way
to draw the design of the shoe easily, fast, and with quality.
Otherwise, you will keep drawing shoes with clumsy proportions forever. : /
No matter how cool is your idea, if your proportion is wrong from the beginning, we'll have an awkward feeling looking at your shoe design.
Remember:
Do not start your shoe design by drawing the shoe itself.
Start with the "shoe last".
And make sure you sketch the shoe last with proper proportions.
For example, if you would draw a glove, you would draw a hand first and use it as an underlay.
Then only you can relax, and spend time on the glove design aesthetic and features.
---
PRACTICE TIME
How to draw shoes easily in only 1 minute!
If you love Nike shoes like I do,
I created a drawing tutorial for you to practice now and get instant results:
---
DRAWING TIP
A shoe last aims to be feminine, and sexy.
"A shoe is not only a design, but it's a part of your body language, the way you walk.
The way you're going to move is quite dictated by your shoes."

Christian Louboutin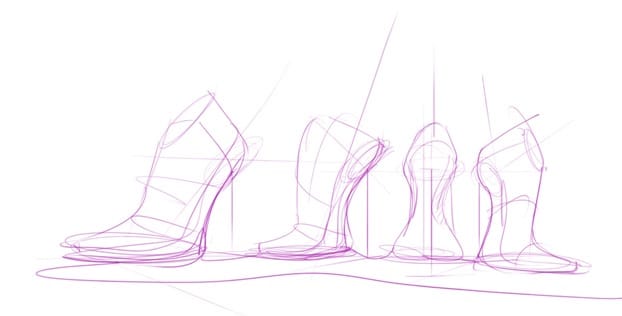 After you know how to draw a "Shoe Last" with good proportion,
let me share with you a mental trick to level up your skills as a Footwear Designer.
What really helped me to improve my sketches, even more, is actually not another drawing technique, but a mindset, a feeling of feminine sensuality – (even if the shoe last is made for man).
You can also observe the feet of models or your female lover.

Keep in mind how sexy and attractive feet are.


Draw your "shoe last" with that sensual feeling – somehow "feline".

Your research of form will naturally find the right curve, and get proper proportion, – yet feminine.
---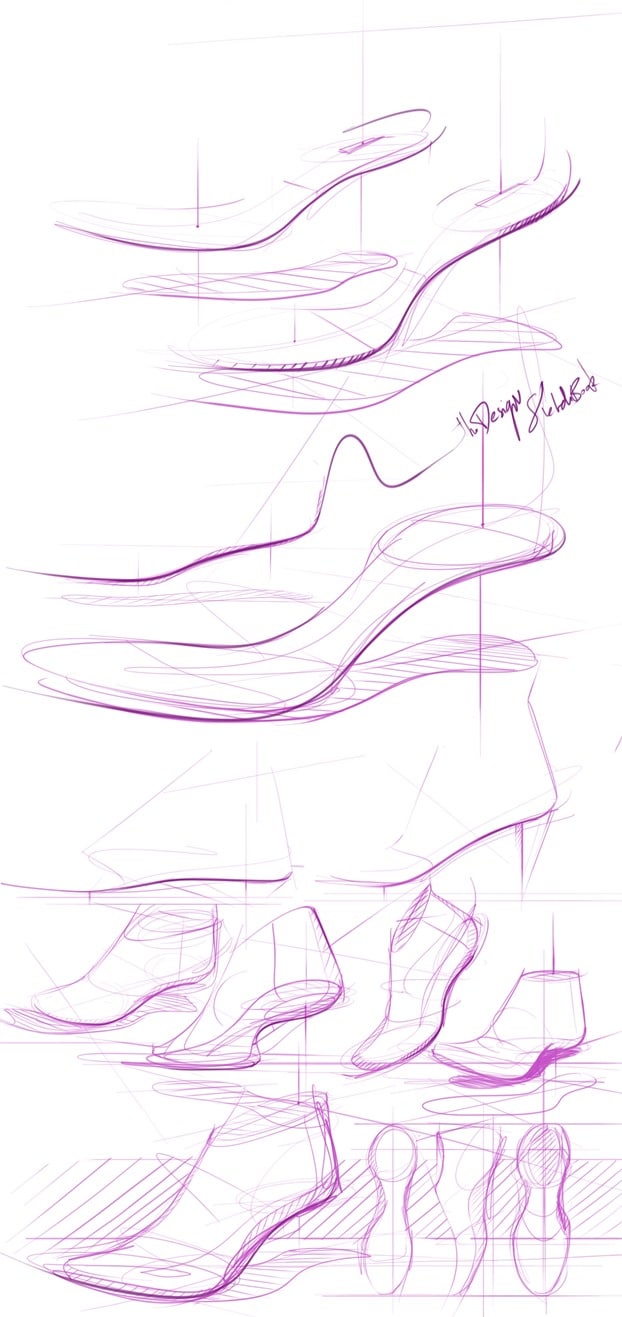 ---
How to Draw and Design Sneakers Like a Pro?
If you are a Shoe Lover like me and want to find out everything you should know on how to design and draw shoes for the Fashion industry, tell me in the comments, or send me an email at choutac@thedesignsketchbook.con.
I launched my Sneaker design course: SNEAKER SKETCH PROS!
The online class breaks down the creative techniques
into simple mini-steps for any passionate to progress week by week.
The format is perfect if you start at a beginner drawing level to grow to a pro level.
Soon, you will be able to create your own shoe design collection with confidence.
---
Set up an ambitious Sneaker Drawing Challenge!
Join me in this exciting Sneaker Drawing Challenge!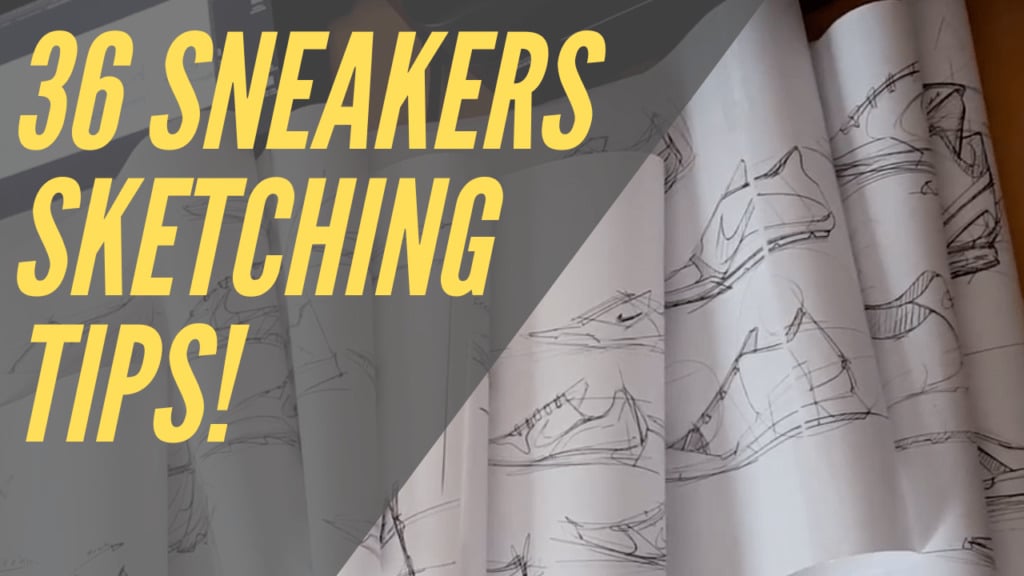 Why does a sketching challenge make you a better designer?
You will integrate the technique faster, and better.
You will keep the techniques for life and never forget them!
Boost your creativity by drawing shoes that follow your design intuition and style.
Recently I published a new video about a Crazy Sneaker challenge
I gave myself drawing hundreds of cool shoes on the equivalent of 7m of paper roll!
I took this opportunity to record all the footwear experience
I learned all along with my studies and my experience at Adidas as a Shoe designer.
I took this opportunity to share with you in this shoe sketching video
the 36 shoe designs and essential drawing tips to accelerate your shoe drawing learning curve.
---
Sketching Basics – The Building Blocks of Great Design
If you want to make your first steps in drawing,
I invite you to Download the Designer Starter Kit to start learning the basics of perspective step-by-step.
The Designer Starter Kit exercises in 6 videos:
Once again, these videos are linked to the Designer Starter Kit.
To enjoy the series of tutorials better,
I recommend you guys receive the book first.