To make sure you receive news on the launch of the Sneaker Sketching course, make sure to Register to the blog! 🙂
It took me 10 hours and 30 minutes of sketching to complete the 7-meter canvas in 4 days.
It's an amazing experience I recommend you to do once in a while to sit, focus, and enjoy drawing like doing meditation.
And I wanted to take this opportunity to record the whole session for you guys. I saw a chance to extract from it plenty of sketching tips that I compiled in a book called:
the Sneaker Booster Book
In total I found 36 sketching TIPS to help you to draw your own design of sneakers! I hope it is gonna be helpful and inspire you.

SNEAKER SKETCHING COURSE SOON!
I see in this video challenge a great introduction to the Sneaker Sketching course 2019 I am preparing. Some of you already asked me when is it gonna be launched exactly.
I am happy to announce that the date is almost confirmed.
The registration and the course will start in early February 2019!
I added below the list of the 36 TIPS I reveal from
the "7-meter sneaker sketch Challenge !" video.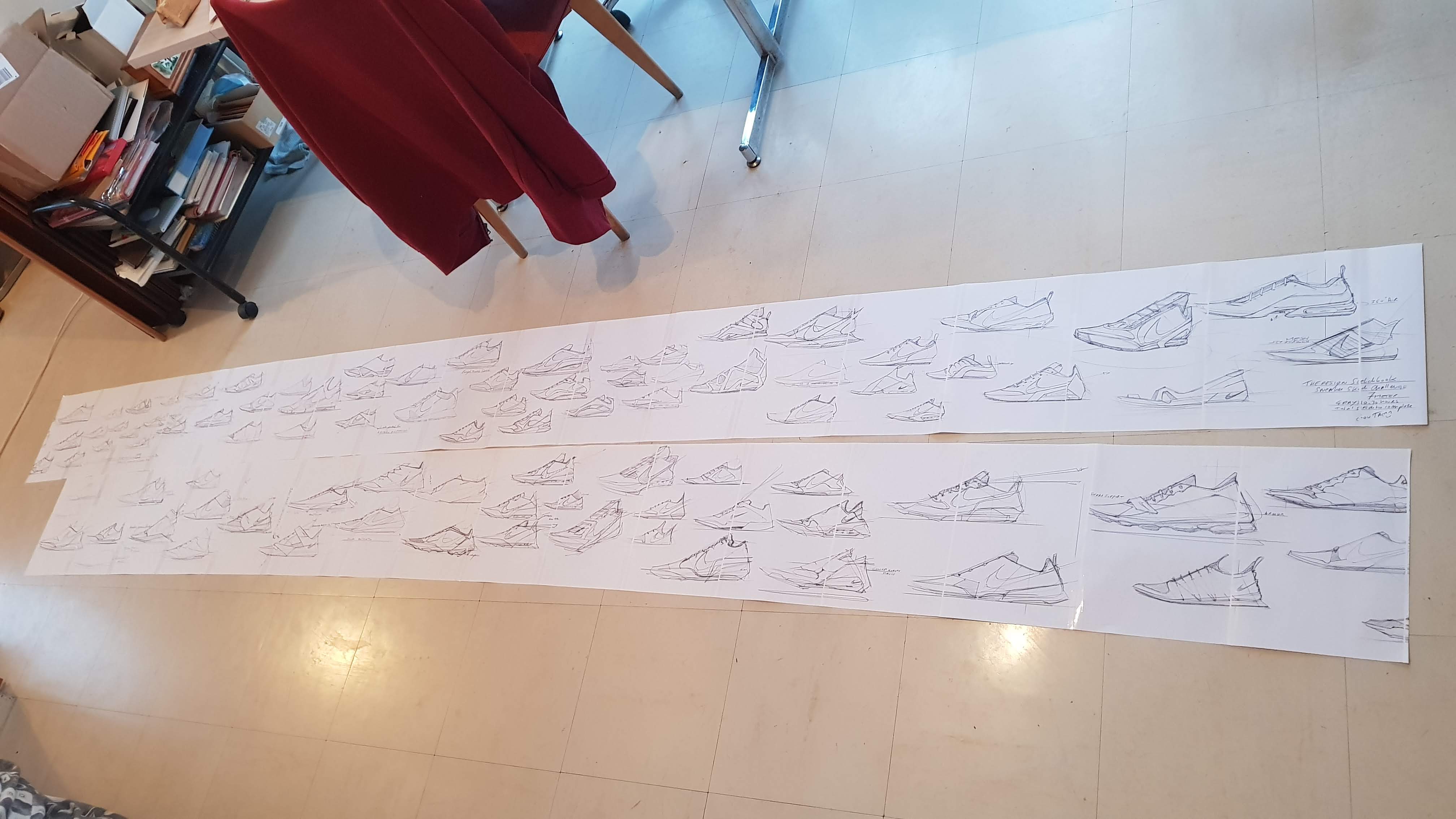 TIP 1 WARM-UP TIME!

---
TIP 2 DRAW THE SHOE LAST FIRST

---
TIP 3 CELEBRATE PROGRESS!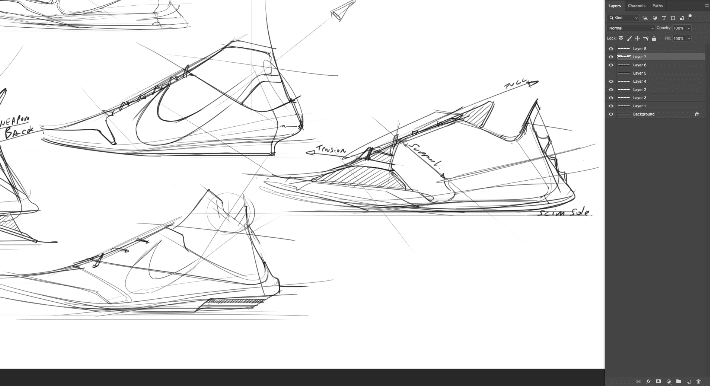 ---
TIP 4 SAVE OFTEN

---
TIP 5 ADD QUICK PATTERN

---
TIP 6 SKETCH WITH DYNAMISM

---
TIP 7 CLEAN UP FOR CLARITY

---
TIP 8 BE IMPERFECT

---
TIP 9 GO FROM GENERAL THEN DETAILS

---
TIP 10 CHOOSE A FORM LANGUAGE

---
TIP 11 CONVEY A STORY

---
TIP 12 HIGHLIGHT THE FOCUS POINT

---
TIP 13 EXPAND YOUR LIBRARY OF FORMS

---
TIP 14 CREATE ON THE FLOW

---
TIP 15 USE ICON OF DESIGN AS REFERENCE

---
TIP 16 TWIST THEM!

---
TIP 17 YOUR SKETCHES ARE NO PRECIOUS

---
TIP 18 QUANTITY MATTER

---
TIP 19 EXPLORE FASTER WITH THUMBNAILS

---
TIP 20 HIGHLIGHT DETAILS SEPARATELY

---
TIP 21 FEEL FREE TO ILLUSTRATE

---
TIP 22 USE HATCHING FOR CLARITY

---
TIP 23 DO NOT FINISH A SKETCH IS OK

---
TIP 24 YOUR IDEAS FLOW IN MULTIPLE SKETCHES

---
TIP 25 GO IMPOSSIBLE

---
TIP 26 GO SIMPLE

---
TIP 27 SKETCH FOR 30 MINUTES AND MORE!

---
TIP 28 ENJOY THE PROCESS

---
TIP 29 DARE TO GO DIFFERENT

---
TIP 30 ADD STITCHES

---
TIP 31 PLAY WITH THE LINE WEIGHT

---
TIP 32 SHOW YOUR IDEAS IN PERSPECTIVE

---
TIP 33 SET UP A SCENE WITH MINIMAL LINES

---
TIP 34 EXPLORE OTHER FOOTWEAR STYLES

---
TIP 35 UNDERLINE YOUR NOTES

---
TIP 36 REFINE TIME