Hello ! It's Chou-Tac,
It's 11am here in France.
And before going to gym, I wanted to announce that this week:
I am starting a 7 meters of "Sneaker Sketching Challenge" ! 
Yes ! it is about 4 times my height ! Ohoh !! (I am 1,80m)
A while ago I even did a 18 meters roll of Concept Art Sketching Challenge in 7 days ! Uhuh !!
It was pretty intensive for me! (See picture below)
Today I decided to do it again with a New Challenge on SNEAKERS.
(My guilty pleasure I sketch even in a meeting, subway, dinner time… do you have the same ?)
For this new challenge, I am adding an innovation: Sketchbook Pro. 
Why ?
Because Sketchbook Pro is one of industrial and transport designer's top favourite sketching tool. I love using it with my macbook and tablet.
The software is now downloadable for Free. (It used to have fees)
I thought you could install it on your computer or iPAD and participate at the "Sneaker Sketch challenge" with me !
If you are a beginner, you can start the sketching challenge with 1 meter width.
(To edit your canvas size, press IMAGE / CANVAS SIZE.
Choose 100cm for width and 29,7cm for height)
It is already pretty much already an ambitious Challenge !
If you do accept the Challenge, send me your creation as soon as you can and I will be glad to give you my Personal feedbacks if you want to. 🙂
I may also publish some moments on Facebook LIVE. 
So if you follow The Design Sketchbook Facebook page, you may see me appear in your feed ! Send me a Hello to cheer me up !! : D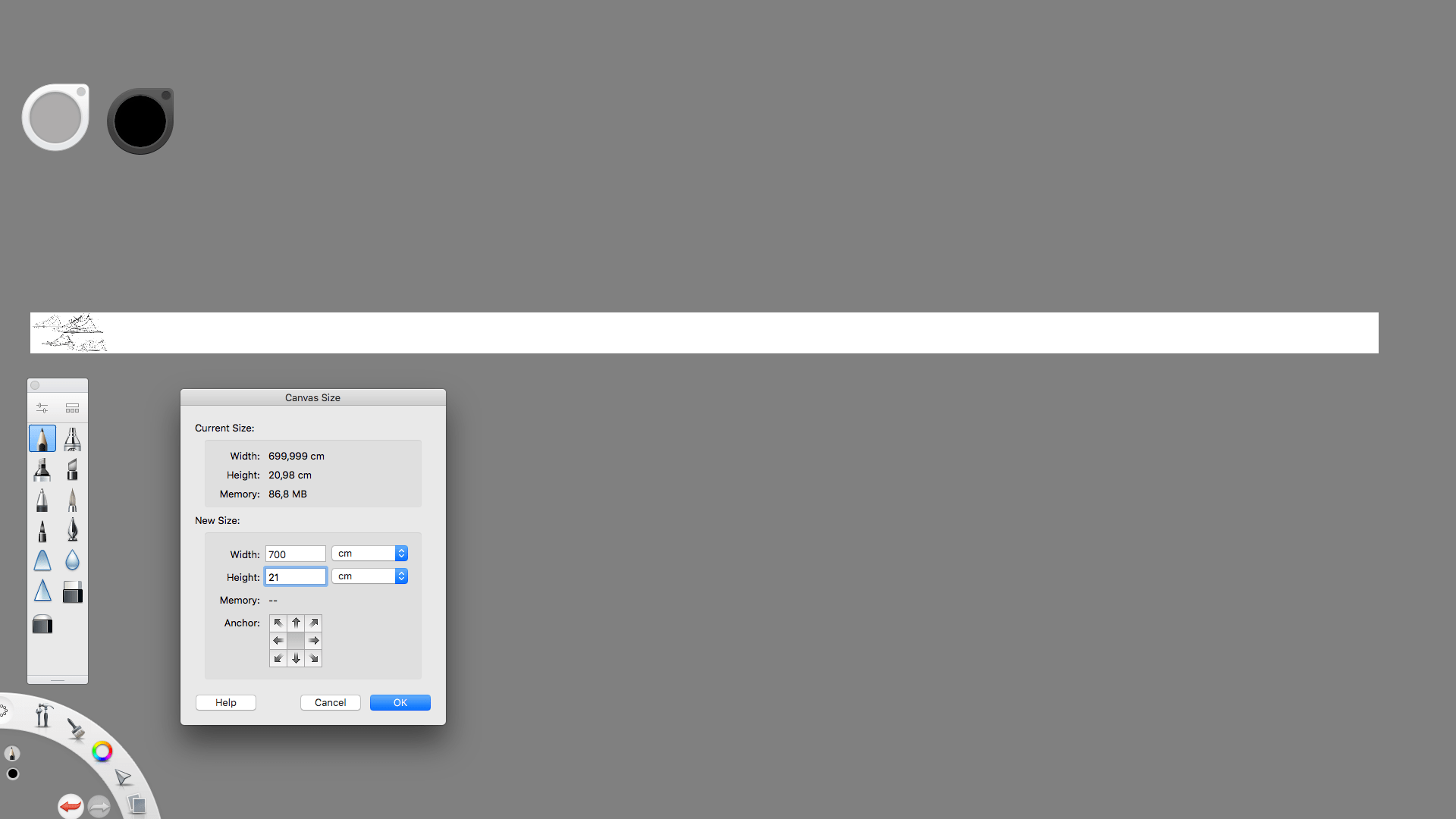 ---
What are the benefits of making such big Sketching Challenges ?
BENEFIT 1
Show you how essential it is to "sit, focus and draw"
to make a change in your life.
(and avoid procrastination)
If you want to bring your passion to the next level,
or even becoming a professional Footwear Designer,
remember that :
"There is 365 days a year, and that's not much if you don't pay attention." 
If you have a busy life, practice whenever you can, it is ok.
But I invite you to also enjoy the pleasure of a long sketching session too.
You may still say you are really busy ?
But then, just remember what's your priority : Live for being busy or Live for your passion ? 
If you answer yes for the second,
I am confident you will find or create the time.
(For example, if you fall in love with a girl or a boy,
I am sure you will find a way to create that time for her or him. Right ?
That is the same for sketching.)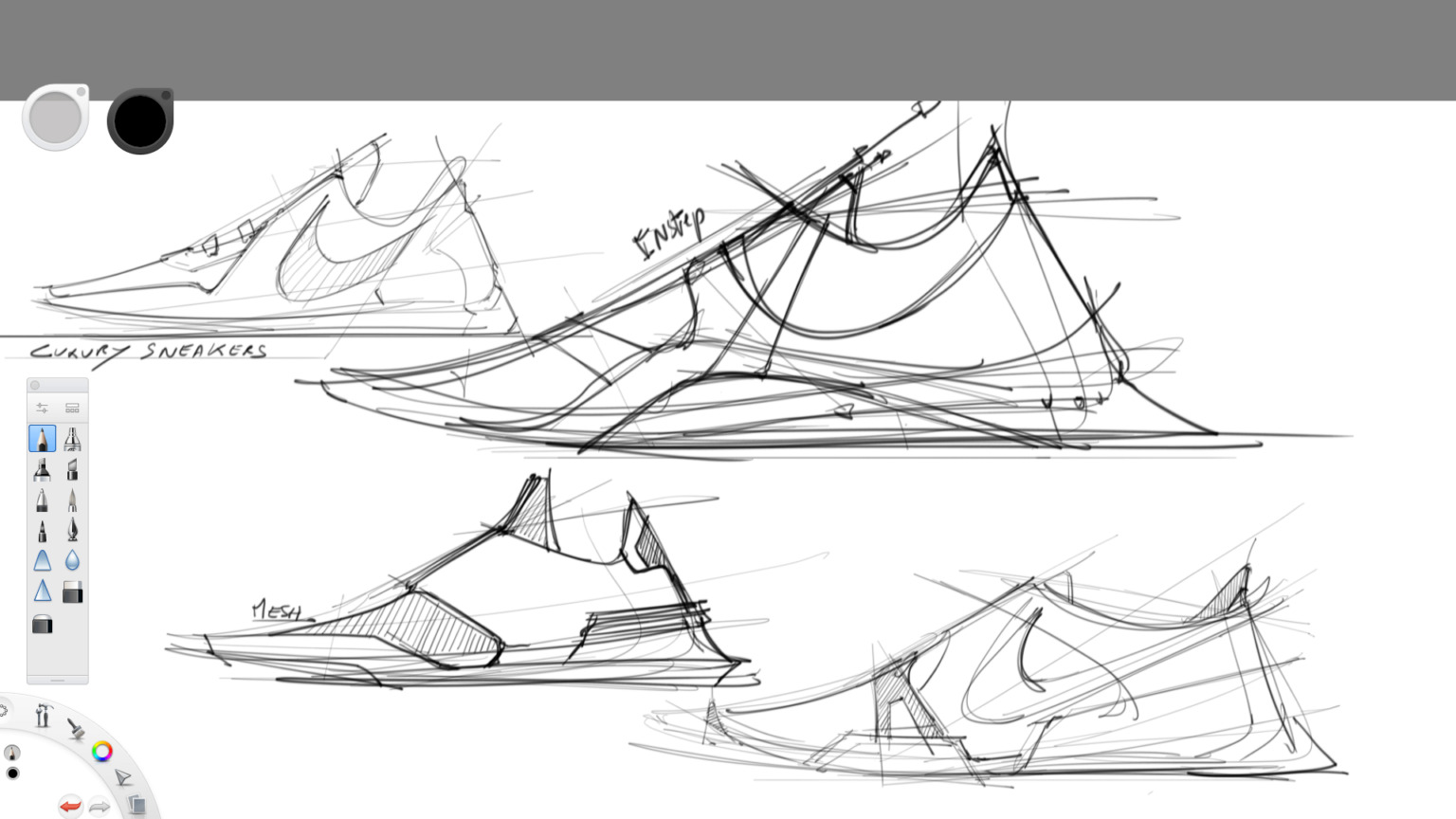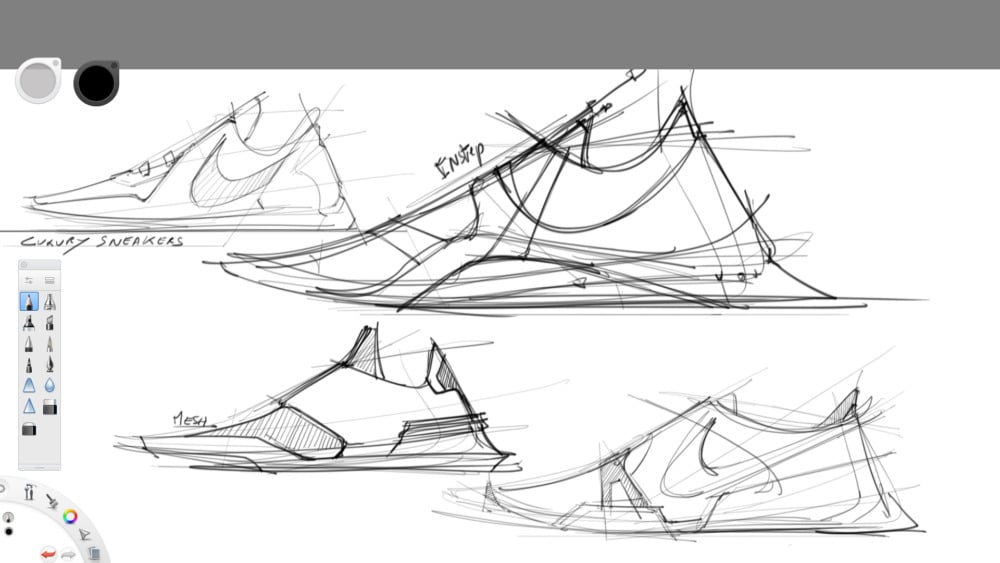 ---
BENEFIT 2
It's exciting and it spices up your life !
You progress like crazy pushing yourself
out of your comfort zone !
Remember that : the best way to do NOT progress is to forever do the same thing : you stagnate more or less happy in your comfort zone. (If it is on purpose, then it is ok.)
But if you think twice, you decline. Why ?
Because the world is progressing while you sit
(looking at your cute belly button).
Remember, the world doesn't wait.
To progress and catch up, you gotta do something new that make you UNCOMFORTABLE.
It is ok to feel intimidated.
That is normal. That means, it is something that matter to you. 
(It is ok to feel shy in front of a girl or a boy you like.
It means you got feeling for her or him.)
This is why the goal of this Challenge is not making
the best roll of sketches yet.
Your challenge is to discover
how much you can push yourself
to focus on one task : Sketch. 
Do something that matter to you.
Or you will forever ignore the possible outcome.
BENEFIT 3
Sketching for a long session can make you progress x100 times more than 1 year of procrastination.
Is it worth it ? definitely yes :).
Of course it is not gonna be easy !
Especially as you may not have the sketching skills yet.
But if you have fun, it doesn't matter !
As the best way to start, is to make a first step.
Let me give you a TIP I will use myself in the challenge to help me keeping the flow: Use reference pictures when you draw.
Do not try to copy exactly what you see. But feel the lines to inspire you.
---
To help you, here is a 1 minute sneaker sketching quick tutorial I made for you (Click on the picture below):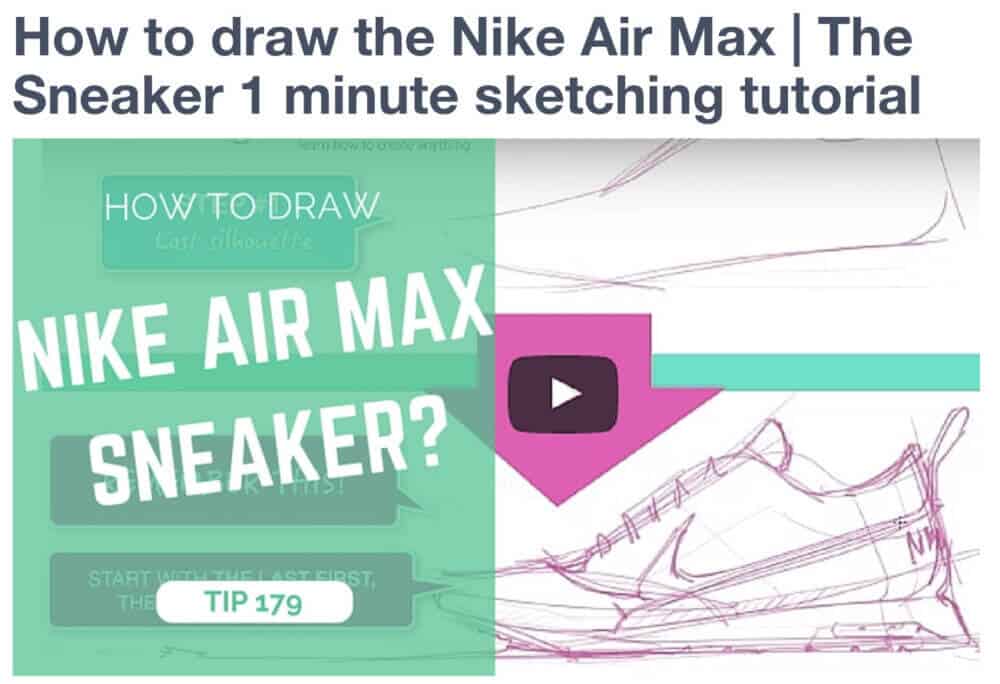 https://www.thedesignsketchbook.com/how-to-draw-the-nike-air-max-the-sneaker-1-minute-tutorial/
IMPORTANT : 
You will see in the video the importance to focus first on the proportion with the "shoe last", then only you can focus on the design and details.
See you on Facebook Live !
Have a wonderful week.
Cheers,
Chou-Tac
PS: I am preparing a Sneaker Sketching course for whom wants to go to the next level with me. To do so, I am thinking of a Beta-Test session to register before the official release.
I will welcome a few people to join in only and exchange feedbacks.
Tell me what you think sending me an email at choutac@thedesignsketchbook.com. 🙂