I'm hunting for new apps for artists and designers to spice up my learning journey.
It's a great feeling when you upgrade your skills using an iPad!
4 iPad Apps for Artists and Designers
I searched for new sketching apps for my iPad, Macbook, and also Oculus Quest2.
Let me share with you my recommendations for the day!
It's not a complete review of each, since I am still learning how to use them.
It's my first impression that I hope will encourage you to try them as well!
Let's start with the apps for iPad today.
(I will cover the Macbook and Oculus in the upcoming days.)
Let me know in the comments at the end of this article your favourite apps or software!
---
You can download the app here: https://apps.apple.com/us/app/art-set-4/id1418530800
Art Set 4 is among the same family of "painting software" as the famous Corel Painter on desktop.
They aim to replicate traditional drawing and painting tools as realistically as possible.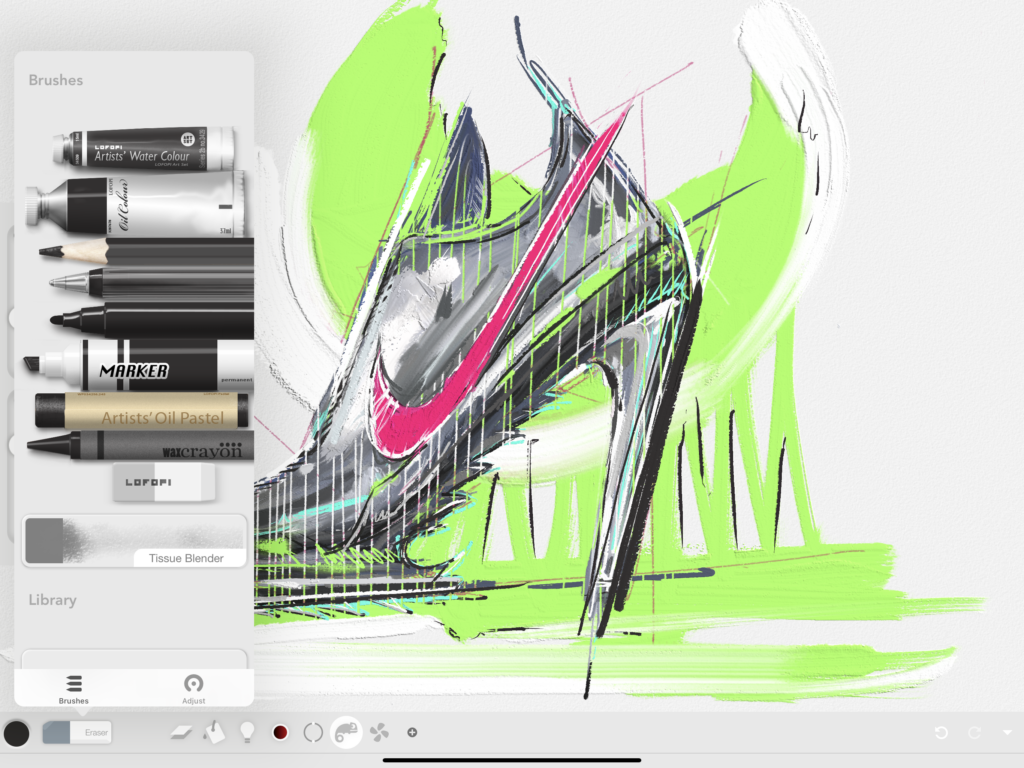 The toolbar is super user-friendly and beautiful
compared to the Procreate preview of brushes.
The painting on canvas looks real.
It imitates the thickness of your gouache painting for example.
The colors blend when you add an extra layer of paint on top.
By default, your fresh paint is wet,
you have the option to dry the color on the spot,
so you can add more paint on top without the blend effect.
Something non-realistic but I love digital art is the eraser.
You can erase your paint in a super clean way! Hehe
The presence of the layers is another cheat
we have as digital artists compared to the traditional method.
The app is a lot more affordable compared to Painter.
---
You can download it here: https://apps.apple.com/us/app/pixaki-4-pro/id1447665380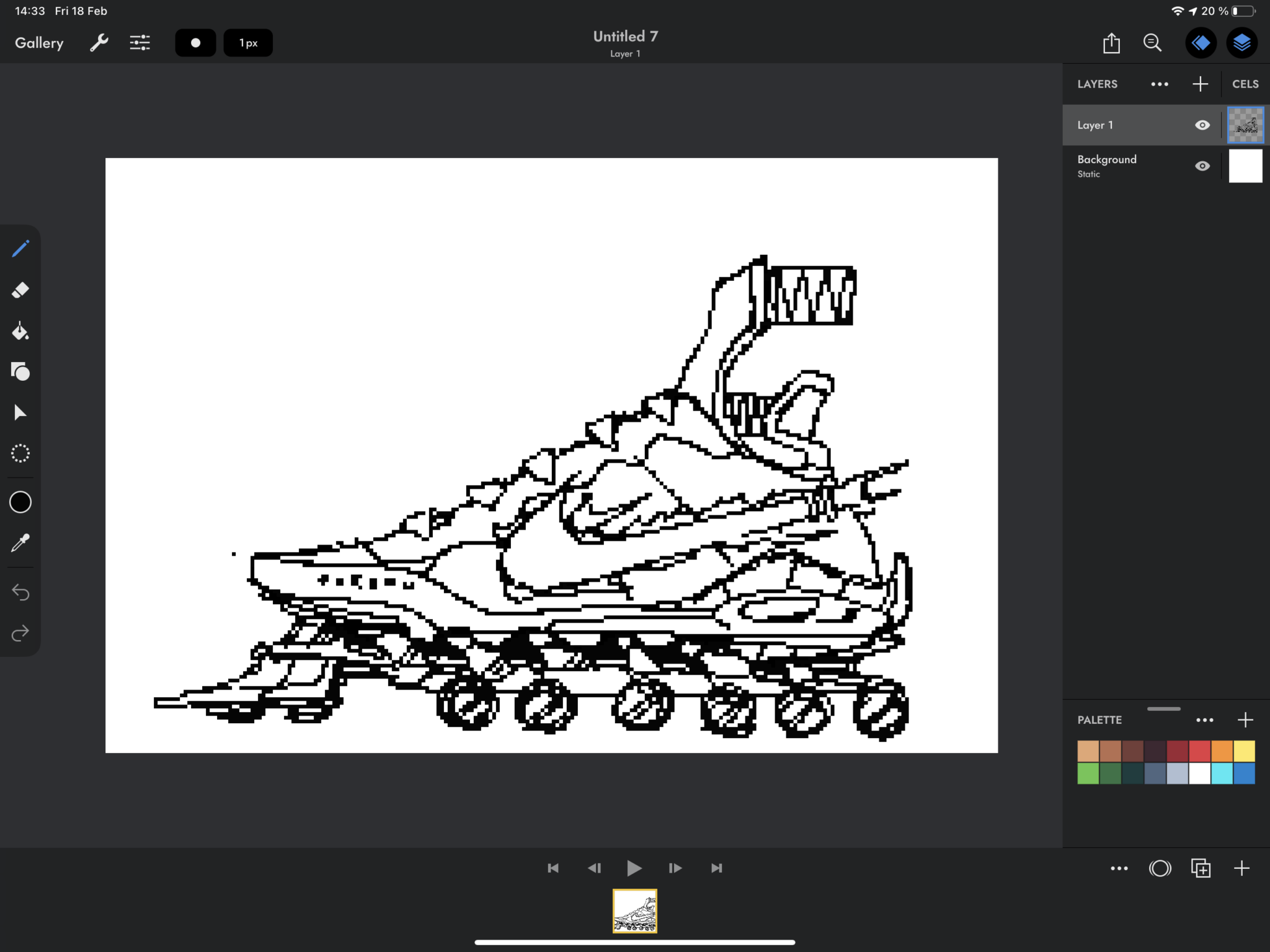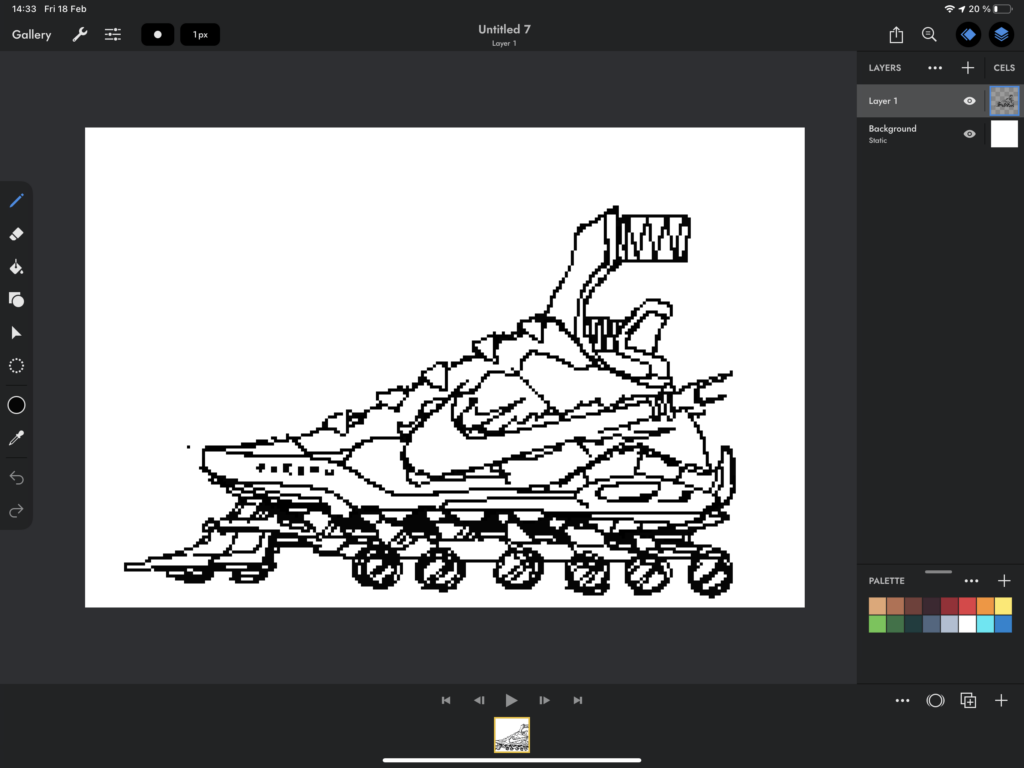 Let's jump into Pixel art!
Born in the '80s, I remember the watch I had on my wrist when I was 10 years old.
My brother bought it for me during a trip to Canada.
I had a Batman video game on it!
We could play with a few animated pixels throwing "batman's shuriken" to the enemies!


I couldn't be insensitive to pixel art when I saw the revival through the Crypto Punks and many other NFT projects! Since I grew up, I worked hard on my sketching skills, so I got to try pixel art too!
Pixaki is super simple to use! Beginners will adapt fast.
The app looks like a mini Photoshop with a reduced interface to the minimum!
You can animate your pixel art!
They propose the option of the "Onion" (to draw the next image, the previous one is displayed with a lower opacity for you to use it as a reference)
The layers are definitely best to create easily and freely.
For example, with the basic 3 layers setup.
1. Top layer is your lines. 2. Second layer displays the colour. 3. Third layer is your background.
The app is also affordable.
If you are not sure you want to dive in, you can try free alternative apps online (See Pixelchain below)
---
You can get it here: https://nomadsculpt.com/
A few days ago, (15 years later), I discovered Nomad Sculpt.
That 3D software changed my whole perception of myself.
I created stuff I couldn't imagine thanks to their simplicity of use.
From day 2, I was impressed by my 3D creations.
The tools are kept minimal.
The favorite tools I use the most are Move, Drag, Crease, and Paint.
With only these 4, I could create the characters you see above
Don't get me wrong, learning a new skill is not about innate talent, but more about interest.
This is why I love apps and software working on making things SIMPLE keeping the bare essentials.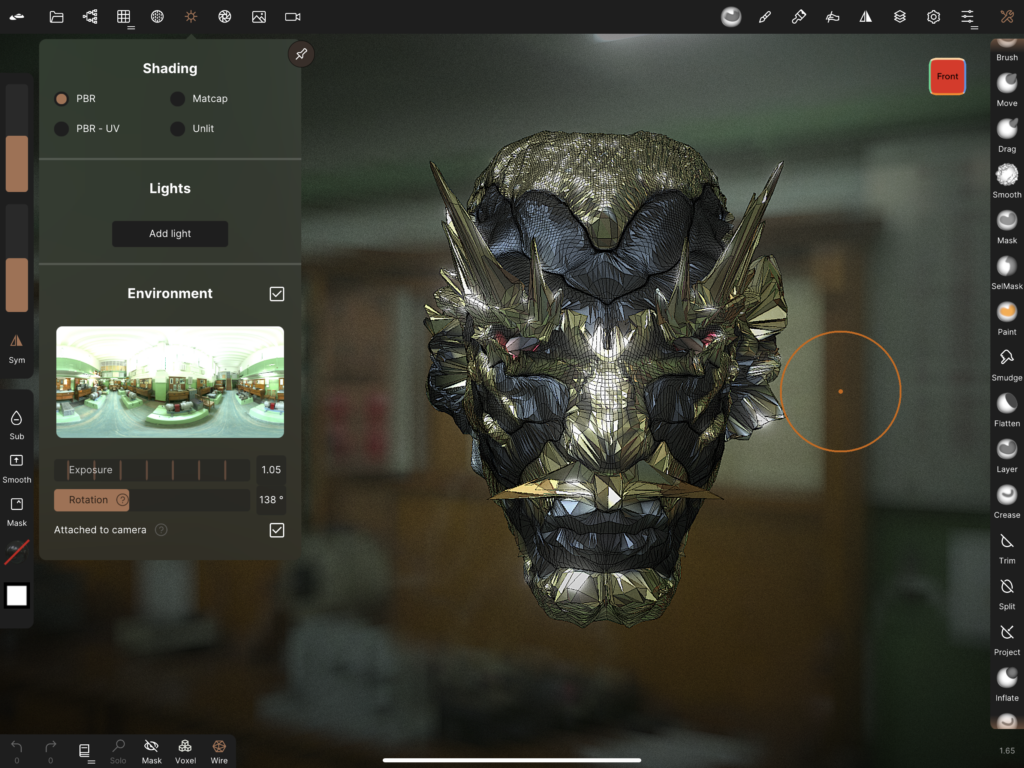 Nomad Sculpt is my top fav software at the moment!
I discovered Nomad Sculpt by chance on Tik Tok.
I always thought I was not a "3D guy", so I specialized in sketching.
I labeled myself as a sketcher, and I would never be deep into 3D since my brain could not comprehend the process as smoothly as in sketching.
It's not that I disliked 3d art.
I tried to learn years ago (15 years ago) with Maya, 3dsMax, Poser, and Zbrush… I even went to extra classes our teachers prepared for the volunteers.
We were only 2 or 3 students haha.
I was excited to start. But I was overwhelmed from day 1 by the sophisticated interfaces and tools.
I gave up focusing on sketching on paper and tablet, using 2D tools like Sketchbook Pro, Adobe Photoshop, and Illustrator.
---
Hypersketch
Under development
Update: The app Hypersketch is now available on the Apple store!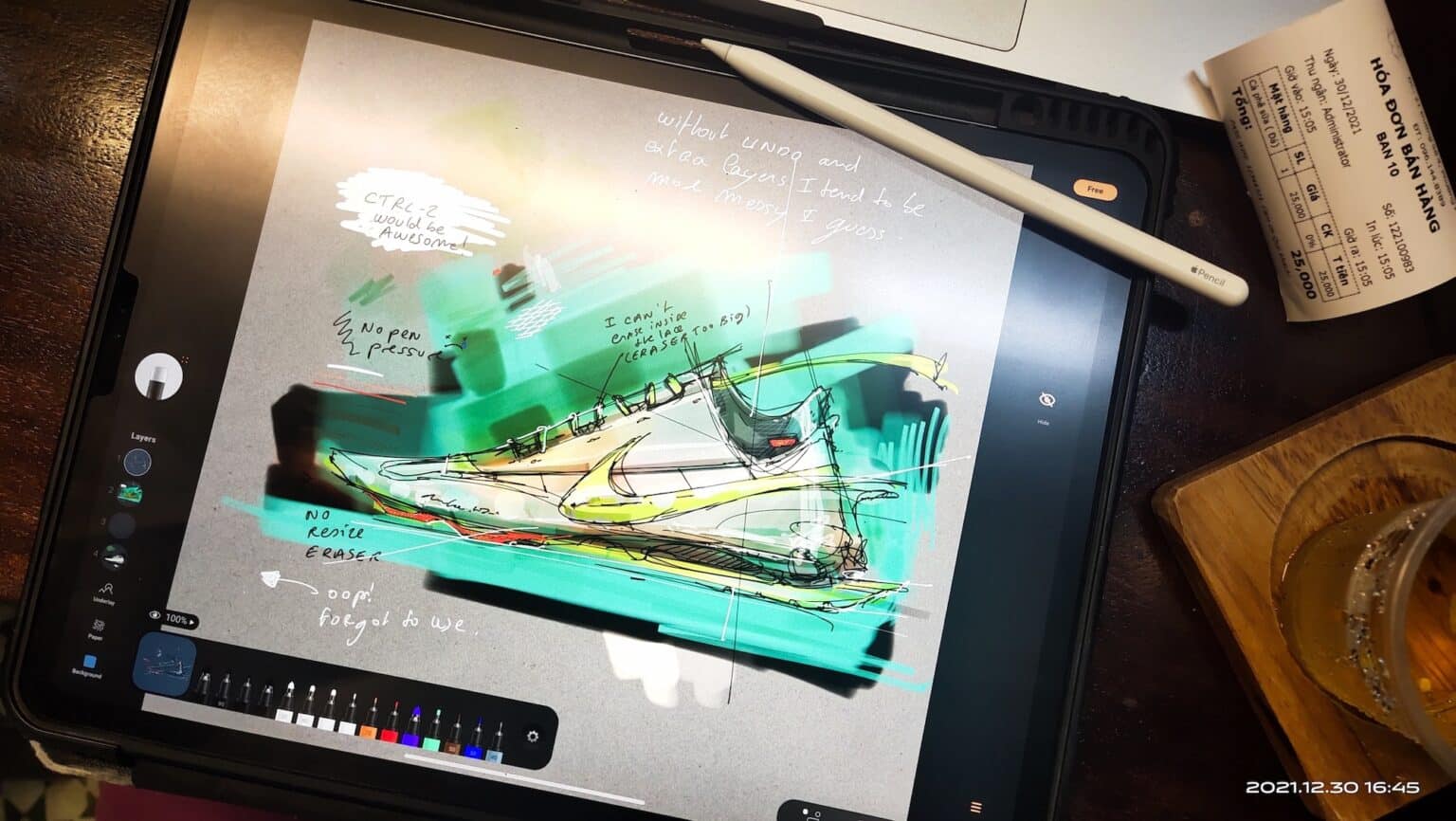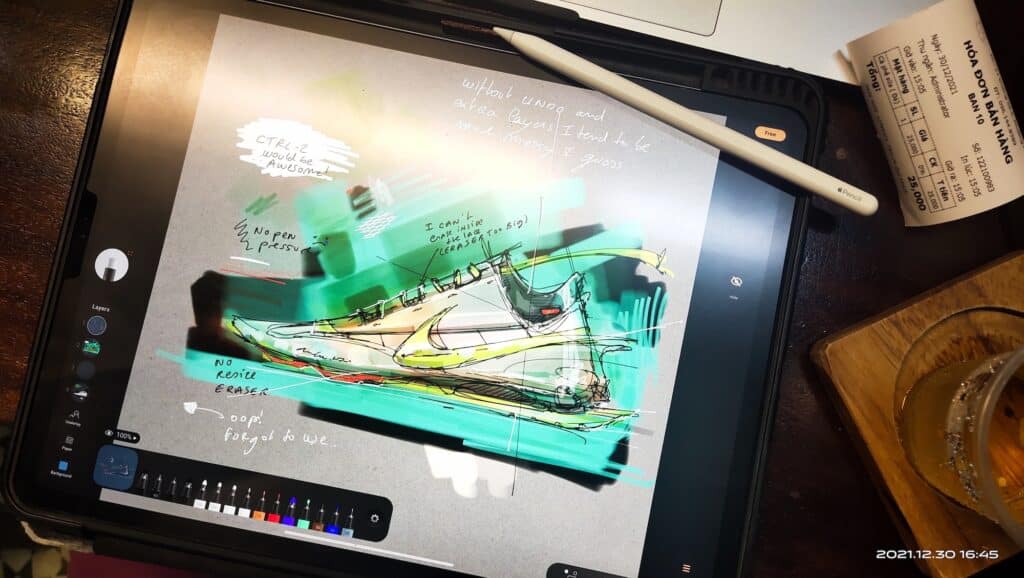 My friend Don Koh from Singapore is developing a sketching app for designers.
It aims to be minimalist, and cover the creative stage when you doodle and communicate your ideas.
I had the chance to be one of the beta testers to share my feedback. 🙂
Stay tuned for this upcoming and promising app!
---
That's all for today!
My iPad was full of creative app icons. I tested plenty of apps.
I selected the ones that I felt were promising which I love sketching with.
I hope you do as well!
Cheers,
Chou-Tac
PS: Tell me in the comments your favorite apps or software!