We are "creative dreamers", we dream awake.
But we live in the real world, and as professionals industrial designers, our job is to create a better world, a better reality for people. It's our mission as designers.
We meet challenges every day, and as a student, it gets tough sometimes.
Today, I give you 10 Tips for Industrial Design Students Who Want to Be Successful.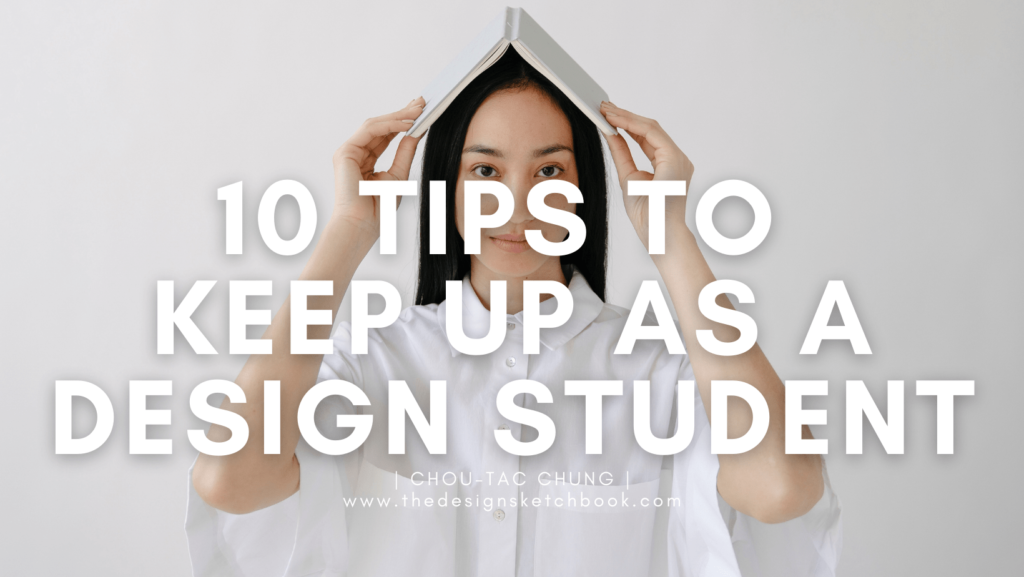 10 Tips for Industrial Design Students Who Want to Be Successful
Keep faith. Fail and grow.
Target the top 10% of your school
Don't study for a job, but a passion
Study (Or do internships) abroad
Invest in yourself
Get rid of your eye bag
Don't be a perfectionist
Believe in yourself
Don't blame others
Compete with the outside world, and team up with your pairs.
---
2 things you should know first
STRESS = LOVE
This is for all passionate Industrial Design Students.
It's tough to become a designer. There are so many things to learn!
That's ok if you feel stressed or worried.
Why?
Because if you feel that way, it means that goal you have to become a Designer matters to you.
Otherwise, that would be insignificant.
Do you see what I mean?
---
DESIGNERS DREAM IN THE REAL WORLD
I wish I had someone to guide me many years ago – especially in moments of doubt.
This is why I wanna share with you 10 Tips to keep your motivation high long-term by boosting your core belief as a creative person.
First of all, I would like to congratulate Riju Karunakaran!
He has just been admitted to a Design School to study Product design – and asked me how to get better mentally prepared to study Industrial Design.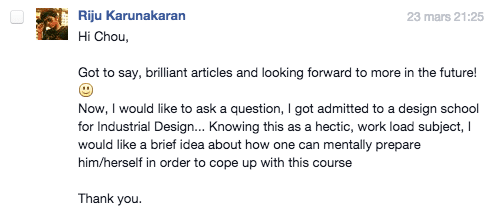 ---
I've listed a number of difficulties or situations you may face during your new design school journey.
---
10 Tips for Industrial Design Students to Keep up!
1- Keep the faith, fail, keep going, and grow…
There is 2 category of people.
Category A: Focus short-term on the immediate pain of learning and get discouraged fast.
Category B: Focus long-term on all the new stuff you will be able to do and draw with the newly acquired knowledge!
Which category are you in?
The 1st category thinks "too much".

They get too analytical. They love wondering if their learning method is the best.
If what they produce is good enough, if there are better ways to learn…and so on.
They want to prevent the pain of wasting their time and effort. There is nothing wrong with it.
But these often paralyze students and push them into infinite procrastination.
The 2nd category is positive and passion-driven.
They understand that the global system is not perfect.
They are open to grabbing all the new principles and details along the learning journey.
That category of student is more resilient and will do whatever it takes to succeed.
Did you know?
There is a correlation between "The students who fail the most and who complain the most…".
If one day you catch yourself complaining more than you can achieve, ask yourself in which category you belong at that moment. So you could make the switch.
Don't let the instant obstacles you face blur your goal to become a great designer!
---
2-
Target being among the top 10% of your Design school.
A good number of students get average marks and study for the sake of passing their diploma. Depending on your school, an average level is enough to pass your exam. But it may not be enough to get your dream designer position after graduation.
Why?
Because professionals don't look at your marks, but your portfolio. The profile who tend to succeed the most is the ones who are self-driven and have a vision of themselves. It's ok if you don't have it at the start. Work toward it and you will gain confidence.
Don't go to school to get good marks and a degree.
Think further! Target becoming the greatest level of you, and get the dream job you want!
Be in the top 10%!
Don't be average, target being in the top 10%!
Let yourself be animated by your inner passion for Design.
This will push you to higher levels. The marks will follow.
If you see that your level is higher than average, take some time to help your pairs and lift them up!
Get excited about going to your design school!
All of us soon or later will slow down during the journey.
You will need the courage to overcome it and that's ok.
A good way to get back on track fast is to remember how excited you were when you received a call or a letter from your school that you were admitted. Your seat at that school is not granted. You fought to get the right to study there. Make your learning in that school meaningful.
Keep in mind these 2 words of success: Passion and Persistence.
---
3-
Don't study for a job, but for a passion.
A design school is an environment that has nothing compared to any "classic" school of business, engineering, accountancy… and so on. To make it simple, a designer doesn't aim to work a specific shift from 8 am to 6 pm.
A designer is 24 hours connected to his surrounding from what he sees, feels, hears, eat…
His source of inspiration can come from anywhere.
I receive messages from Engineering students who get somehow bored.
They feel they took the wrong university path. I can feel your passion when you talk about Design.
If you choose Design, there is a chance that it will be part of your daily lifestyle.
Take photos
Take a camera with you and shot anything that inspires you.
Start to build an image database.
You may keep a copy in the cloud for safety reasons.
Eliminate Toxic Social Media
Cut down on your social media and emails during the day.
Check it one or two times a day will do. Even if you are bored.
"Do NOT depend on your phone to get distracted."
Instead, use your imagination. Enjoy looking at people around you.
Look at how they live, stand talk to each other, and interactions they have.
Remember that a designer is an Observer.
Take some paper and sketch them. Please, "feel the REAL world that vibrates around you instead of looking down at your phone." 
4-
Industrial Design Student should study or do an internship abroad
I believe a designer gains in potential if he travels.
His imagination will be "richer" being fed by diversity.
What is true in a certain culture may not be in another.
If you can, ask your school if they have partnerships with foreign universities.
The foreign school fees should be free.
eg: For my personal case, my major is Product design (Studied at Creapole-ESDI in Paris), and I took the opportunity to fly to Los Angeles and learn Fashion design for the summer at FIDM (Fashion Institute of Design and Merchandising), while my friends were having a holiday.
That experience enriched me in so many points: the language barrier, autonomy, responsibility, safety, and foreign culture understanding… this trip where I had so much fun is still part of me today.
---
5-
Invest in yourself
You won't meet your friends, girl/boyfriend or family as often as before. The best is you inform them about this situation to get their understanding (which is different from approval). If the people you love to support you, your chance of success will rise. You will miss them, and vice versa. But they will cheer you up to reach your goal.
TIP
Share with your surroundings what you do. Inform them that you will need to need a lot of time for yourself, and you are sorry if you may appear selfish.
You won't be able to allocate as much time as before to your relatives and friends.
However, if there is anything important you will be there to support them as well as they support you.
---
6-
Get rid of your eye bag.
On top of your weekly planning, you will have to allocate a big number of hours for your homework. Get ready to reduce your number of sleeping hours. I still remember finishing my homework after a whole night of rush, printing the boards, pasting them delicately on the foam board, cutting them, and bringing them on the subway – doing the rehearsal of my speech in my head and getting ready to be present the same day.
TIP
Such a thing will happen to you a couple of times per year (or month ?).
I don't recommend you guys work that way every time if you don't wanna meet the burnout.
Even if it's a great experience to work under pressure, keep it for special cases.
The hint is simply being organized and respecting the "luxury" time your teachers will give you.
As a student we tend to do everything last minute – and mistakes love to appear when your attention is low and your time rushed. Try to do not to make it a habit, you will sleep better.
---
7- Don't be a perfectionist
"I only want to show it when it's perfect "
For whom are perfectionists – It's a dangerous skill.
You have a high expectations of your work, but you may not be able to finish your project on time.
The worst thing that could happen to a professional is to not show up on the Day of the client presentation.
If your time is limited, learn how to make concessions, and look for ways to get things done good and fast instead of spending too much time on details.
TIP

At the start, you may not have the skills to have the greatest sketches.
But you will learn to deliver on time with professional boards and presentations.

Remember that the most important is to convey your message with a board that looks professional – ON TIME.

Accept your weakness, and work on them along with your next projects. But YOU have to deliver on time.

At school, you are the only one concerned. In real life, many people depend on your work.

---
Intensive and overwhelming
You will start learning a big amount of new stuff – from your class on technology, ergonomics, sociology, trend… and of course sketching. Your brain will be overwhelmed.
Some days will be tougher than others.
And when we get overwhelmed, we tend to give up easily.
TIP
Keep going and keep making mistakes. Accept that making mistakes is part of the learning process. Your curve of progression will go up and down, but if you look at the big picture, your effort will pay off and that curve will globally naturally go to its peak.
---
8-
Believe in yourself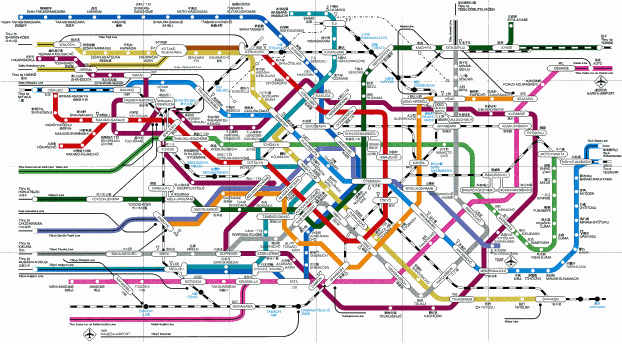 Complex map of Japan subway.
You may feel lost and see other students do better than you. Discouraged, you seem going nowhere. You think you are not made for that discipline and wanna give up. If you feel in that situation, try to see WHY that situation affects you so much:
Are you wondering how you're gonna tell your parents you wanna quit?

Are you wondering what people will think about you if you give up?

Or are you feeling sad because you feel you can't achieve your dream?
TIP
If the answer is the last one, then please keep the faith and fight for it. Remember that:
"Every artist was first an amateur."
― Ralph Waldo Emerson
You can only succeed if you believe in it. Get back to the game, and continue to fail. It's ok, why? Because every day you grow a bit more. There will be a moment when you will know enough and get exponential growth.
---
9-
Don't blame others.

At the start, we may keep failing and tend to be discouraged.
The school fee is expensive and our expectation is super high.
And it becomes "easy" to blame the school, the teachers, and the non-inspirational room we rent… for our failure. But remember that a school doesn't know any magic trick – most of the results will come from you. "Take the school like a guidance, a coach."
A quick reminder from a previous article is to make sure to do enough research about the school you apply to.
It's not because that school is expensive that means it's a good place to learn. It may just be a great scam. (Don't be impressed by a school having the latest computers and technologies.
What counts most is your teacher's knowledge and ability to cheer you up).
TIP
Keep your ears alert.
Remember what your teachers say.
Some of the precious stuff I learned has been told once only.
---
10-
Compete with the outside world, and team up with your pairs.
The outside world is constantly in competition. However, make your school a place of sharing and fair competition to study in a safe environment.
---
Conclusion: How do we cope with obstacles?
By preparing our mindset, and molding it as a courageous Design warrior!
Remember, there is no better than oneself to defend our own dreams and make them become reality.
If you have decided to join a Design School and become an Industrial Design student, get ready to become sleepless. ; )
You will face new challenges and obstacles you might not even expect.
Your daily routine will totally change for an exciting Design journey!
And that is great!
If you want to achieve a new goal, you have to change who you were before.
"It's only those who do nothing that makes no mistakes, I suppose."
– Joseph Conrad
---
TIP
Make your pairs your partners – and your fair competitors. You guys will grow much faster working hand in hand. Trying to challenge your pair, you will discover new things before the others, and be glad to share with them, and vice versa.
If you are also a student in a Design school, share with us your difficulties and your solution in the comments below! 🙂
---
PS: "Hi Chou-Tac,
Just to thank you. I obtained my diploma in space design BTS.
Your training will allow me to go further!
@+"