Today drawing is an organic dragon head. I was randomly doodling and get slowly absorbed into it. So I totally forgot to take intermediate screenshot to share with you guys. I'll try to get some for future doodling.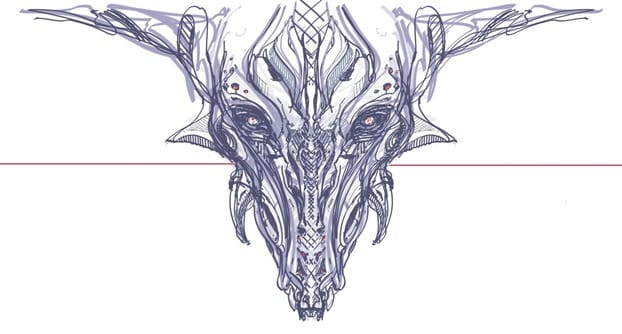 CHOU-TAC CHUNG – DRAGON ORGANIC HEAD
When I started to doodle, I didn't really know about the final result. The Dragon came along the way. I was actually doing some test with the symmetry tool of Sketchbook Pro.

Symmetry tool of Sketchbook Pro
To start, I used a light marker getting some abstract shapes. Then my brain started to be stimulated by them. And I roughly visualized a dragon. So I made these shapes getting closer to it. For that, I took a medium dark to refine and ended with the darkest.
I had a cow skull from the desert appeared in my mind. I added some horns. Something like that.



Desert cow skull
Half an hour later I got this.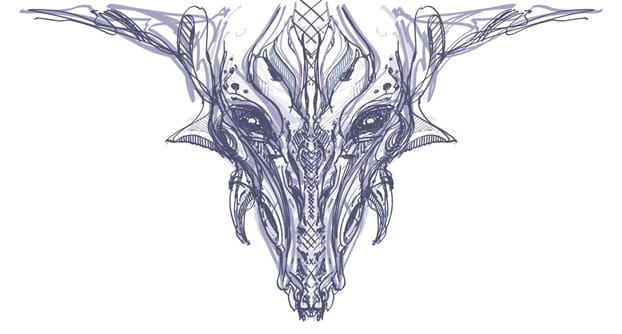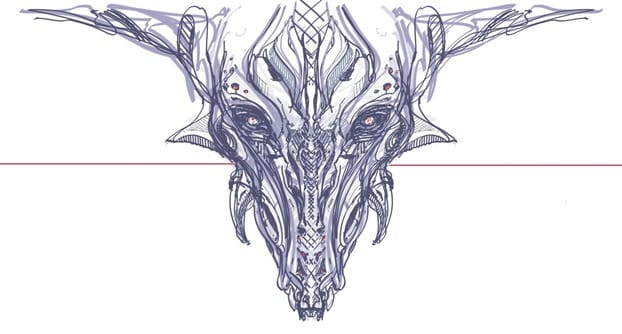 I add a bit of red spot light and a minimalist background to bring in more life. It helps to drive the viewer eyes going through the sketch.
For the eyes detailing, I recommend to deactivate the symmetry tool. Or your dragon may end squinting! 🙂
Here an other sketch where I also started by doodling with random shapes.
You can download a free and limited version of Sketchbook Pro online. Try it out ! Leave some comments. I would be pleased to receive your questions. Have a great day!