Last week-end, my girl friend organized a vintage pop-up store from her online shop Aulapinnoir.com at Arterial Cafe in Singapore. The theme was "A French Affair".

You would find some vintage calligraphy supplies from her shop among letters handwritten from 1905, Peugeot Pepper grinder and other rare findings.
Her friend who is fan of calligraphy was there to enjoy writing some beautiful letters while drinking a tea. I was fascinated by her work. So I sit and make a try borrowing her fountain pen. I liked it immediately. That feel of the nib sliding the paper was so smooth.
The last time I used a fountain pen, I was 11. And I didn't liked it. Maybe I was clumsy, maybe the nib was not as good. I will never know. But what I learned is that I almost missed a great experience with this tool. I am glad that I tried an unexpected medium. I actually remember that traditional Manga artist use fountain pen to ink.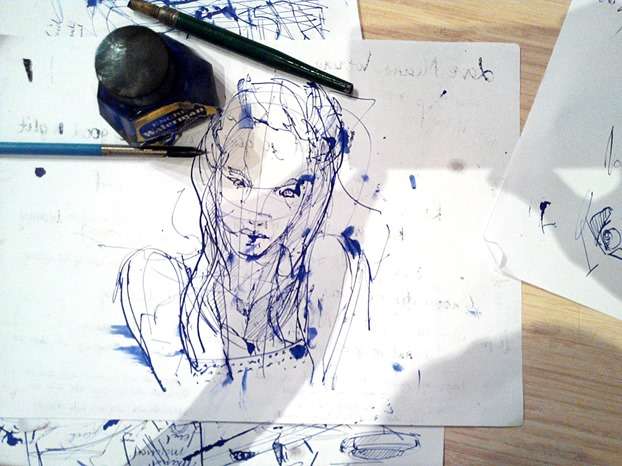 Instead of practicing calligraphy, I couldn't resist to draw with it ! As you can see, it's quite messy. The ink takes time to dry, but I couldn't wait !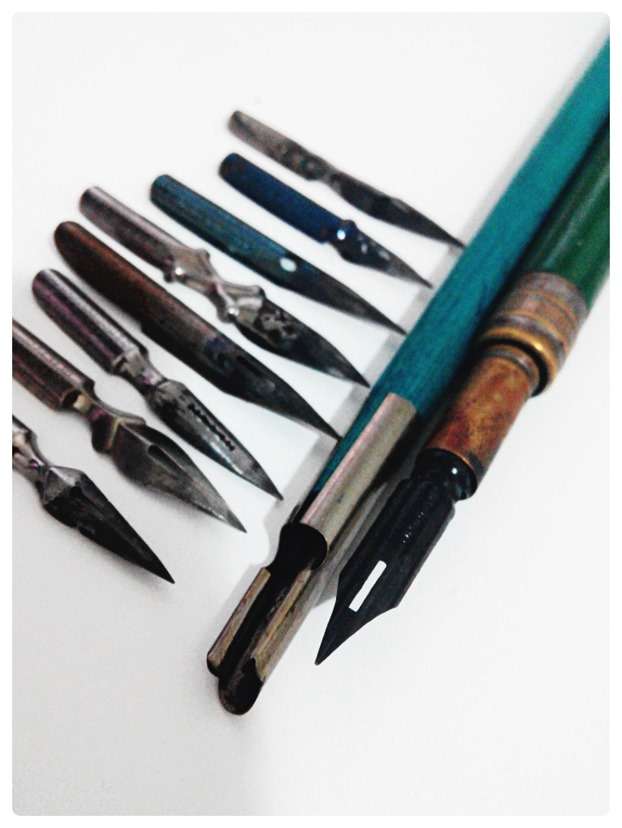 Do you see the hole on the nib ? The trick is to dip it in the ink till it's fully filled of ink. That will be your reserve. Some nibs are more or less sensitive to the pen pressure. My favourite nib is the one on the pen holder. I did the portrait with it.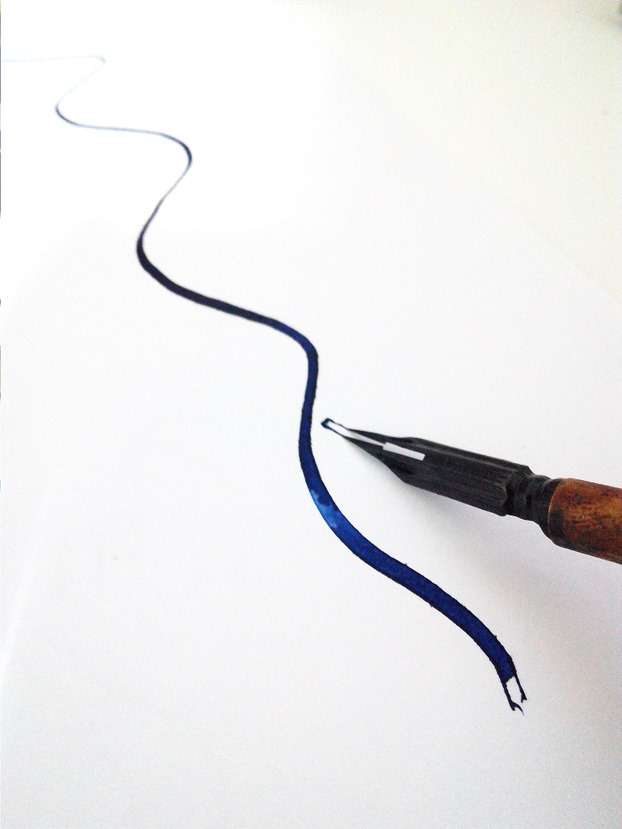 More you press, thicker is the line. This antique tool is so accurate.
These fountain pens and nibs are all original and come from France. They may come from around the 30's or even earlier. I invite you to try if you have that chance. I don't see any modern pen that could give you such lines and feel. I liked it so much that my girlfriend accepted to give me a few pen nib of my choice. 🙂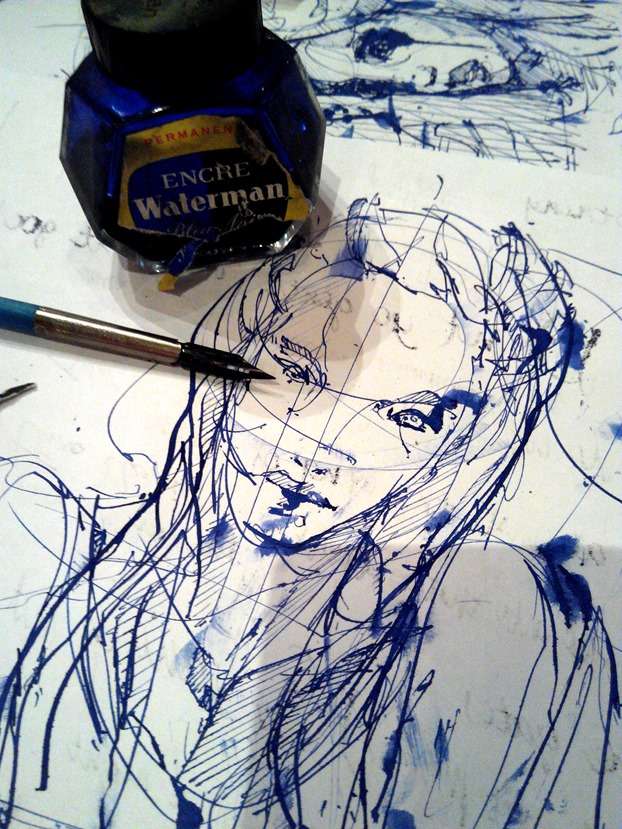 CHOUTAC CHUNG – Portrait of Li Yi, co-owner of Aulapinnoir.com
It's the kind of moment that you feel absorbed by your drawing. All the sound around you doesn't matter anymore.
The only sound you hear is the nib sliding and scratching the grain of the paper surface.
The nibs are for sell online. Her customers come from US, India, Indonesia… The shop can ship anywhere. A nib will be about 2$US. If you would like to get some, just let me know.
I can help you on this. She's saying she could do discount for customers who go through me. Ahah. The shop has some pen holder and vintage ink bottle as well.
The day after, I came back to the event. I remembered seeing on TV, a Japanese artist drawing Kanji with giant brushes that was actually a broom. There was these little flowers in front of me. I dip them them in the ink, and use them as a mini brush ! It's awesome ! 🙂  Still experimental, but I guess anybody can master it with a bit of training…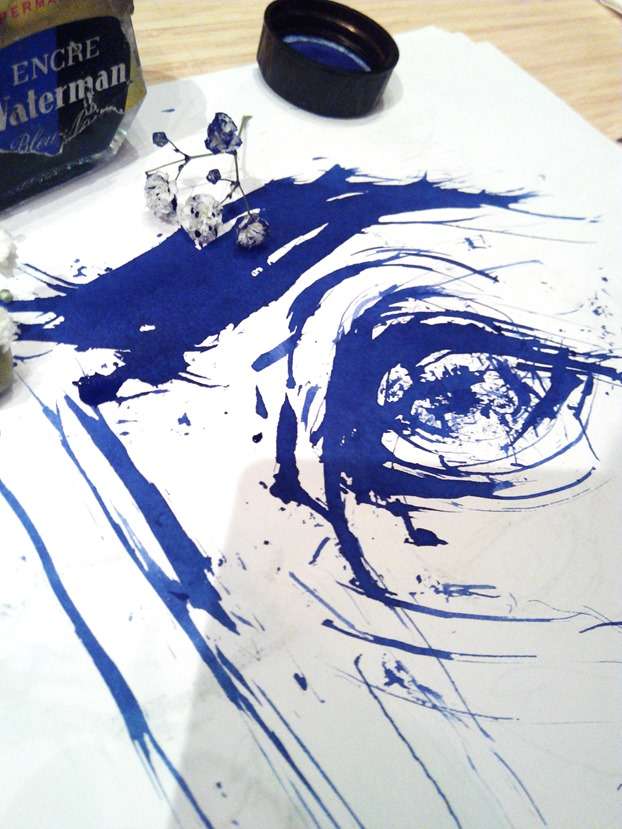 Art has no boundaries !
Feel free to leave a comment !