I would like to share with you about THE URBAN SKETCHERS.
I heard about them for the first time during my last trip in Penang in Malaysia.
Below an example of my urban sketch during my trip in Asia.
I was sketching a temple alone at the terrace of a Art cafe of Penang.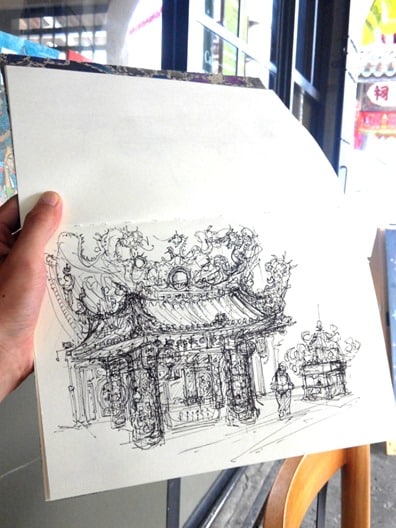 CHOU-TAC CHUNG – Yap Kongsi Temple
The waiter saw my stuff and asked me if I was a member of THE URBAN SKETCHERS. So I said no. He explained to me it's a crowd of artists who gather in (invade) a chosen place, sit wherever they can and draw.
Wow, it might have such a big art emulsion from so many passionate ! If I could join, I am sure I could learn a lot of stuff ! It's a great mix of talent from beginner to expert.
Below a video I found on Youtube about one of their event in Penang. You can notice a bit of the Temple I did above in the video. 🙂
At the moment I am writing these lines, I am reading the blogspot of SINGAPORE URBAN SKETCHERS ! (I live in Singapore).
They organise the SKETCHWALK, an itinerary where the crowd of artist follow and draw amazing places. Last time I did such things it was about Rollerblading in Paris.
I am pretty sure that I am gonna join the movement a couple of time. I want to experiment it. It seams that they organise 1 event per month. There is no attendance fee. You just need to bring your own art supplies, join the crowd of artist and follow the walk. Simple !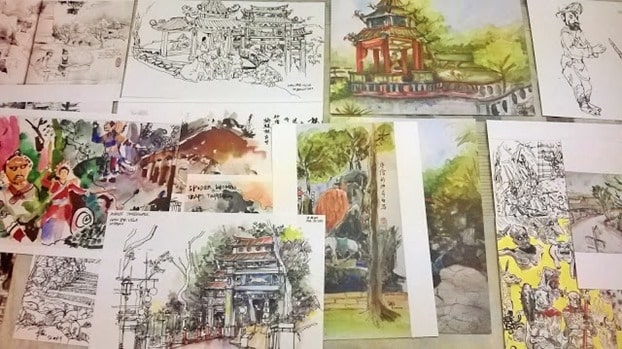 THE URBAN SKETCHERS SINGAPORE – They are doing really great stuff !
If you guys from Singapore who read me want to join the next Urban sketcher Sketchwalk, let me know, maybe we could meet there. For other cities/countries, you may check if you got your own "branch" too ! I have just paste the list below. There is a lot.
This organisation is quite a big discovery for me.
If you guys plan to join one of them or already experience it before, share with us in the comment box 🙂
URBAN SKETCHERS Links
USK Australia
USK Kuching
USK France