I've just flown back to my hometown in France traveling with my iMac and Wacom digital tablet.
I will set up a new office space to have more time to create new tutorials and great content for designers. Keep posted!
---
How to carry iMac on a plane
Today I share with you How to carry iMac on a plane.
You may face this situation as well, and may also give you a lot of "butterflies in the stomach" wondering if you can safely bring your iMac 21" and Wacom Cintiq 22 HD Touch onboard.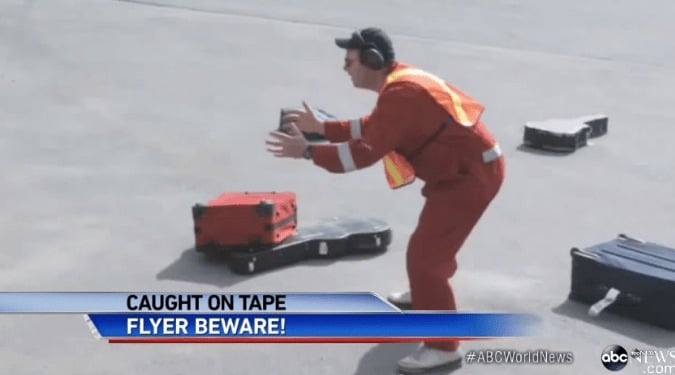 I took a long-distance flight (13 hours flight from Singapore to France) with my heavy and fragile IT equipment and I preyed they won't be damaged in the cargo compartment of the plane.
I preyed that my IT equipment would not be damaged in the cargo compartment of the plane.
---
Why so worried?
Have you ever seen how baggage handlers throw our luggage to the lorry? The treatment is really rough. You may have a quick look at this video. No care policy.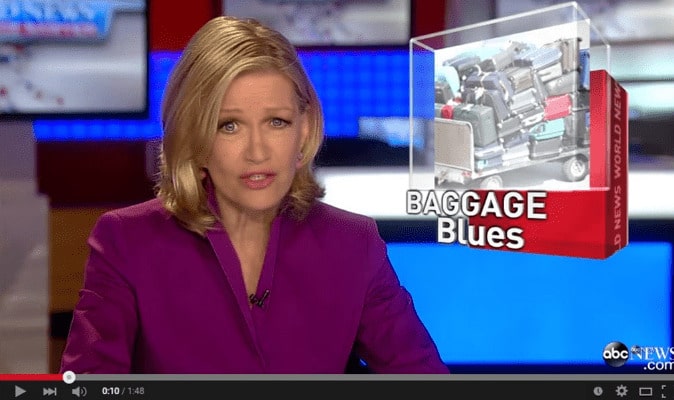 How baggage handlers throw your baggage out of the plane. 
Why airplanes are so modern,
and the baggage transportation so primitive?
Even Potato bags may be handled with more care. Since I became paranoid and reluctant to let my IT equipment to the Cargo compartment. However, it seems hopeless and that we don't have any alternative.
Before the flight, I browsed a lot of forums and websites to look for solutions, but nothing concrete.
I managed to figure out a solution.
So I decided to share my experience with you guys.
---
How I moved all my IT equipment by plane?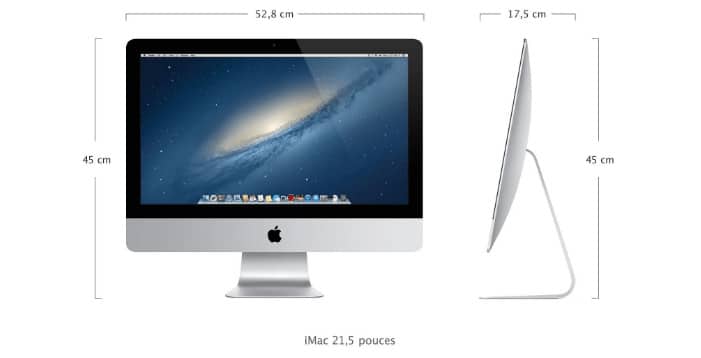 TIP | How to rise your baggage allowance ?
Hand carry your laptop and camera.
They are not counted in
the weight and number of item allowance.
In theory,
the hand-carry baggage allowance is pretty flexible, but baggage for the cargo compartment is strict.
If you need to carry more weight than allowed, you have to hand-carry extra kg. I know that you are going to tell me that the weight is also limited.
True. But there is a trick.
Note that as soon as you have been through the check-in counter, you are free to move. There is no more control after about the weight, size, and a number of your hand-carry baggage.
By default, you have 7 kg allowed to hand carry.
If the check-in counter agent wants to weight your hand-carry bags, remember to mention you carry your laptop and camera with you.
It should be enough to let you go without paying extra fees for the extra weight. 🙂
GOOD TO KNOW
Never exceed 32 kg for 1 baggage.
They will ask you to repack it on the spot.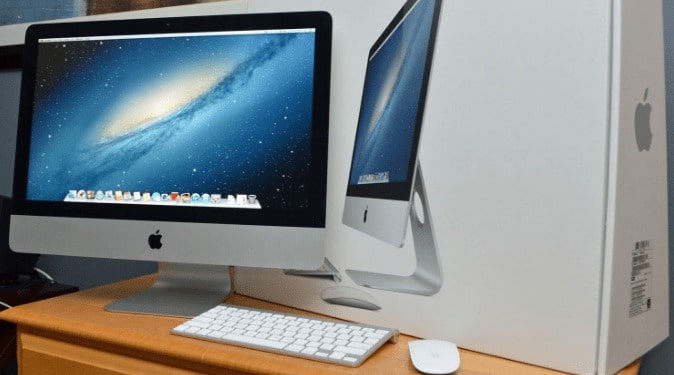 I decided to hand carry my iMac 21" on the plane without the box.
I wish I could bring the original box, but it made the package too big.
So I protect my computer with simple Bubble wrap and an A3 plastic folder for the screen.
---
I hand-carried my Imac and the Cintiq Pod as well.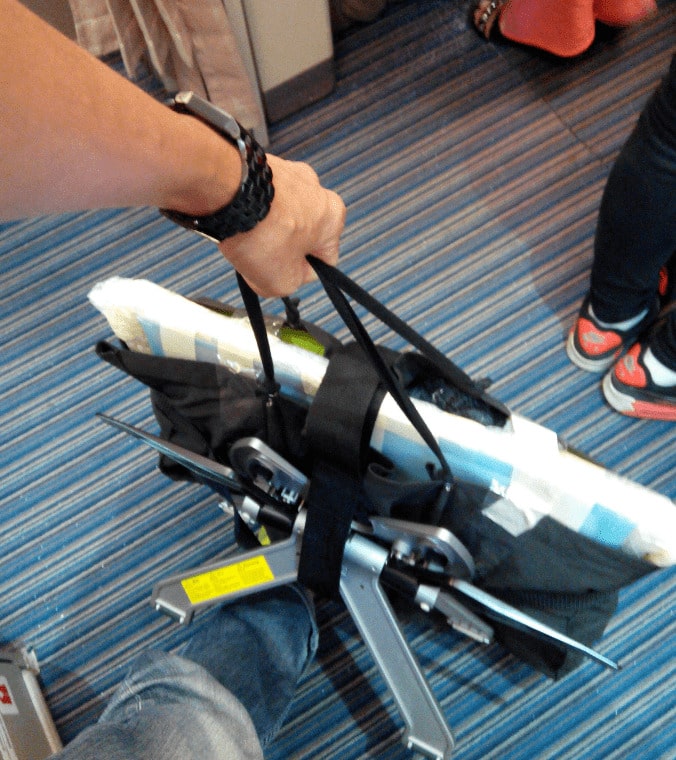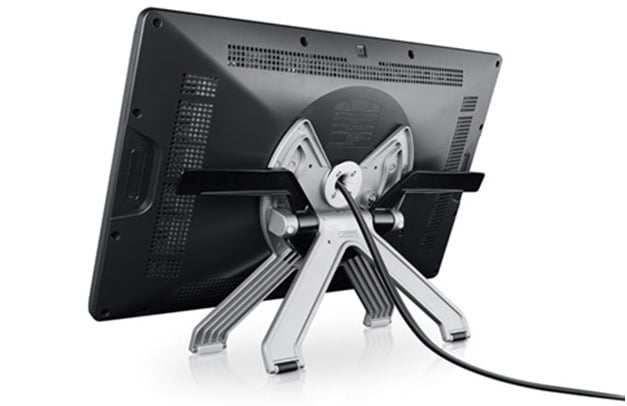 The Wacom Cintiq Pod is pretty heavy and cumbersome.
I could have let it in the original box but I preferred to carry it with me.
I kept the original box, and add in 2 cushions to protect the Digital tablet.
---
At airport counter:
When I reached the check-in counter, the agent asked me about the content.
I said it's a screen.
The agent asked: Is it fragile?
YES very much! Super fragile!
So he stuck several stickers mentioning "Handle with care". To be honest, I doubted that these stickers would protect better the Cintiq.
But, he didn't let my Cintiq box go to the treadmill. He asked me to put it at a specific trolley for FRAGILE items! It means that my box will not follow the regular rude baggage journey. A "special team" would deliver it with care.
So, when I reached the airport in France, my luggage never came from a regular treadmill. A hostess told me I could find my box in a specific trolley for Fragile items. Awesome!
My Cintiq box arrived in perfect condition! Same condition as when I packed it.
Singapore Airlines website never mentions this service. I recommend you call your airline company before booking your ticket and see if you can benefit from this "baggage extra care service".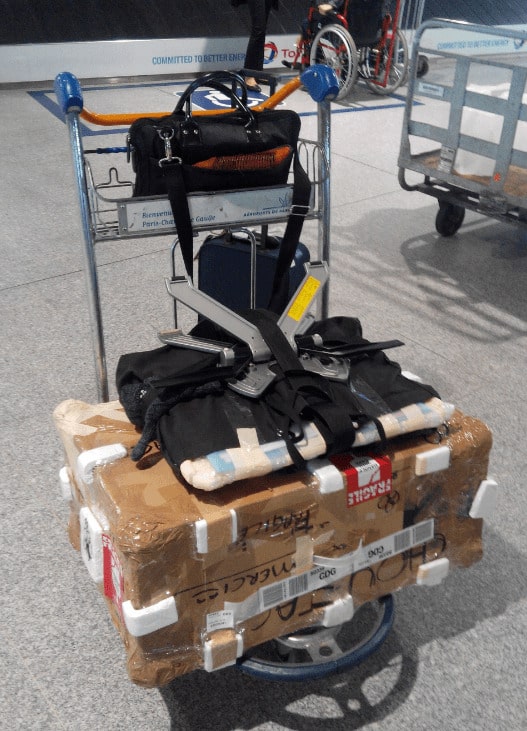 After being so worried, I received back all my stuff in good condition.
Note the extra white foam I added to disperse the shock along the box edges was in case they would throw the pack like a potato bag.
Thanks, Singapore Airlines for taking care of the baggage.
I hope that all airline companies will follow your path.
---
Are you a traveling designer?
What are your tricks to bring along your equipment on the plane?
Let me know n the comments.