This article is not a Wacom Cintiq 22 HD review trying to give a mark to the product. It's just a share of my first impression and real experience with the digital tablet. You will see the plus and minus I met as a new Cintiq user who wondered for pretty long if I should buy a Wacom Cintiq.
---
Cintiq 22 HD or 24 HD?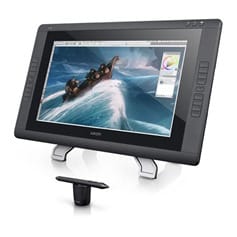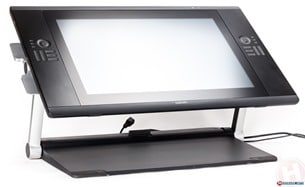 Two different formats. XL or XXL?
The Cintiq 22 FULL HD is the digital tablet I started to target.
Then I saw the 24HD Touch for sale, second hand at Singapore.gumtree.sg at a similar price.
It was worth considering both.
I asked opinion to my friend Adrien Wira, designer at Adidas about which tablet would fit me better.
He owns the Cintiq 22HD, saw people using the 24HD and he especially knows the way I sketch (as we were classmates for 4 years at CREAPOLE-ESDI Design school in Paris).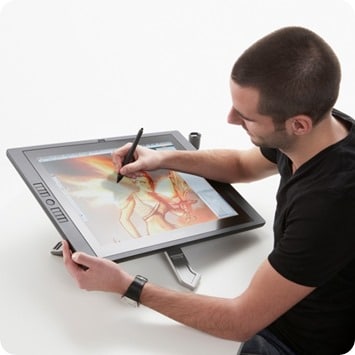 Adrien warmly advised me the 22HD as:
It's much easier to maneuver.
You can rotate the screen.
The 24HD is awesome but really big and heavy (40kg). Also, its adjustable stand doesn't allow rotation.
We concluded that getting the 24HD was like buying a luxury Porsche that would be hard to control.
The day after I went to an IT shopping mall to look for trying these 2 digital tablets.
---
Touch or no touch?
I had to choose between two versions of the tablet: a Touch and non Touch. Take note that the Touch version is about 15% more expensive! It makes the Cintiq like a big Ipad.
You can Zoom in and out with your fingers, make also a keyboard appears and type on the screen.
However, according to Adrien, it is really common with the Touch version to have a conflict between the palm recognition and the pen. 
It means your palm would accidentally draw on your canvas.
Kind of irritating. Why pay more for an option I might deactivate?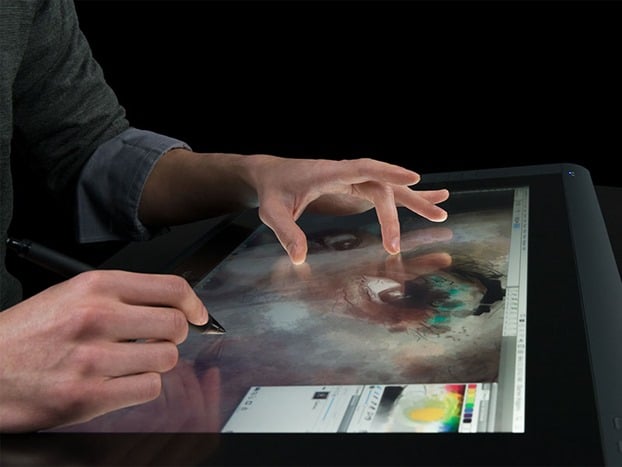 ---
Buying the expo model?
The IT shop I went to gave me an offer. The price of the 22HD Touch EXPO model for cheaper than a NEW 22HD without Touch. Plus, I wouldn't need to wait for him to order a new one. I could bring back home the graphic tablet immediately (any new Cintiq in Singapore needs to be preorder, there is no stock in any shop).
The expo model was out for 2 months in a non-crowded shop, but nobody bought it. I guess such material is pretty much for professionals.
The tablet was in great condition except for some fingerprint on it. Hehe. So I took the offer and bring back my new "20kg toy" at home with "a banana smile"!!
---
FIRST IMPRESSIONS AFTER UNPACKED
I am super excited but also intimidated. Will I do a good usage of that machine? Time will tell. Cintiq or not Cintiq I aim to improve my skills. 🙂
---
Monster Size!
The tablet is wider than my shoulders. You rotate it like a truck steering.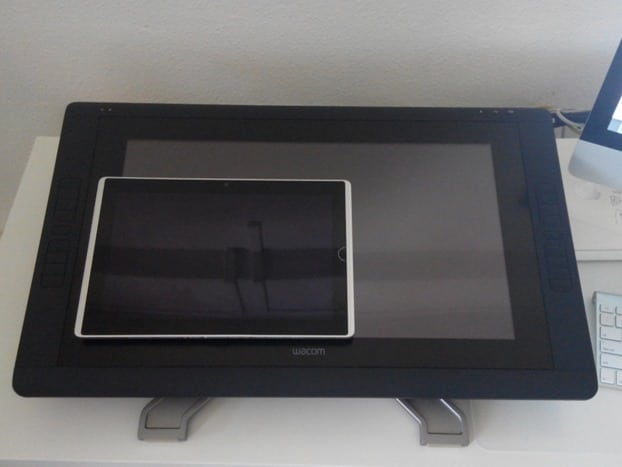 My Asus EP121 vs the new Cintiq22HD.
---
Plan to get a Cintiq? Plan a big desk.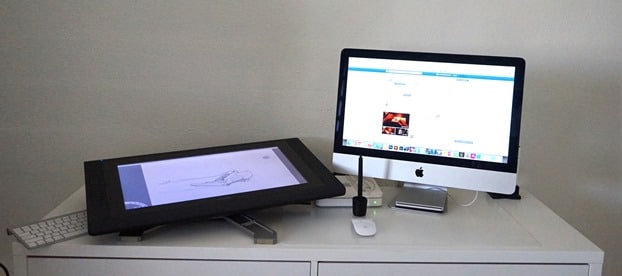 My desk being against the wall, the corner of the tablet was bumping it when I rotated it. So I shifted the desk of 15 cm from the wall.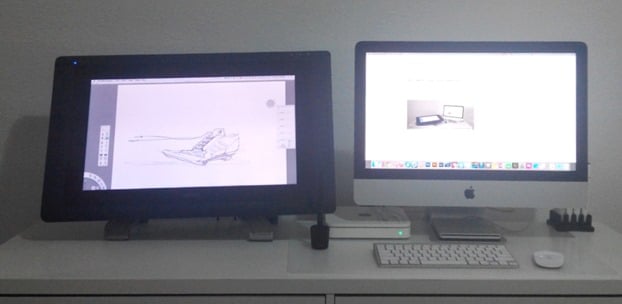 I recommend a deep and wide desk to set up your tablet and your computer.  If you need to sketch on paper you can just put the Cintiq back in a vertical position.
The Cintiq 22HD in vertical position allows you to free some space for sketching on paper (Impossible with Cintiq 24HD).

---
DIGITAL PEN CALIBRATION
When you plug your tablet, you need to calibrate the pen to the screen. It was really easy, and relevant. And I always love the pen pressure sensitivity of Wacom's products.
The Wacom Companion or my Asus tablet EP 121 tends to have a bug. The pointer getting further from the tip when you draw near the edges of the screen. This lack of precision was annoying. So I kept drawing only in the center.
With the Cintiq 22HD,
the digital pen calibration is perfect on 100% surface of the screen.
---
DRAWING LIKE PAPER FEELING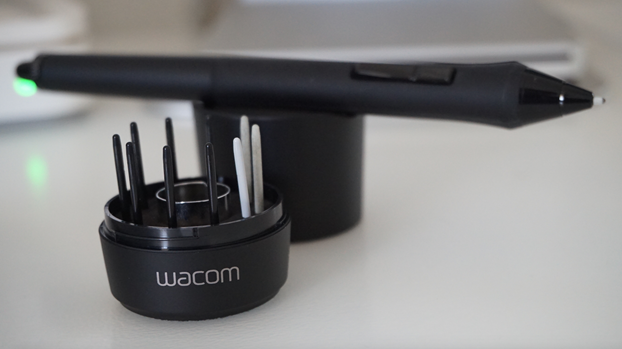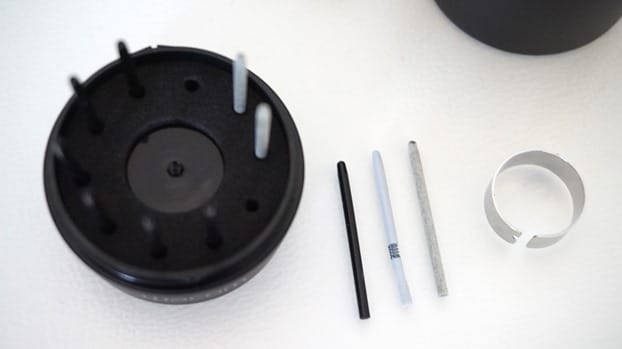 Wacom provides a set of nibs.
The felt nibs give a sensation closer to drawing on paper. However, it gets used with time, so you need to replace it once in a while.
---
Inclination and rotation of the tablet
Being used to Screen tablet, I thought I would adapt very fast to the Cintiq. But my first lines were clumsy. It gets better after a few hours of practice. Why?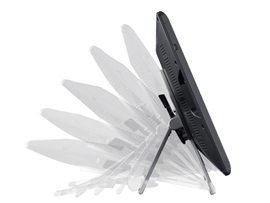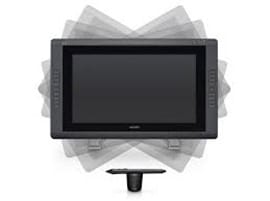 I tried the tablet in multiple positions. I am not able today to draw with the vertical position. A small inclination bothers me. It happens that the 22HD can't be fully horizontal. I need to practice some more for my arm to adapt to the new angles.
I am used to rotating the paper fast when I sketch. My previous tablet is portable so I could rotate the screen easily. Now, I feel more restricted in my movement. I can rotate the screen, but it is now an XL one.
To avoid drawing "like a contortionist", I moved myself to my wheelchair to adjust my body position. Let's see in the next few weeks how I will adapt better.
One of the main obstacles to progressing in the drawing is a bad posture.
---
UPDATE: I bought an ERGOTRON arm for my Cintiq. It's like a mechanical arm that gives the free movement of the Cintiq.
---
The custom side buttons
Wacom added some side buttons. You can use them as a shortcut for your software. eg. Undo/redo, save.. any functions you need for Photoshop.
I thought it was a great idea but after testing them for a few hours, I have just deactivated the functions. Why? Because:
I am so used to the keyboard shortcuts.
Plus there are not enough buttons to cover the 12 main keyboard shortcuts I use the most.
I sometimes accidentally press a button while manipulating the tablet.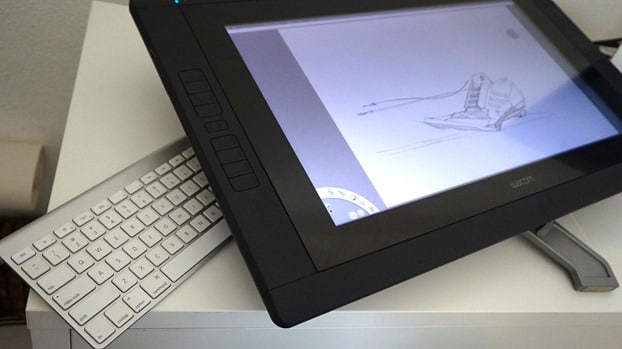 Left hand on the wireless keyboard for the shortcuts, right hand for drawing.
I feel lucky. Most of the shortcuts I use for Photoshop is on the left side of the keyboard.
Left side: I use the letters C, V, B, N, S, T, A, Z, F, D, TAB.
Right side, I only use 3 shortcuts: I, +, -.
I recommend you guys to practice Photoshop and Illustrator with the shortcuts. It won't be natural at the start for sure! But in my opinion, it's worth it. You will save a lot of time.
---
Conclusion about the touch option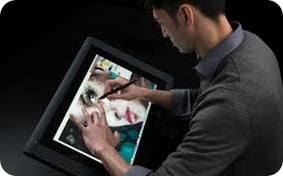 The tablet can detect the presence of the pen a few cms from the screen. When detected, the touch option is automatically deactivated.
It is quite smart. However, I felt that it is not as reactive as I wish when I want to zoom in or out. It is not as good as Ipad.
I feel kind of excited having a much bigger digital workspace. Today is Day 1, I notice that I have lost in fluidity, the flexibility of movement, and speed. It is not as intuitive as I thought at the start. I am switching from the 13″ to 22″. I need to continue to practice more at it and get familiar with this wonderful machine. : )
If you already a Cintiq user, please let me know about your experience.
Feel free to leave a comment!