Today a Video tutorial of Photoshop interface and brush (Opacity and Size pen pressure). After this tutorial you will know how to make your first sketch on Photoshop with your graphic tablet.
00:10 Create a new document
01:10 Interface presentation: Tool bar, tool preset, Canvas, Windows
01:30 Toolbar
01:50 Tool preset
02:09 Window for designers: Painting configuration
03:02 Navigator: zoom in and out
03:24 Move the canvas shortcut: [Spacebar)
03:38 Zoom in and out shortcut: Space + Cmd
03:56 Layers
04:39 Brush opacity pen pressure
05:02 Brush Size pen pressure
06:19 Digital pen front button and eraser
06:48 Brush hardness
08:26 Brush with inclinaison
08:34 Demo with a sneaker sketch for each type of pressure.
---
I know how Photoshop can be unfriendly when we are just starting. Photoshop is a powerful software made for different type of artists such as Photographer, Animators, Graphic artist, designers and so on. There is so many options that we don't know how to start, and it become overwhelming.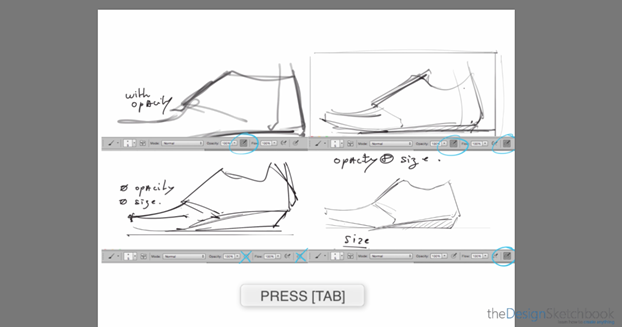 I want you guys to get familiar with this software, as usual showing you ONLY what you need to know. So get ready, and make your first sketches with Photoshop :).
Related article: Here an other article about How to activate the Opacity pen pressure.
Let me know if you have any question.
See you for the next Tip of the day !