How to join the Jewellery design world? | with Diaset, a Diamond setter for Cartier, Chanel
Learn from creatives in the fine jewelry design industry and launch into a successful career! Hear tips and advice firsthand from our interview with Diaset today – don't miss out!
Diaset is a Diamond setter who has 15 years of experience in Fine Jewellery.
You can find his exclusive work at Cartier, Chanel, Boucheron, Van Cleef & Arpels…
---
How to join the Jewellery design world?
When you meet Diaset for the first time, you would see someone who is naturally reserved. But when you know him more and see all the things he has achieved, you would be surprised to see how much energy he has inside to succeed in his projects. If there is one thing I have learned from him is "Believe in yourself, and make things happen."
He accepted to open the doors of Fine jewelry.
So here we go for this rare interview!
---
Can you tell us about yourself?
My name is Diaset, I'm 36 years old and I live in Paris. I am a Diamond and gem setter for Haute Joaillerie (Fine Jewellery) for high brands located at Place Vendôme.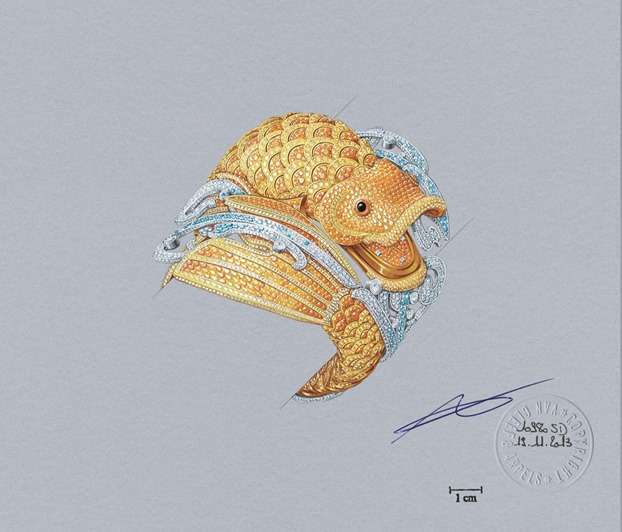 ---
What is Place Vendôme about?
Place Vendôme is where the most prestigious French brands of Fine jewelry are located such as Chanel, Van Cleef & Arpels, Cartier, Boucheron, Mellerio, Charmer…
There is an iconic column made of lead – which Napoleon Bonaparte ordered use cannonballs to conceive it.
We call it now the Column of Place Vendôme – Paris.
---
How did you discover Jewelry?
I discovered this world in my childhood since my father is a creative jeweler. I remember seeing him conceiving the jewels at home. I was so fascinated! That definitely influenced my choice of career.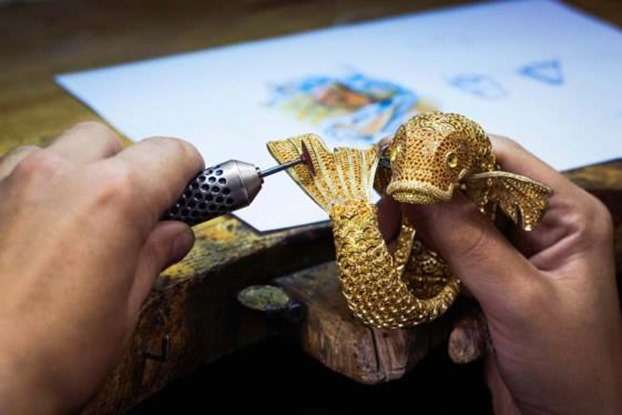 Van Cleef & Arpels – Koi
---
What steps did you take to reach where you are?
Actually, my father dissuaded me to take this path. So I choose the path of watchmaking, like how my grandfather did. However, I didn't really enjoy it much. I realized I missed something: the artistic side.
My father saw how eager I was to join Art and crafts. So he advised me to learn about Gem setting at l'Ecole du Louvre. To enroll, I had to find an apprenticeship master – but it was difficult as the domain is very exclusive. Some more, I was late. So I had to wait for the next start of the school year.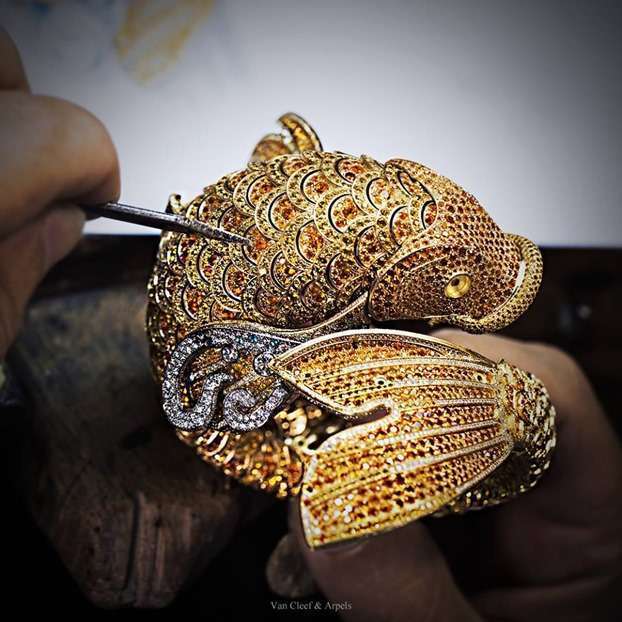 Van Cleef & Arpels – Koi – Diaset took 6 weeks of Diamond and gem setting
Meanwhile, my father was following training about Hand engraving (Graveur main) at work. Every day, as soon as he came back home from his workshop, he taught me what he has just learned.
Hand engraving is close to gem settings as they both use the same tools.
After 6 months of hand engraving from home with my father, I decided to pass the exam as an independent candidate. Even though regular training lasted 3 years, I passed it with success!
---
Do you have an innate talent?
I don't think so. I was lucky to be well-oriented, and when I begin something, I am stubborn and tenacious.
---
Did you pursue your studies at school?
Yes, I found an apprenticeship master.
---
Why your father didn't want you to be in the art & craft?
He said it was tough. We have to sacrifice a lot ourselves – that I rather find a comfortable job office. What he said makes sense because only the most passionate stay in the course.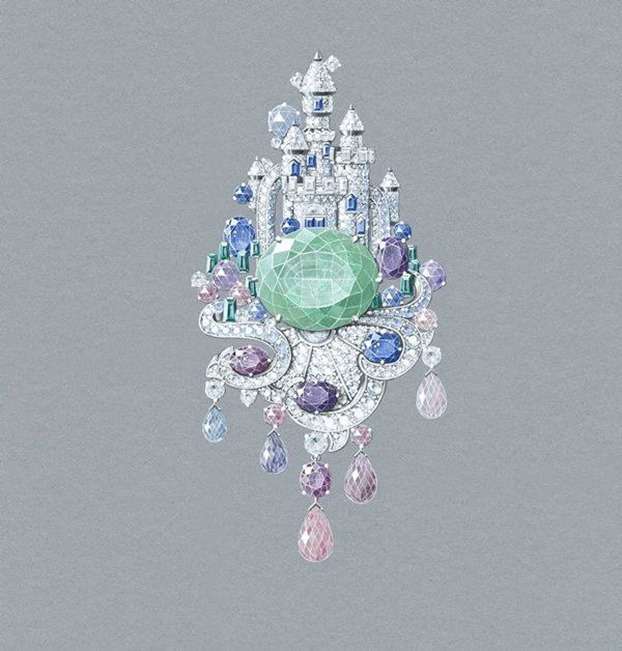 Van Cleef & Arpels – Disney castle
---
What do you like the most in the diamond setting?
Handwork.
I find satisfaction in bringing things to life with my own hands.
I also like sharing with my colleagues and also seniors who have more experience. One learns from every day from experience. We all have our own way of working. After years of experience, I can guess the personality of someone just by looking at his work – The way he proceeds tells a lot about his personality.
---
One thing you hate
Industrialization.
---
Is art & craft threatened?
For example, 3D printing has hurt a lot the profession where companies are looking for gaining higher profits. Only the Gem setting remains safe.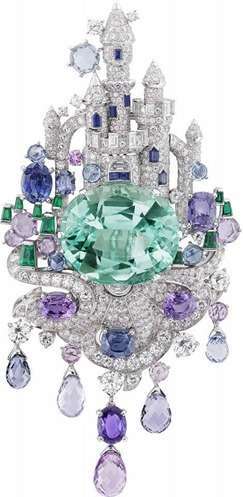 Van Cleef & Arpels – Disney castle
Diaset took 3 weeks of Diamond and gem setting
---
Do you recommend young people to pursue this?
If they are passionate yes because the path is treacherous.
---
What advice would you give them?
Learn a maximum from the elders – and show your motivation!
---
Is there a lot of school in Jewelry?
Yes, pretty much in France.
The most famous are:
L'Ecole du Louvres,
l'Ecole Boulle
l'Ecole de joaillerie de Saint Amant
and Saumure.
L'Ecole du Louvre welcomes international students and l'Ecole de Saint Amand has a student exchange program with foreign schools.
---
How about jewelry schools abroad?
Yes. They focus more on Design. While in France, the focus is more on the technical aspect and the Excellency of the gesture. France has a high reputation for making excellent pieces of jewelry. Like patisserie, we have our own identity, and we are well known for our ways of doing things. It's not easy to explain as it's technical, and every country has its own method – but France has the specificity of highly caring about details that others don't do. This is where come from our reputation.
---
What are the professions in jewelry design?
Designer
Model maker
Jeweler
Gem setter
Polisher
Diamond cutter
The art foundry
Gemmologue
and now 3D modeler.
This is all the profession of Fine jewelry on the conception side. Below are a few pictures of some of these professions at Van Cleef & Arpels.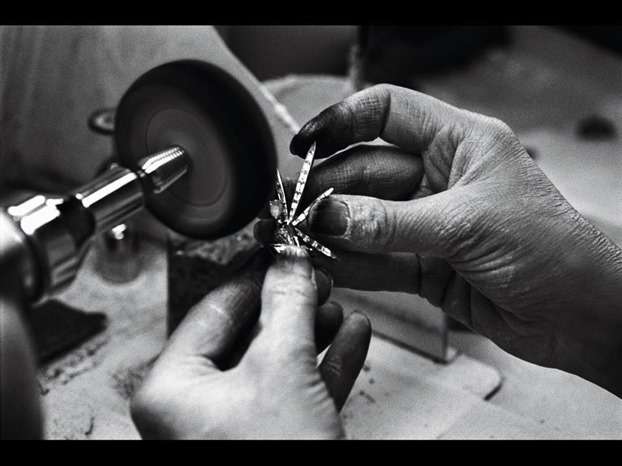 Van Cleef & Arpels – Polishing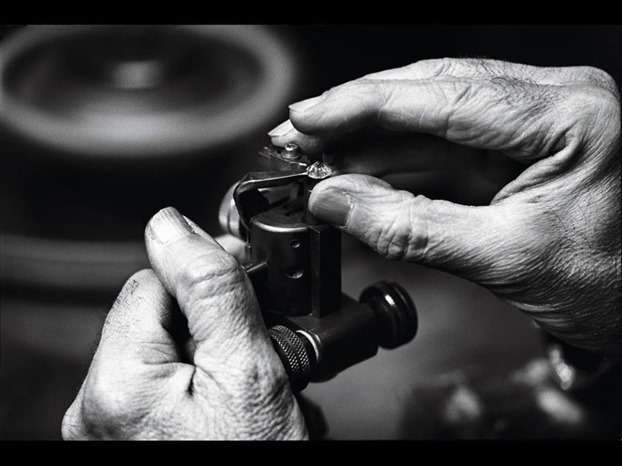 Van Cleef & Arpels – Diamond cutter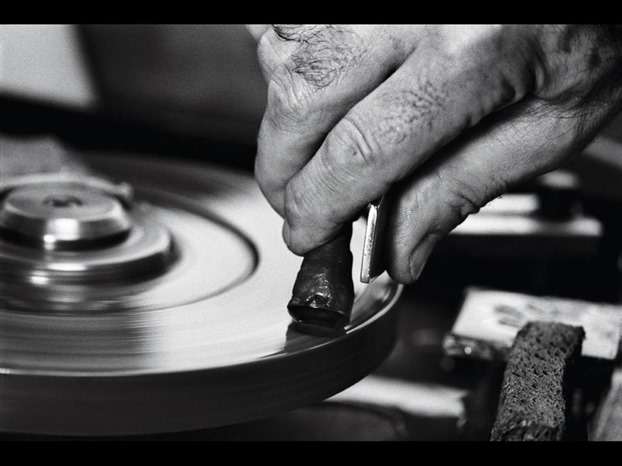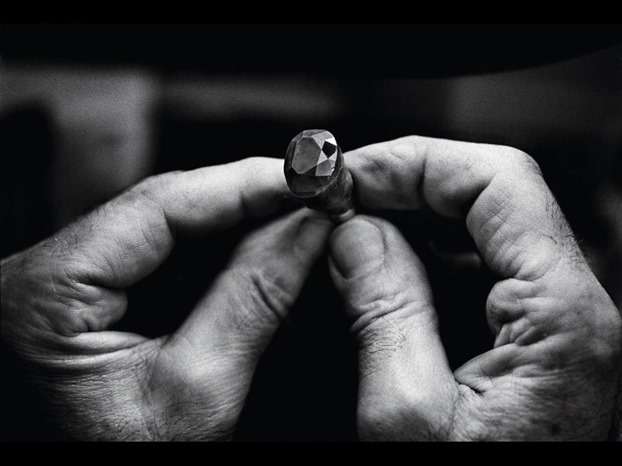 Van Cleef & Arpels – Lapidary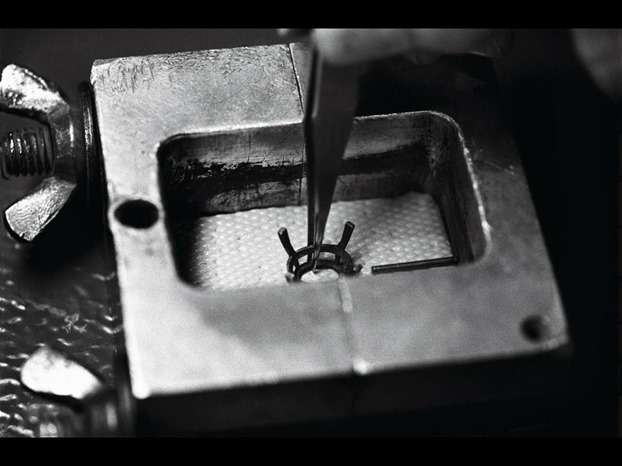 Van Cleef Arpels – Art Foundry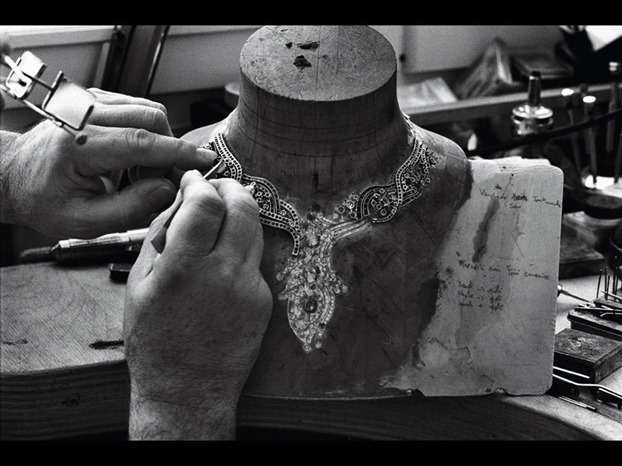 Van Cleef & Arpels – Model making
---
Tell us more about the jewelry designer
I am not myself Jewellery designer, but I work with them. This is where it all begins. It's an essential step in Fine Jewellery. The designer has the responsibility of bringing his own universe to his creation and making sure the client will be hooked.
Besides creation, he follows every step of the making process. He needs to be creative while making sure it is technically feasible.
---
Do designers work 100% creatively free or do they have a brief?
I met some designers who told me they work with a lot of constraints. Such as working on a collection without modifying much of the elements.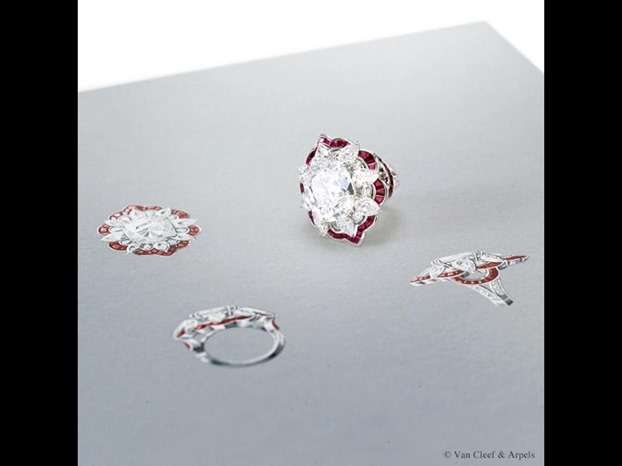 Van Cleef & Arpels – From paper to reality
---
Should a designer create his own collection?
Yes if he wants freedom.
That could be recommended when he starts.
---
How does he build his team?
His team?
Yes, I guess he needs to build a team to make his creation.
You can outsource. It's essential to look for people who are good.
---
So, it is still possible to succeed as an independent?
Yes of course.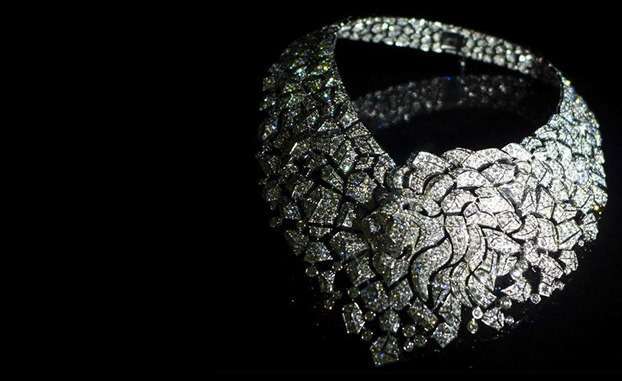 Chanel – Lion (6 weeks of Diamond and gem setting from Diaset and the team)
---
Any advice for whom want to begin?
Follow what you like the most. There are too many people who choose safe jobs and end not happy. As long as you know what you want, you rather fight and give yourself over completely.
---
Is it ok to start in our 20's or 30's?
A lot of people are in that case. We may have a "manual" profile, but because of our society, we end up realizing it late. So it's fine. You have to consider your working-life balance.
I met a lot of people who convert themselves at 30 or 40 years old to Fine jewelry because they realized they were not happy with their careers. They preferred to work with their hands.
You only live once.
---
Any future projects?
I dream of opening a school of Fine Jewellery abroad – and I am working on making it a reality.
---
Thank you Diaset!
I met Diaset when he was a student at l'Ecole du Louvres and when I was a student in my design school at Creapole-ESDI. I was amazed looking at his work made of wax. And now he's working for the most prestigious brands in the world of fine jewelry.
What I am pretty sensitive about Diaset's story is he never gives up. His path was treacherous at times, with a lot of incertitudes. But he always comes back and keeps going.
Where does he find so much energy? I guess from his passion and high determination. He doesn't wait for people to tell him what to do. He provokes things to make them happen.
It's great to keep in touch with friends after years. We never know. I am pleased and honored that Diaset asked me to join him for the Fine jewelry school opening.
If you have any questions to Diaset, feel free to leave a comment.
BONUS:
A video interview of a designer from Van Cleef & Arpels
"Here we have our own style."