David Zakarias-Weich asked me on the Design Sketchbook's Facebook page about how I presented my sketches.
I share how important it is to engage your audience with Dynamic sketches.
It could be for an oral presentation, or for your portfolio, your drawings need to communicate your ideas, but also an emotion.


Q/ Why are trainers always drawn to that position?
It's rarely seen in real life. (Raised heel)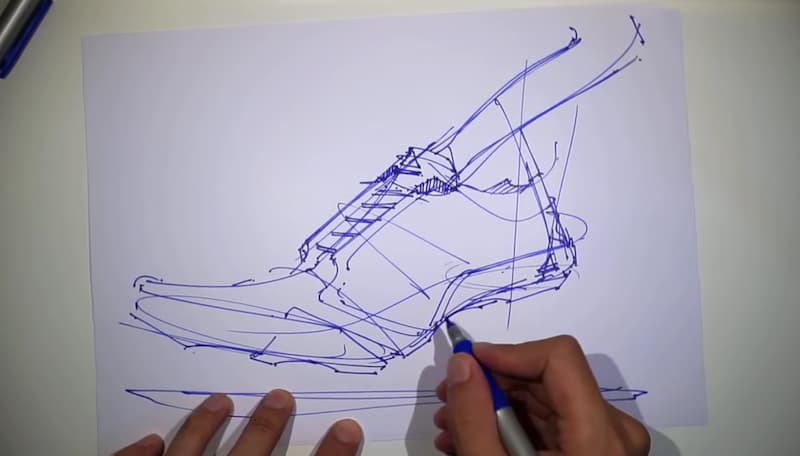 You can find the video at 16 Tips to Draw a Sneaker.
My answer:
In design sketching, presentation matters.
It's pretty common to show a product, a car, or fashion clothes in a certain manner that the designer will attract people's eye.
e.g. It's like a bottle of wine on a stand. It's made to be seen.
Dave added:
It's also a great way to describe the shoe in action.
Let me share with you a bit more about how many designers engage their audience with a "sketching style in motion".
Sketching with motion.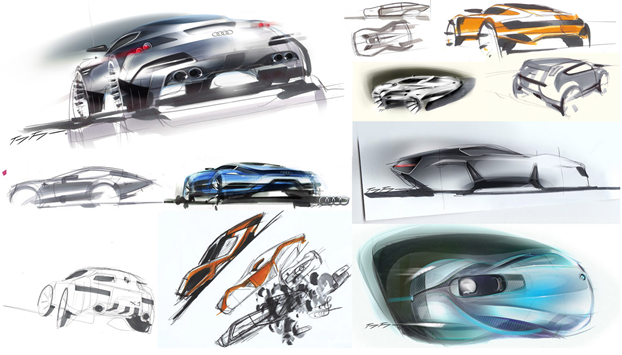 Toyfon alias Tommy Forsgren – Conceptual designer
Even though in "Industrial design", there is the word "Industrial",
it doesn't mean that your work has to be cold and technical.
It's a misconception that non-initiated people often do.
It's much broader than that.
A designer has his fair share of fun sketching with his own style.
This is where art comes into the picture. 🙂
"Engage you audience with your sketches"
A designer's sketch communicates an idea, a form, a system, but also emotion. A product doesn't start to be sold in the shop. But at the early stage of its conception – when the designer shows his project to the team or client trying to convince and seduce them to make his project happen.
You have awesome and unique ideas. Great!
And it's a "GREATER" thing to enhance your project's perception engaging your audience with your sweet sketches.
"The way you draw can influence your end product."
Once again, presentation matters. There are several ways to do that such as the composition, the colors, the viewpoint, focus point… but the core is in my opinion from the product sketch itself.
I believe in adding motion* to the lines.
This is where a designer's skills will cross over with a certain art expression.
Furthermore, I believe the way we draw can influence the end result of the design.
e.g. Transport or boat designers draw with fluid lines to create dynamic shapes giving a feel of lightness and speed.
* Note: the word "E-motion" includes the word Motion.
Tomorrow, allow me to share with you several artists who inspire me to create my own sketching style. Most of them come from the world of illustration.
Related article: How to draw Lively lines here.