Tap into your creative side and learn how to sketch in just five minutes.
My easy to follow 4 steps tutorial sketching on a Starbucks napkin!
This afternoon,
I stop for a while at a cafe Paul to sketch.
I am preparing the next week's course of [Sketch like the Pros].
And I wanna show you that: Anybody can Sketch!
Yes!! No exception (Except if you don't want to, but then I think you wouldn't be reading me now). 
I took a picture of my yummy Crême brulée and mint lemonade. (Looks good no?)
But also have several notes about sketching TIP I would like to share with you, especially if you are a beginner.
It's about the 3 Golden rules of sketching.
TIP: Keep the brochures you get from IKEA or any other shops you like to study the products inside. 

Draw with your IKEA catalog to study it.
The benefit of a paper catalog is that you are free to draw on top of the pictures.  Something you can hardly do from a picture found on the Internet. Would you draw on your screen? 😛
Except if you have a graphic tablet though. But I like the idea of carrying my "Ikea study book" wherever I want. I don't have to open Photoshop or any other app. I draw straight on the pages of the catalog. Or use post-it!
I personally like IKEA brand as it's functional, simple, fun, and beautiful!
They have great products for beginners to start with.
TIP: Decompose what you see in simple geometric shapes.
That's truly essential!!

The 3 golden rules
To improve fast, I highly recommend you follow these 3 golden rules:
SEE IN TRANSPARENCY
Imagine you have an X-Ray vision superpower like Superman.
So you can draw 3D volumes like a 3D software.
SIMPLIFY
Focus on general shapes first and details later.
Simplify the main shapes in simple geometric one. So you will be able to draw complex things that won't look awkward.
DRAWING WITH ORDER (strategy)
It's about planning a sequence of actions that allows you to draw fast and nicely.
We will draw the IKEA product using these 3 golden rules to practice our sketching skills in good condition. It will be a great phase of exploration where you will take a product from a 2D picture and draw it in multiple angles!
Of course, it needs some good basics of perspective such as drawing a cube in any angle. You can find a step-by-step exercise of perspective for beginners in the Designer Starter Kit. 
Learning how to sketch is like learning a new language.
To be fluent, it is not enough to learn the theory – you definitely need to practice. Vice-versa.
Do you think you can't sketch?
I drew several notes about the 3 Golden rules of sketching for you to try.
​It will take you only 5 minutes! But it may unlock something in you.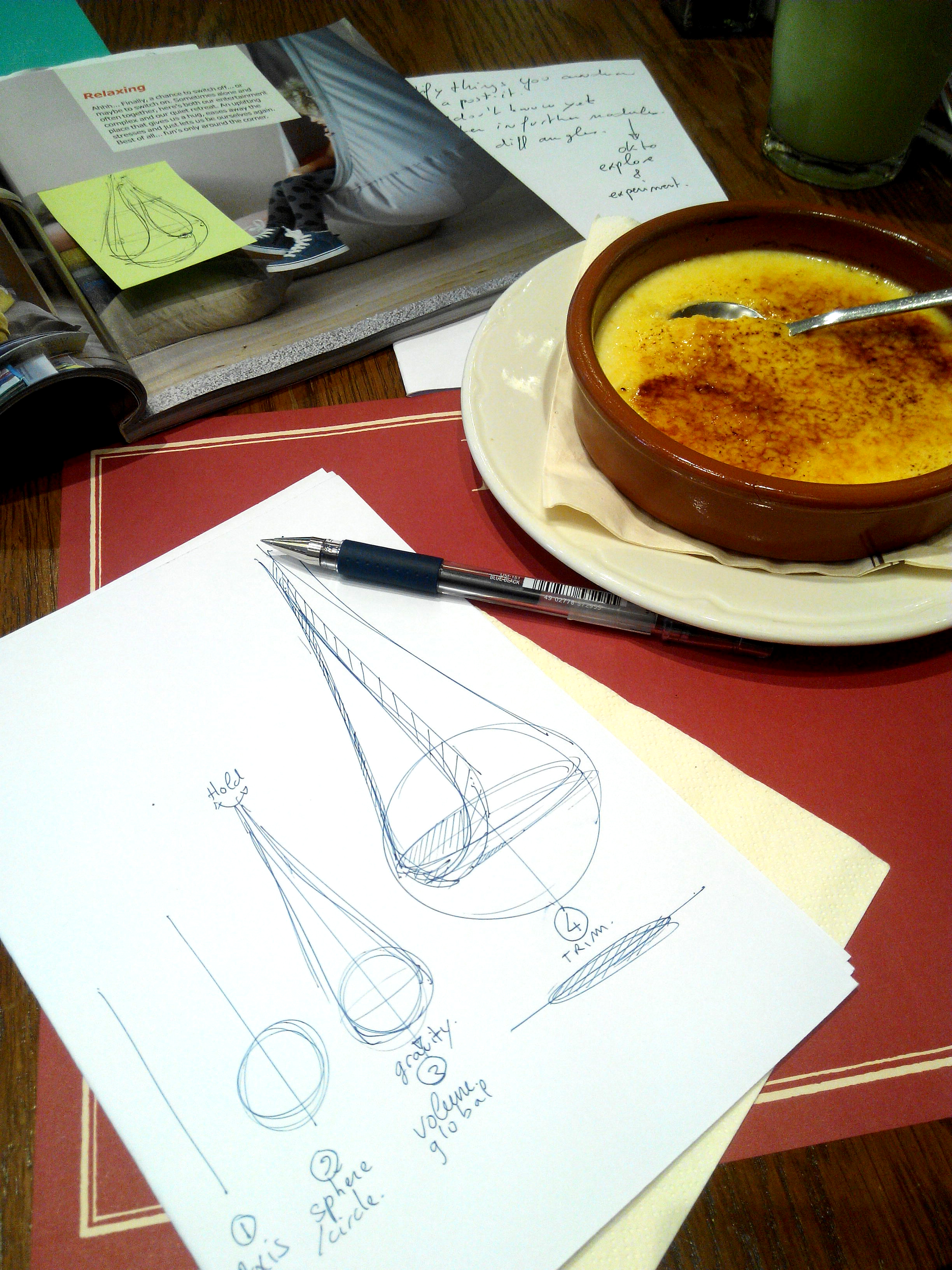 Observe
This relaxing chair for kids is light and suspended. It's symmetrical and we can simplify the bottom part as sphere.
Analyze and draw with strategy (See picture above)
STEP 1| Start with a vertical axis that will serve as a symmetry axis.
STEP 2| Add a circle or sphere
STEP 3| Spot the holding point. Join it to the sphere.
(To make the circle become a sphere, simply add an ellipse inside – make sure the ellipse is at 9oº to the symmetry axis).
STEP4| Add some hatching for the ground shadow to show the suspension.
Add some hatching to give more contrast to the product itself.
i.e. The supportive band that surrounds the entrance.
Extra note: Draw taking in consideration the gravity that goes along the symmetry axis – so your sketch will looks more dynamic. You should feel the heaviness of the chair pending from a hook.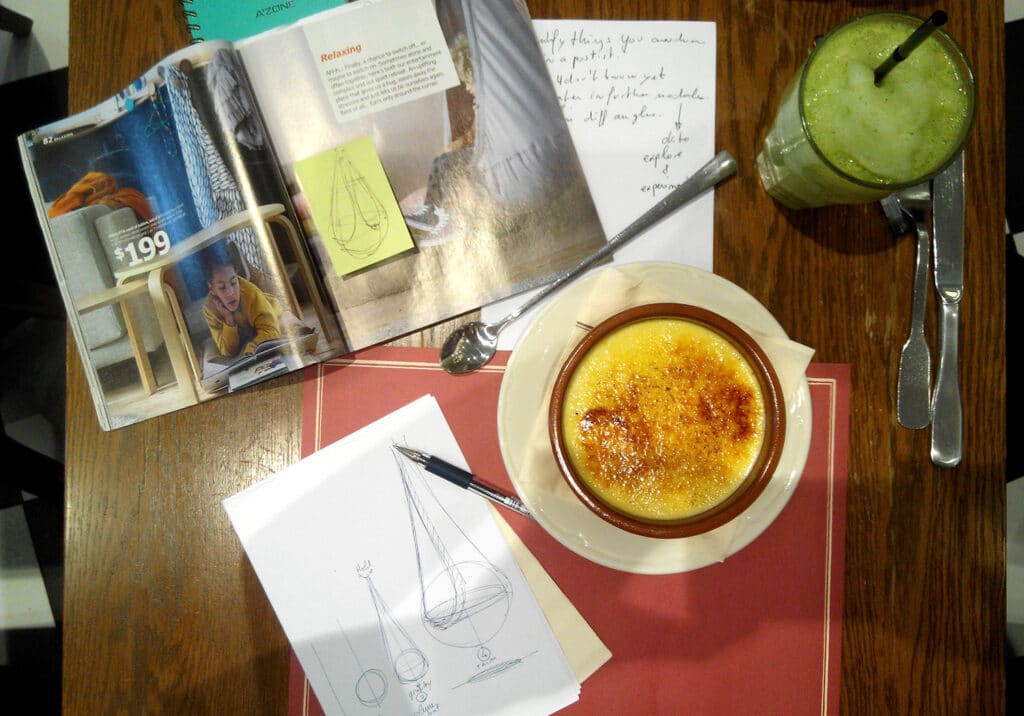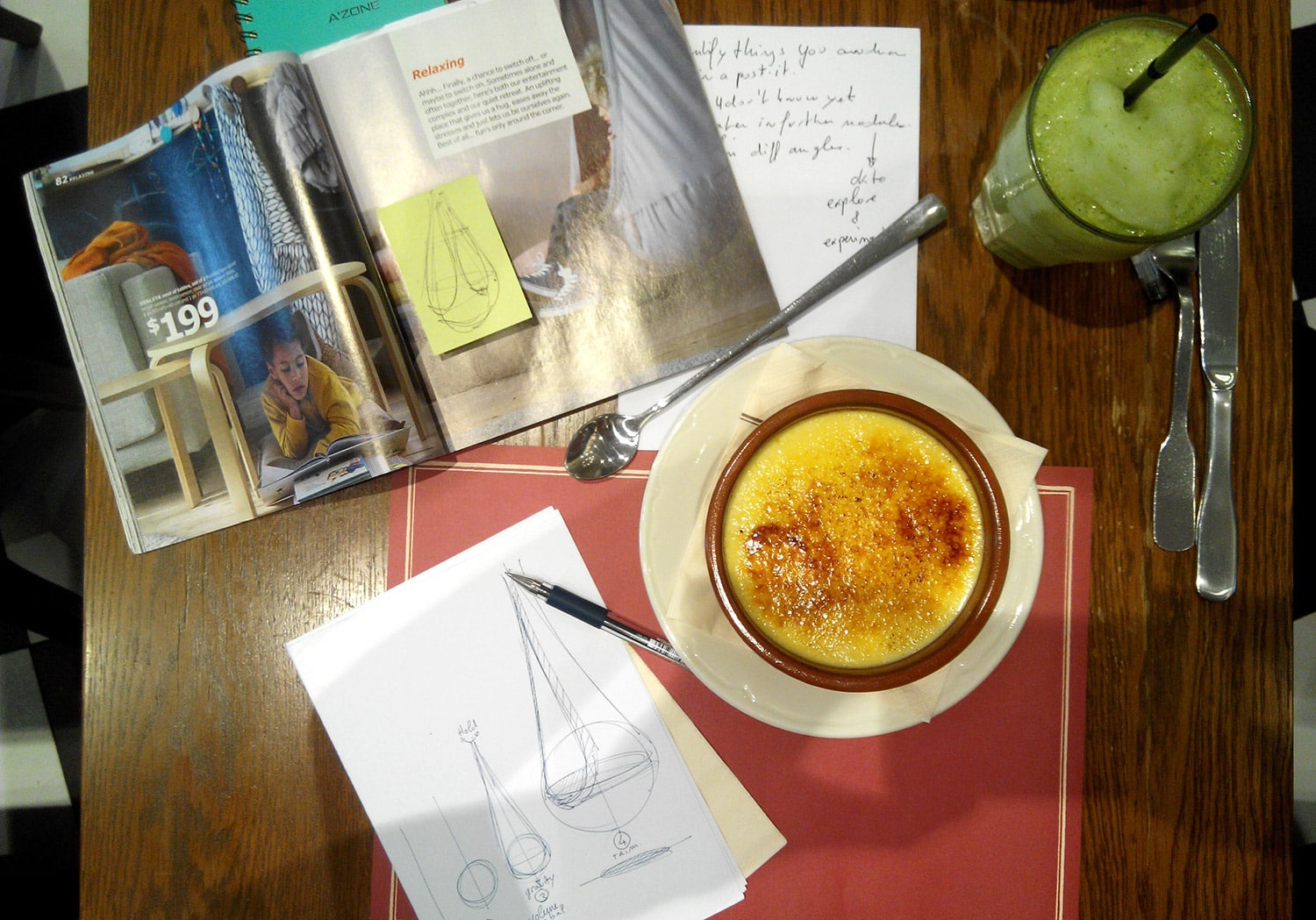 Sketch like Flash Gordon!
This sketch takes only 30 seconds to draw.
A product designer needs to sketch fast.
So he can multiply his ideas in a shorter time.
He could also draw a napkin doodle face-to-face with a client in a cafe.
You don't necessarily need to draw with a faster pen movement.
You have to work on your observation and analytic skills FIRST.
(If you study the map before going somewhere, you will reach faster than trying to figure out all on the way.)
That's it for today!
Just wanted to highlight that sketching is not about innate talent but essentially about techniques. This is why anybody can learn how to sketch!
Hope you find this article helpful and find some courage to start your project.
We all start somewhere. 
And you, do you think sketching is only for the elite, and you can't?
Or anyone could learn? 
Let me know in the comments!
Take care.
Cheers,
Chou-Tac
PS: When I was chilling at the cafe, I took a few minutes doodle to draw a lady drinking tea.
Haa I love sketching on napkins!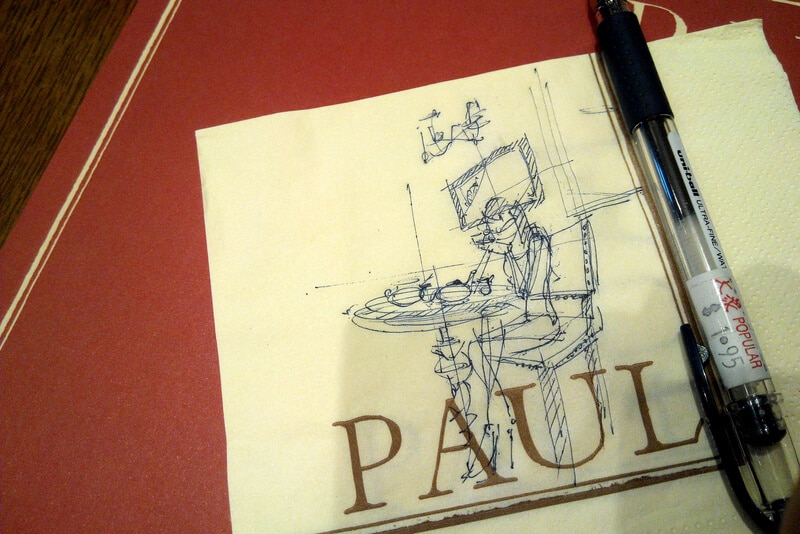 ---
---
Testimonial of the day from John Dence, Philippines:
Hello! I'm Dence, I'm a college student from the Philippines taking up Industrial Design. I was hoping for any sort of learning material to advance my current set of skills. I'm just a freshman and our teacher recommended you for us to study design. I received a warm welcome from the community! Thank you!!