Make the most of your drawing time by using the thumbnail sketching technique
and get ready to masterfully draw a range of backpack designs!
How To Masterfully Draw Backpacks with Thumbnails in 5 Steps
TIP 1 Start by drawing basic forms
TIP 2 Ask for feedback early
TIP 3 Brainstorm ideas
TIP 4 Use underlay to save time!
TIP 5 Draw with inspirational pictures
---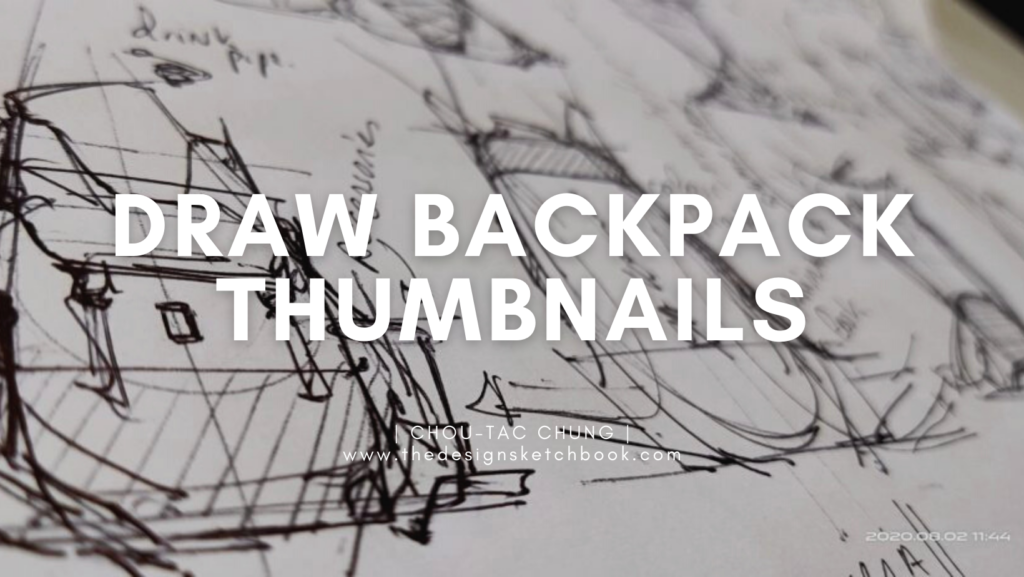 How to find ideas for drawing with thumbnails?
If you wonder what to draw,
thumbnails are great to generate ideas. I love drawing with thumbnails.
It's a fast sketching method to come up with multiple creative ideas in a very short time.
Multiply ideas fast.
You don't want to make 1 perfect sketch. You want to focus on idea generation.
Focus on the essentials.
Do rough sketches so you don't waste time on perfecting details.
Be more productive.
By doodling each idea fast, you can drop all the creativity you have in mind fast on paper. Then you can take your time to refine or select your best ideas that will be worth exploring more.
Share.
We rarely work alone as a designer. Thumbnails help to get feedback fast from colleagues, friends, and family…
---
TIP 1| Start by drawing basic forms
To challenge your creativity, start drawing multiple 2D basic forms. you will use them as a base to draw the design of your backpack.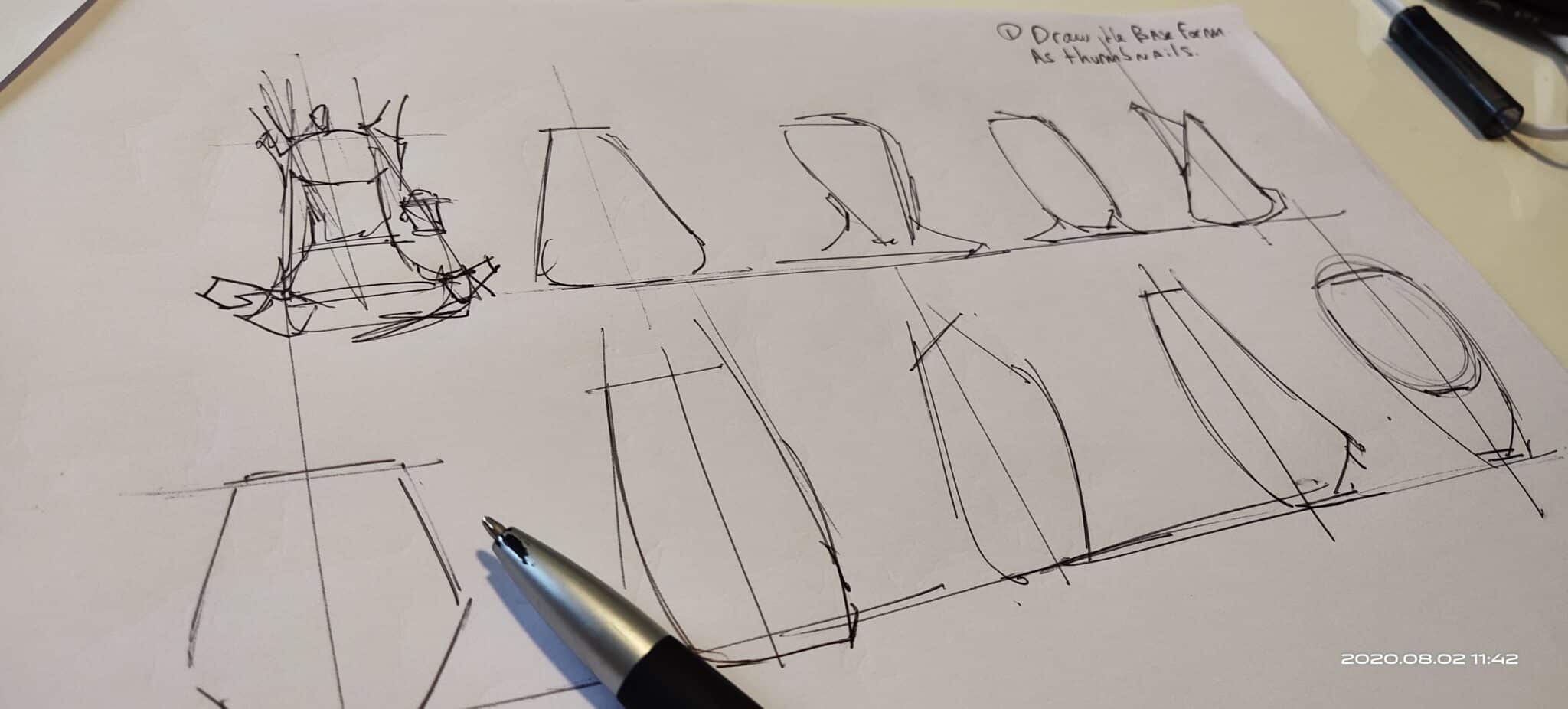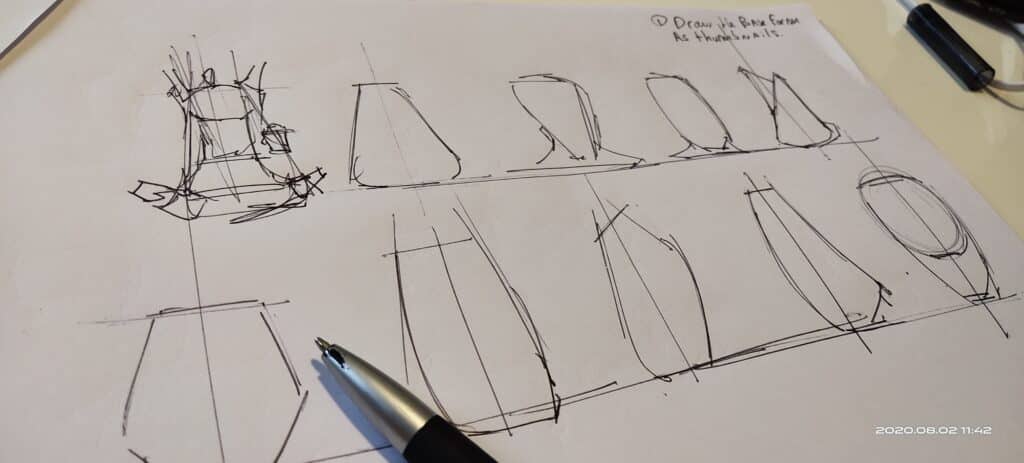 ---
TIP 2| Ask for feedback early
In the industrial design R&D (Research and Development) phase, drawing thumbnails is the first stage of the creative project.
However, a common mistake from beginners is to spend too many hours on a beautiful drawing adding refined colors and shadows… then only ask for feedback. They bet all their attention on their first idea.
This is risky. You may realize your first idea is not that good enough or not suitable. You will then go back to point zero (sometimes demotivated).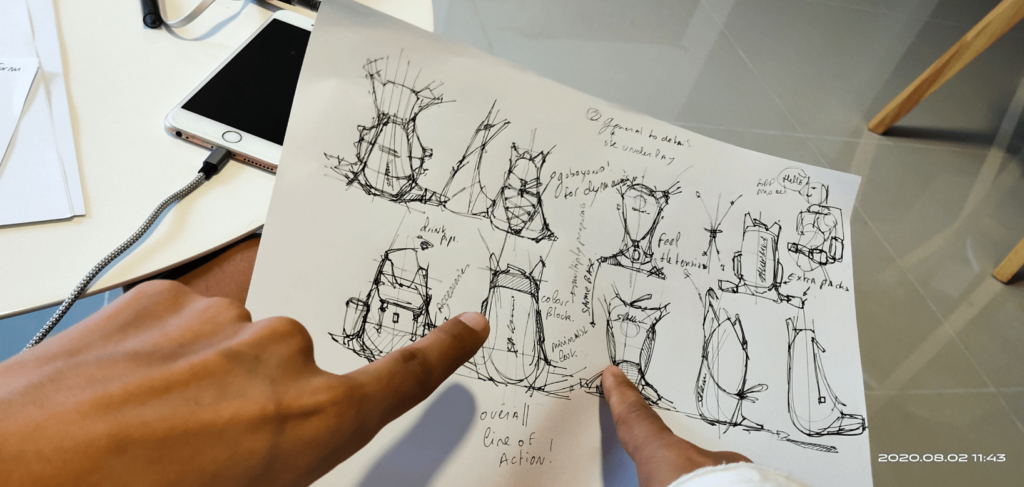 >> Ask for feedback early will save you tremendous time, energy, and motivation.
>> One of the tips I learned from a consultant from LVMH, Louis-Vuitton-Moëtt-Hennessy about product development is: "Earlier modifications are made, less waste of time and cost they involve."
>> At the stage of thumbnails, any modification made is basically "Free"! No sample, no chain of production has been started, no sample, no marketing…
---
TIP 3| Brainstorm ideas
When you draw your backpack, think of the user and you may think of functions and accessories to your bag. Here I added two extra bottles on the side. It's the beginning of an idea. I could then draw later another thumbnail on how to incorporate them inside the bag. No idea is idiot, immature or ridiculous. If the idea comes up in your mind, there is a reason.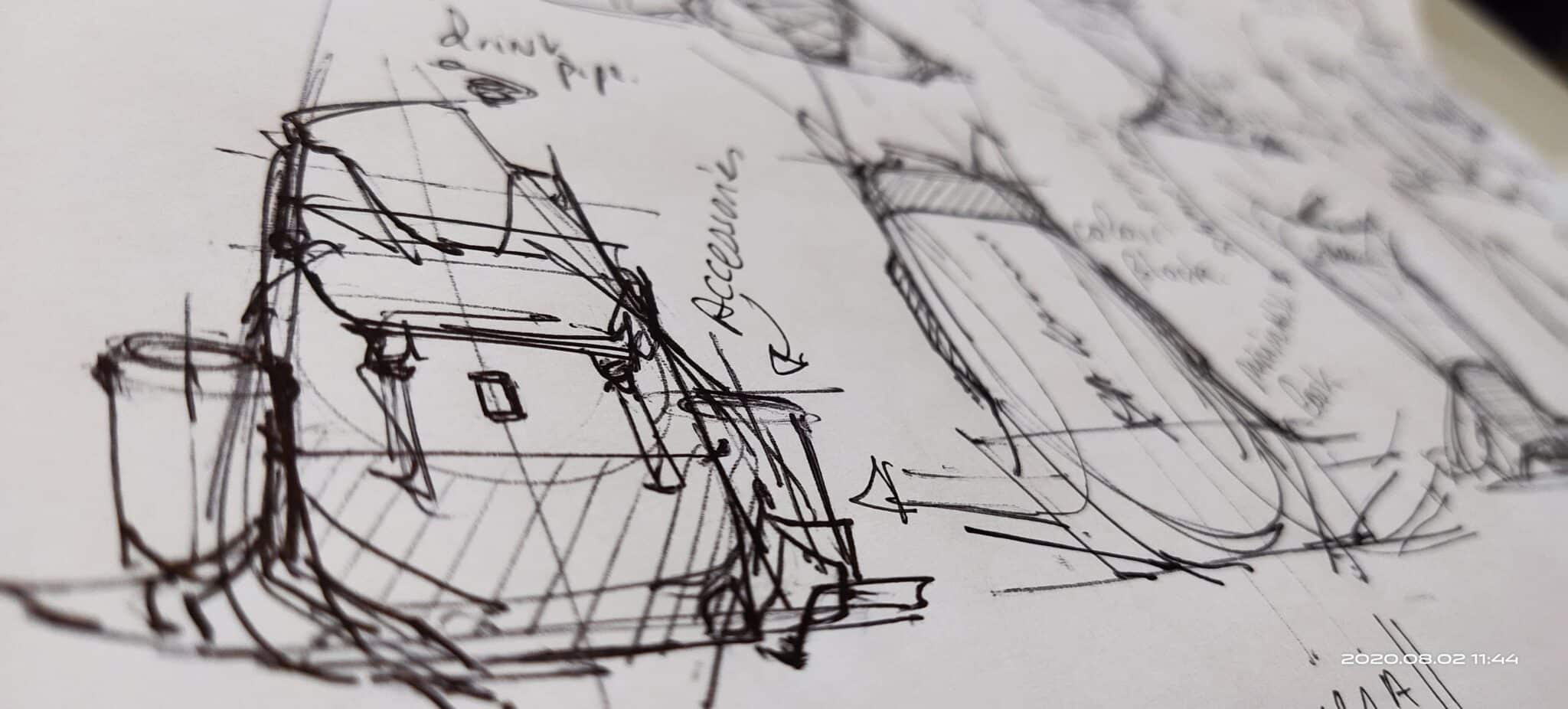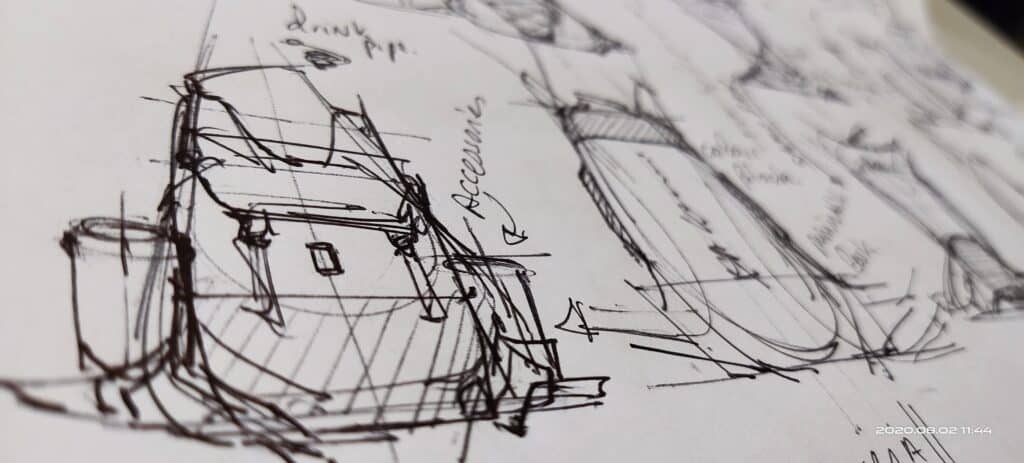 ---
TIP 4| Use underlay
To draw the designs of the bag, I added a sheet of paper on top, and draw through the paper transparency. Try to keep your sketching fluidity when you outline the template.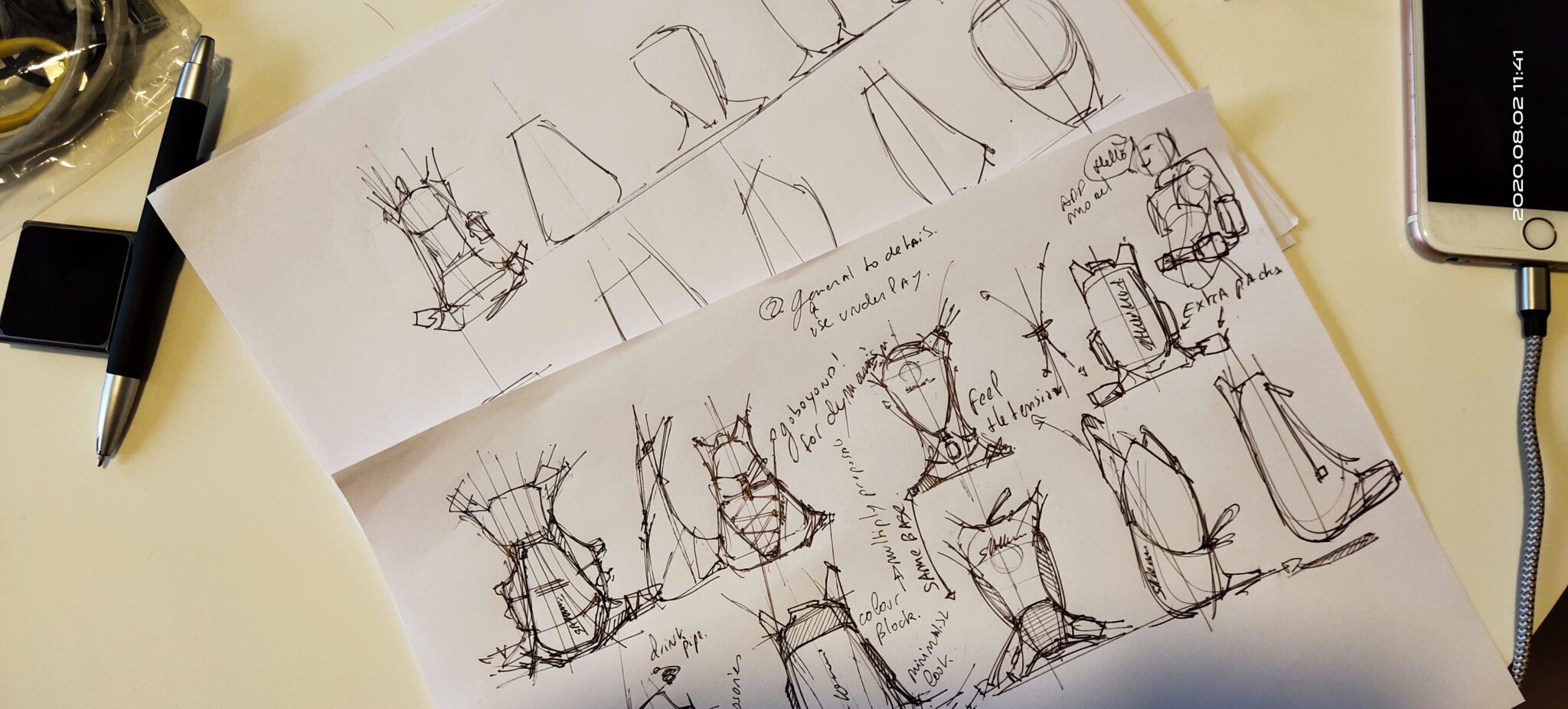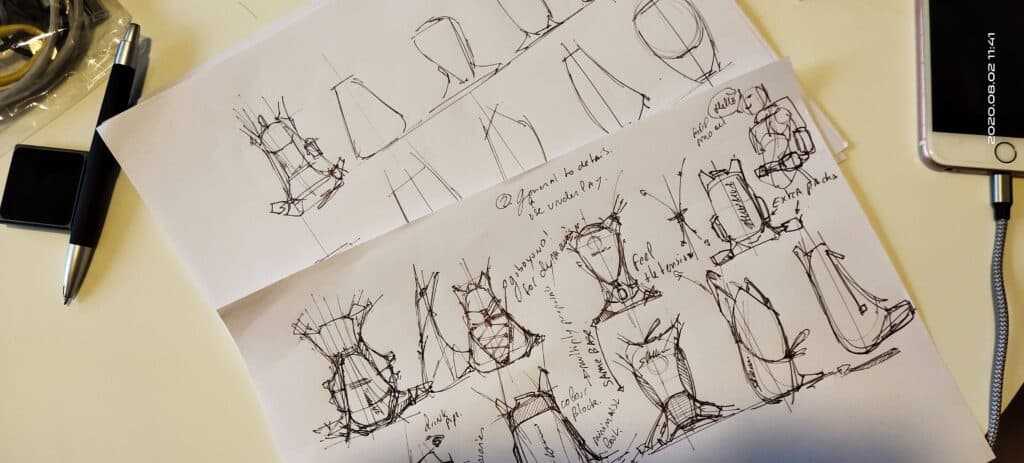 TIP 5| Draw with inspiration pictures
Anytime, do not hesitate to look at existing bags or find pictures of the backpack on the Internet.
Creative people learn from others and mix and match ideas almost all the time. It is pretty much unconscious, but I recommend you to deliberately learn from others.
As a designer, you don't have to reinvent the wheel. Find something interesting:
Study it
Modify it
Mix it
Improve it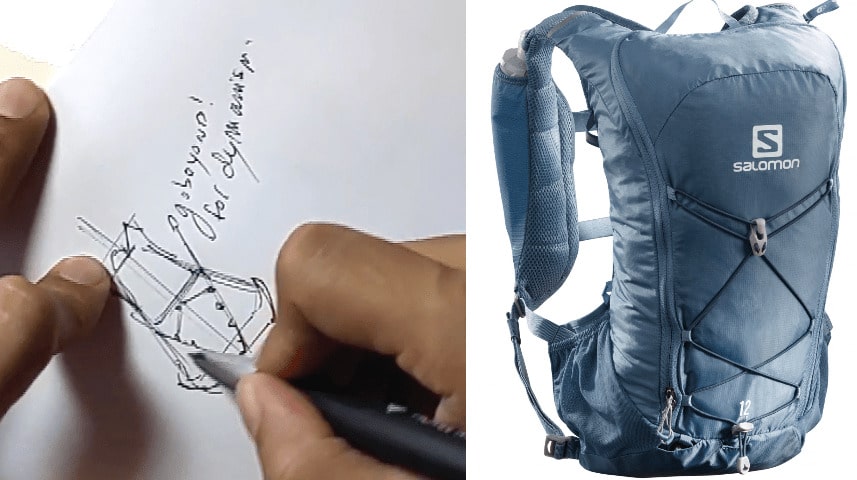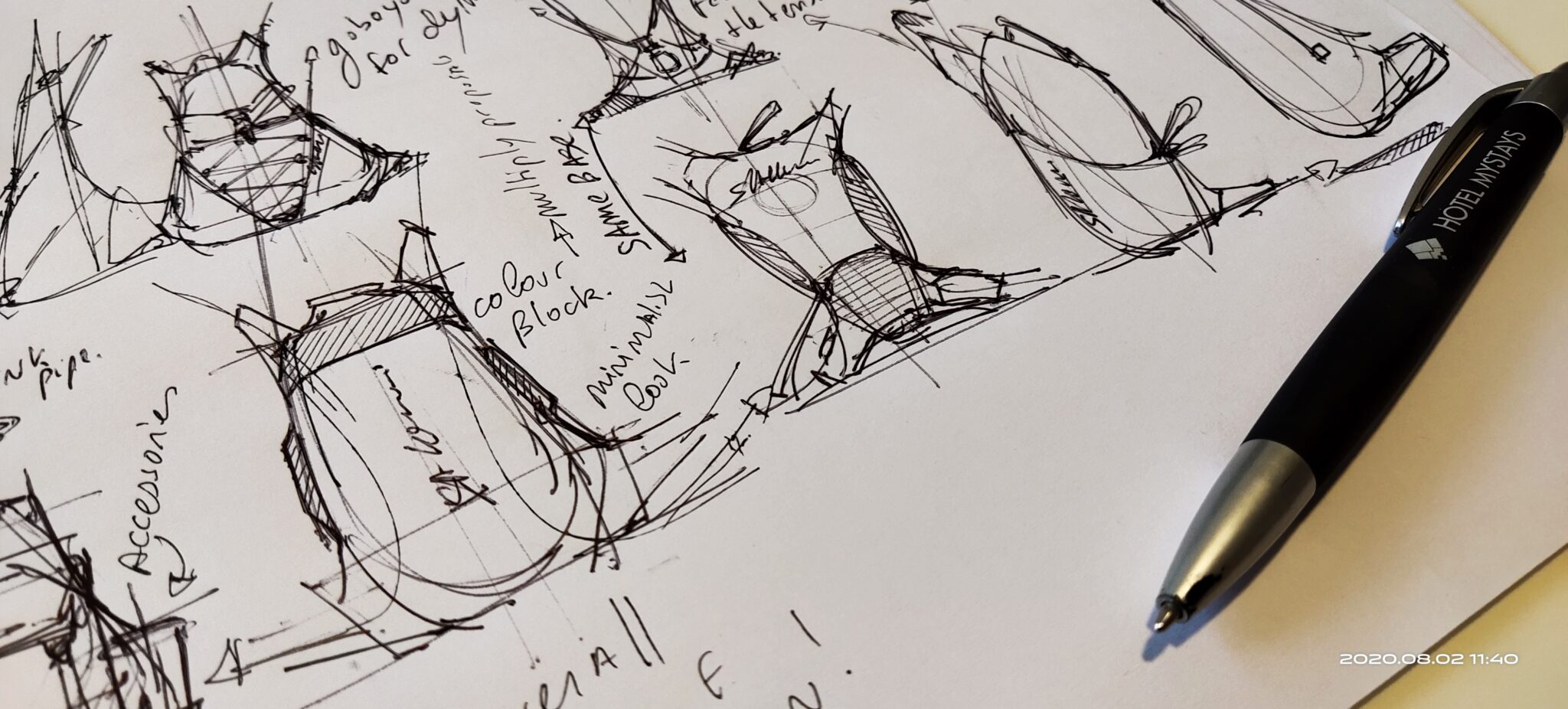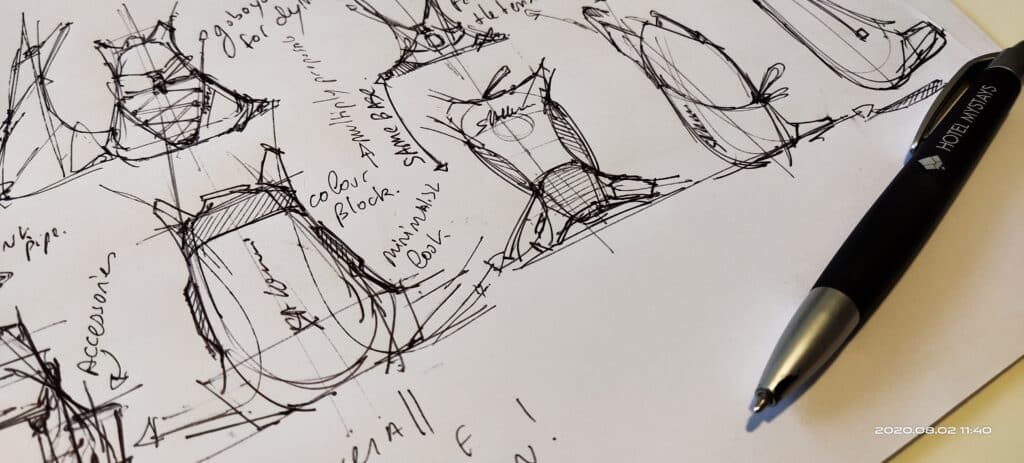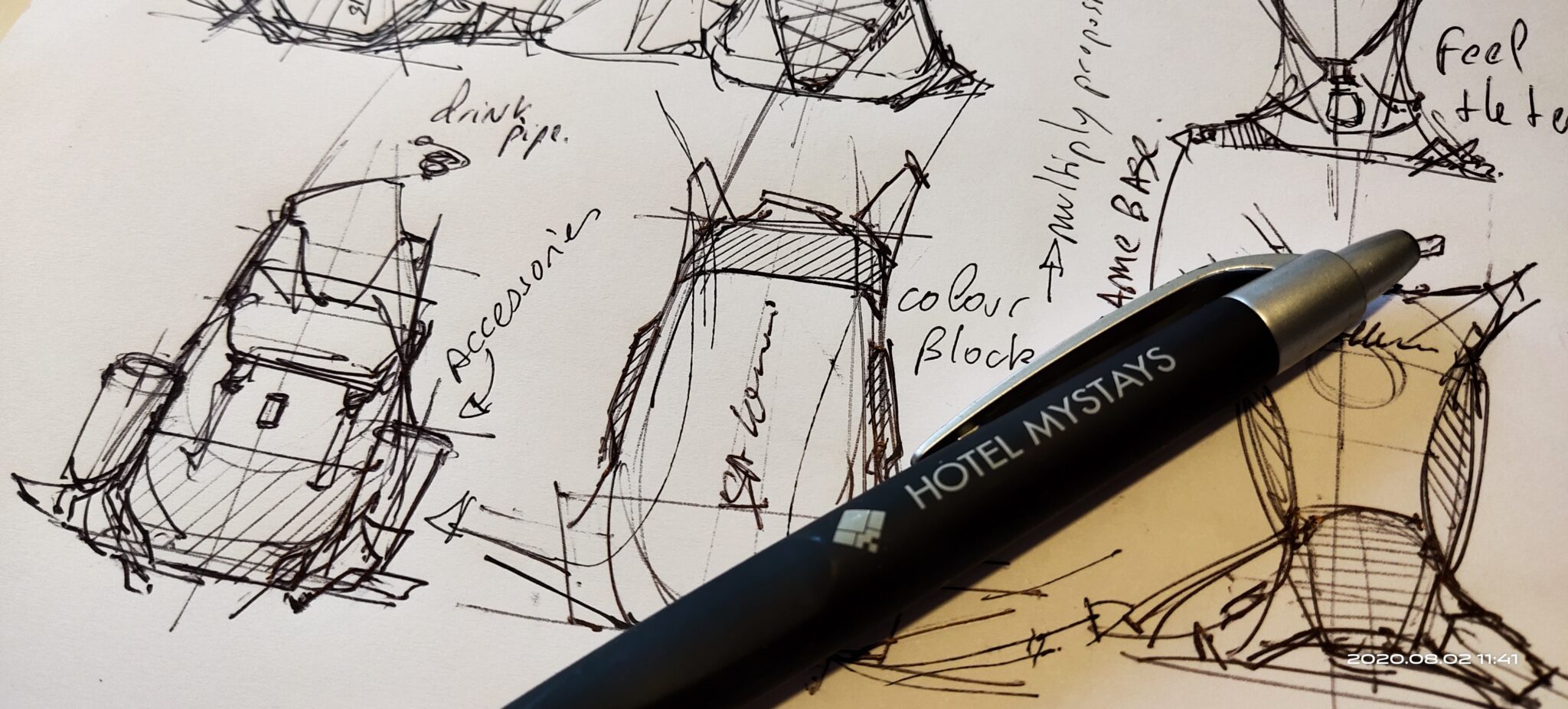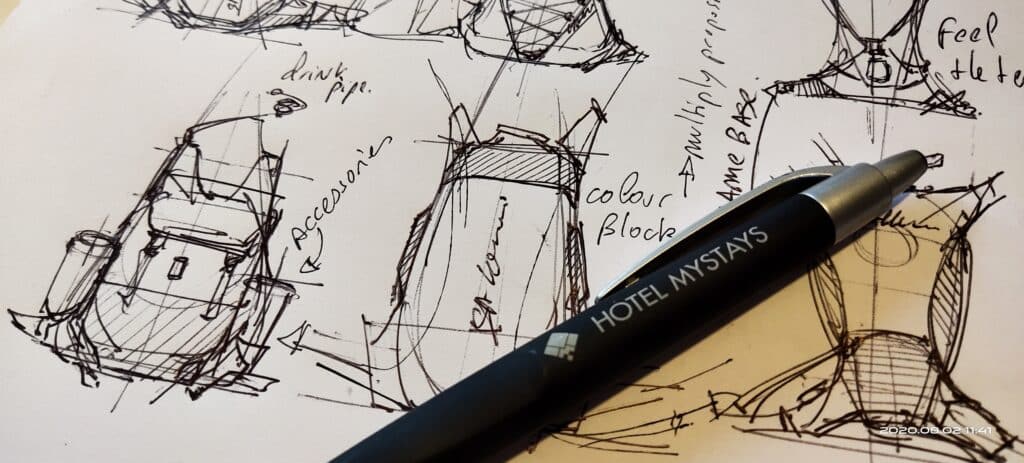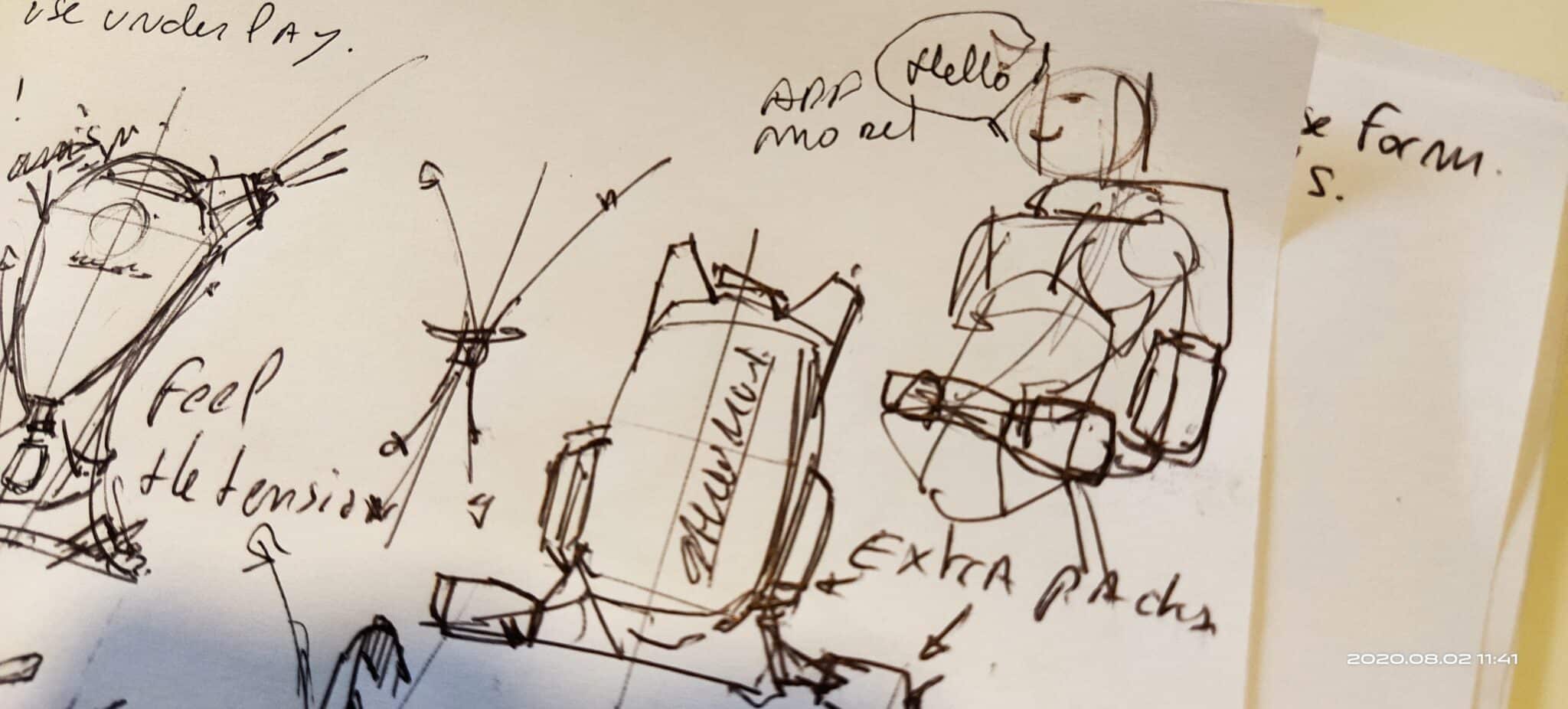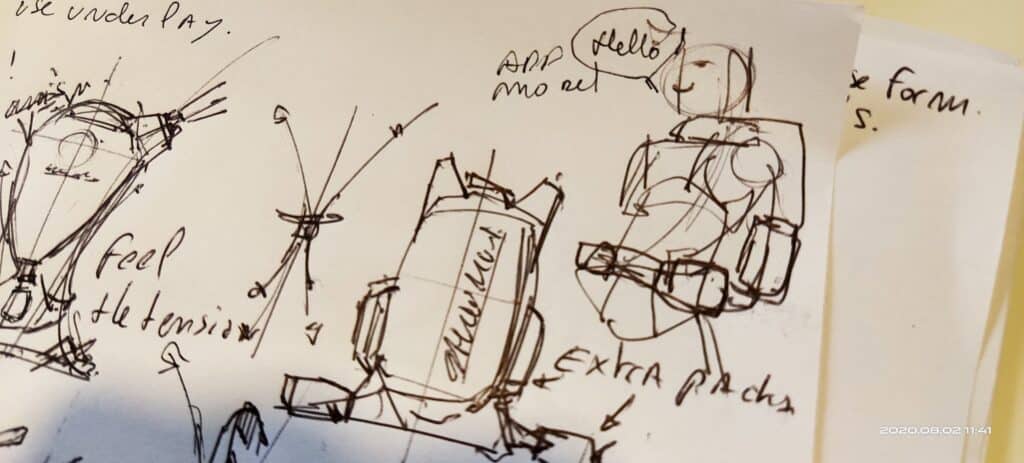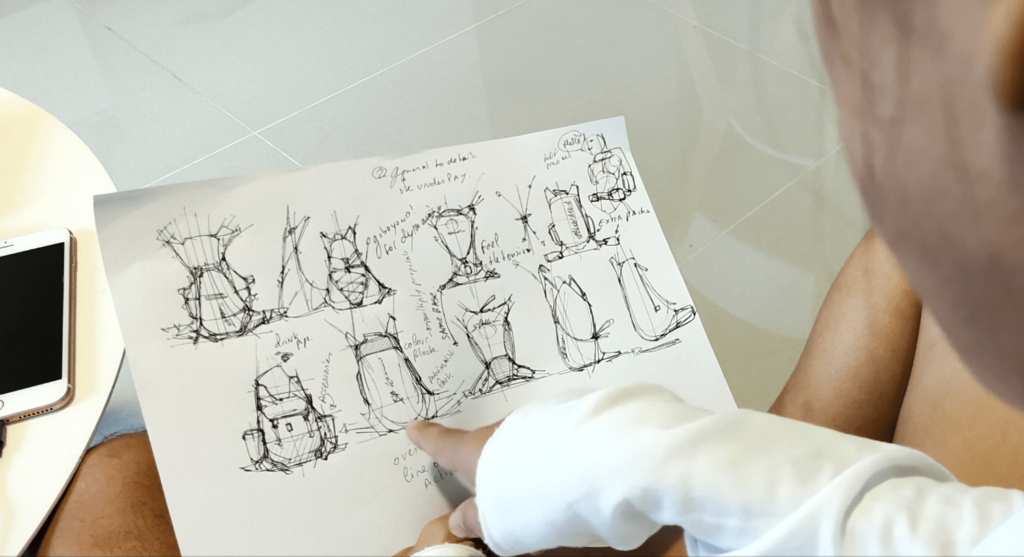 ---