Nicolas is a French student in Industrial Design who has recently achieved with success an Internship at Salomon. Nicolas's experience has a lot of positive insight so I though you may be curious to know more about him as much as I am ! 🙂
Tell us about you ?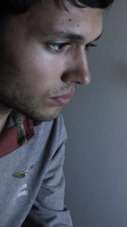 My name is Nicolas Gomes,
I am 22, and I come from Franche Comté in the east of France.
My outings in the mountains and activities like skiing and cycling have always given me the taste of discovery. I moved to "Les Landes" for my studies, in south west of France, a beautiful region where I live between the Pyrenees and the Atlantic Ocean since five years. My passion for sport made me feel good here.
I passed my scientific exam (A level equivalent) majoring in engineering. My teachers advised me to choose this diploma because it would open up more opportunities later and I would have a more efficient way of working. I pursued my studies in industrial design, to acquire the technical basics and tools: 3D, product design, manufacturing process…
I was always curious to learn how the products are made, and also how they work. I used to disassemble many things, even if sometimes I didn't manage to reassemble!
I was fascinated by cars, airplanes, watches, everything that had a mechanical system. I tried to invent some systems, and I start drawing very early. I dreamed of bringing life to my drawings.

---
Student life
How did you hear about Industrial Design ?
When I was in High school, I drew a lot of cars. I liked the Peugeot brand. We talked a lot about the brand in Franche Comté because the historical industrial factory is implanted in the region.
I saw on internet they were organizing an automotive design competition. I haven't yet used Photoshop, and I saw how the designers renders could be attractive using it! I watched a lot of videos about designers work afterwards and I learned some really interesting things. This allowed me to expand my design vision to various domains, and to choose the design product.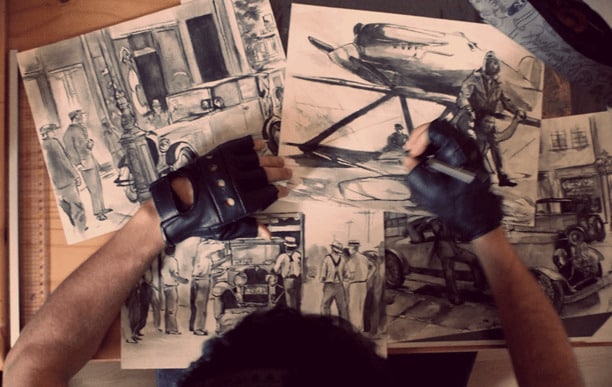 What pushed you to enrol in a Design school ?
During my studies, I realized  we don't draw an airplane without considering  the technical constraints that surround it.The shape of a product must be thought with the simplest way to produce and must be intelligent in its function.
I did a lot of artistic drawings, but often copying from an existing model, without searching to understand these technical aspects. Many of my classmates dreamed of becoming an engineer. But when they had to imagine an aesthetic for the product, some of them couldn't find the way to represent it.
3D software is a good tool for that, but ideas can be excluded, and it doesn't allow enough creative freedom. That's when I realized that what I preferred in product process was sketching.
I didn't know about the methods and the approach to innovate through design. So I enrolled a Design school in an undergraduate level in Product Design. Design professionals, taught me designs guidelines and the basic tools on Photoshop or Illustrator.
I always spent my free time on these softwares, but the most important was the methodology. The Design school helped me to enhance my profile and develop my creative potential.
It's important to challenge oneself for our professional life.
What do you like the most at being a designer ?
What always got me motivated in my future job, was the idea of ​​being able to have fun every day! I think that a designer find his best ideas when his work is like a game for him.
The research (also called ideation) phase of a project is always the most exciting. We explore new places, new domains where we could find the inspiration. We share with others our experiences, our vision of the product, what we expect, and what would be the emotion given to the customer through the product.
I have a passion for fashion. That attracts me because people wear the product, and give it a particular value. They love to wear it, share it with their friends or on Internet, taking photos. Fashion accessories or products will enable them to create their own style, and become themselves creatives.
What I enjoy in this area is also the variety of colour combinations and textures we play. People have this sensibility to touch, appearance, and I like working on it.
Any advice for aspiring designers ?
A designer could draw the whole day.
The best way to get ready is to take a sketchbook everywhere you go! I have sketchbooks from my trips in which I drew in the cities I went, many things, architecture, or an object which caught my eye, and also my friends or funny people in the street, a music band!
All that sketches helped me to improve my drawing skills and today it's useful for my work. When we meet a client or in a meeting, it may be necessary to draw quickly an idea. It's always better to have a notebook on oneself.
What are the difficulties you meet as a student designers ?
And any tips to solve them ?
My feeling, when I started my studies was that I didn't have enough culture to find the inspiration. I was often looking for my personal interests. I think that we should be curious about the world around us and open to others.
These are two qualities that will be helpful in my opinion, at school and in working life. We are always trying to learn new things in the design profession. Ideas can come from any universe.
When I reflect, the images that come to my mind are sometimes distant memories of my childhood, but also of my meetings, my discussions. We shouldn't miss any opportunity to share with others, in any situation. Even a discussion on a bus can become rewarding.
We have to socialize, learn about other cultures, trying to get out of his comfort zone.
I think it is important in our daily life.
---
Internship
You recently went to Salomon in Annecy for an internship as a Footwear designer.
Tell us a bit more about  Salomon and your mission there ?
Salomon gather people who are passionate about mountain sports in order to aim for performance and innovation. Historically known in winter sports, skiing, snowboarding, clothing and accessories, Salomon also offers a footwear category.
I was integrated into the outdoor performance division, the hiking and running shoes department.
I loved working in this area because it taught me to consider a lot of codes which the customer trust and recognize. It was also interesting to see how these codes will change in a few years. I must also took into account several technical constraints about the product performance.
This allowed me to participate in a project as a whole, and to invest myself fully in searches.
In your opinion, what do they look for first at selecting a candidate ?
The most important is to show that you are motivated to work on their side and that you share the same passion. I presented a project for my interview, in which I tried to implement the Salomon DNA in a product of the category for which I was applying.
When you find the perfect opportunity, you have to show all you can do and especially what they expect from you during the internship.
Few words about your journey ?
(e.g. Company, city, lifestyle…)
Annecy is a very sporting city. Many activities are organized around the lake! Wake boarding, stand up paddle, kayaking, rowing. And also paragliding from the mountains that surround it. I often run to the lake, or raced down the mountains with my bike, hiked in mountains, during my free time. Every weekend was an occasion to explore a new horizon!
The advantage in a sports brand like Salomon is that they encourages us to play sports. Sports activities are organized within the ADC, at noon or after work. Some do fitness, yoga, others go running or biking. With the presence of Mavic at Annecy, in the field of cycling, many of the employees equip themselves of their accessories or also others products of the brands that are part of the group. Arc'teryx for clothes and bags in the outdoor, Suunto for the watches, Wilson for tennis and other ball sports still … We can't have come to Annecy without doing a sport!
The Salomon staff is composed by dynamic and youth teams, so it's easy to discover new sports and to share its experience with them.
Does the project given to interns are the same as full time employees ?
What I was looking for, was a first experience with design professionals. I learned a working method. I saw designers working and organising their ideas in many different ways. It helped me to present my concepts and to explain them in front of others professionals.
The workload isn't the same as a designer when you are a trainee. They have to work on several projects simultaneously.
The projects I was in charge were intended to improve my ability to work and especially in order to work independently. But I've been the chance to work on a project from the beginning to the final design, on a model which will be sold on spring 2017, it was great for an intern!
Any advice about making a portfolio and resume ?
A portfolio should be the reflect of our personality and our interests. It demonstrates our ability to work and our motivation. When you present it to a school, it must be the largest as possible.
For a company, a portfolio should match as closely as possible with the spirit and the area of the brand. It is through the portfolio that we draw our profile and they will remember our universe.
This is why it needs to be renewed according to our orientation. The designer resume reflects our personality. The colours we chose, the graphics, the organization are all important aspects that reflect our tastes.
---
Sketching
Is it important to have good sketching skills at Salomon ?
Each designer have its own method of drawing.
Some are more comfortable on paper, others on digital. But the aim is to organize our ideas clearly and effectively.
Some designers work with words when they start a project. This prevents to exclude tracks we would not have with a simple drawing.
But these ideas need to be materialized in order to present them to customers or marketing people, who don't necessarily have the ability to imagine the product such as we describe it.
Much of my time I have been dedicated to presentation boards, making sketches of principle or situational.
How did you learn how to sketch ?
Share with us your difficulties and method to keep going
When I drew my first shoes, they were a bit disproportionate. Starting from the shape of a foot or a photo of an existing shoe, I managed to give more resemblance to the final model. To gain efficiency, I replicated the shape of the shoe I defined, on Photoshop, and I started my sketches with this base.
In general, putting some photos or drawings in front of my desk helps me to imagine the product, and better reflect to the project. The ideal, should be a giant slate wall in front of my desk where I would draw any idea or word. Even if my sketches aren't very satisfying at the first time, it's easy to clean and restart! I could save paper!
Any advice to an aspiring designer who want to start learning ID sketching ?
Everything that we can draw around us is a good way to improve your sketching skills, and bring quality to your drawings. The more difficult is to give life to the drawing, an impression of movement. My advice would be to choose an object and draw it in action. Maybe on the hand of someone, or with someone using it, or simply placed on the ground, and trying to highlight it with several angles.

What software do you use ?
I mainly use Photoshop. I do my design boards, sketches and renders on. The advantage I find is that you can easily modify your drawings, or change the disposition or the size of a view. For an illustration for example, it's faster to change a colour or a form with a texture applied on, by adding the correct options to each layers. I also used Sketchbook Pro which is ideal for sketches for example, I find it very intuitive quick and convenient. But I prefer to do my renders with Photoshop.
Any graphic tablet ? If yes which one.
I used a Cintiq 22 at school and during my internship. A friend had given me a bamboo when I was younger! Since then I have always spent my time on it. I could spend hours on without getting bored. By learning to use the softwares, I understood that it will be the best way I will work . I often draw on my ipad, during my travels, in the tram when I go to school or during my free time. My favourite app is Procreate, the resolution is excellent and the tools are very pro!
What's your favourite pens ?
I draw with a ballpoint pen, BIC 0.7mm, for most of my sketches. For details, I use a Pilot Fine Liner 0.4 mm which dries quickly and doesn't bleed. For contours, a Paper Mate Flair 1 mm.
Can you send us a picture of your workstation or favourite tools ?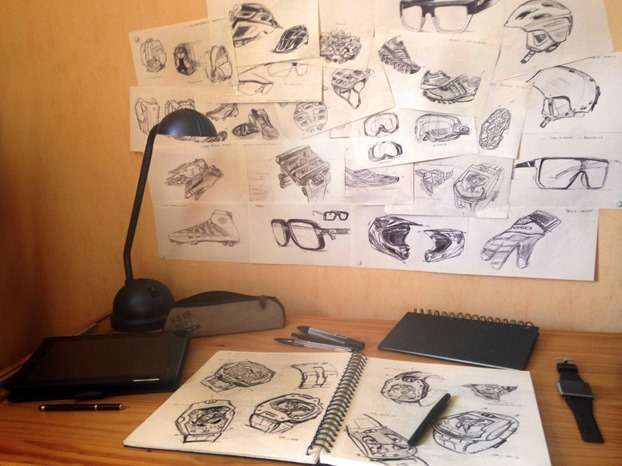 Nicolas Gomes workstation.
---
Inspiration

Who or what  inspire you the most ?
I find my inspiration in what amazes me and arouses my imagination. We all have in our memory, series, cartoons, objects which marked our childhood. For example, I liked to read Spirou comics, but I was more influenced by Tex avery cartoons or Marvel comics.
American culture have nourished a big part of my visual culture. But not only! I have Portuguese origins, and every summer I went to Portugal. Besides the beach and the mountains where I've always loved to spend my time playing sports, I loved wandering around the old town of Lisbon. There are a
particular atmosphere, a passion for the country and a simple way of life.
I take a lot of photos during my trips, and then I use it for my inspirations. I also find my inspiration in science fiction movies. I love watching sci-fi robots, spaceships and futuristic vehicles! I dream to pilot one of them!
How do you find inspiration for your projects ?
And how do you implement them in your product ?
If I had to make an aggressive and fast shoe, I could think of a cheetah I seen in a movie scene, and try to give to the product sharp lines, as his fangs, or the slender look of its body. But the relation with our source of inspiration and the product must be coherent with the message we want to convey.
Besides travel, nature or architecture, sometimes I find inspiration from abstract lines of artistic works that evoke adjectives like fluidity, lightness, etc. Inspirations will have to appeal to the collective imagination, past experiences, visual or sensory to be understood.
Do you listen to music while you sketch ?
If yes which artist ?
I like to listen to music while I draw, like when I'm running, It's motivating! I don't listen only Portuguese music, like Fado, thankfully! I love listening to music of 50's-60's, blues rock jazz, a bit vintage, but also recent rock groups, like The Black Keys. Often I listen to Latino music, traditional or rap: Portuguese and Brazilian music,(Mind da Gap is my favorite…) Cuban music,like Orishas, Cumpay Segundo, or salsa.
---
Future project ?

What is your next step ?
My plan is to work in the field of accessories, eyewear, watches, shoes or leather goods. This year I enter in a Master's degree in fashion design and accessories at the Design School of Geneva, I could benefit from fashion courses and an high level of learning.
If you could draw something and make it become reality. What would it be ?
I started to draw my dream house when I was 8. I drew the plans by hand, and I did the render on a 3D software. I dream to build it on a tree, beside a beach, with a pure design, and a very luminous interior. I will install my office, on a mezzanine, and when the sun shines, my roof will open totally, and my office will transform in a terrace, overlooking the ocean!Meanwhile that day, I think I'll put some sand under my desk, to have the feeling of being in "Les Landes" beach when It will snow at Geneva!
Thank you Nicolas ! Wish you the best for your new fashion adventure in Geneva !
See more of Nicolas works at www.nicolasgomes.com
Salomon: www.salomon.com