To constantly improve at Design Sketching, we know that Practice is the key. But M. Procrastination like to call us one time in a while.
It may be a sign that we need a break. It's ok. No harm. Just don't rest with him too long.* We all know how we feel comfortable watching movies on TV on the sofa with our dear M. Procrastination instead of practicing our sketching skills.
*If we don't pay attention, we may procrastinate for weeks or months. Worse is forever.
I remember when I was student
And had a new project, it happened that before starting, my brain told me to clean my room… (Does it happen to you as well ?) I convinced myself that I would work better if the environment would be nicer. True. But in fact, I was procrastinating. I kept myself busy to postpone my homework.* Why ? I was afraid to learn and face my mistakes and realise (again) that I am so far away from my goals. I could see so many great designers artworks on Internet, but it seams to be impossible to reach. So, I procrastinated and do nothing. Even worse. When M. Procrastination was away, these great influence motivated me ! When he was around, I felt weak.
If such things happen to you as well, remember that:
"If you feel frustrated with all the things you can't do. Then start with things you can do." – Gitomer
It's pretty ok to procrastinate that way. Cleaning my room activated a first sense of accomplishment. The essential is to keep enough dedicated to carry on the School project.
Dream big
Only big dreams can intensively drive us to unexpected results and get highly motivated ! Each day is a baby step and an opportunity to get closer to our dreams. Soon, with more techniques and practice, you will walk, run and jump and get closer even faster building that momentum.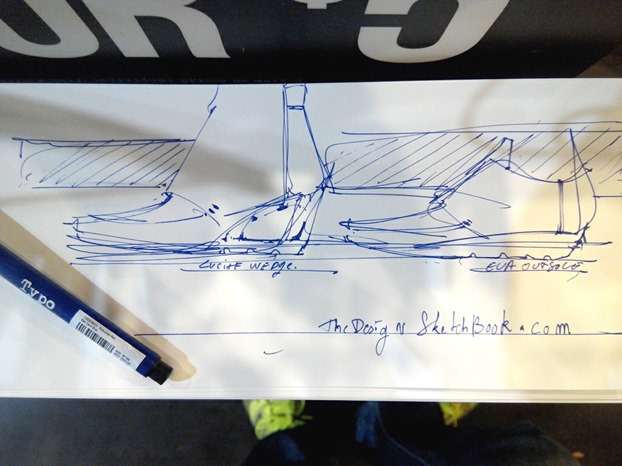 What I do to keep Mr Procrastination away
Is to sketch anytime, anything, anywhere something I like. On the above picture, I was chilling in the shopping mall and stop at the pen corner of a stationary shop. I tried out some pen doodling some footwear. For these 5 minutes, that moment was mine. What I am going to say may appear abstract, but the feel I like so much while drawing is that mix of peace and excitement creating these instant sketches. And it's good to remind your brain this feel.
TIP to help you start a project:
If you need to start a project and feel procrastinating. Give your self a contract. Cut all kind of social network distraction. Sit, and start drawing for FIVE minutes. If you like it, carry on. If your mood is still away with M, Procrastination, then stop. Simple right ?
The good thing about this method is that your mind and mood will often come back pretty fast. These 5 minutes may drive you drawing all-nighter. 🙂
Try and let me know your impressions in the comments !