Learn how to draw organic forms with this helpful sketching tutorial.
Take on the challenge and learn the basics of product design sketching, using Philips electric shaver as your canvas!
How to Draw an Electric Shaver Philips! (Pilot Twin Marker) in 17minutes!
---
Hello guys!
I am working on the release date of my course: Sketch Like The Pros. I will confirm it to you by email by this week! Make sure to register to the Waiting list to get the latest news.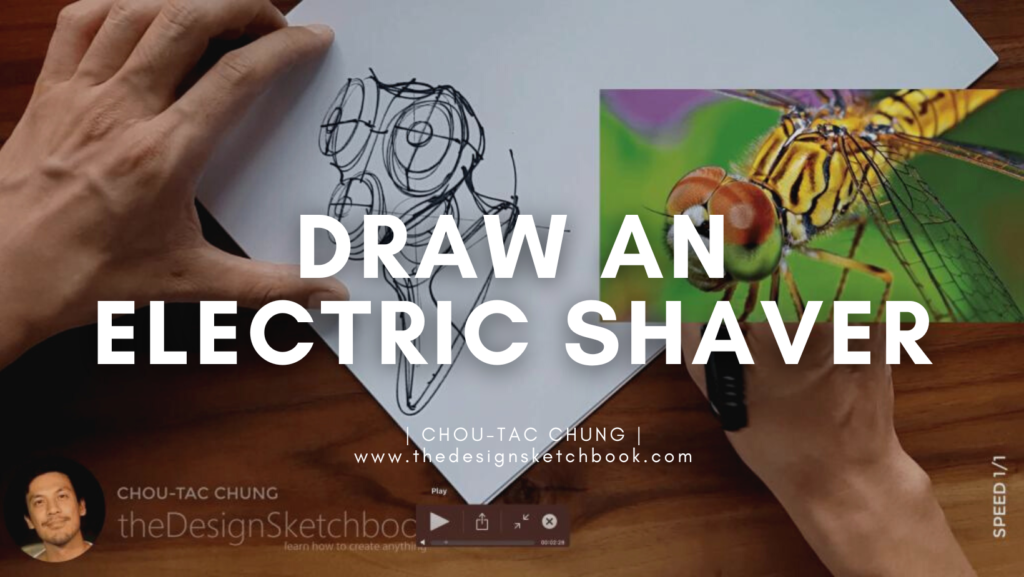 Today we draw an Electric shaver Philips with a Pilot Twin Marker.
I'm Chou-Tac from the Design Sketchbook.
Feel free to download the Designer Starter Kit to make your first steps in perspective.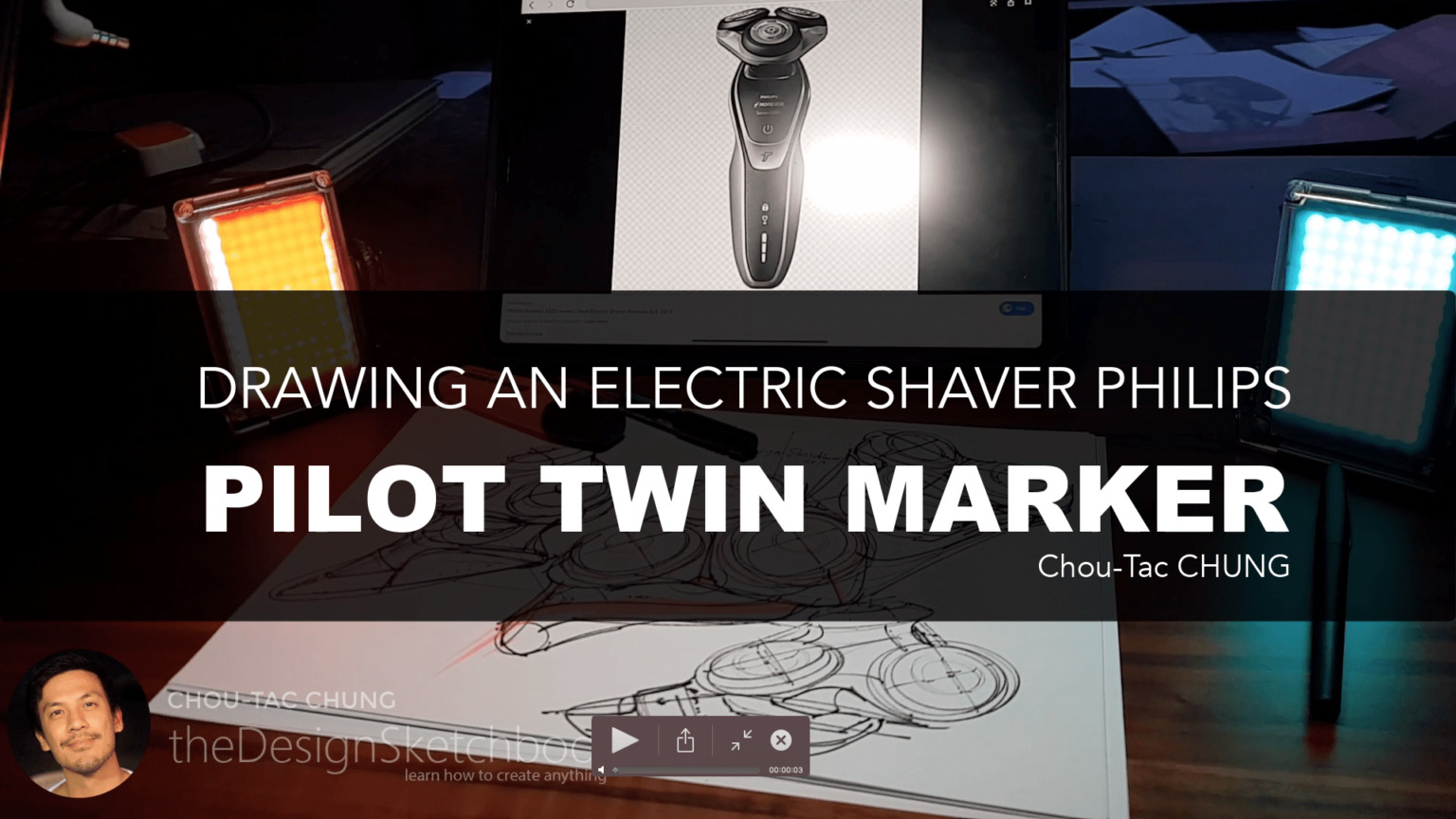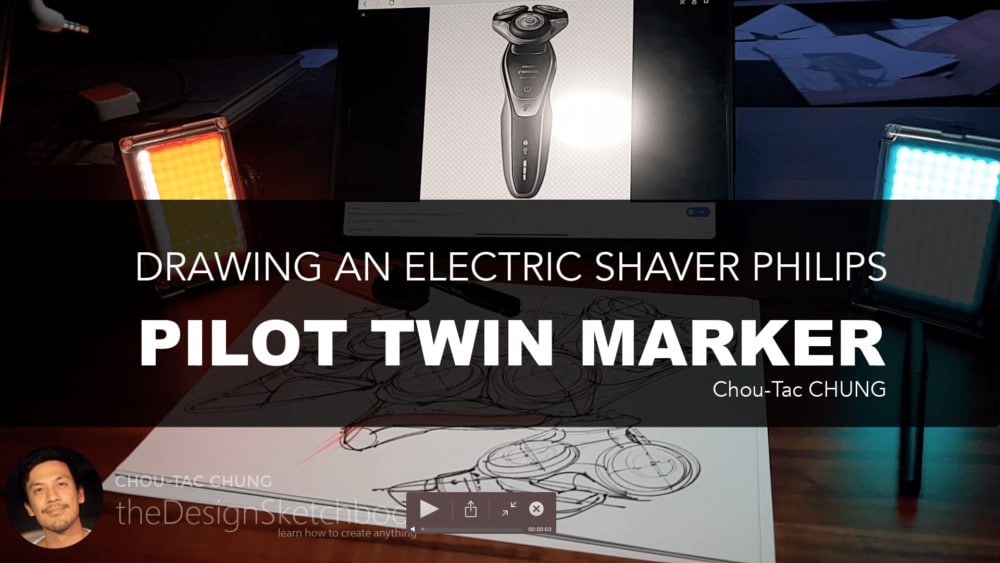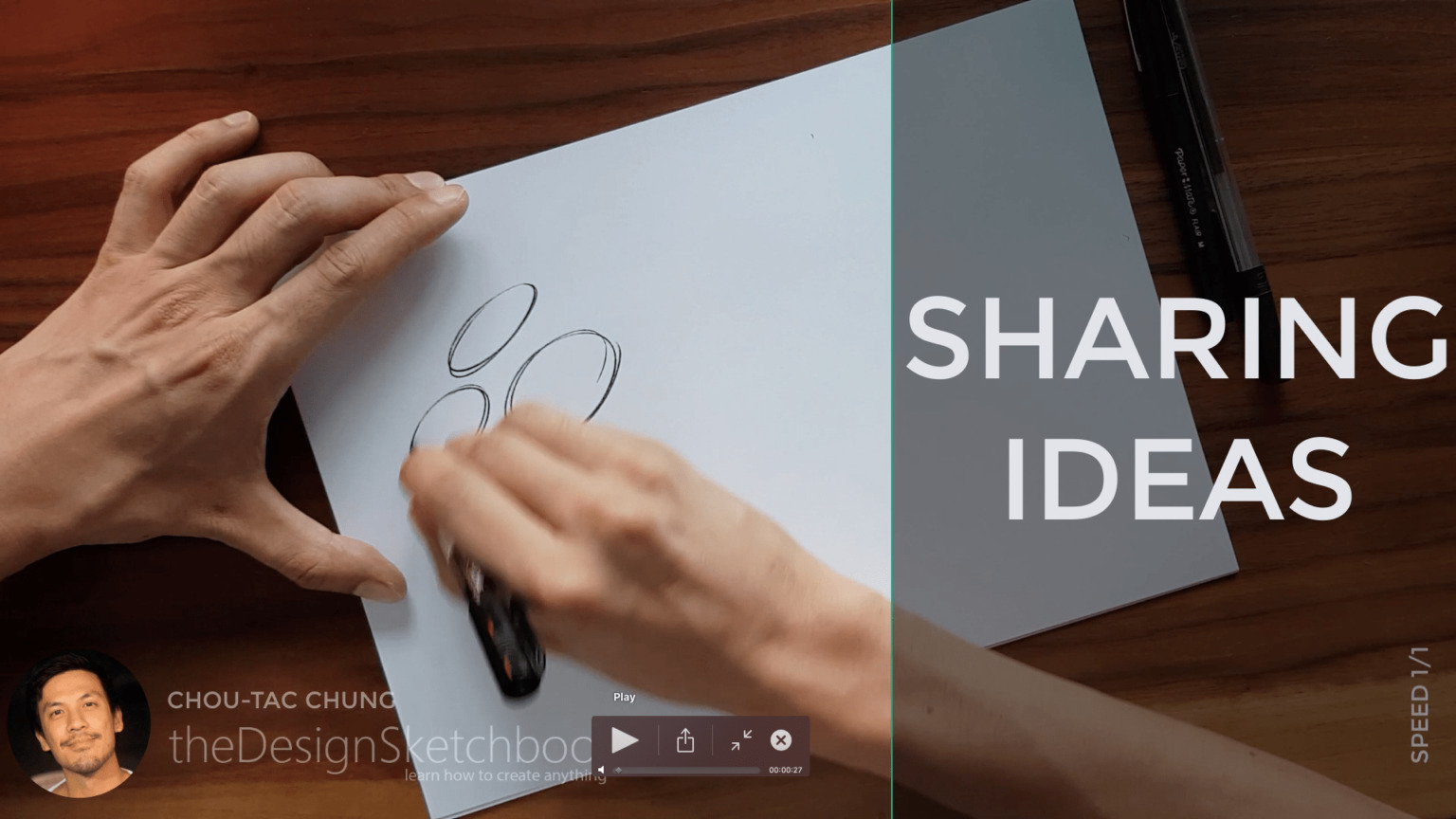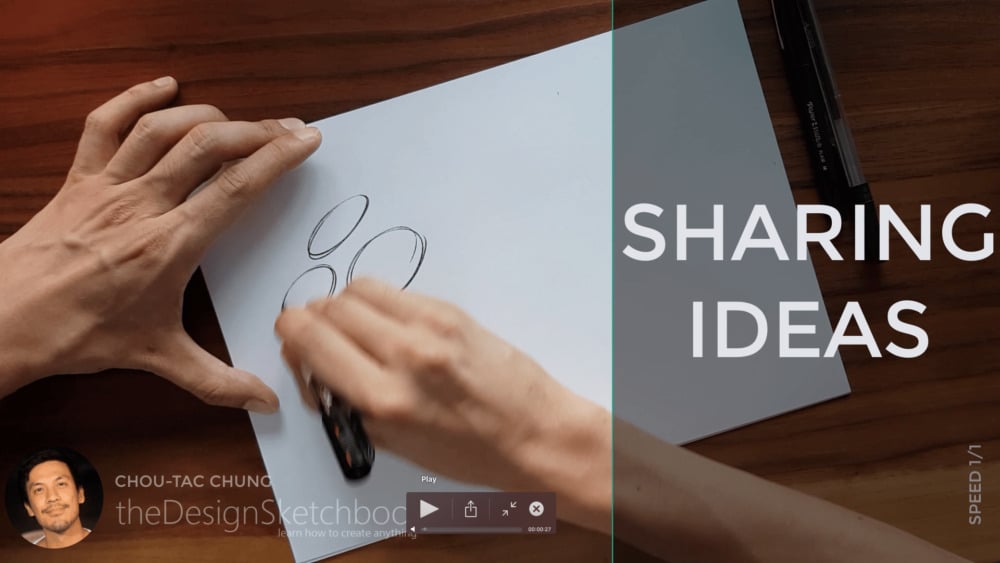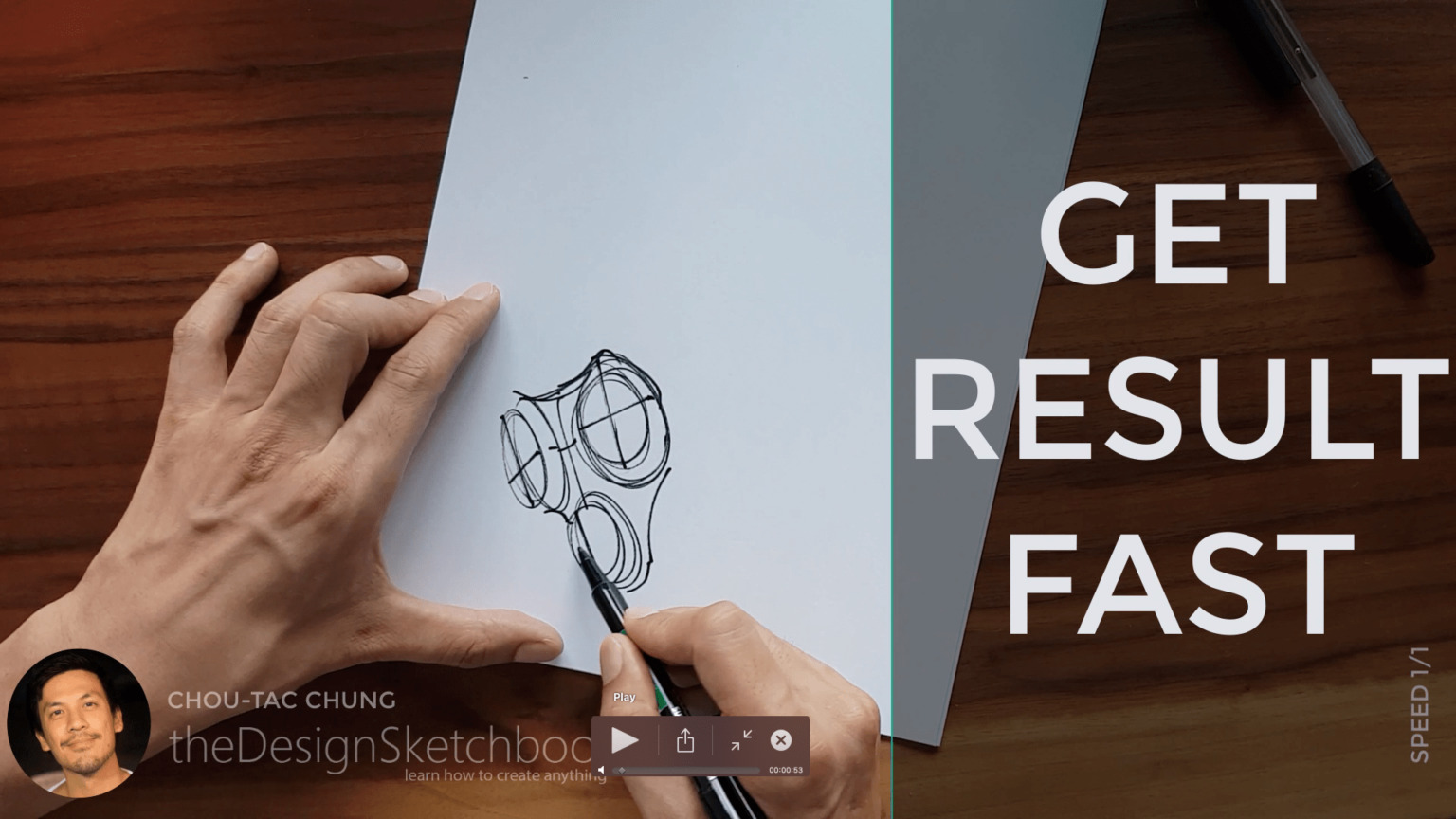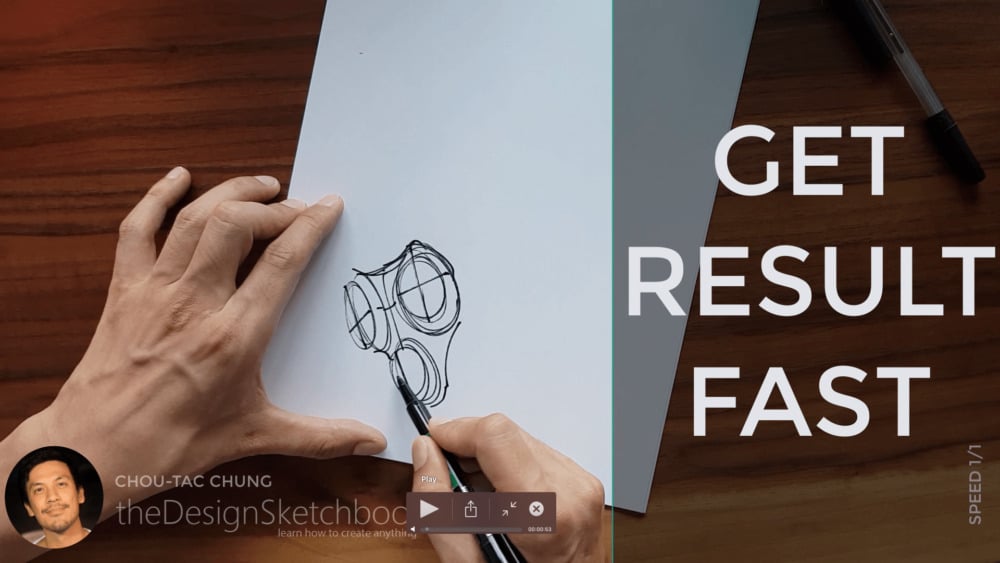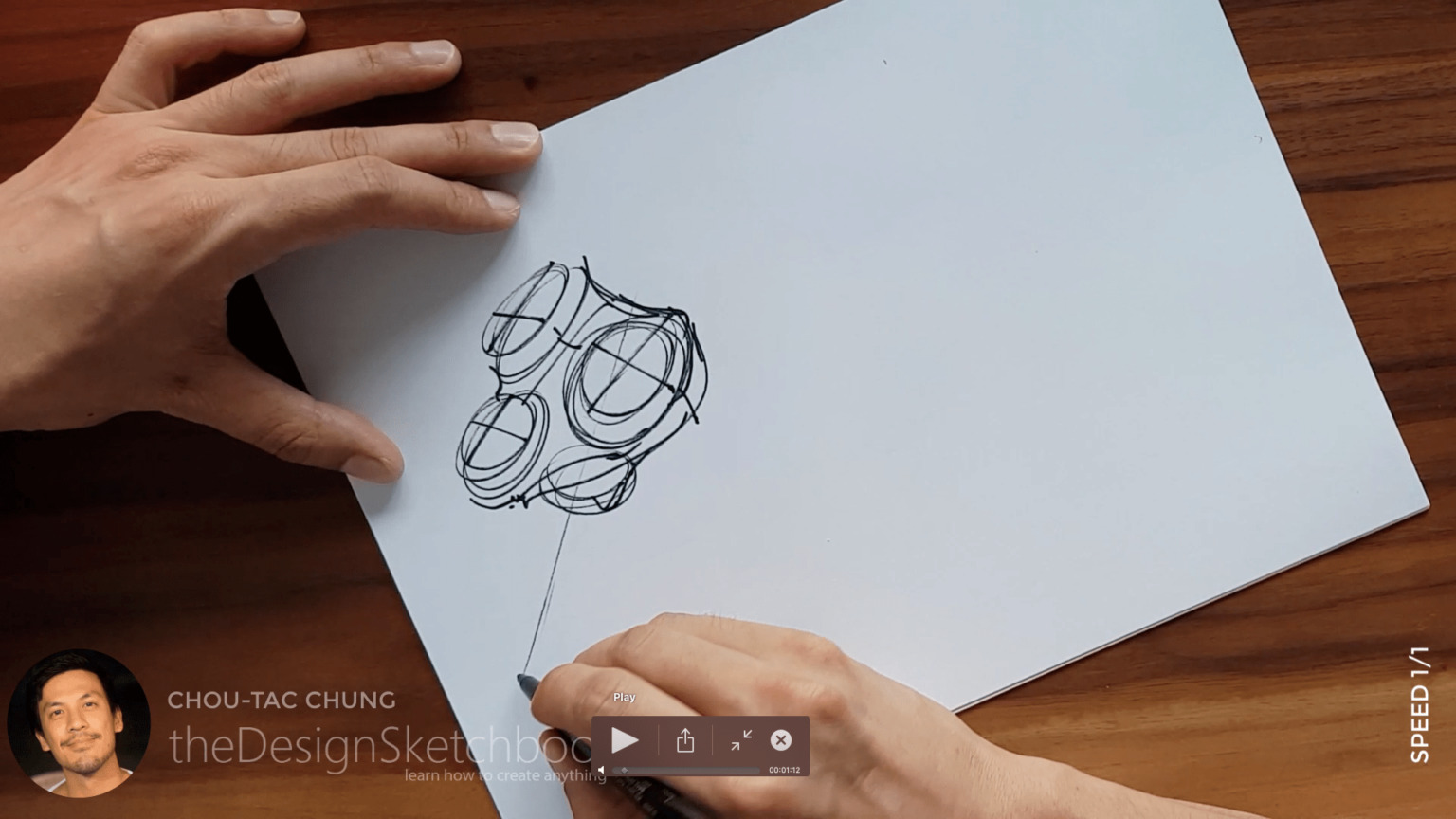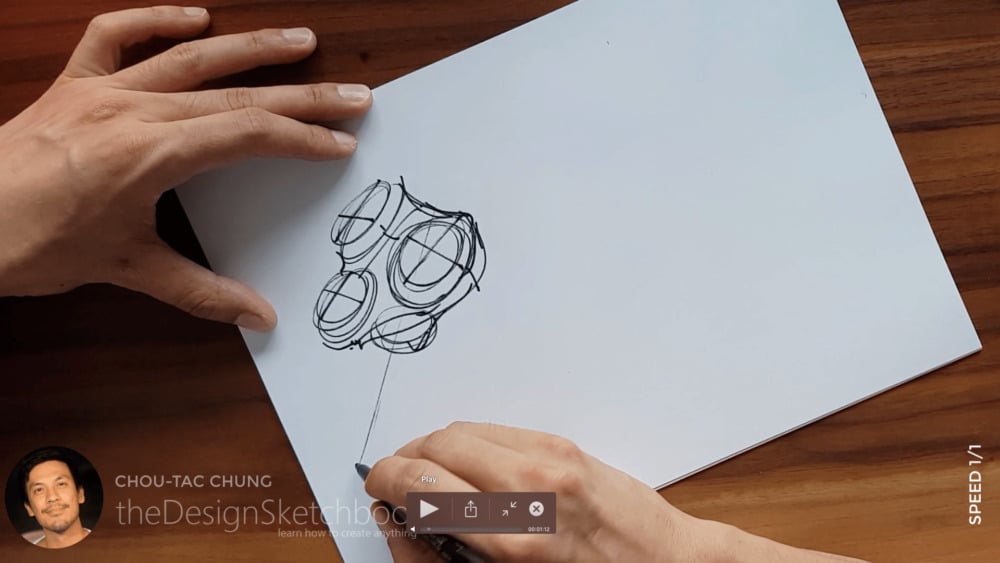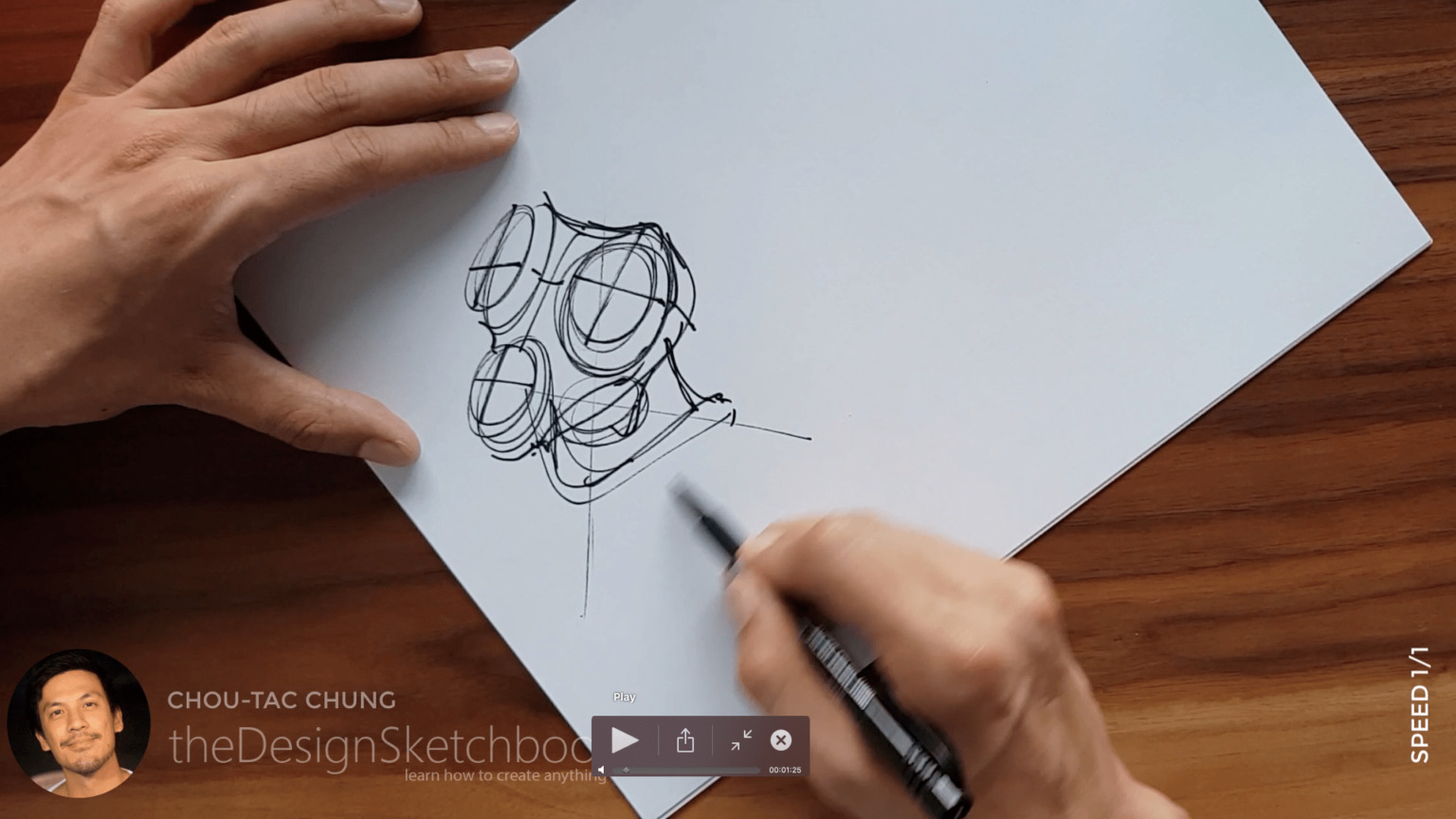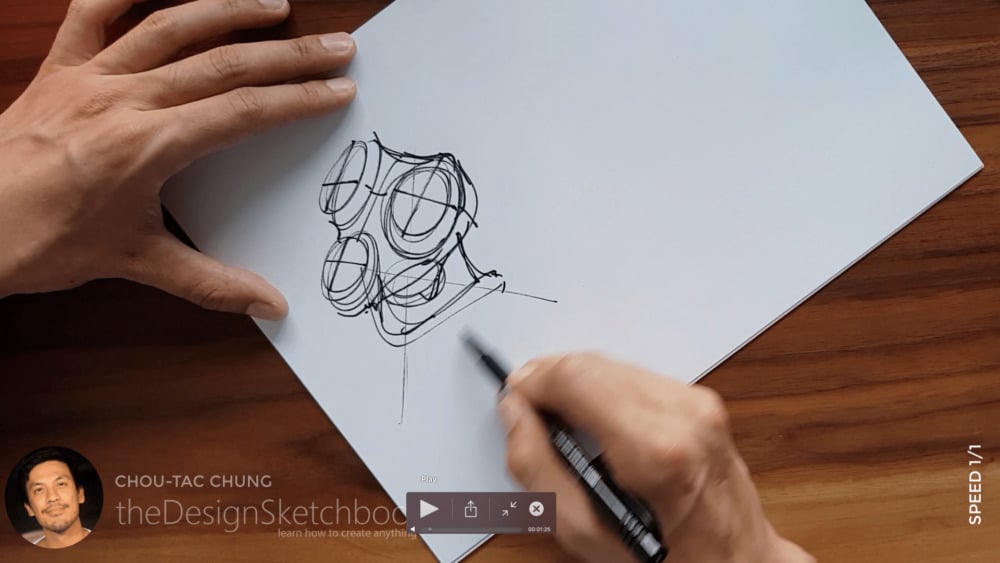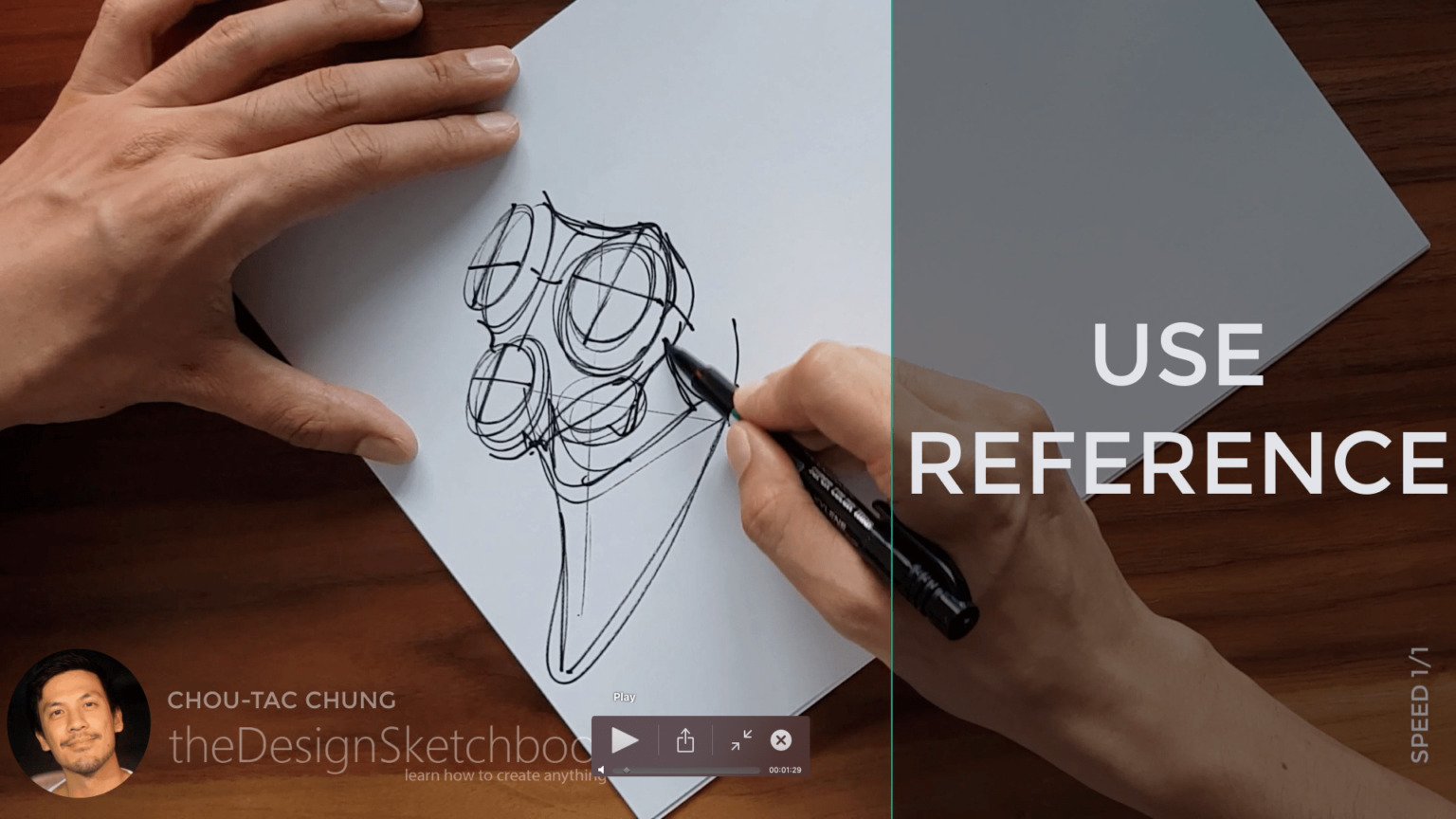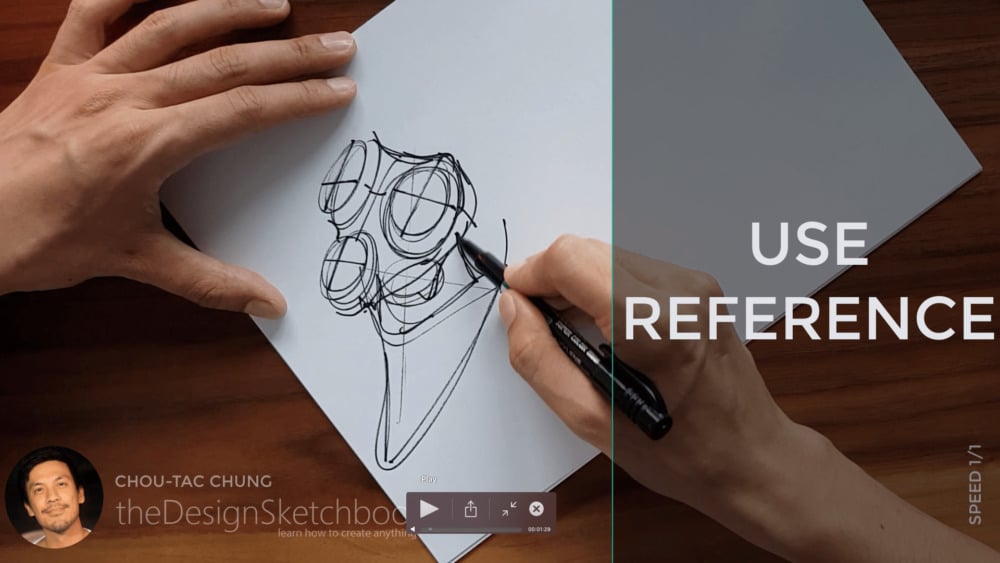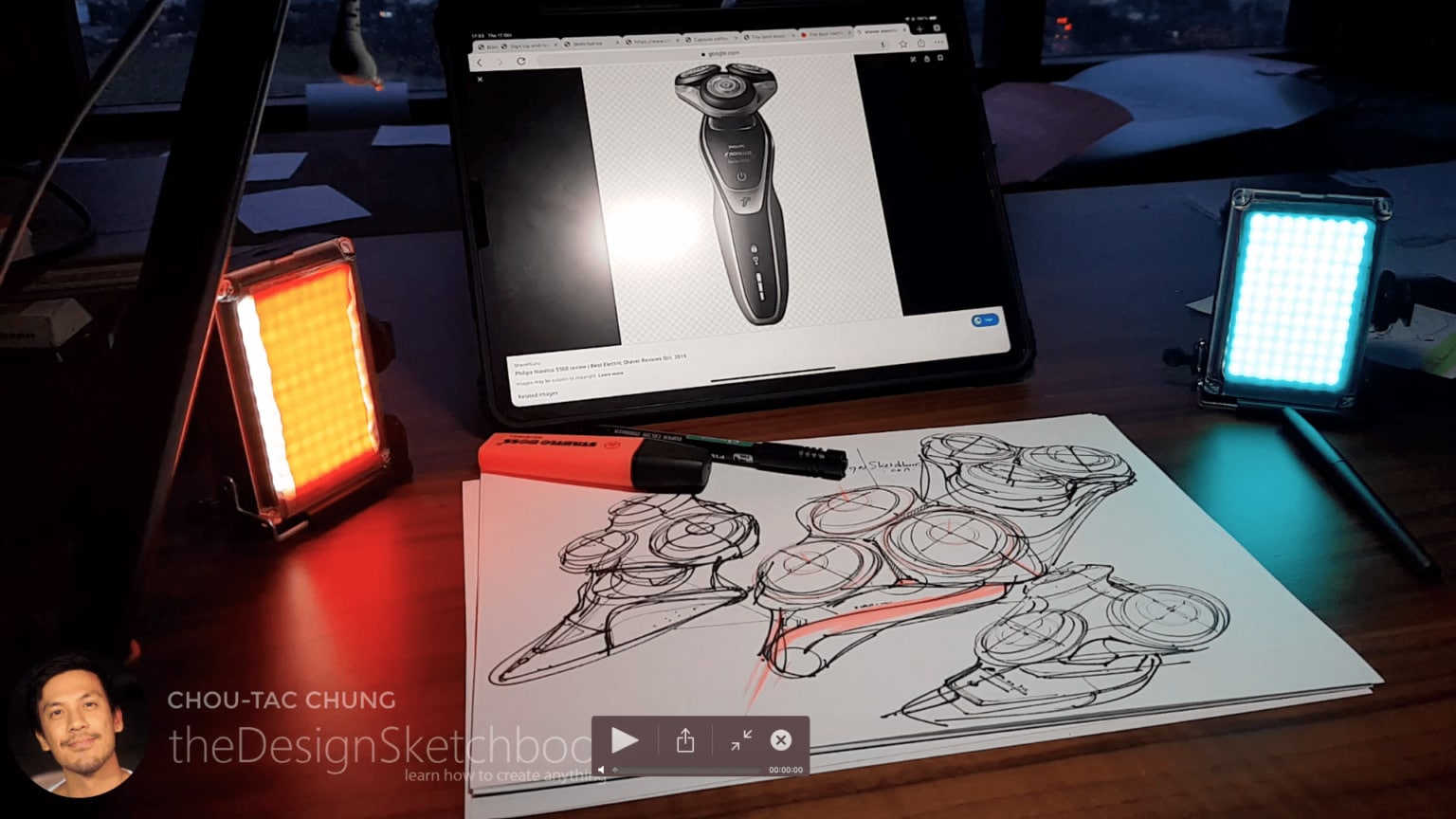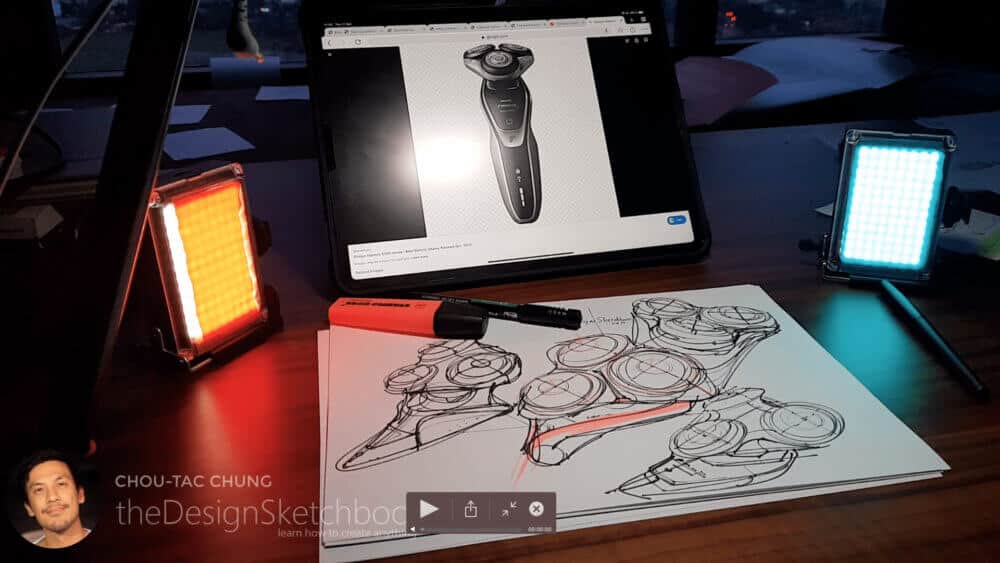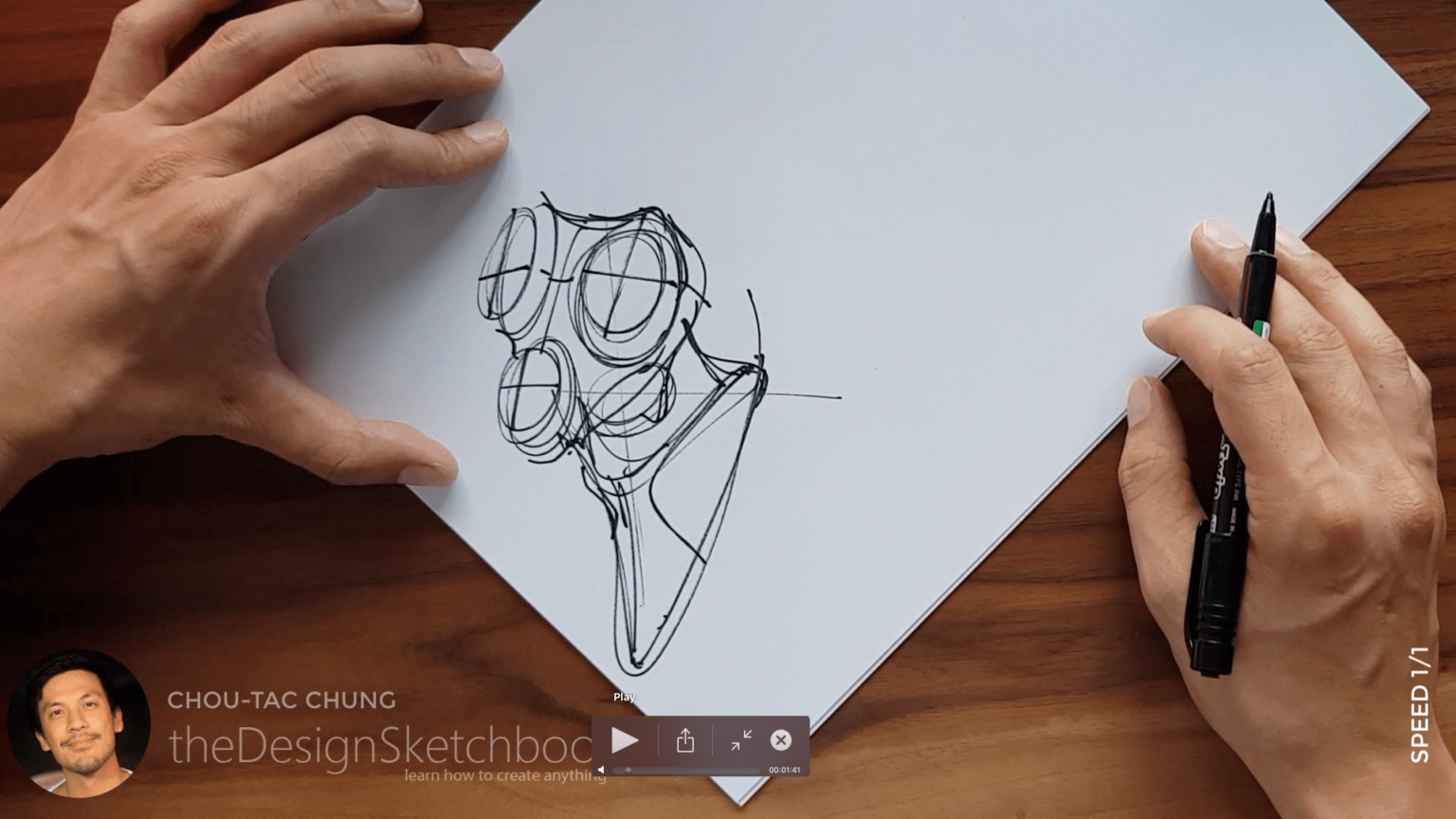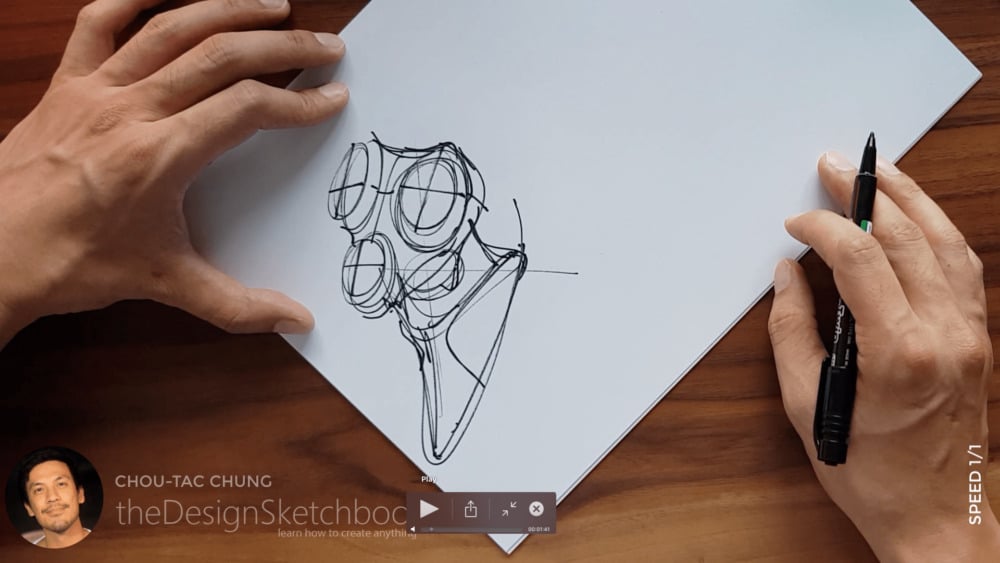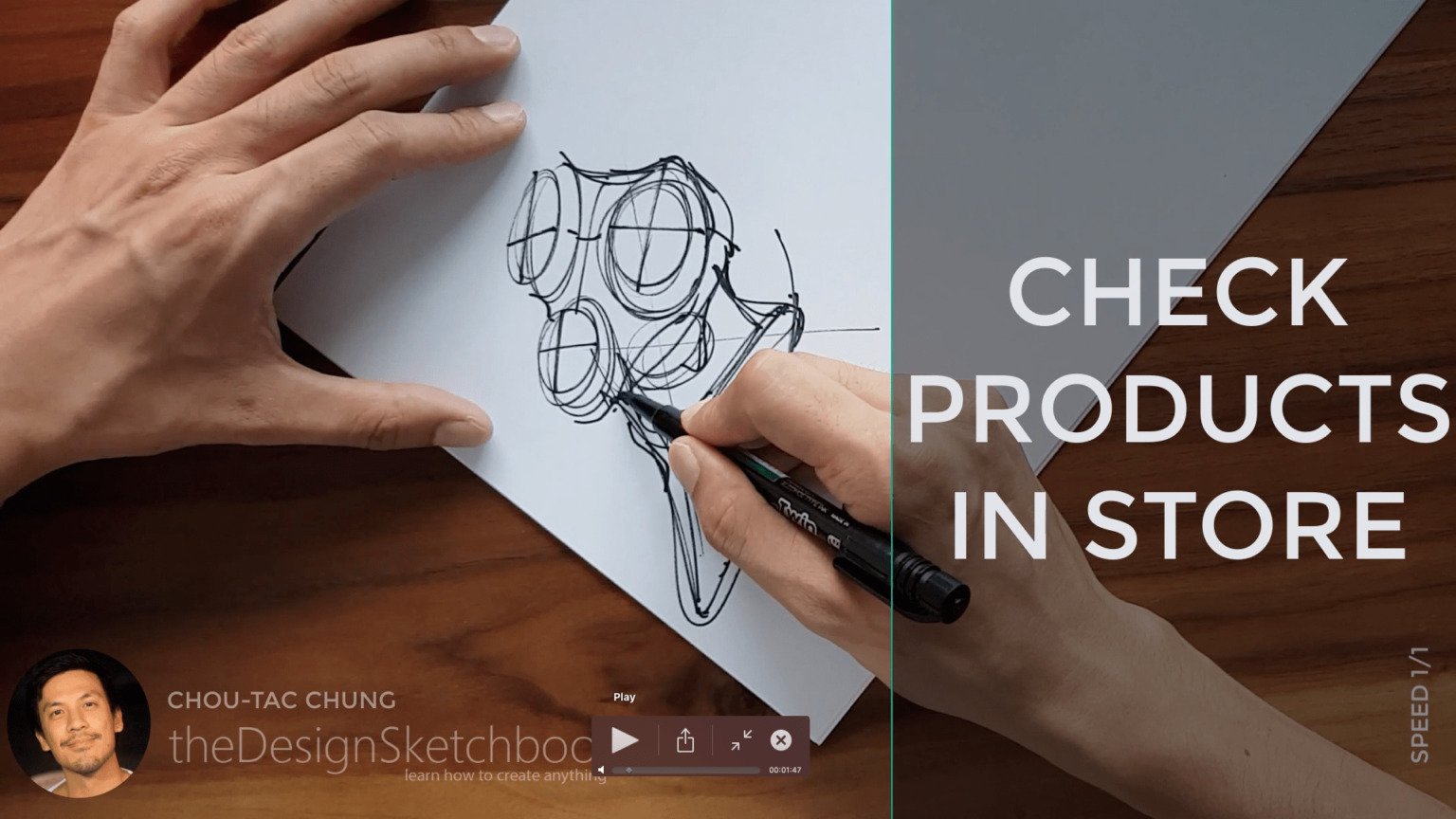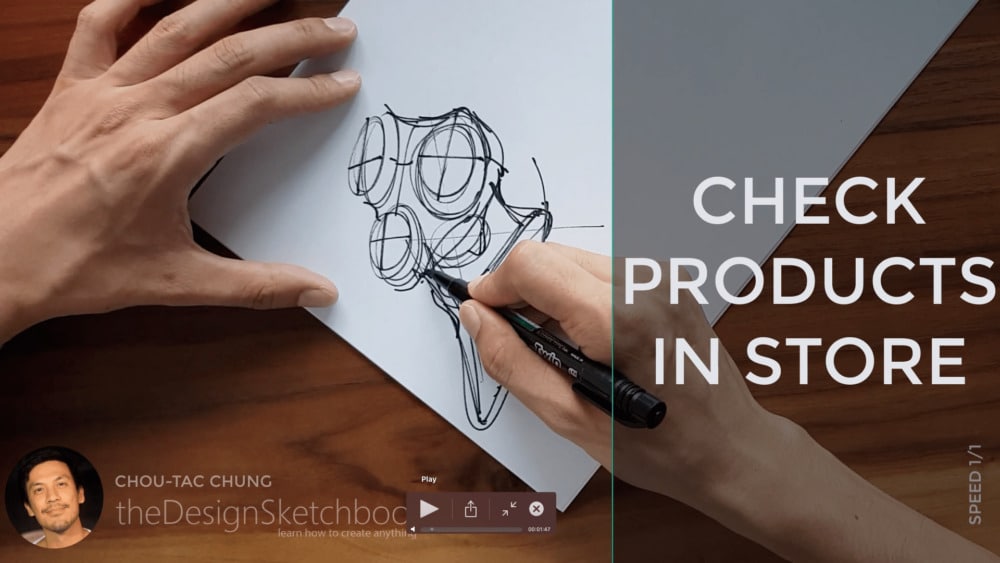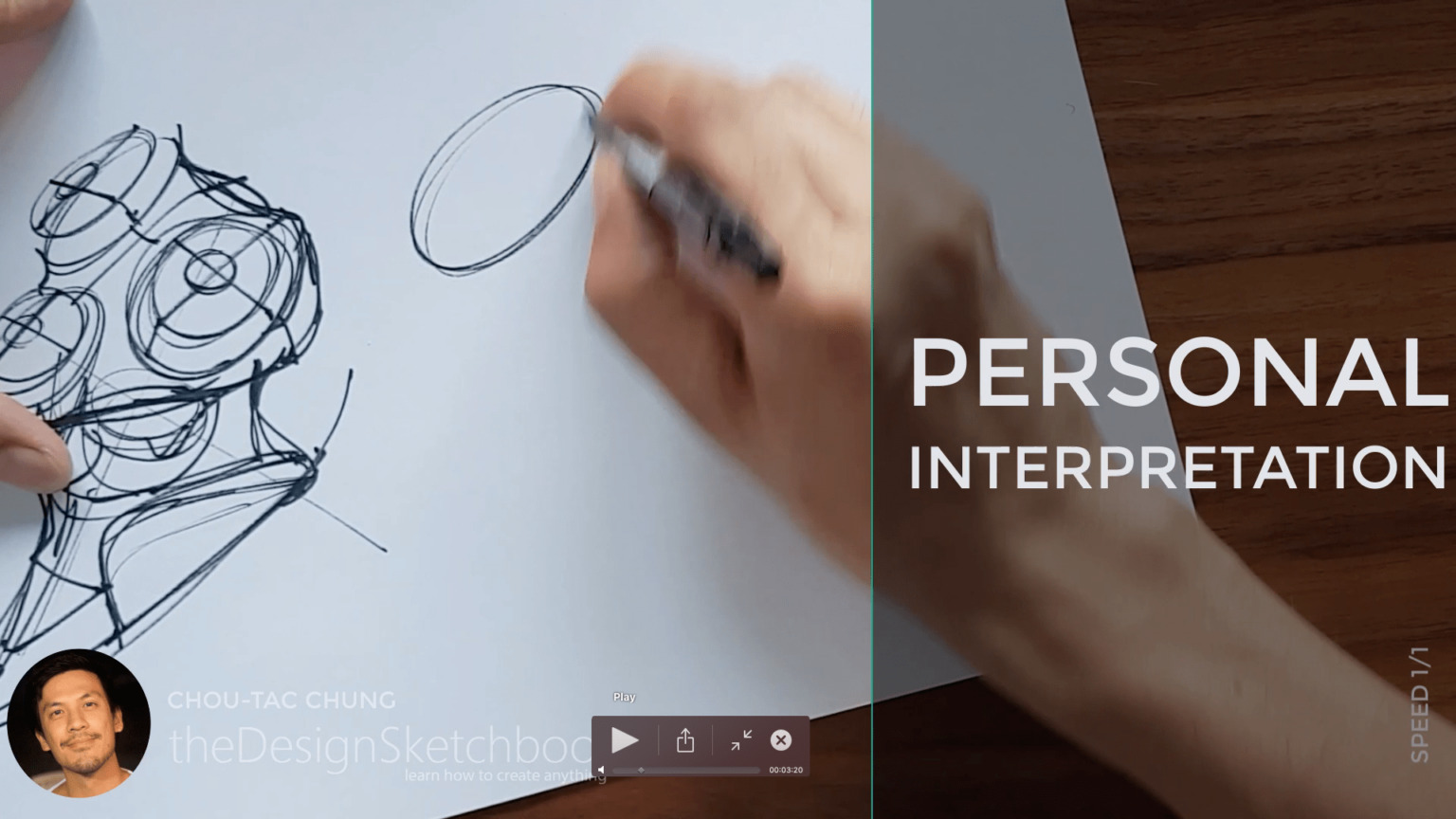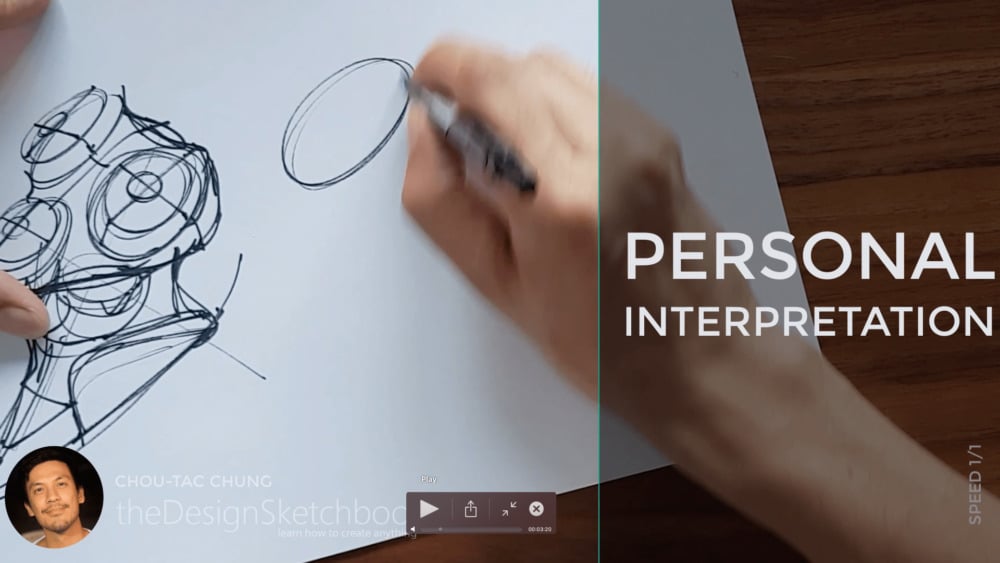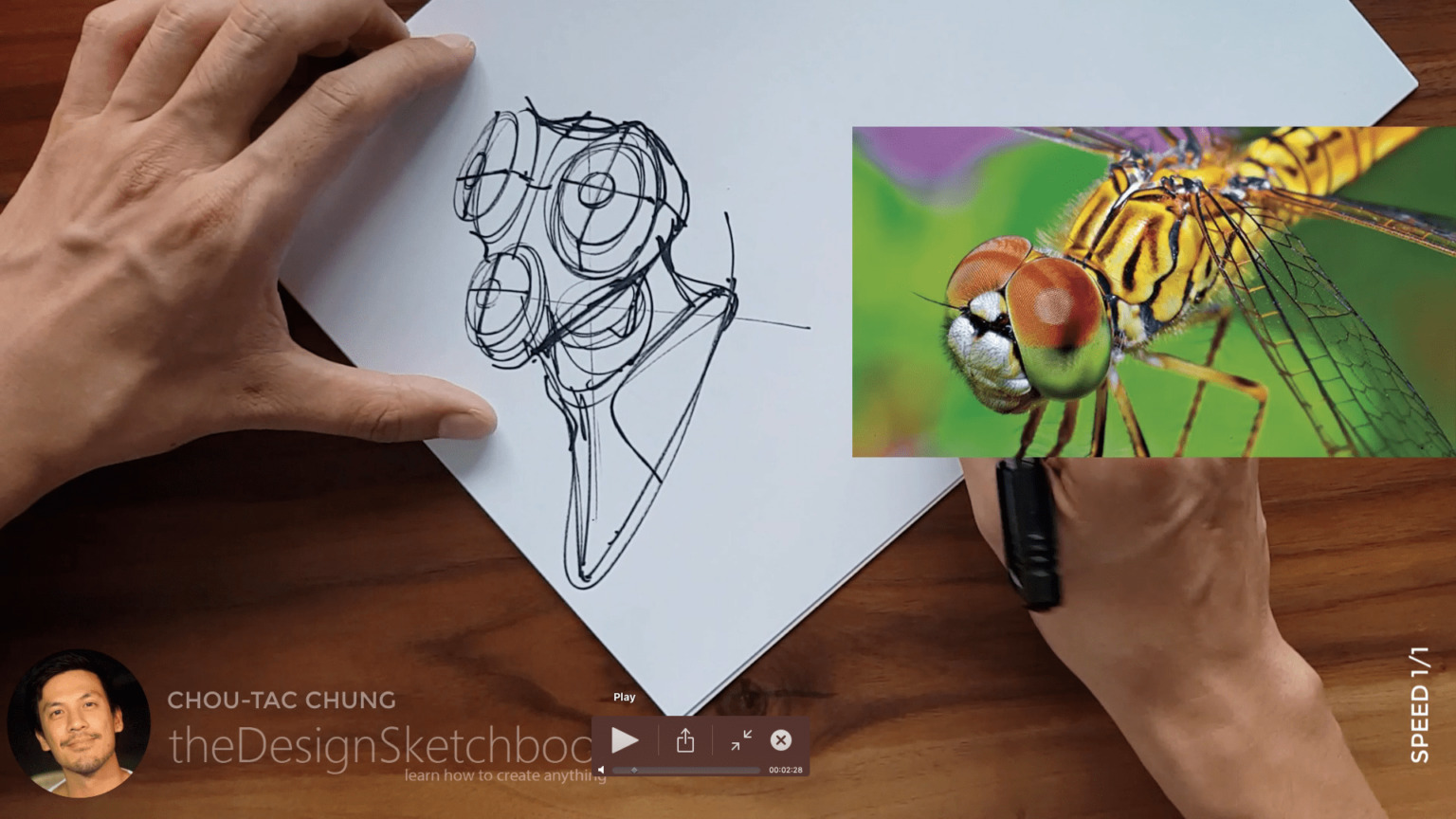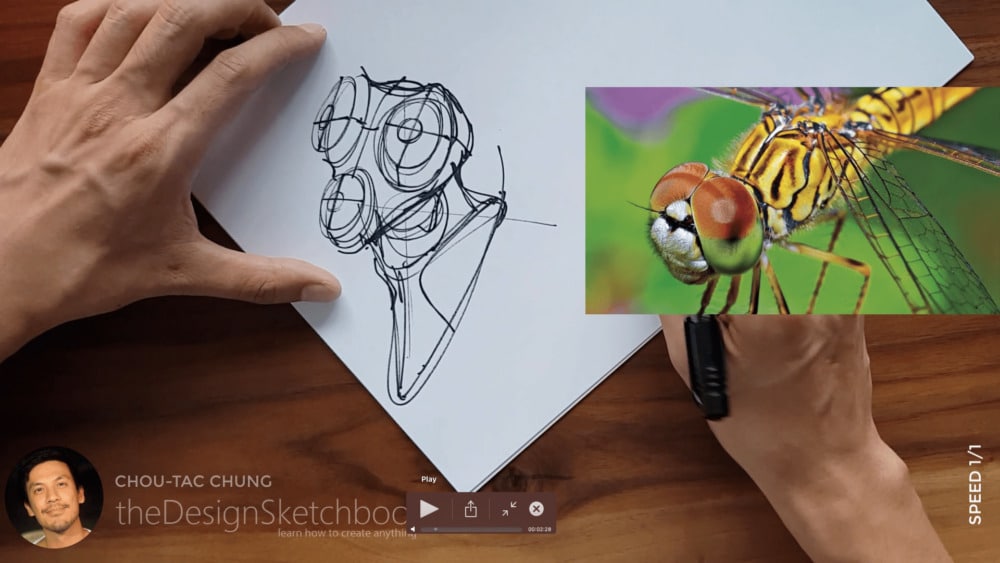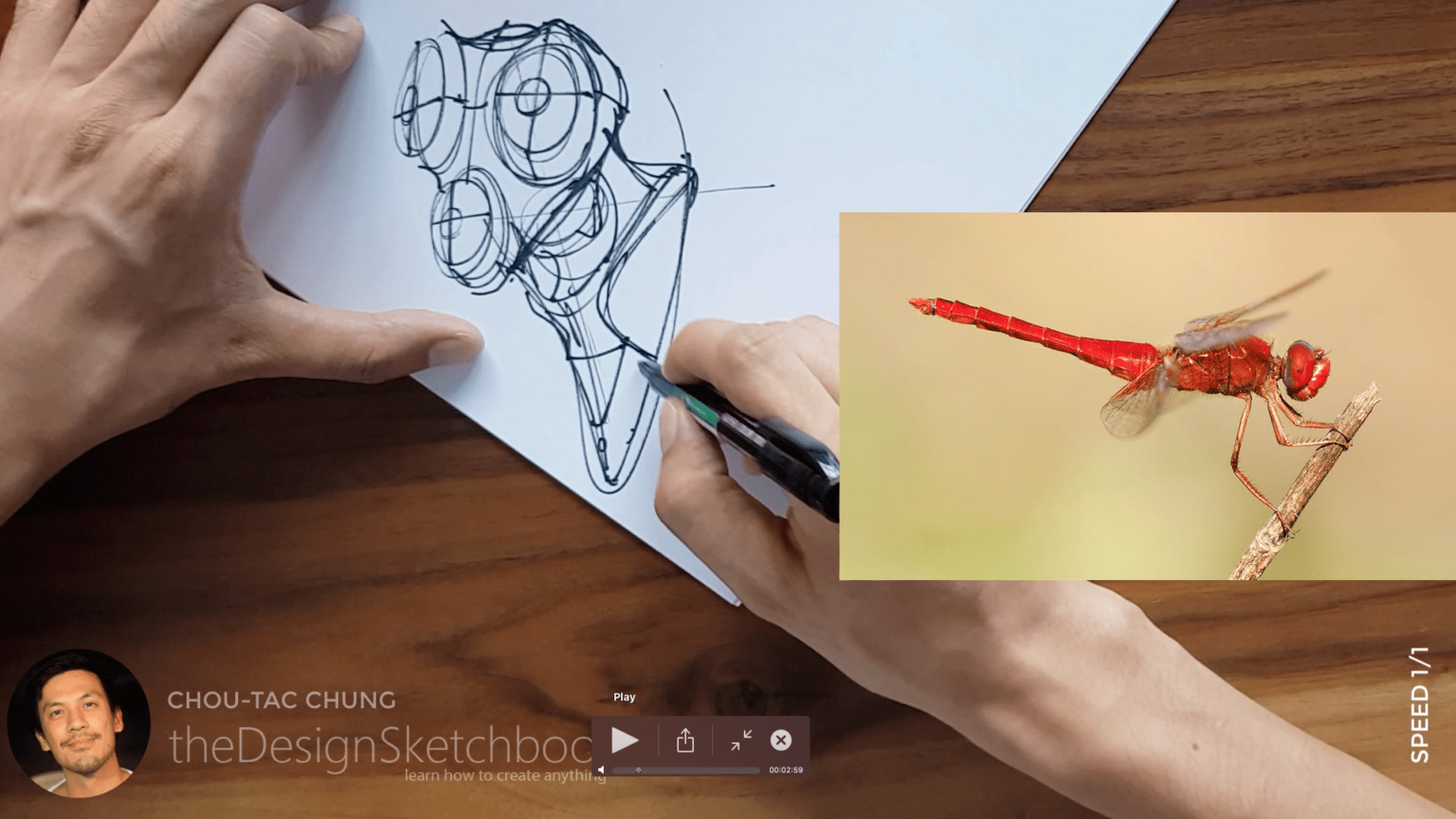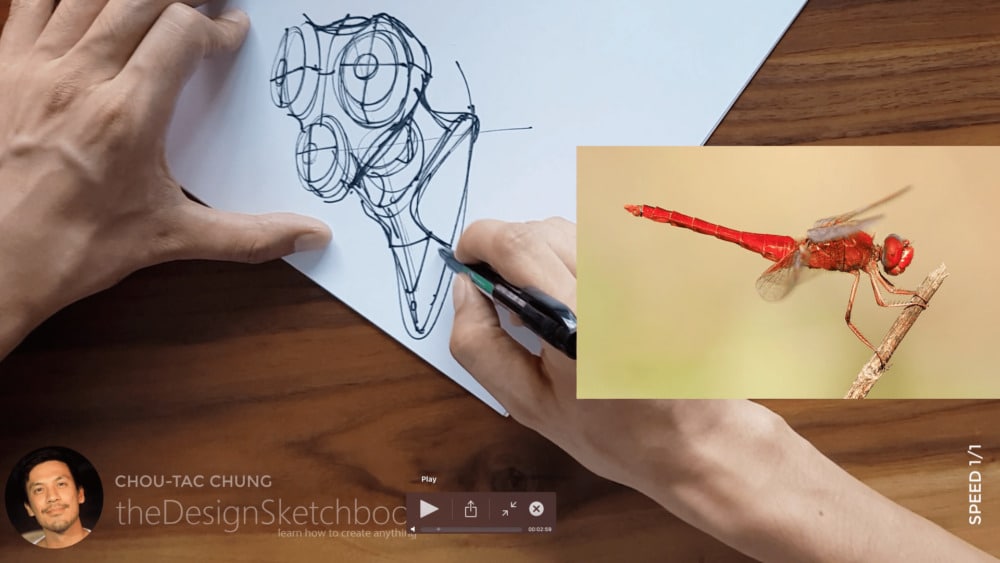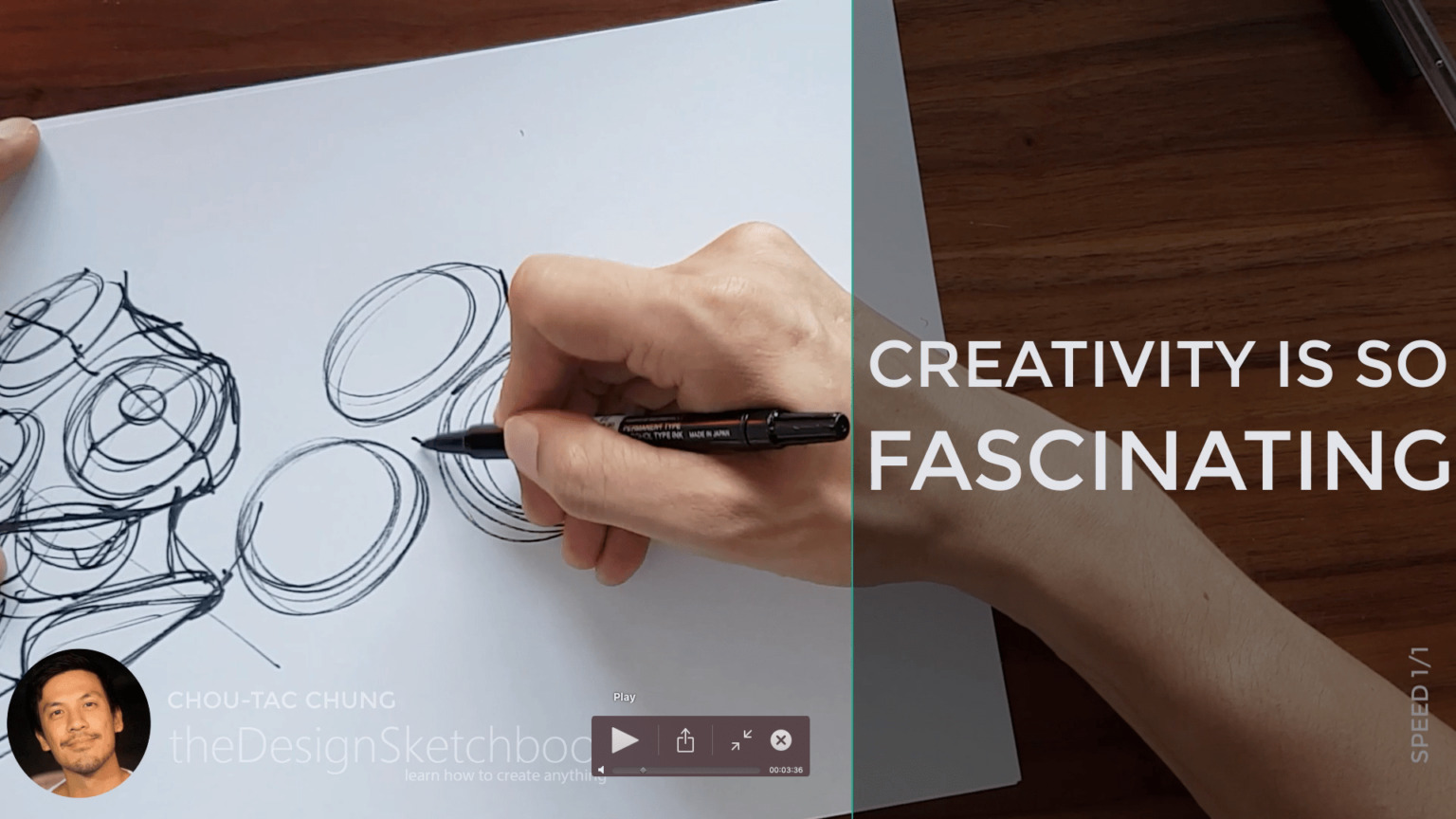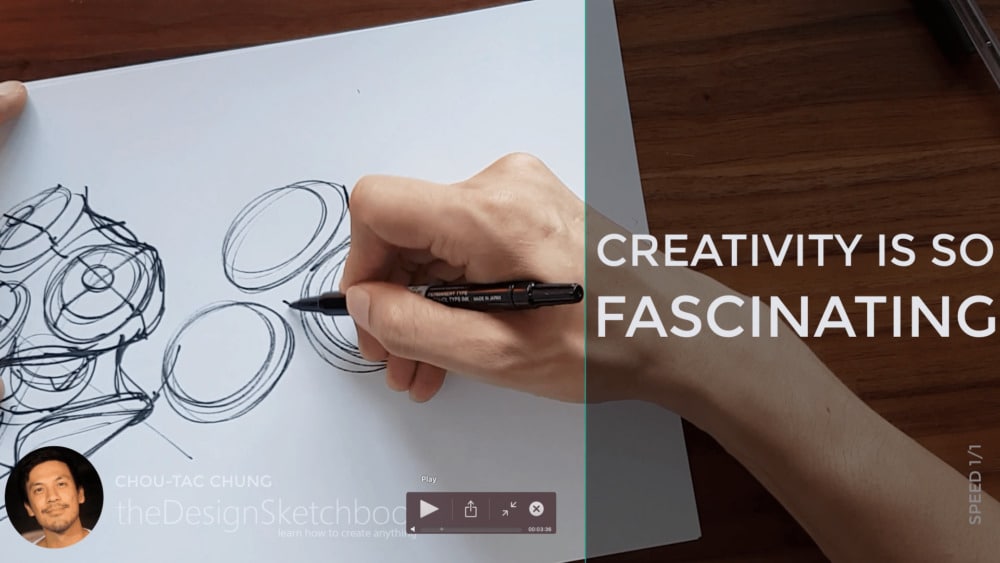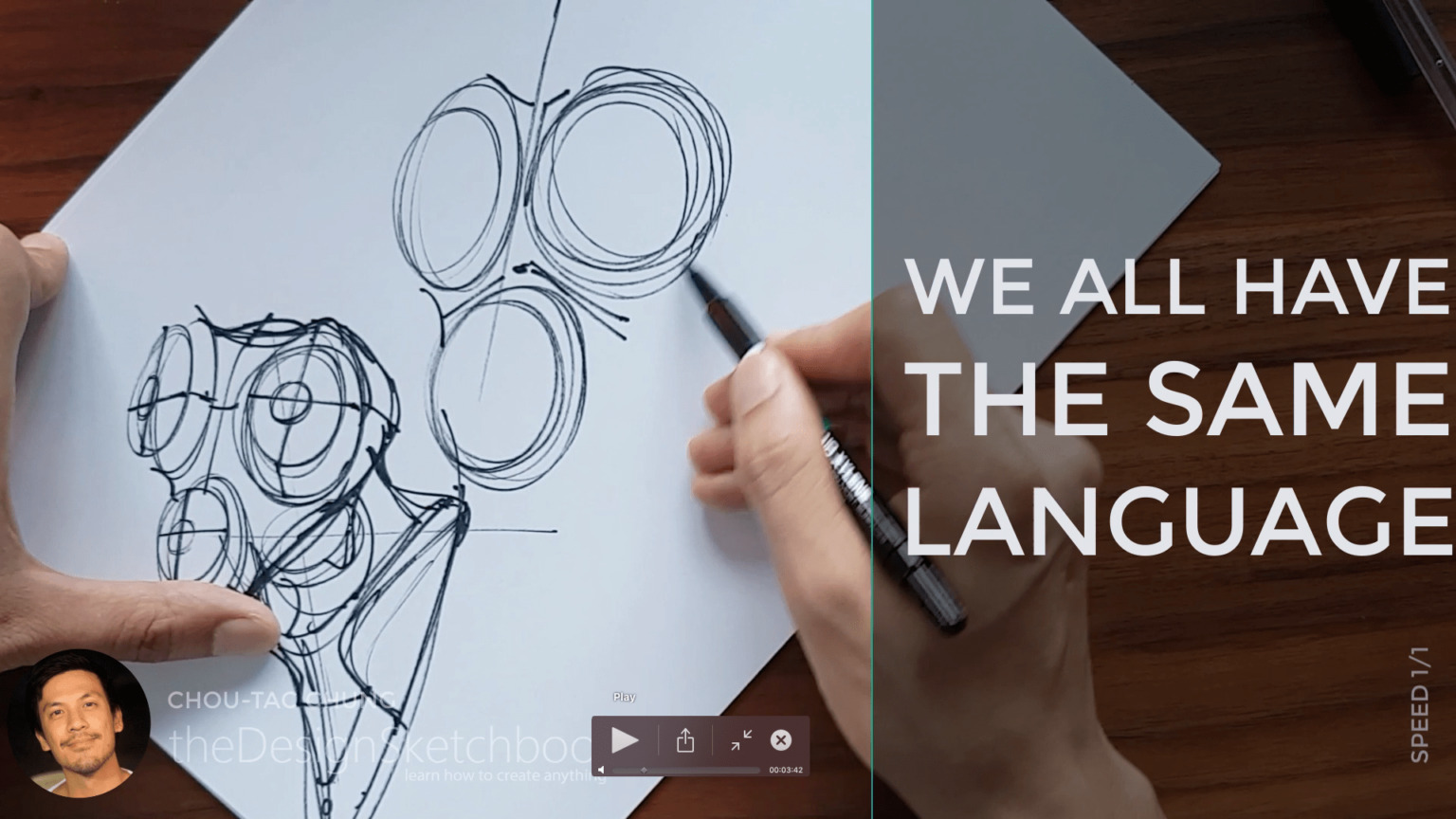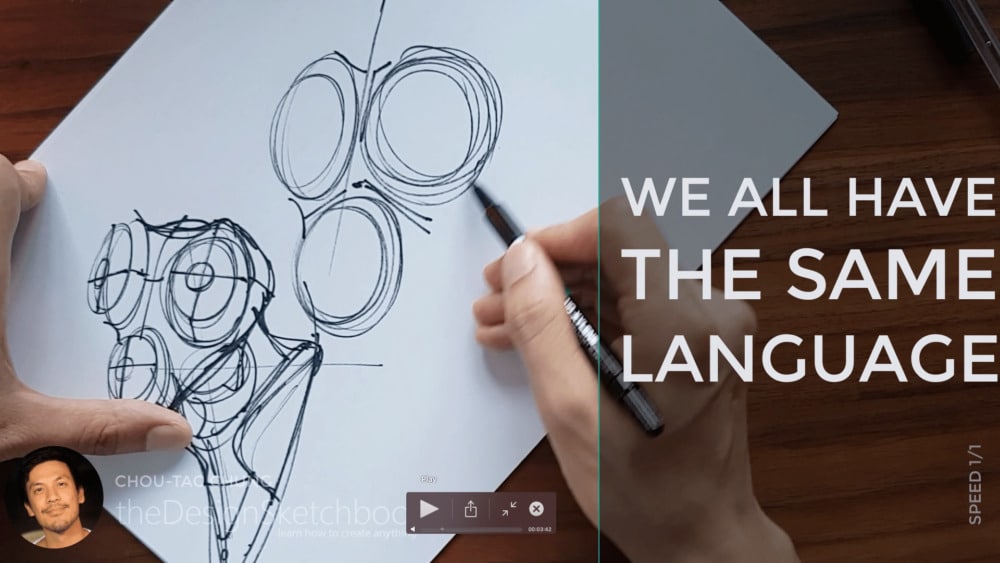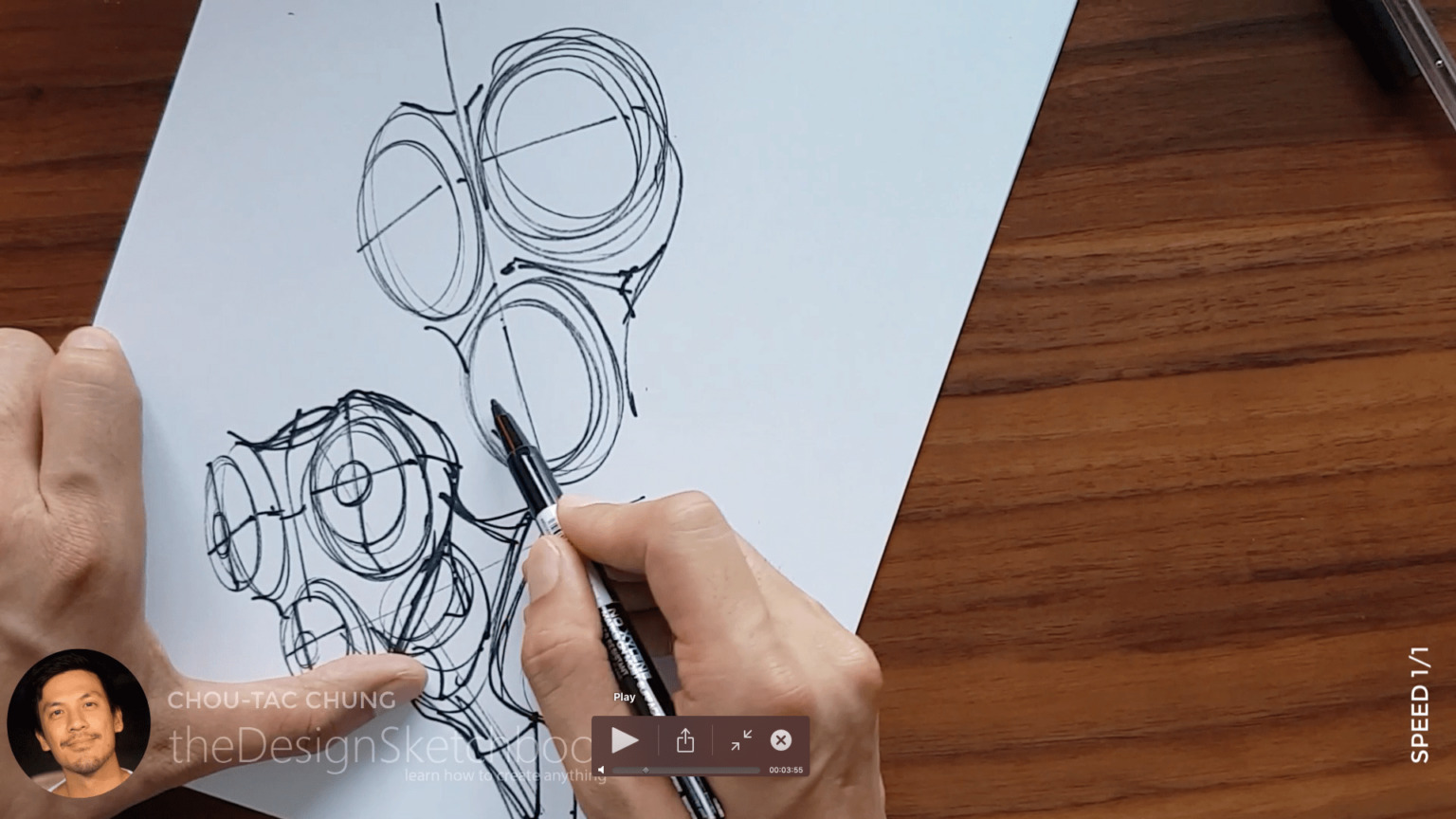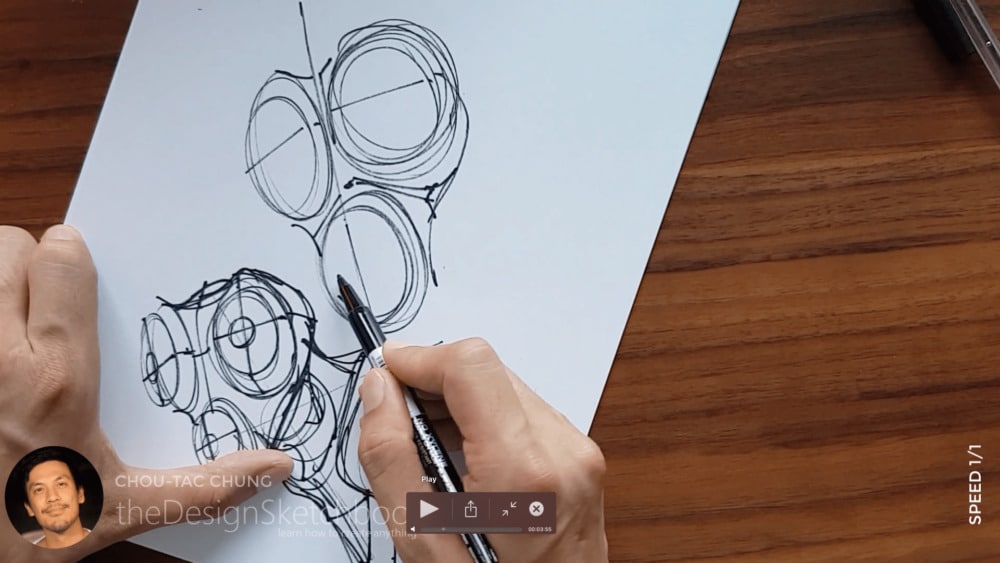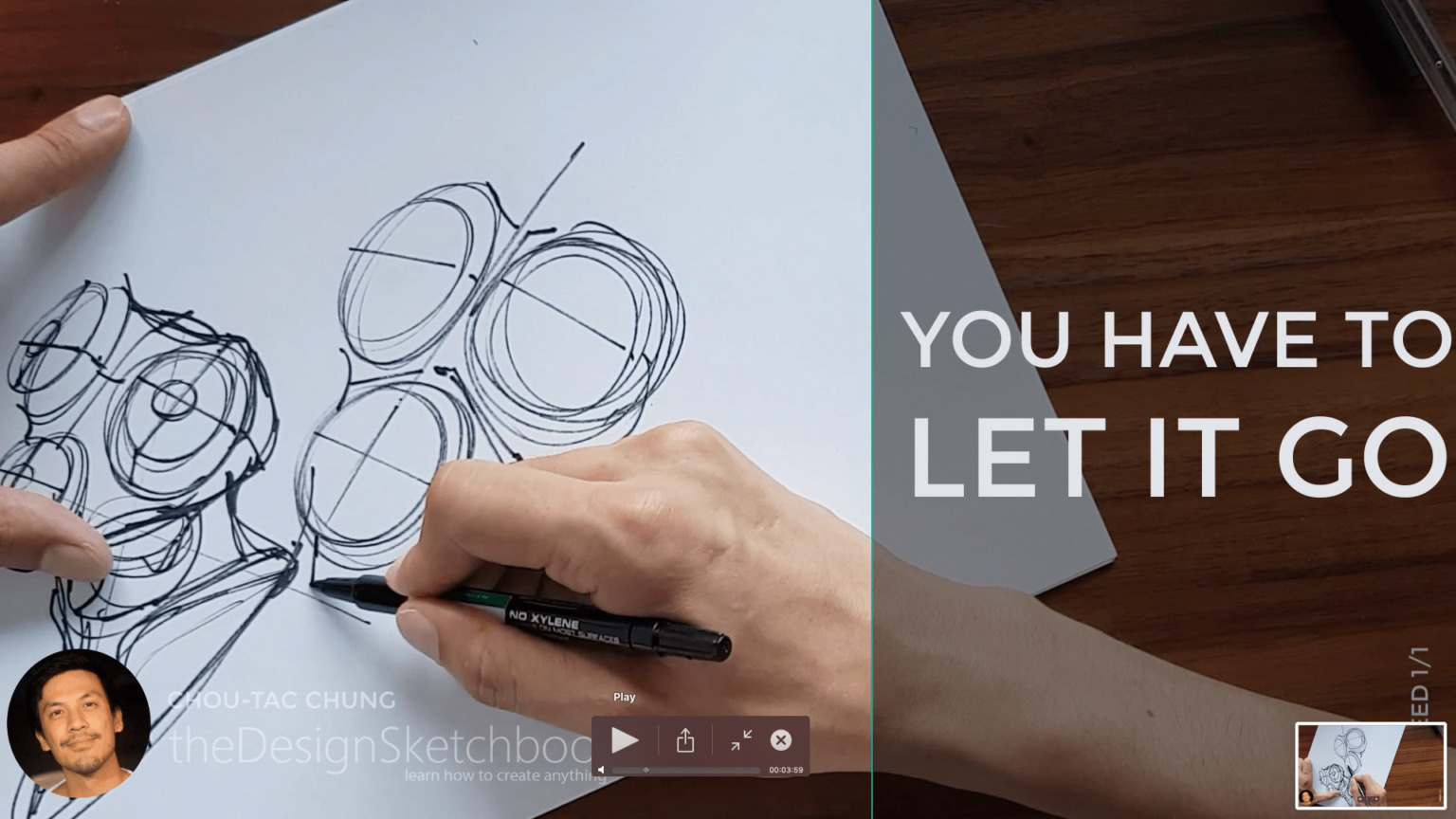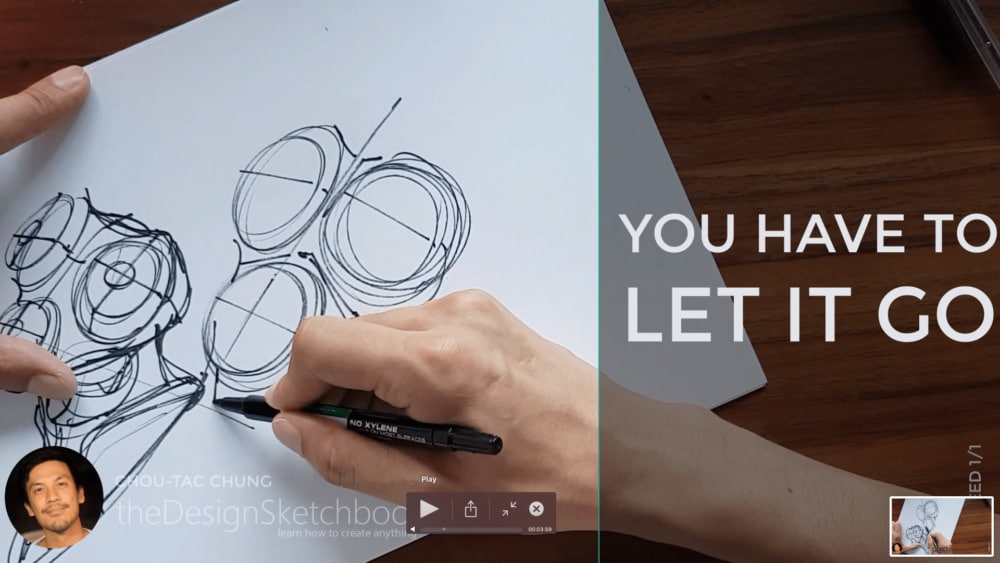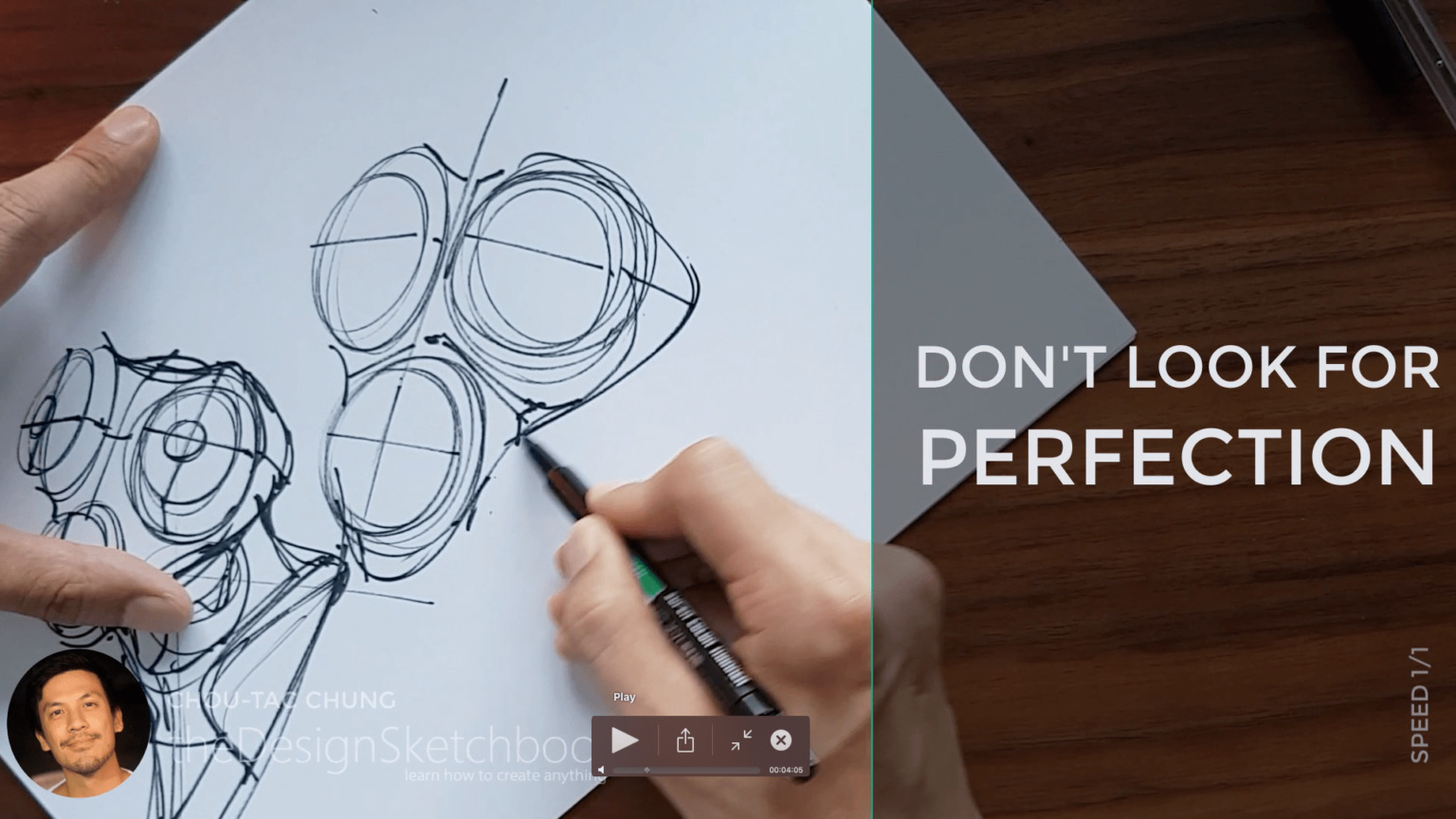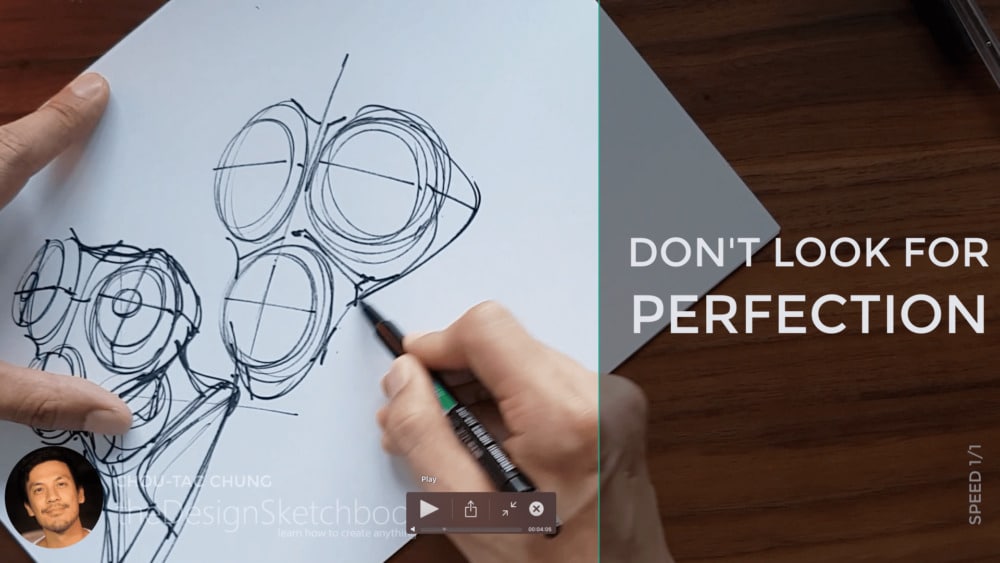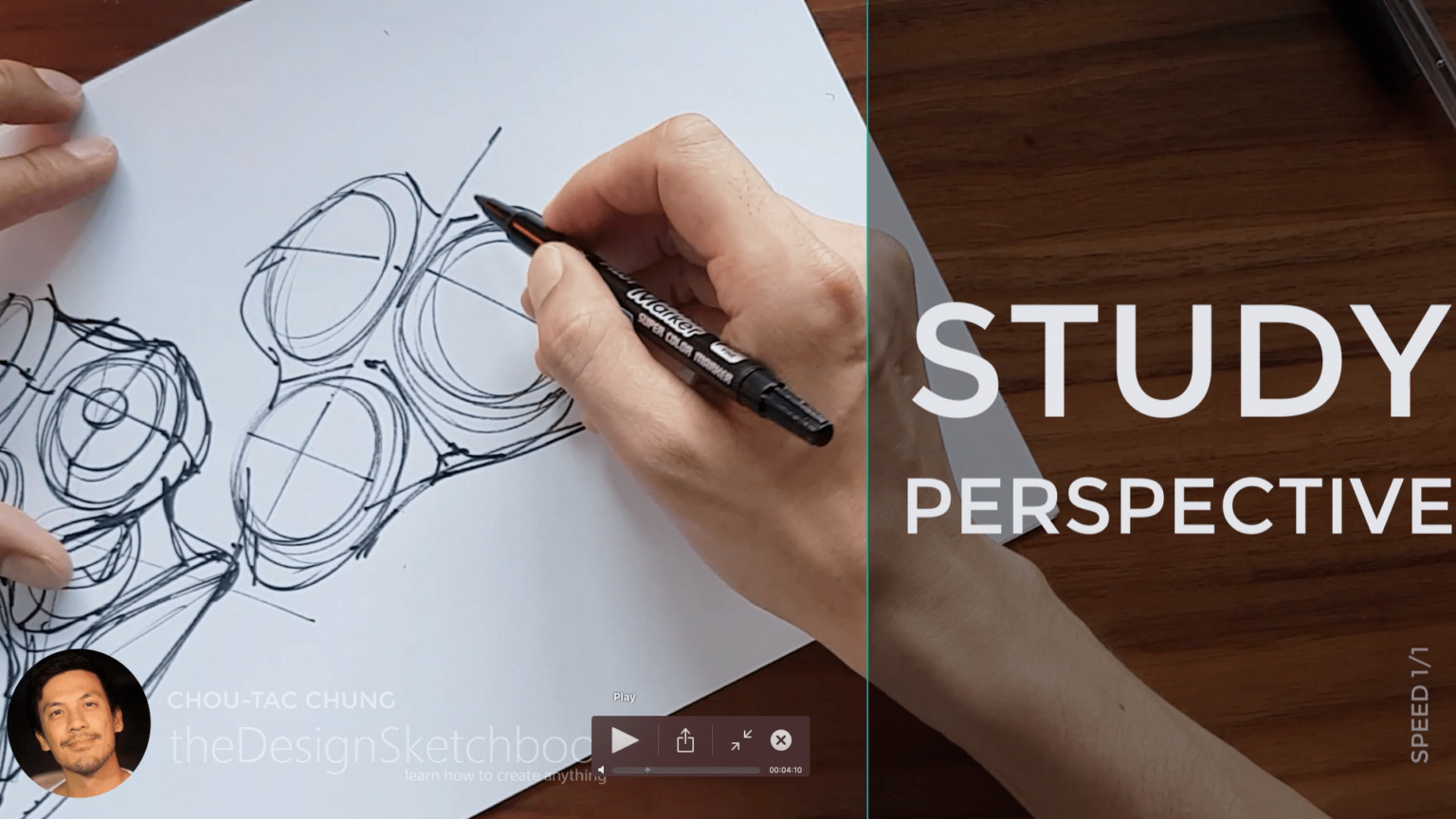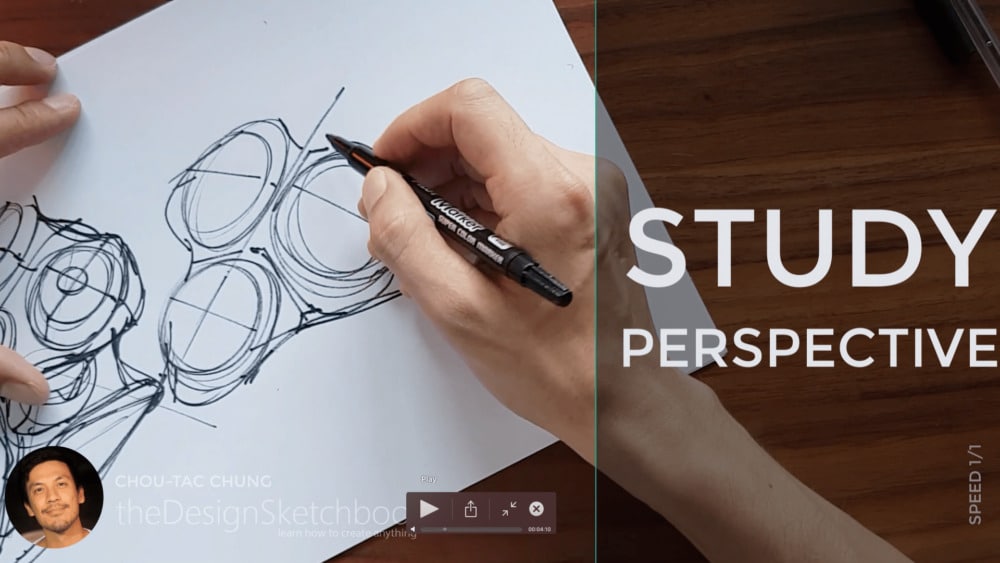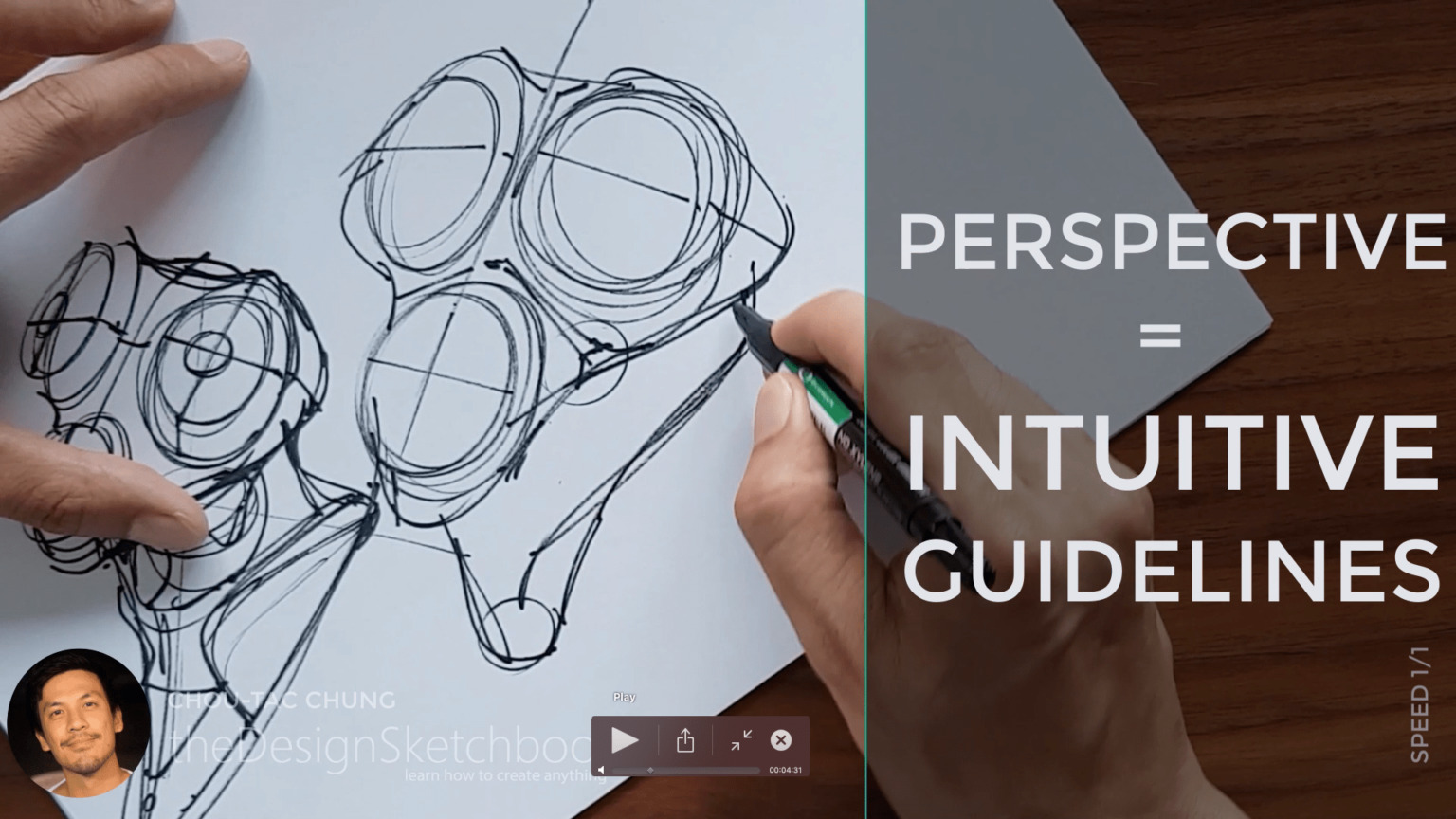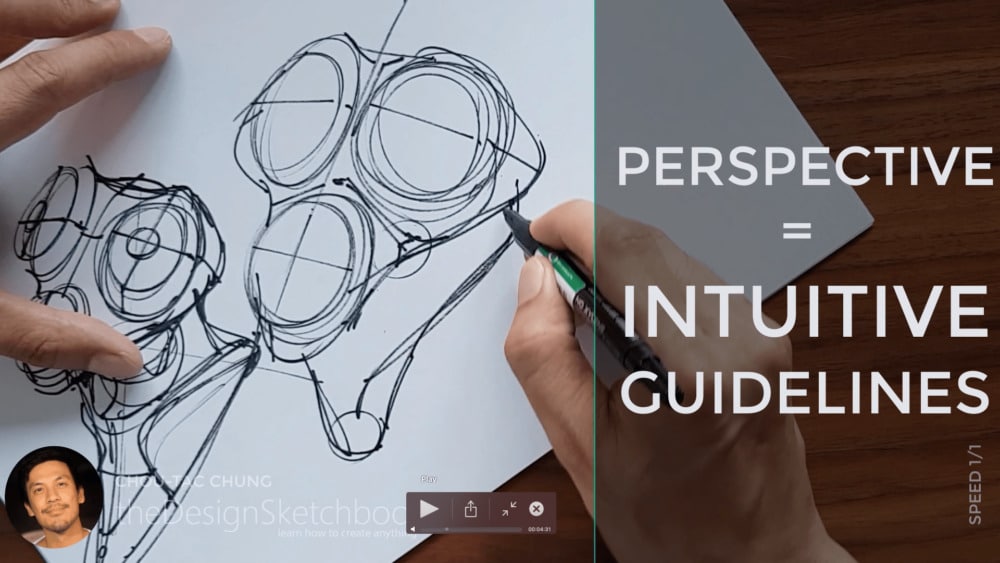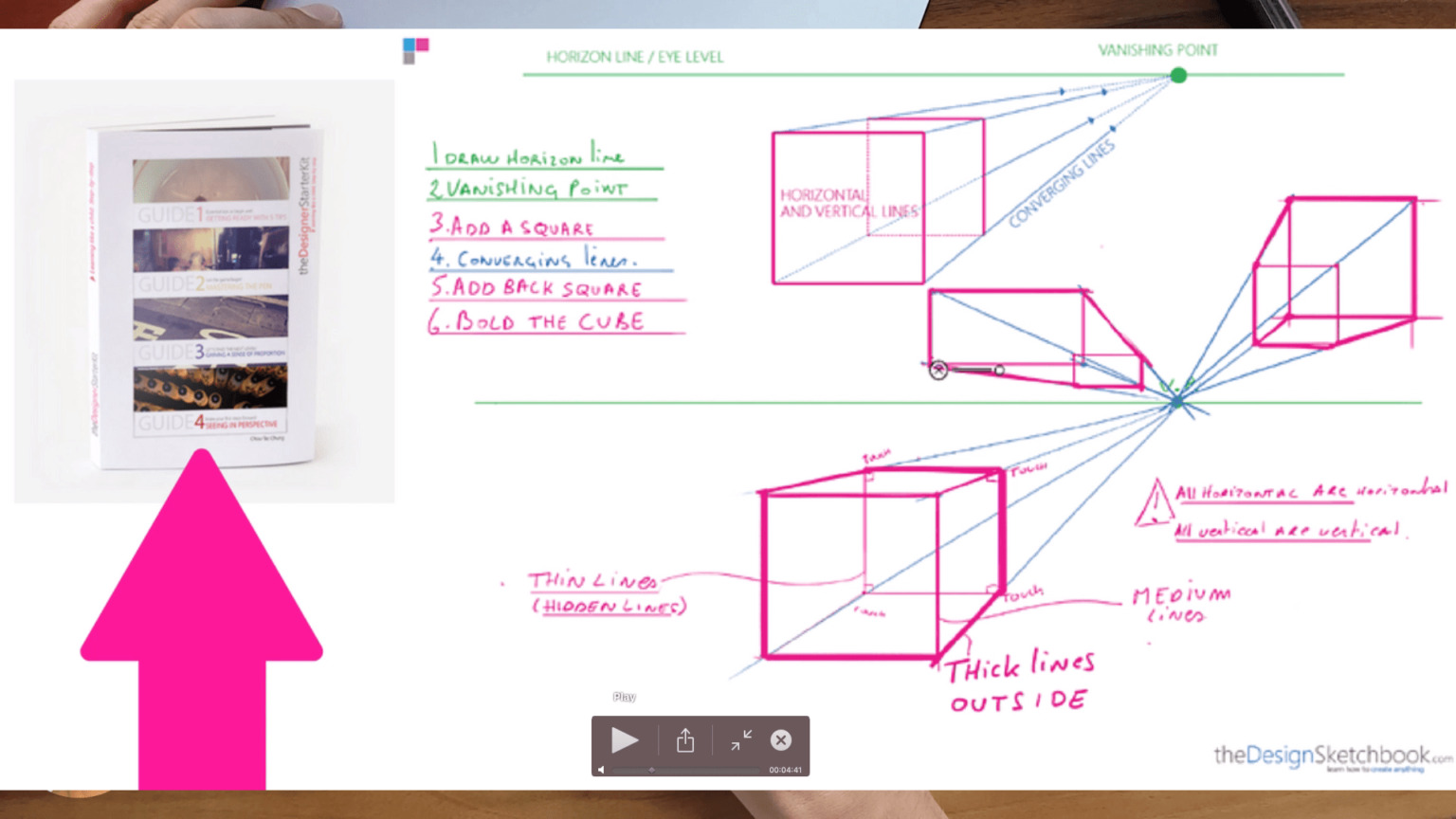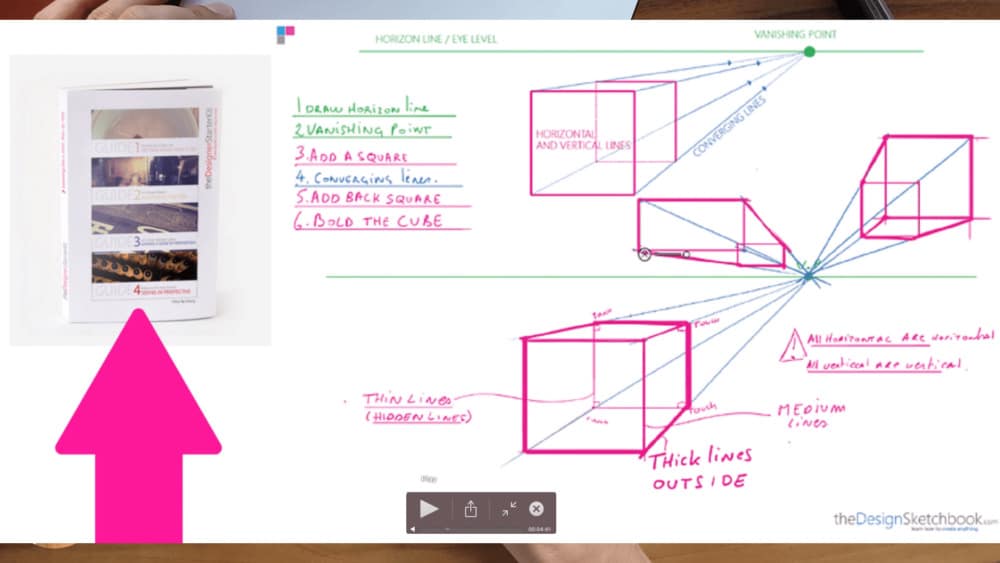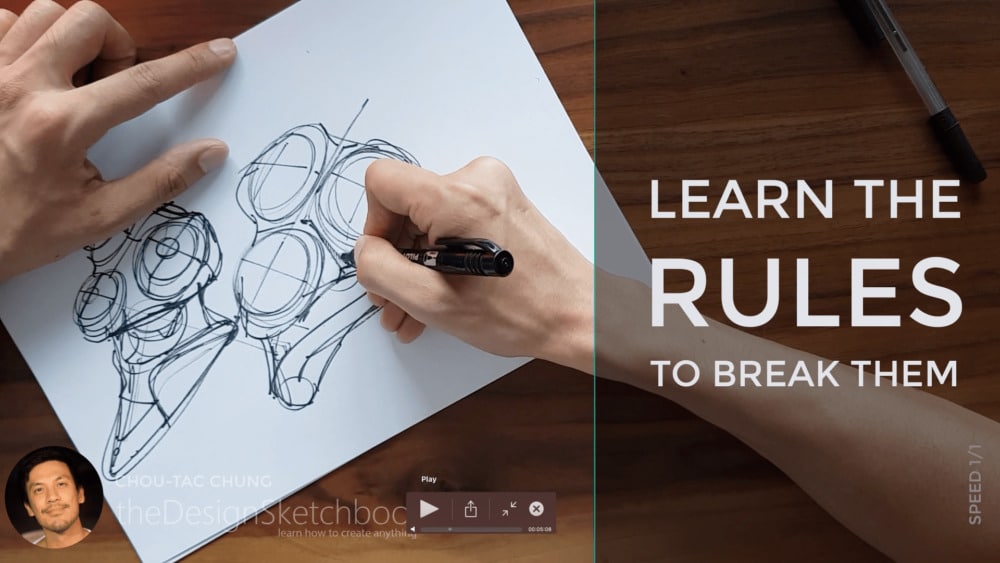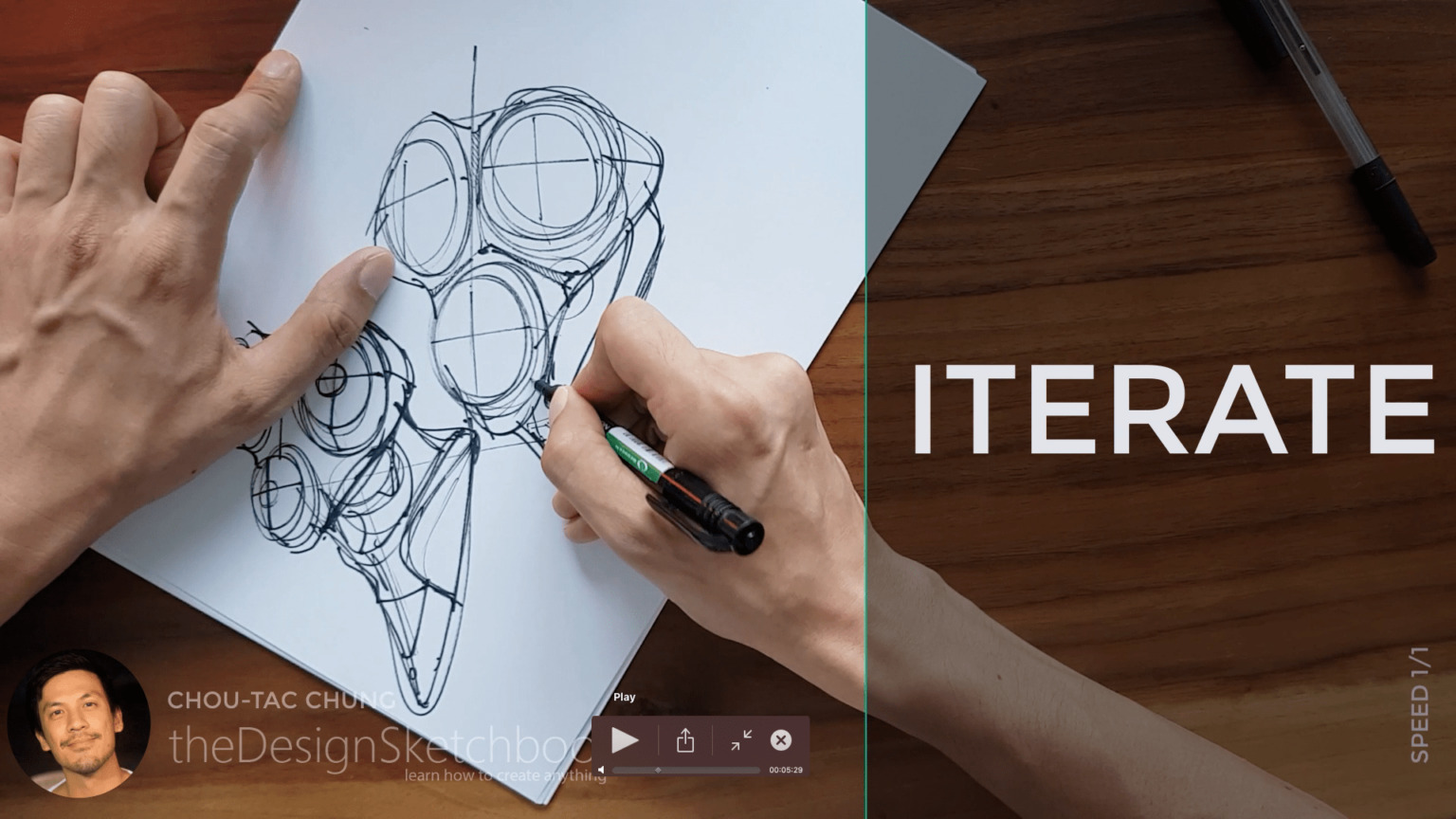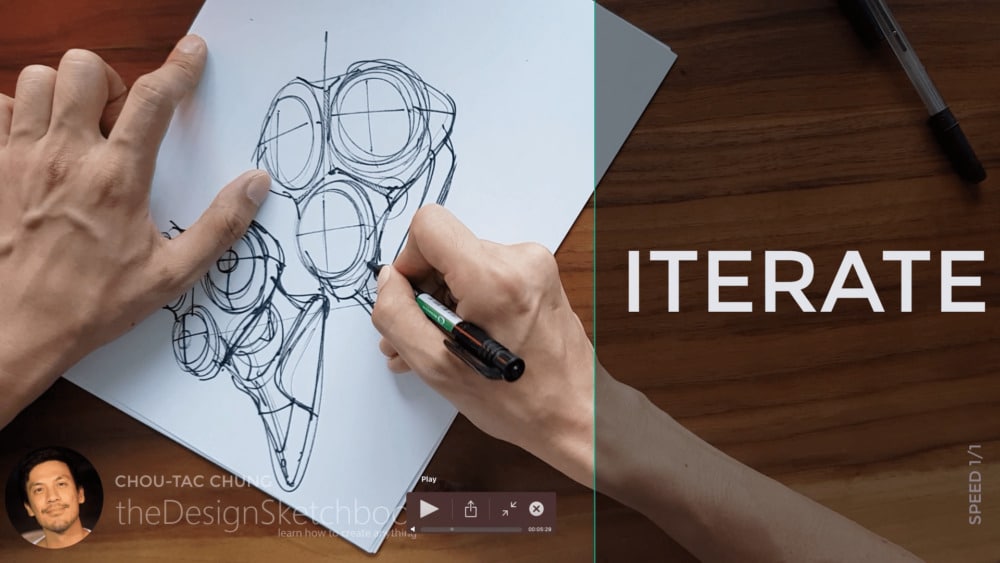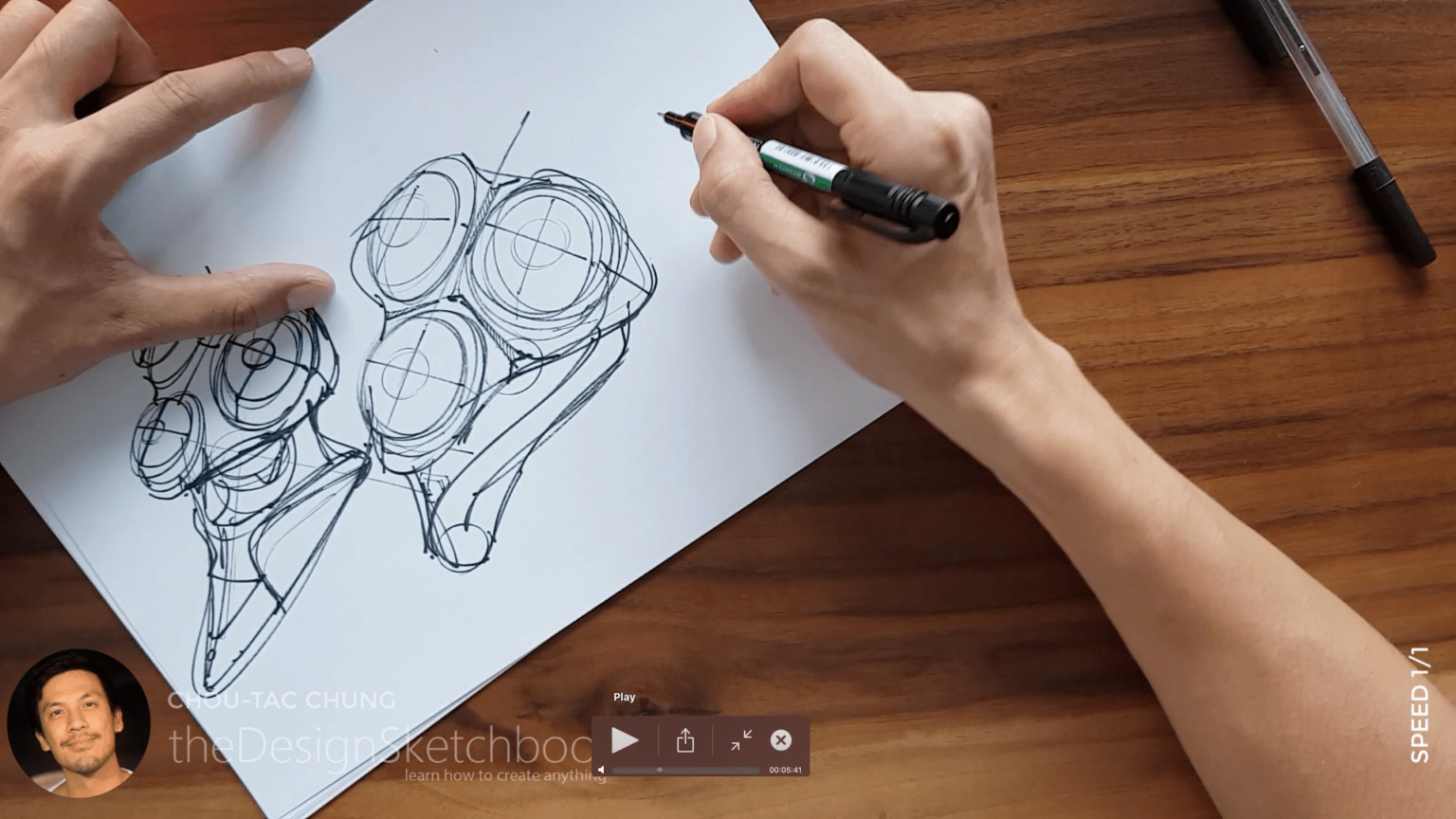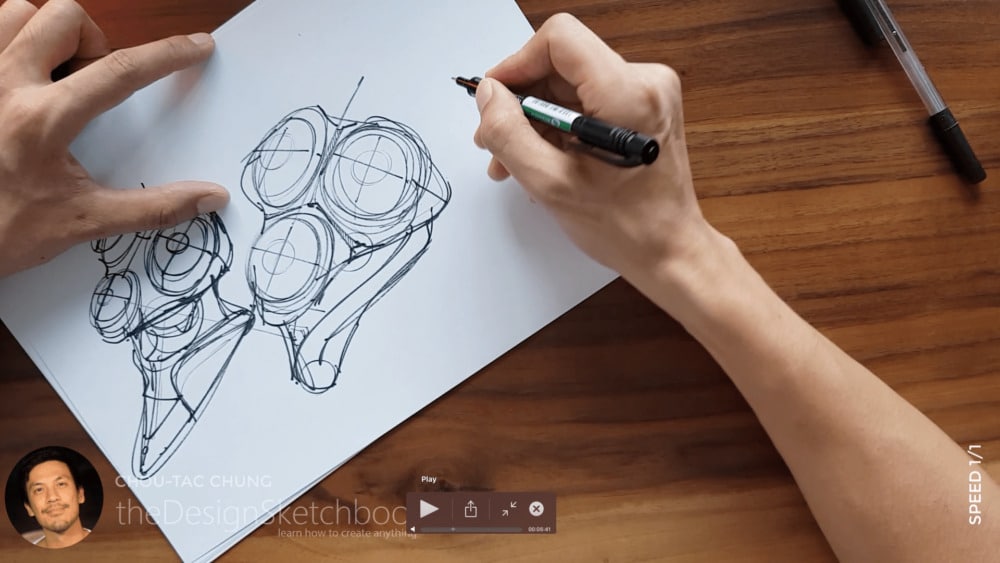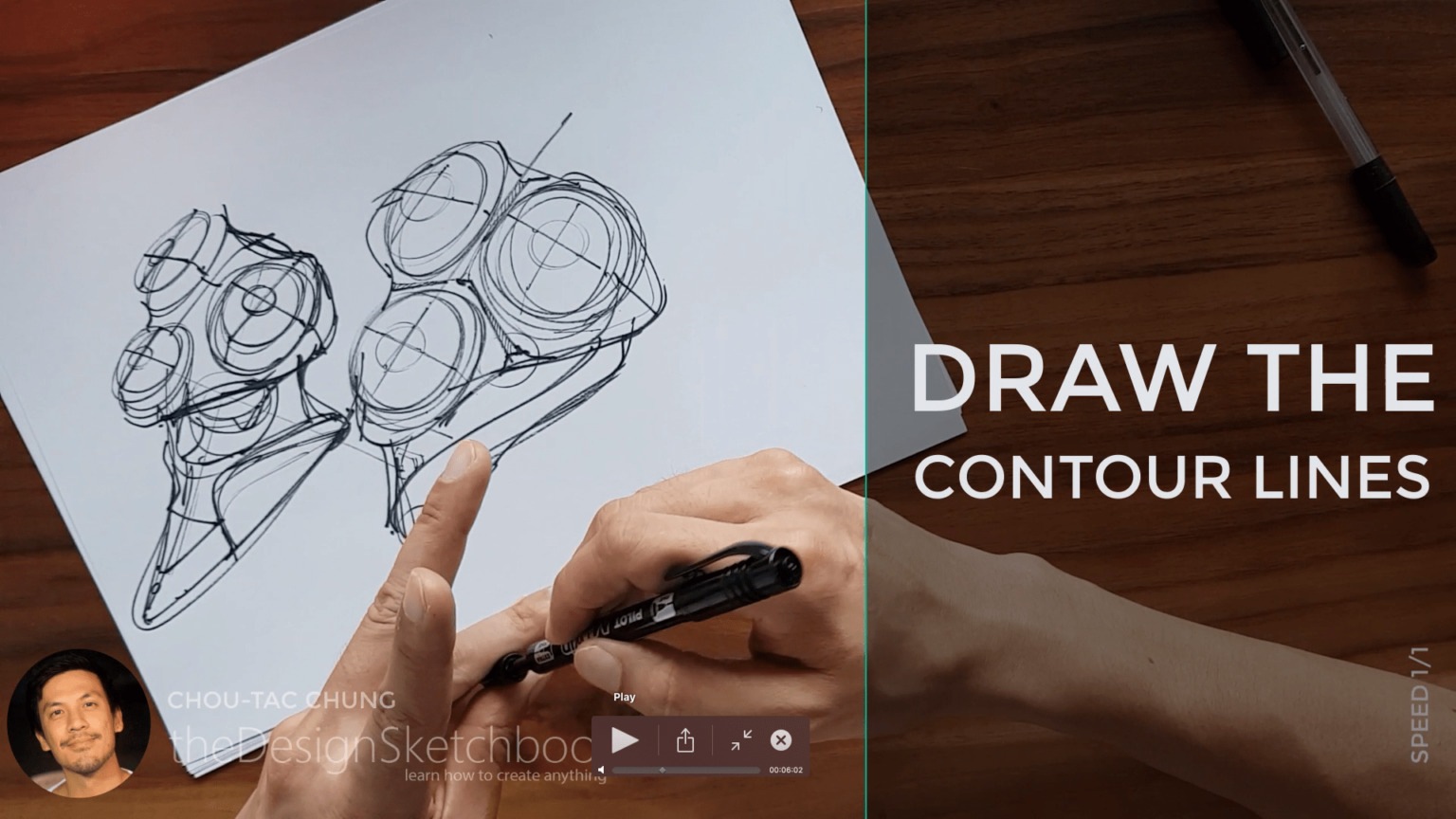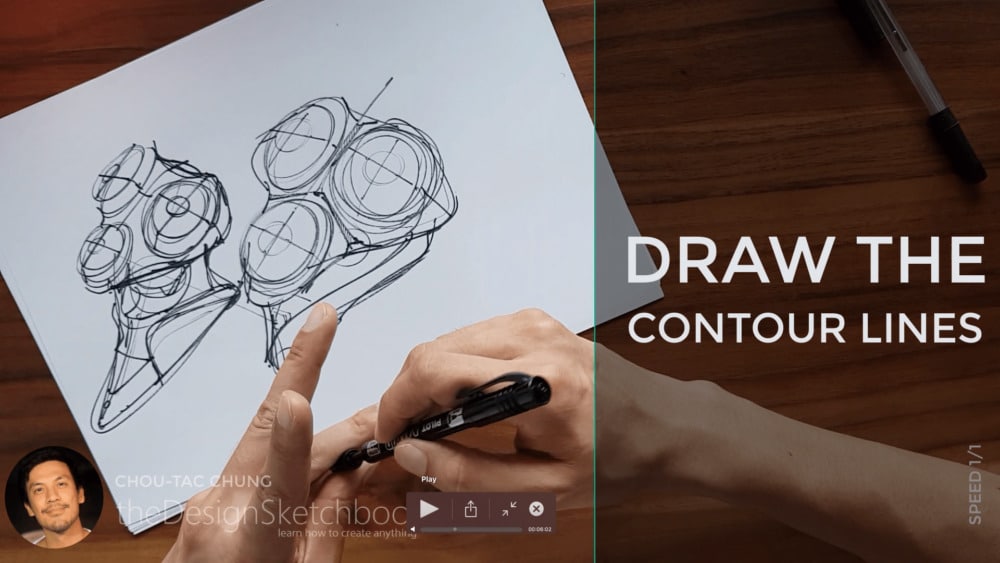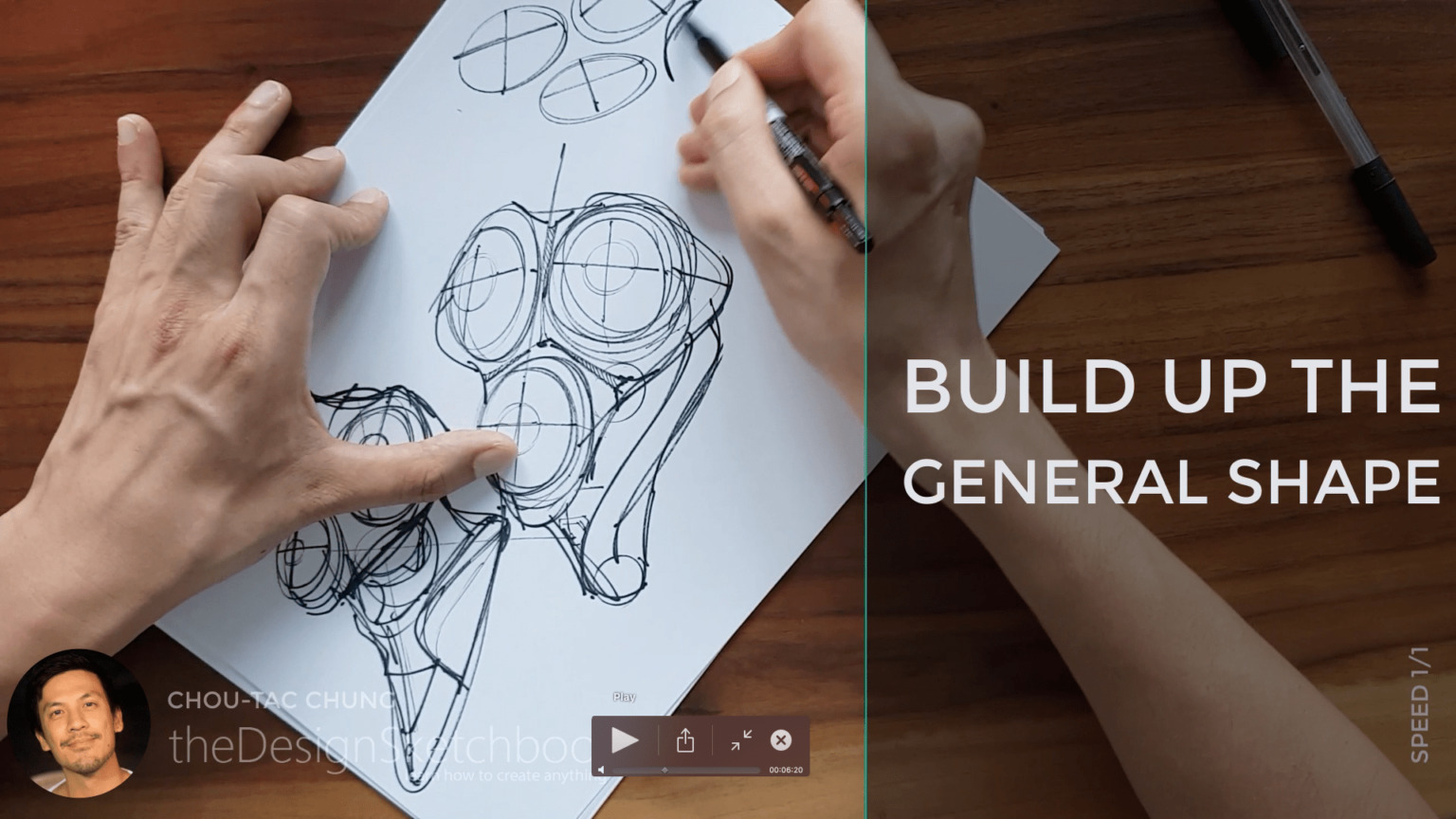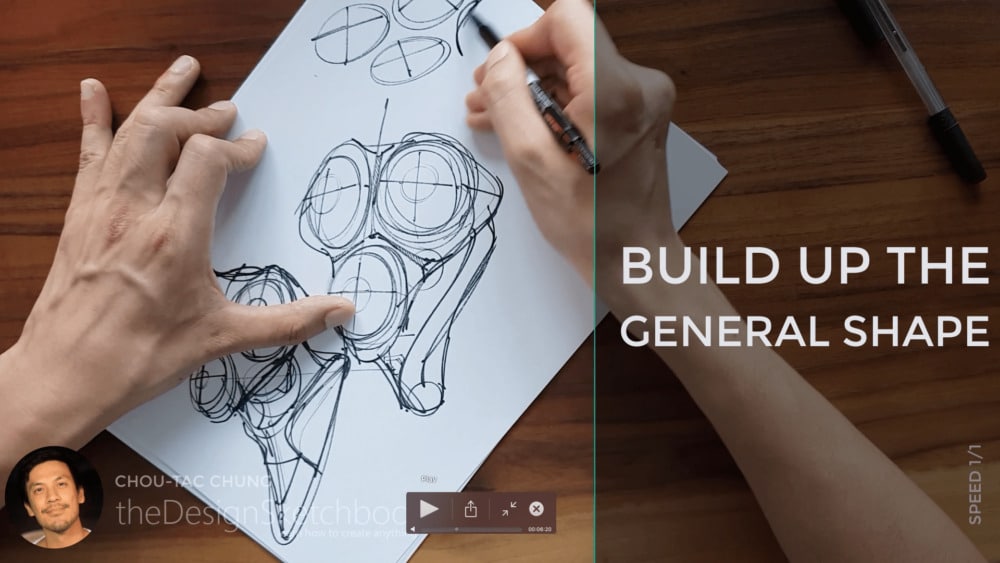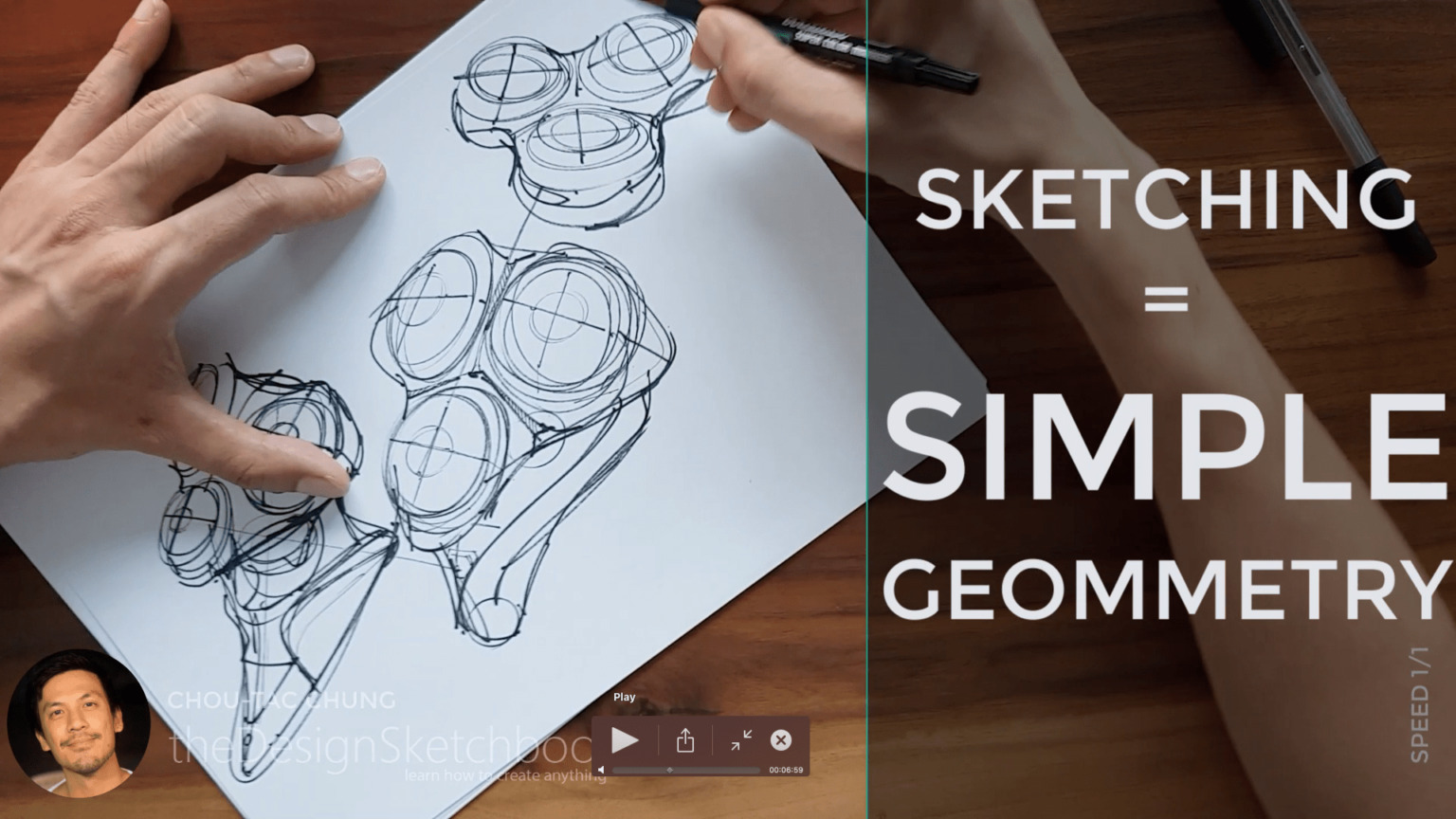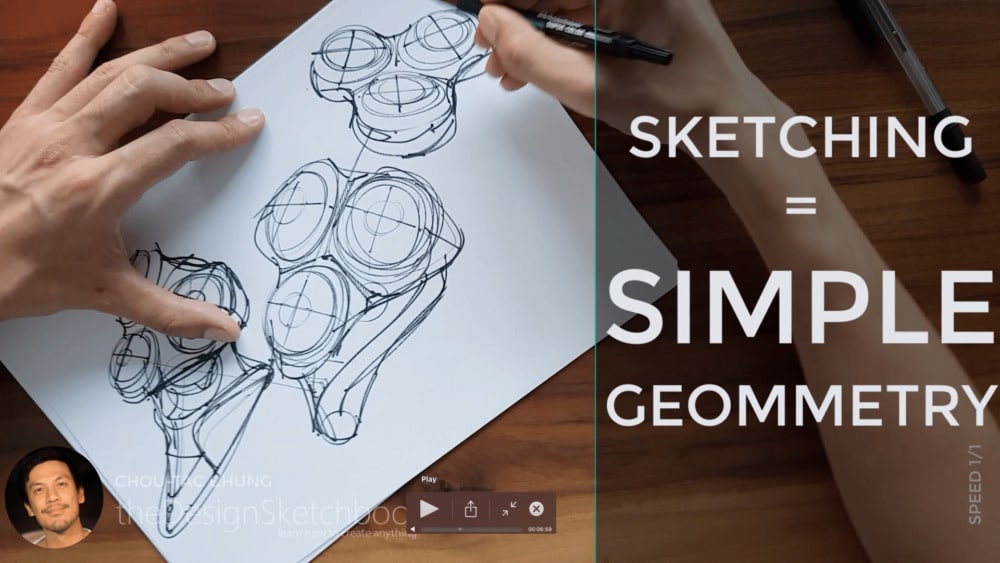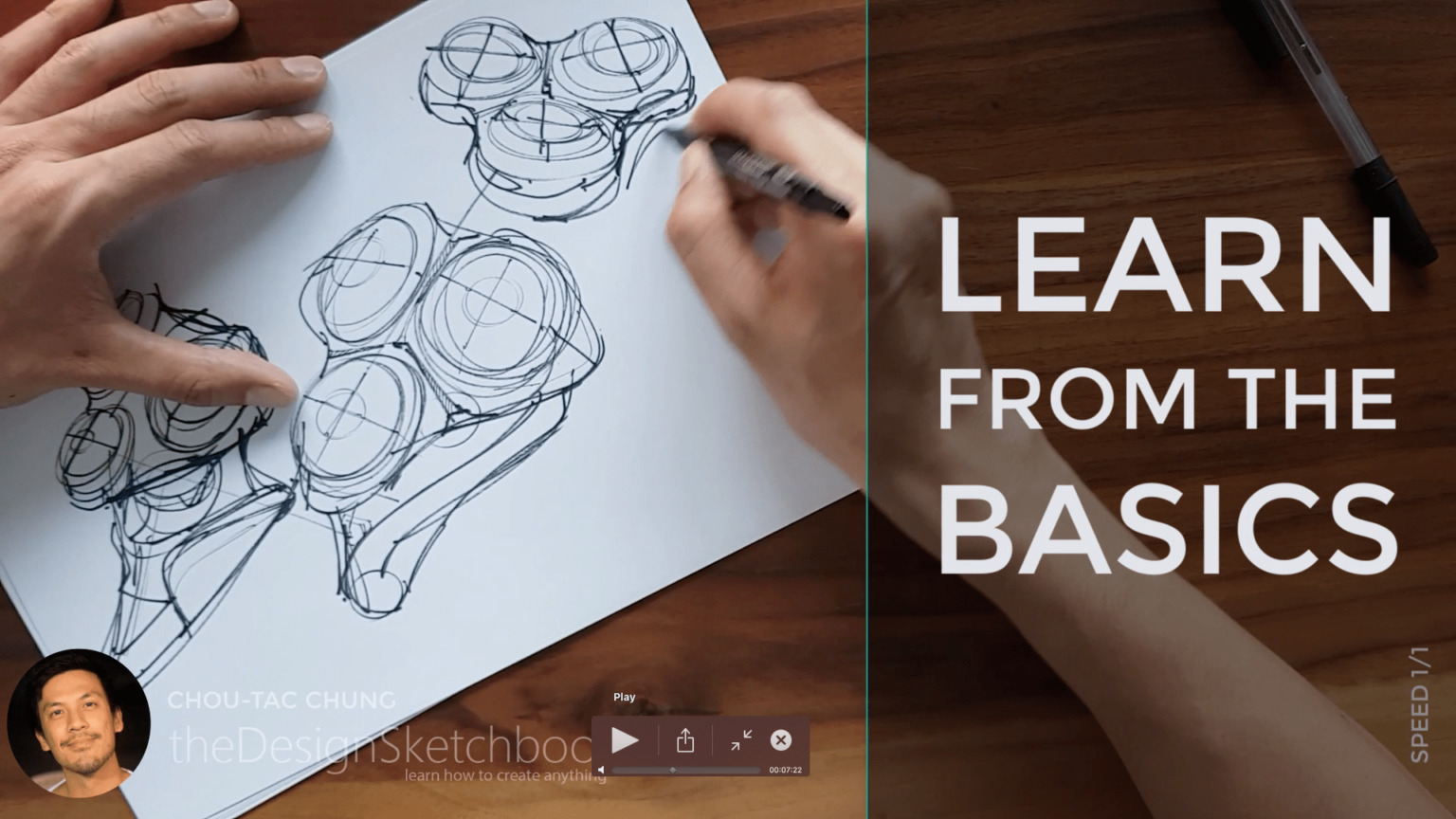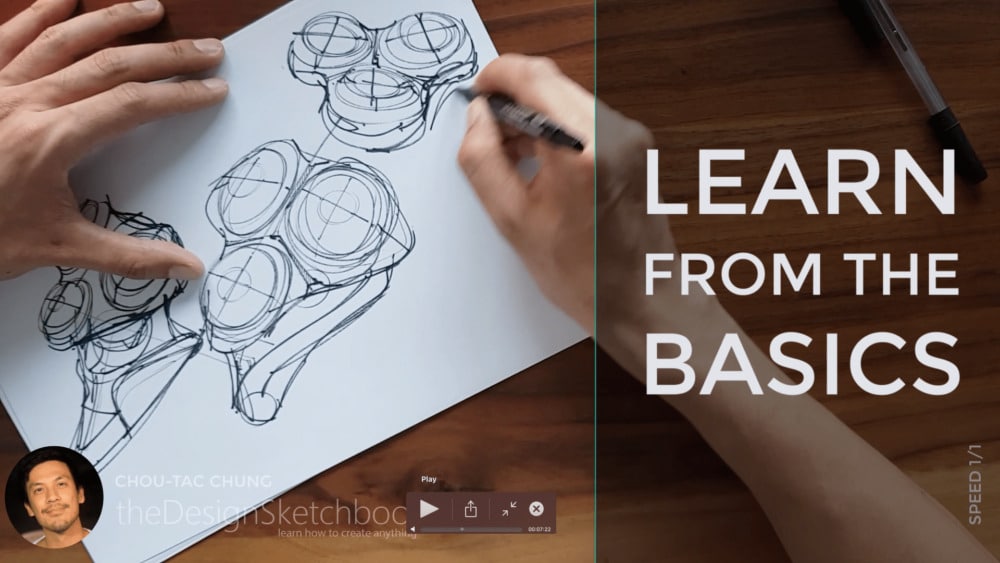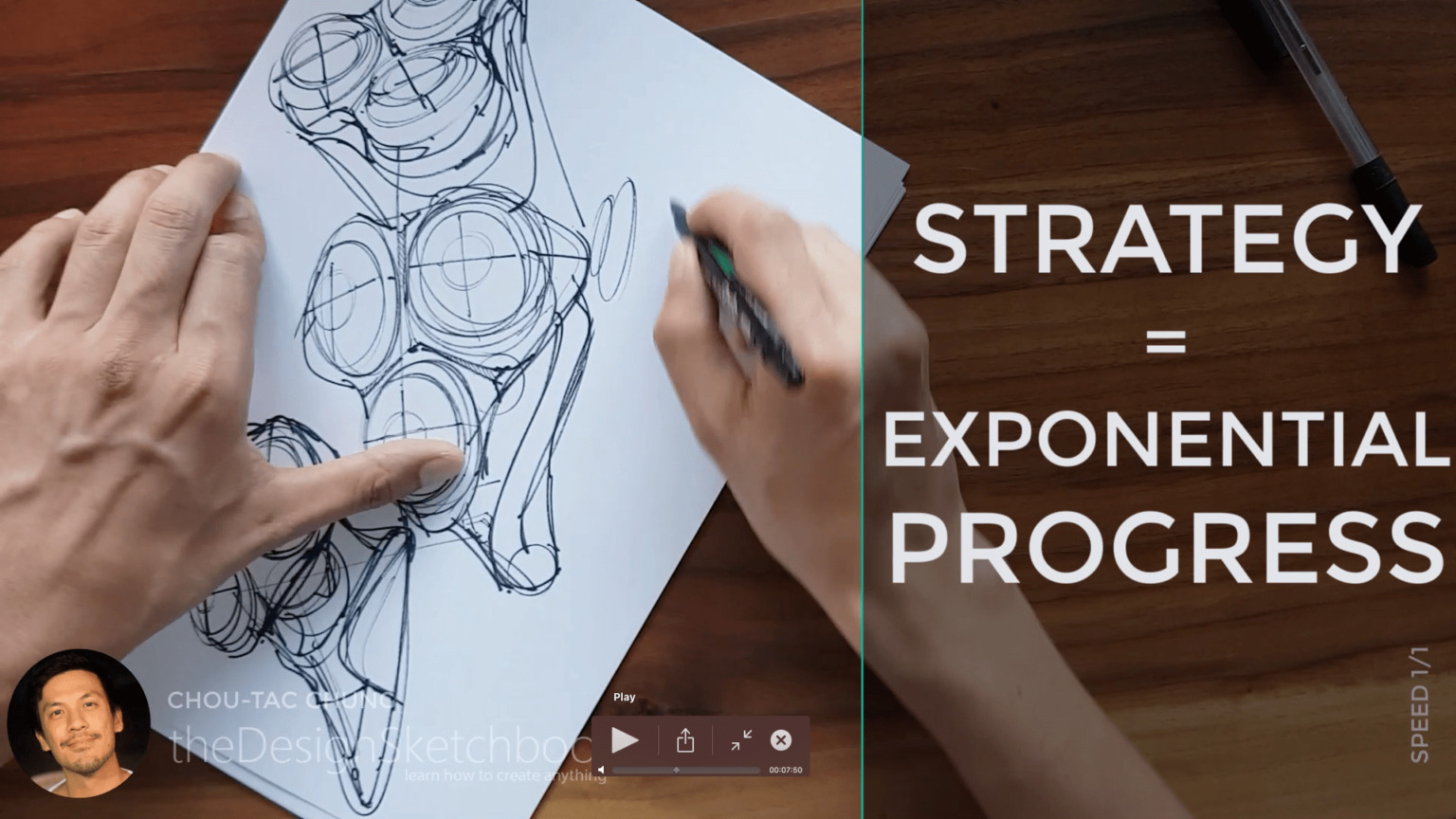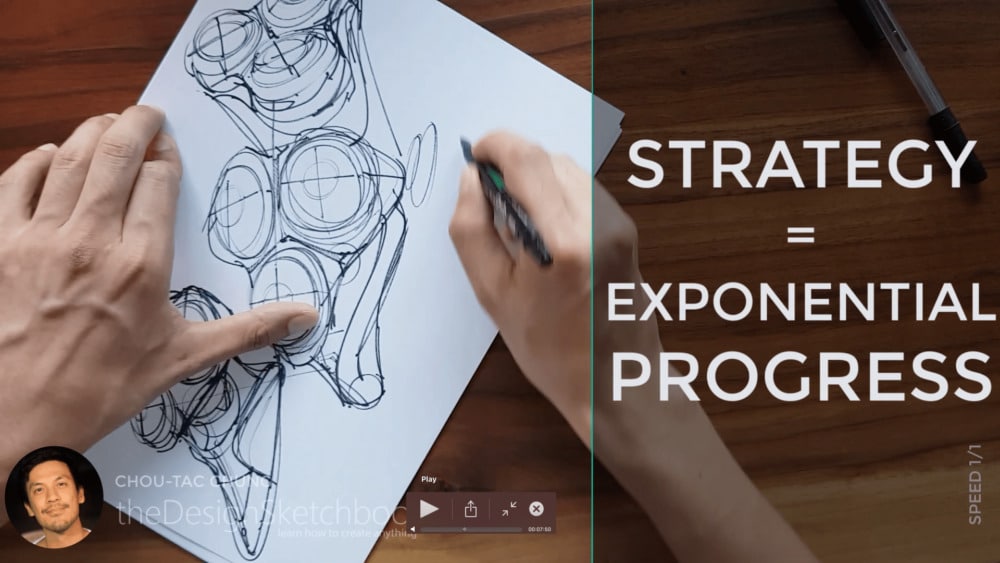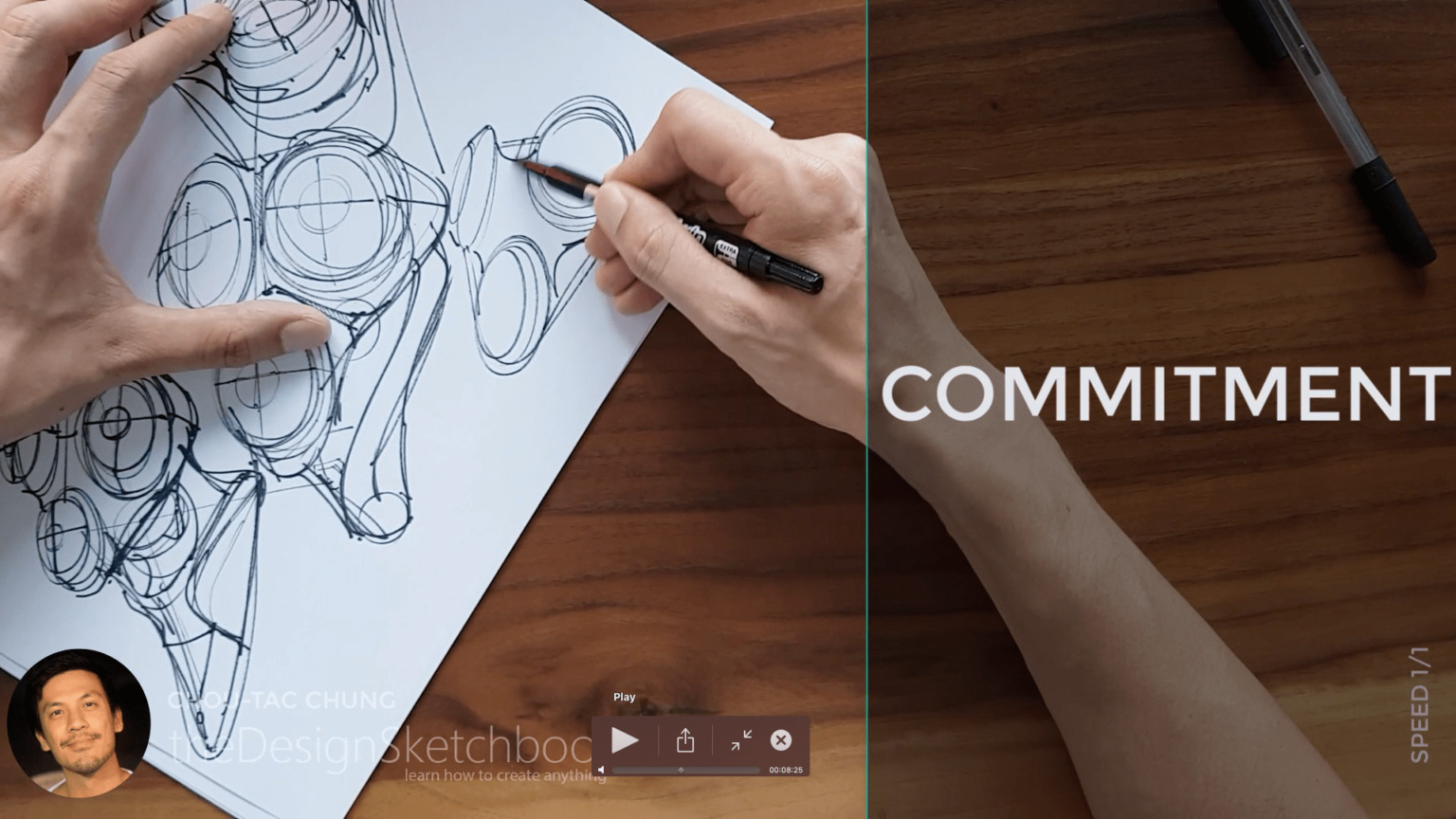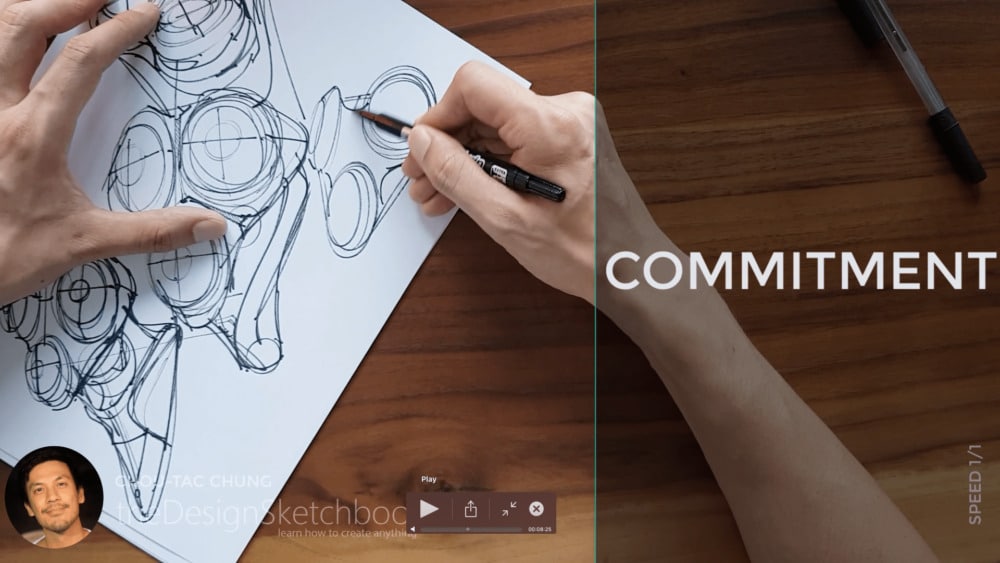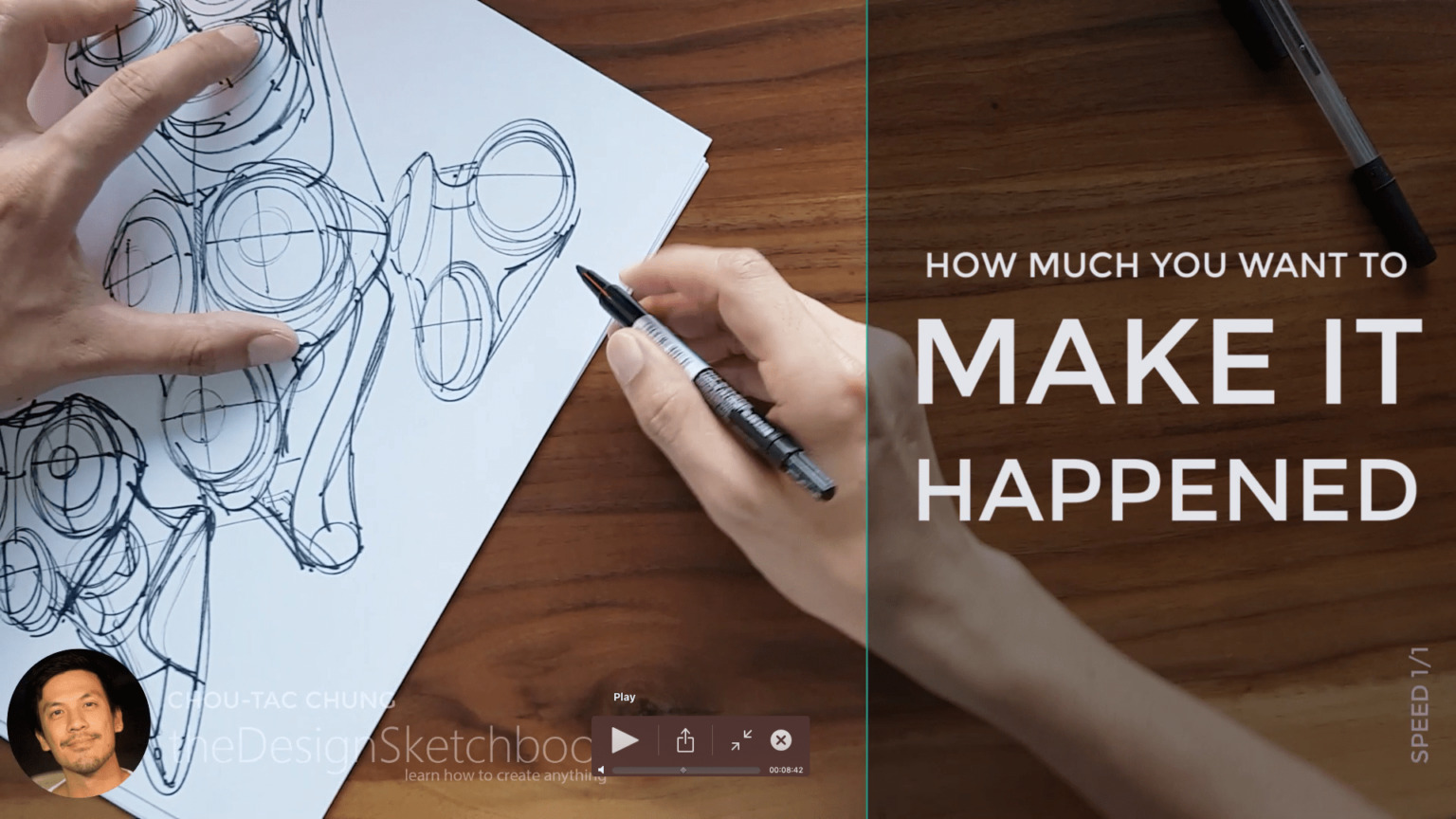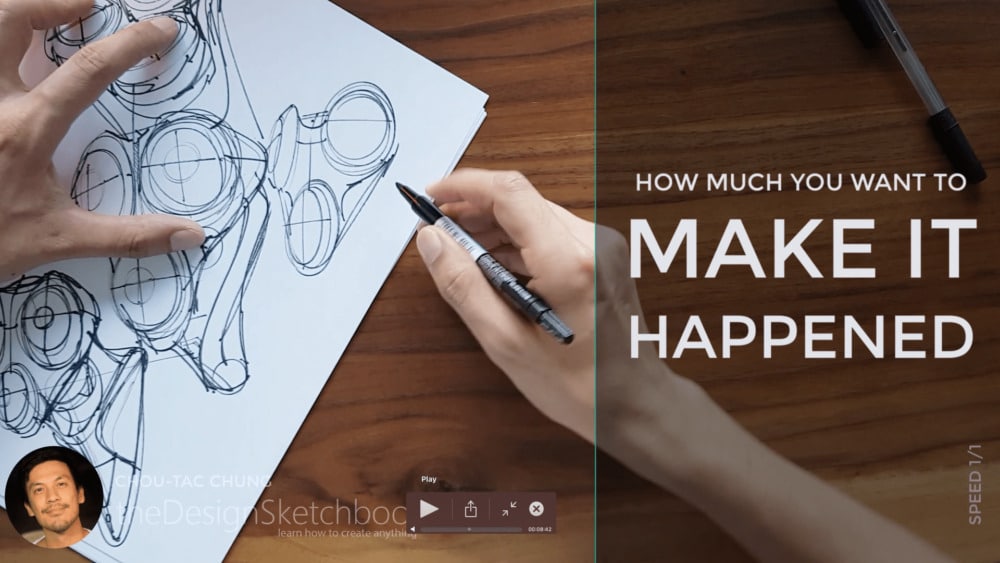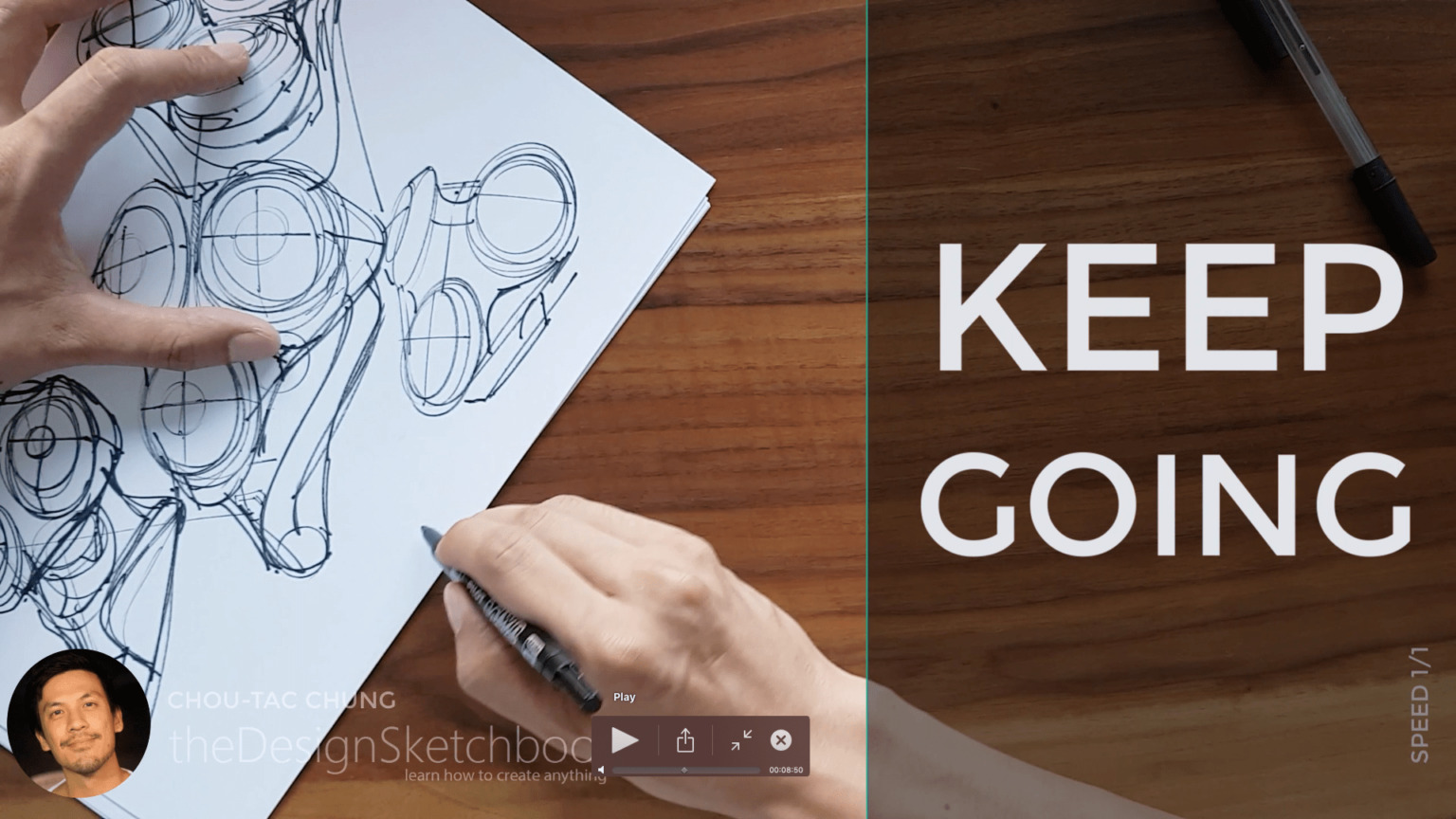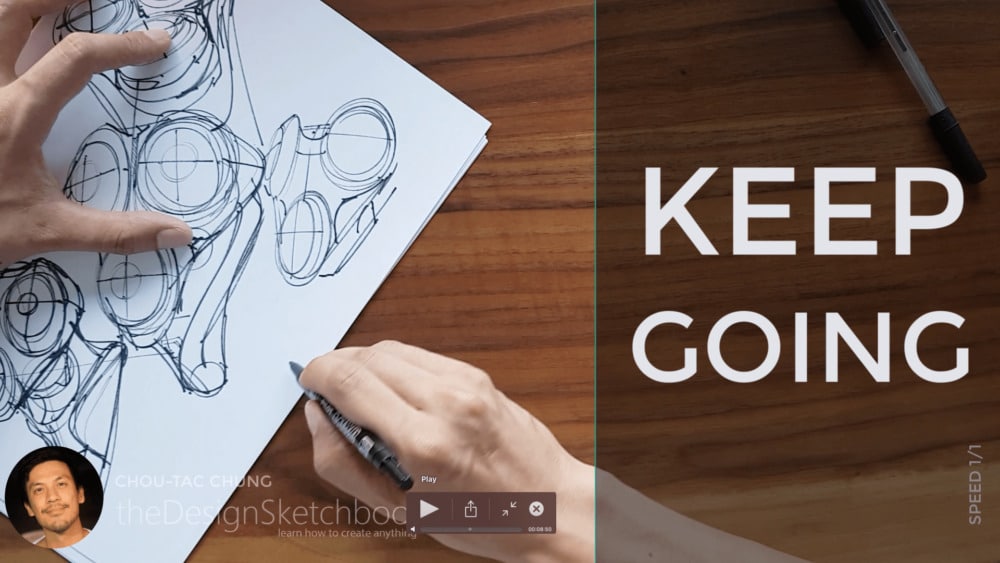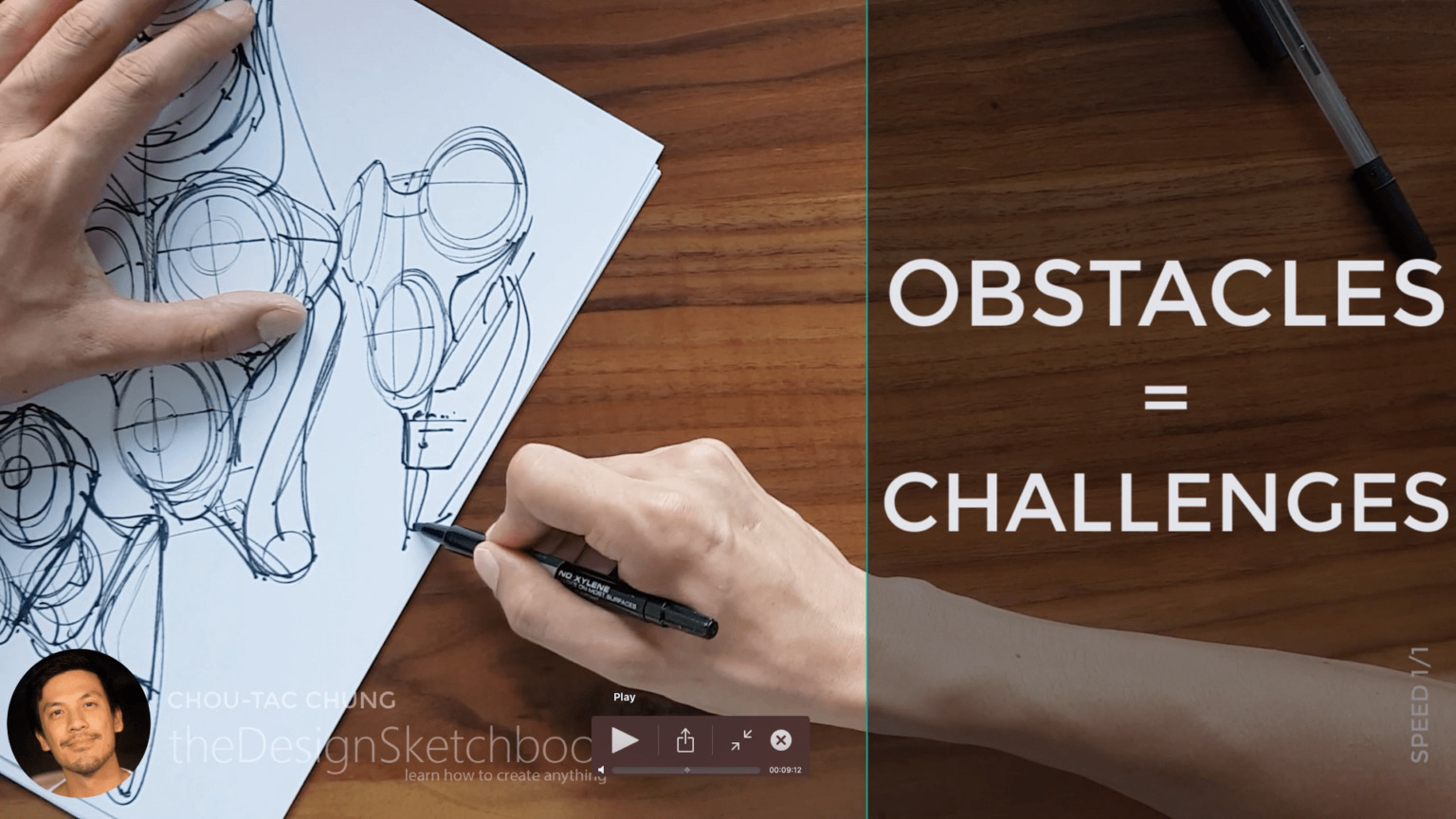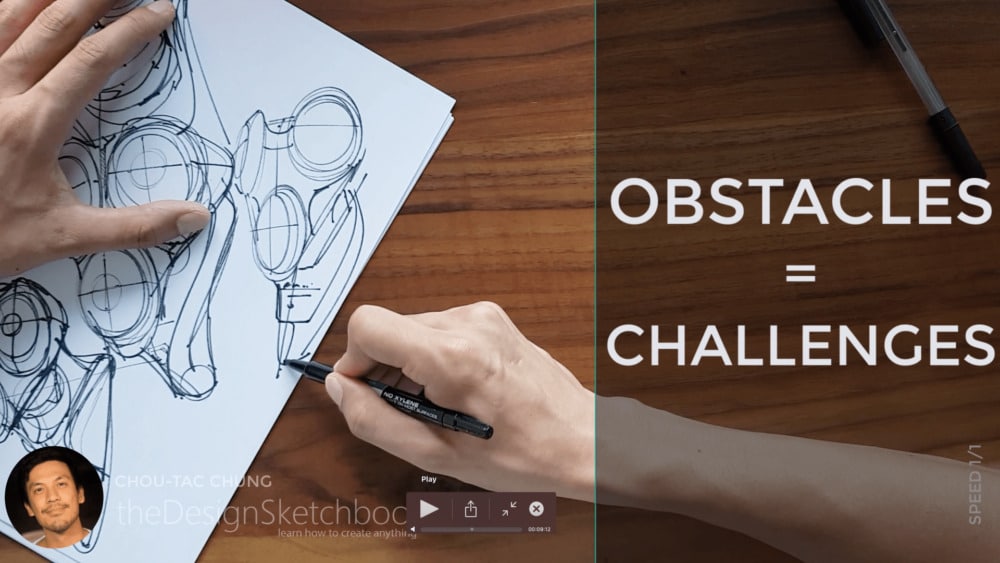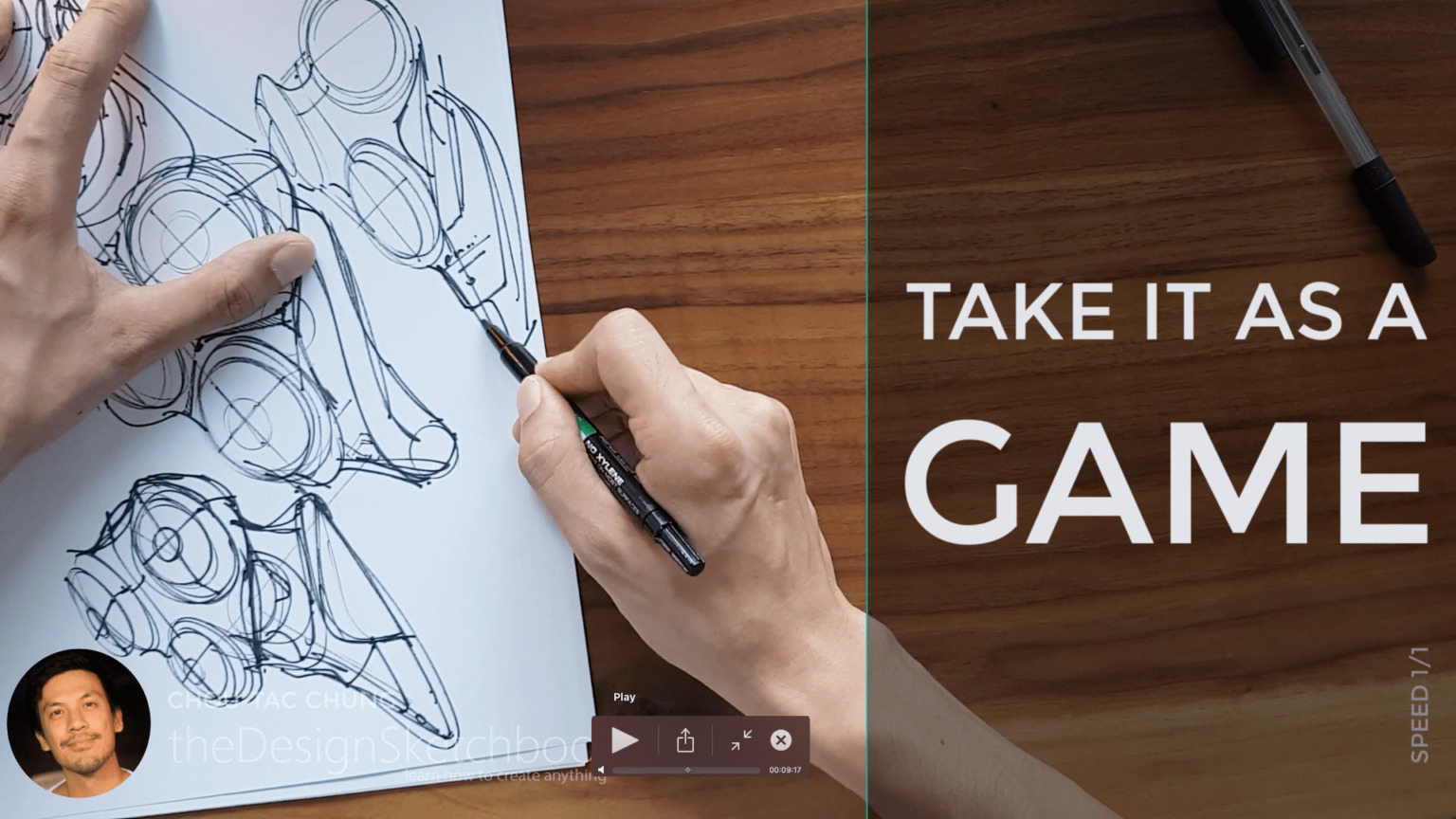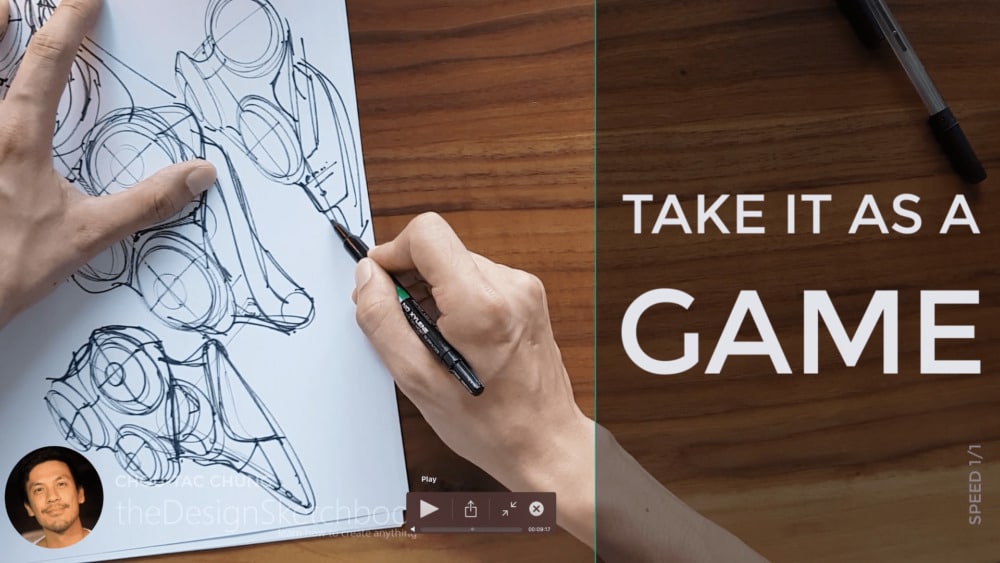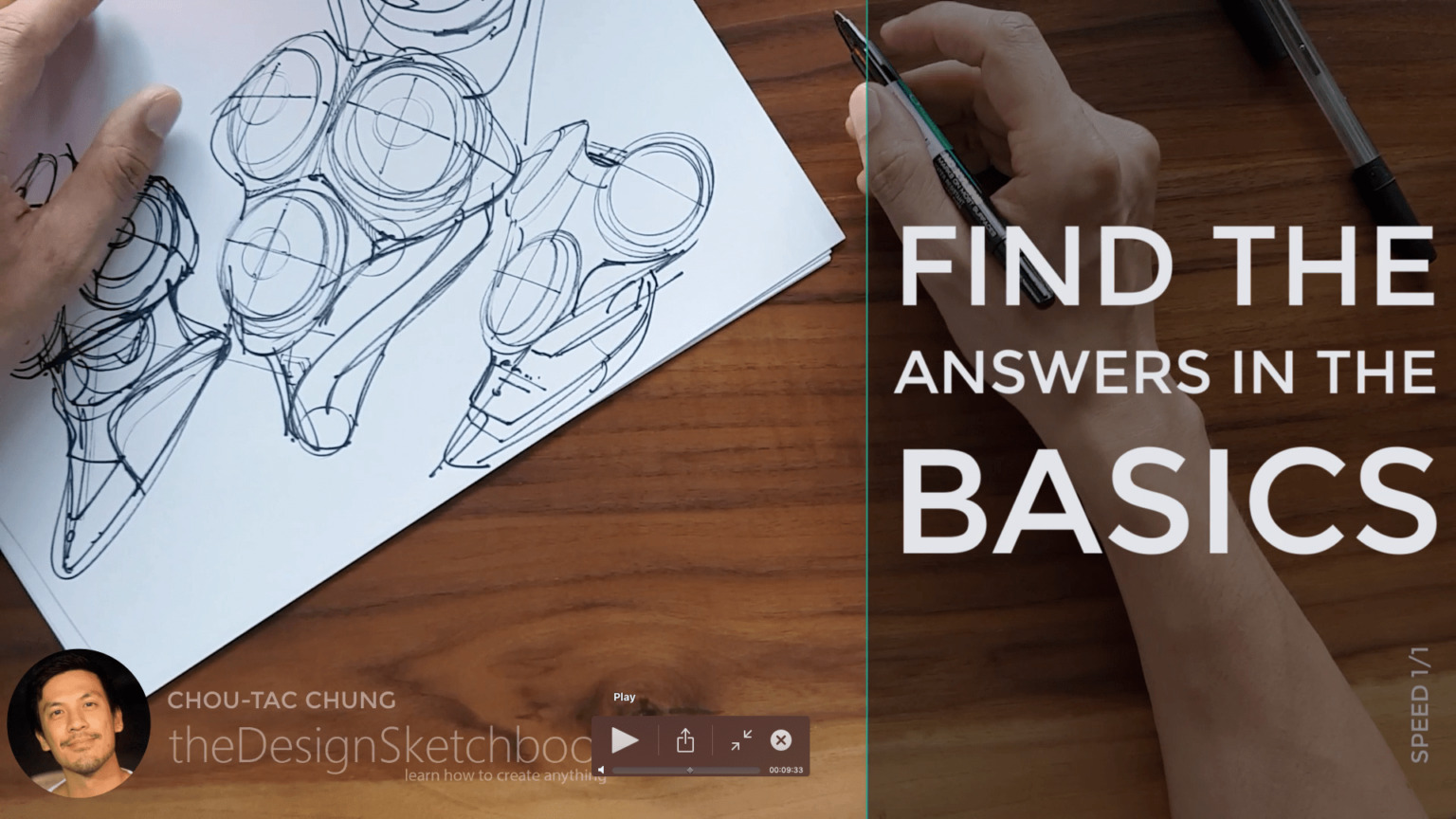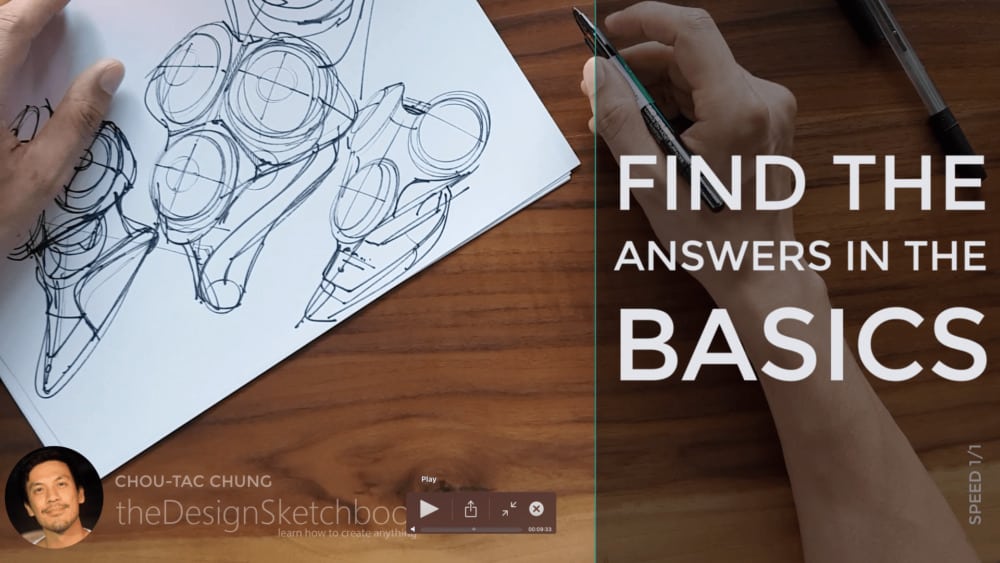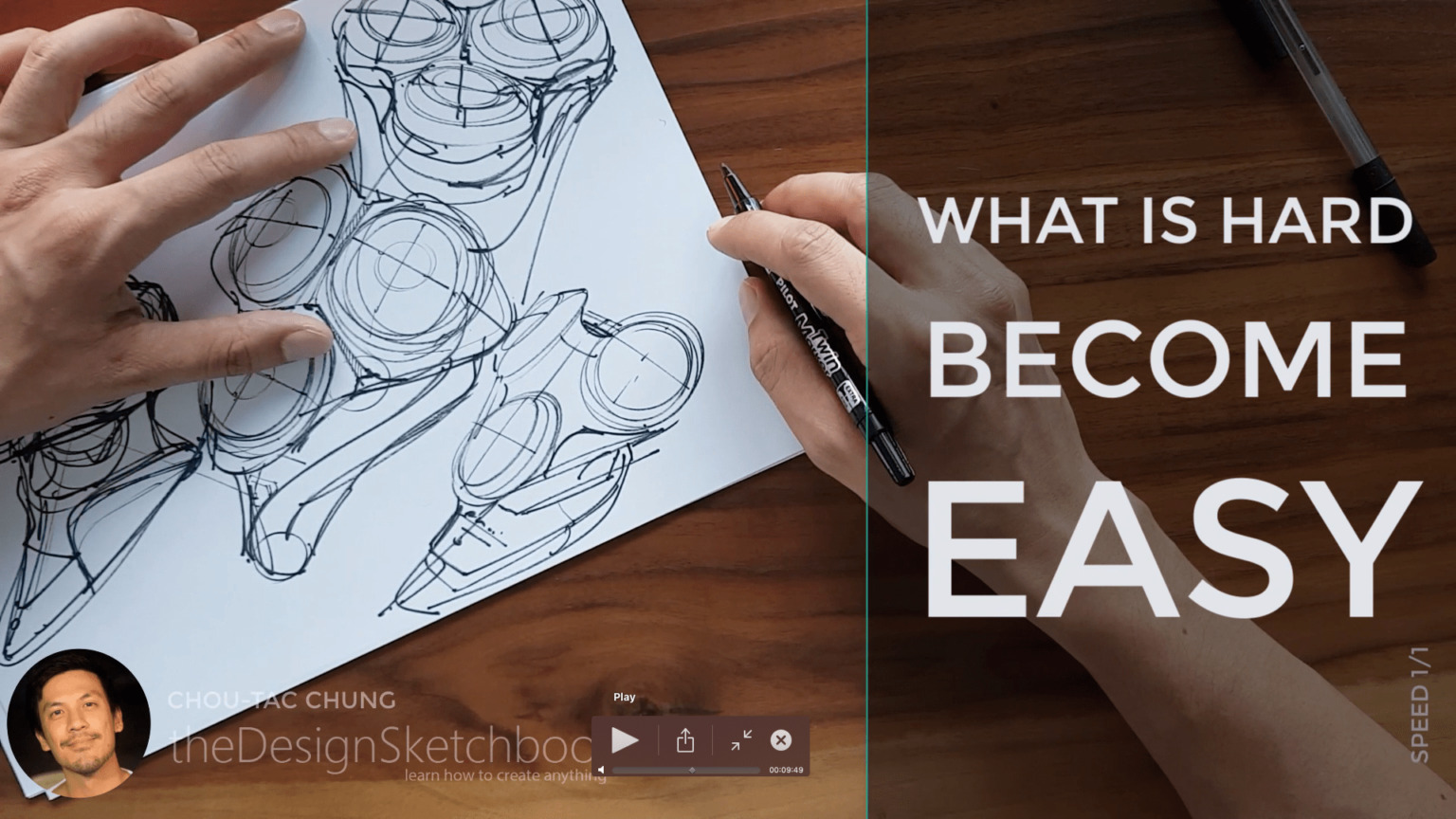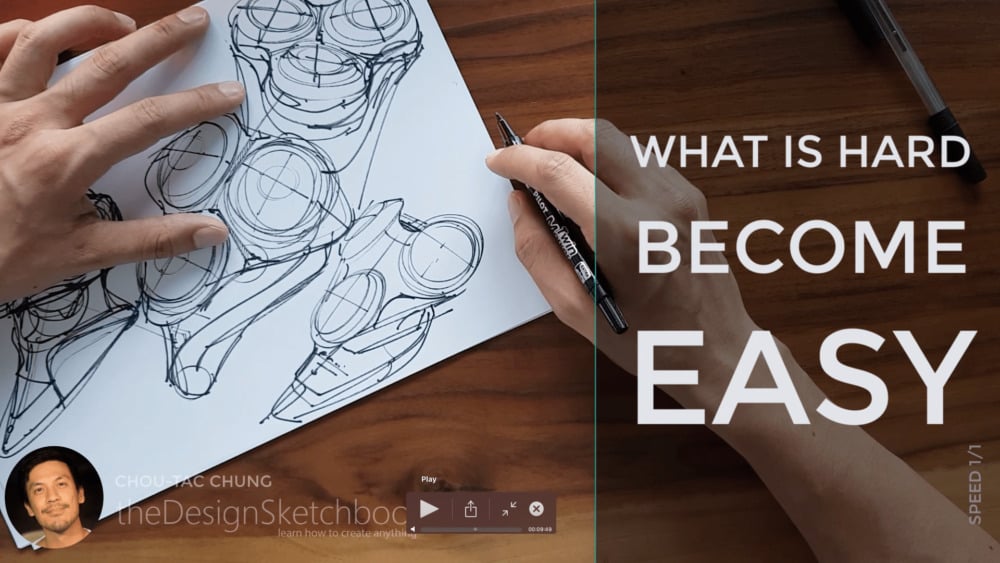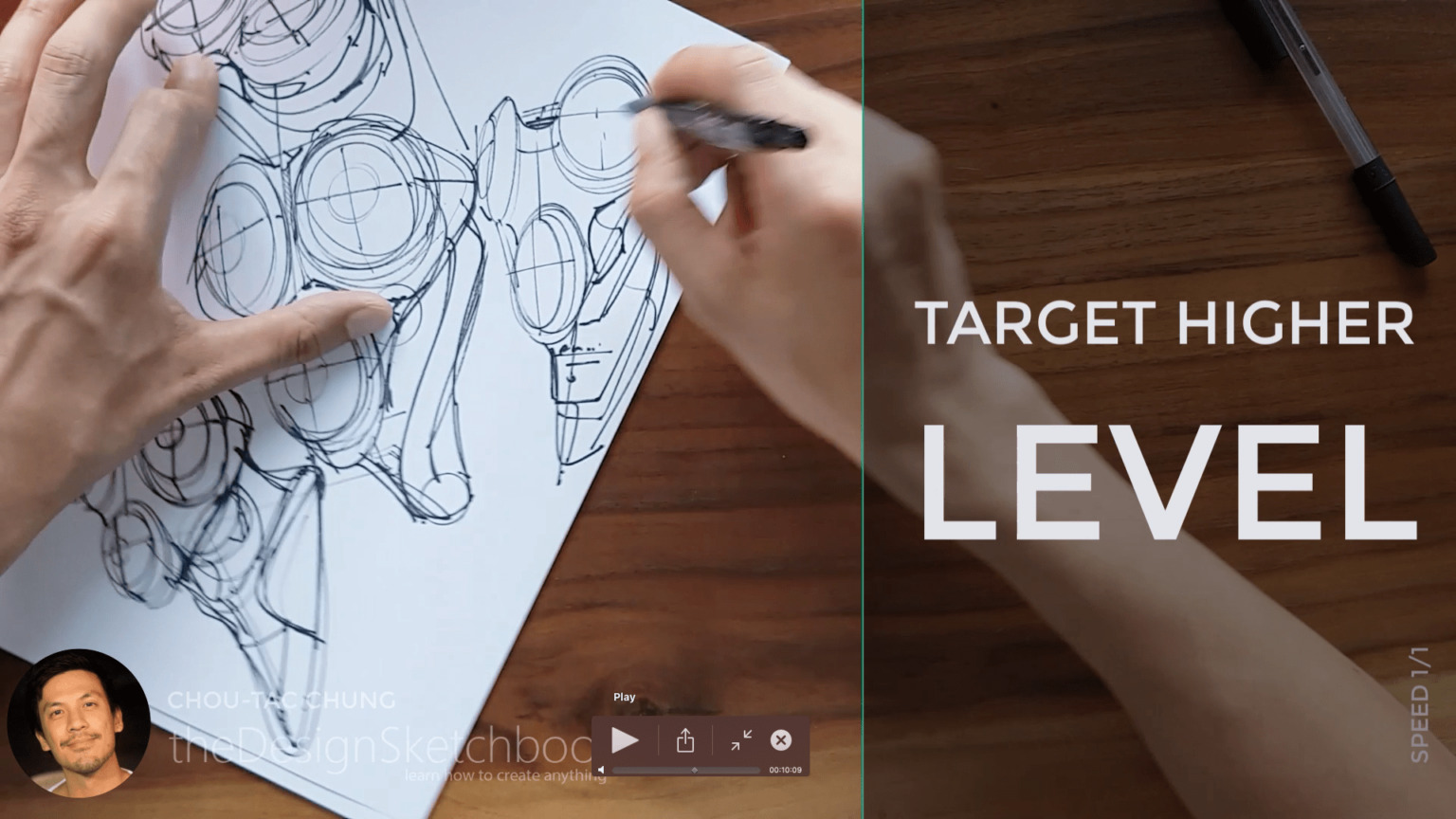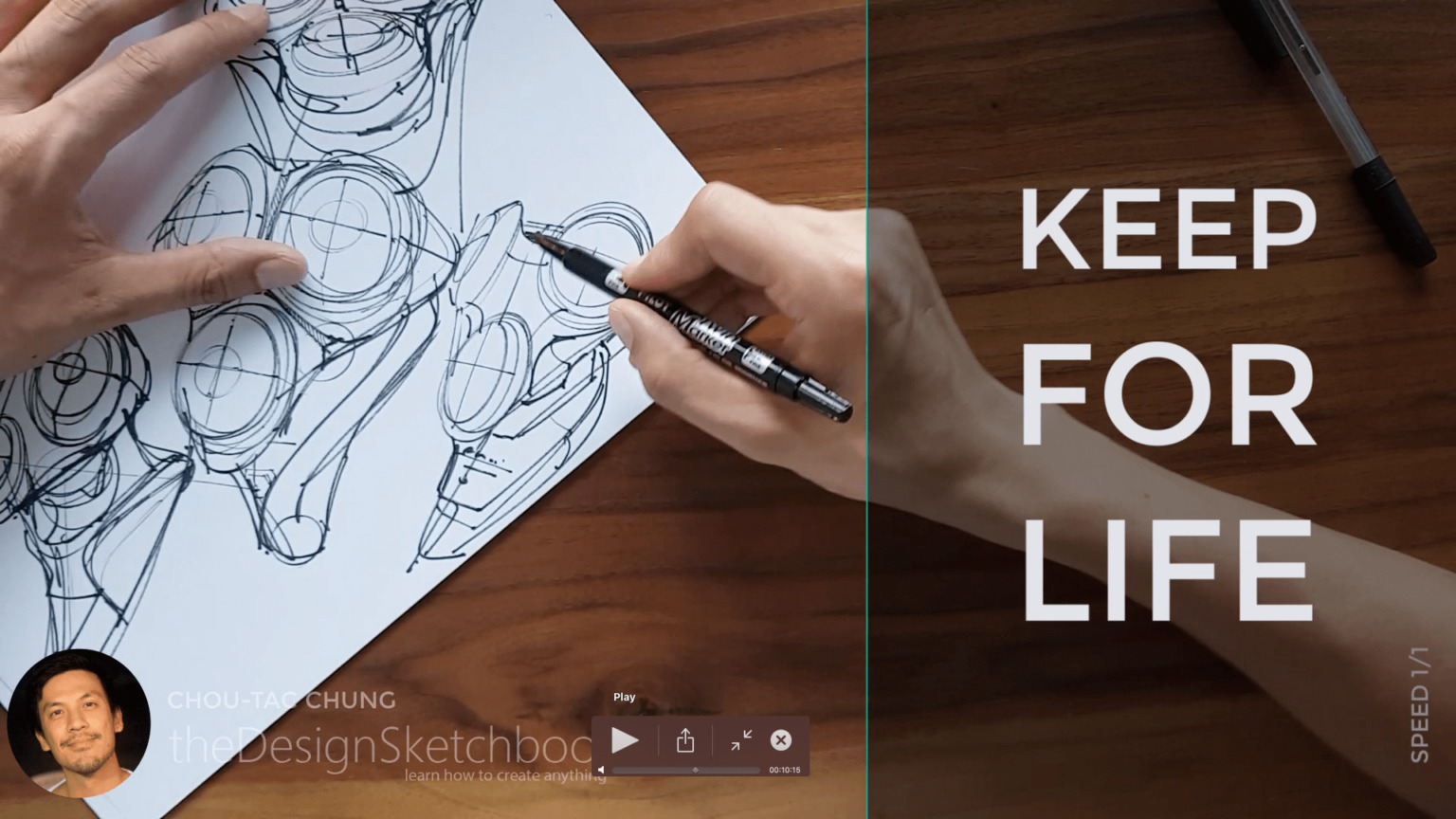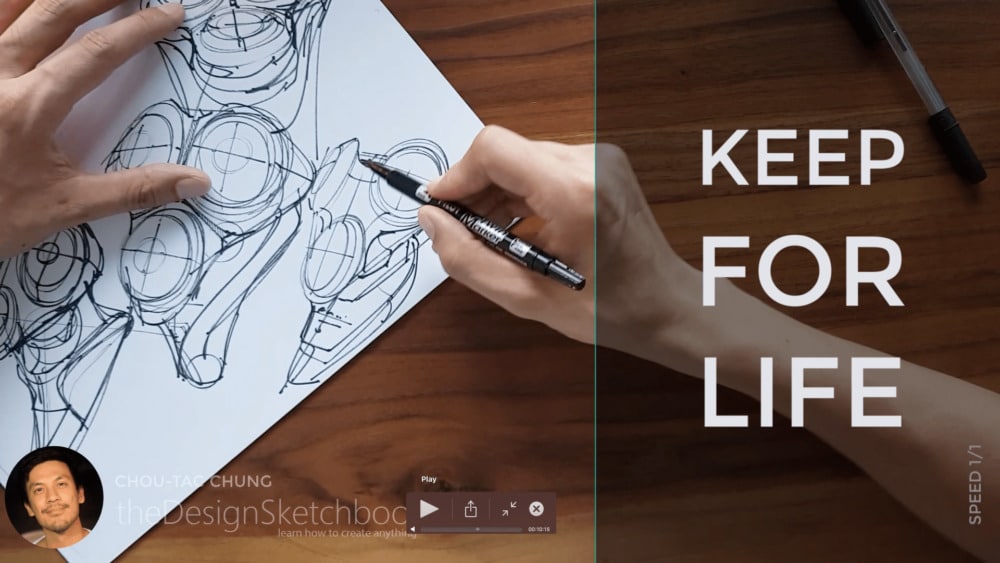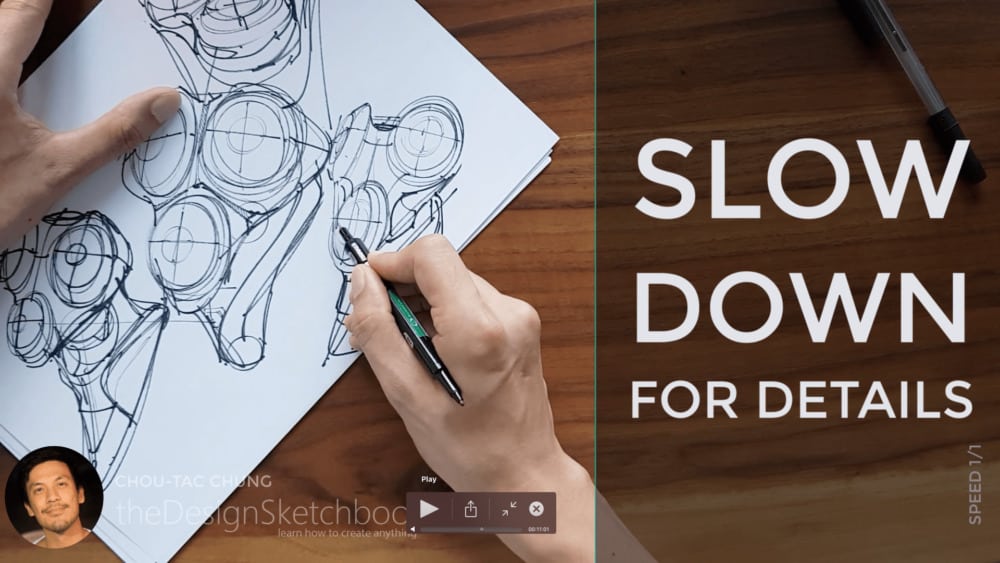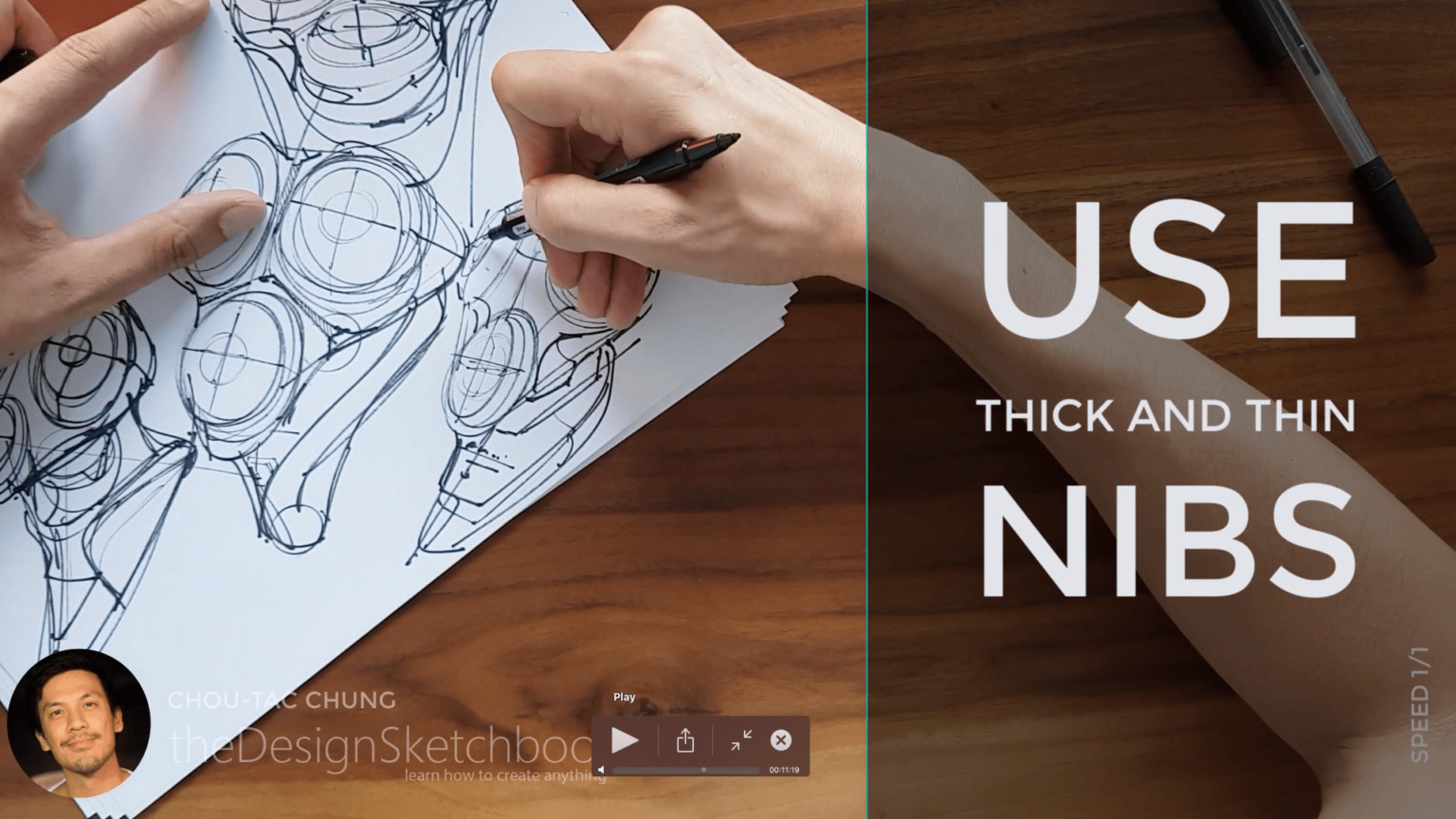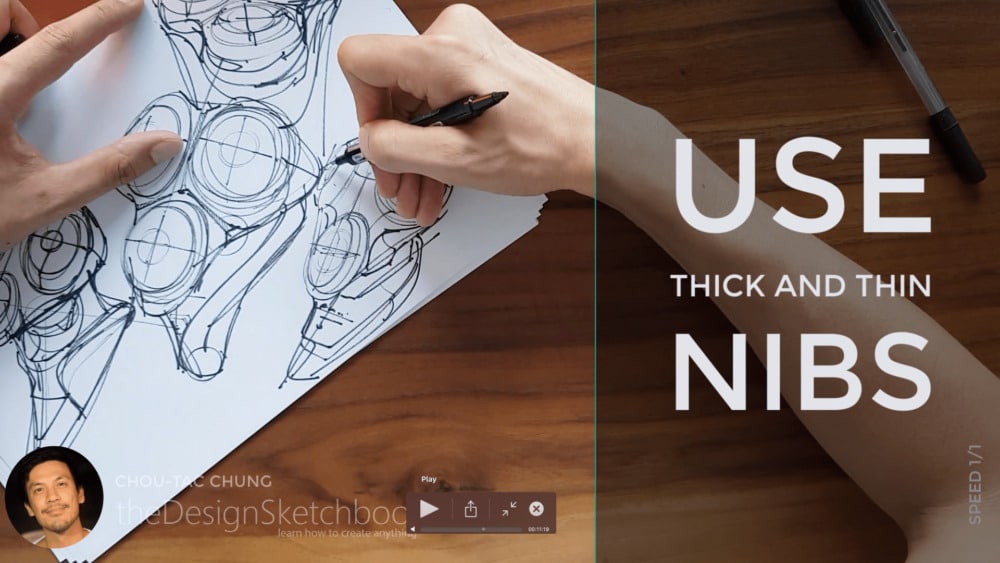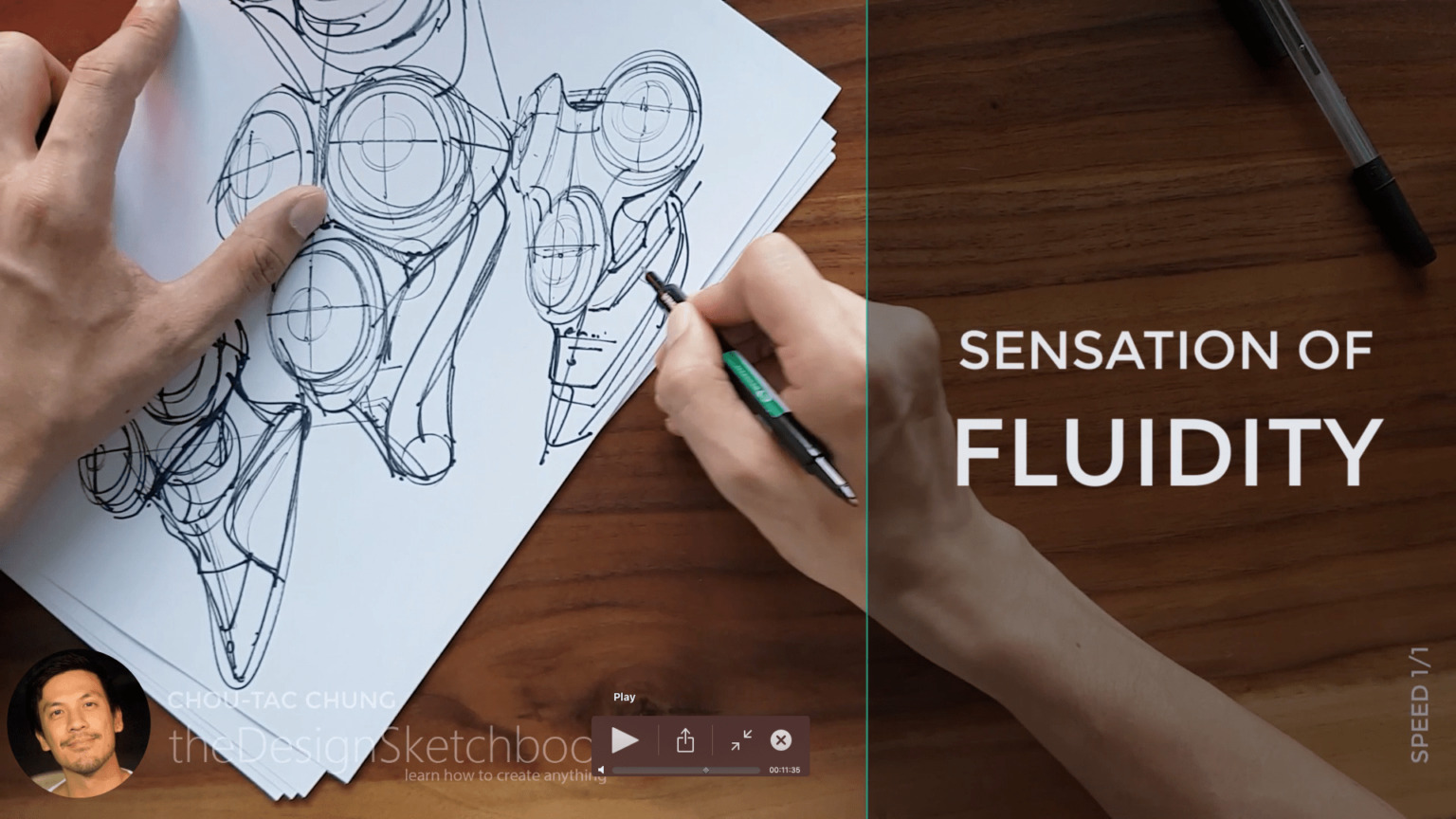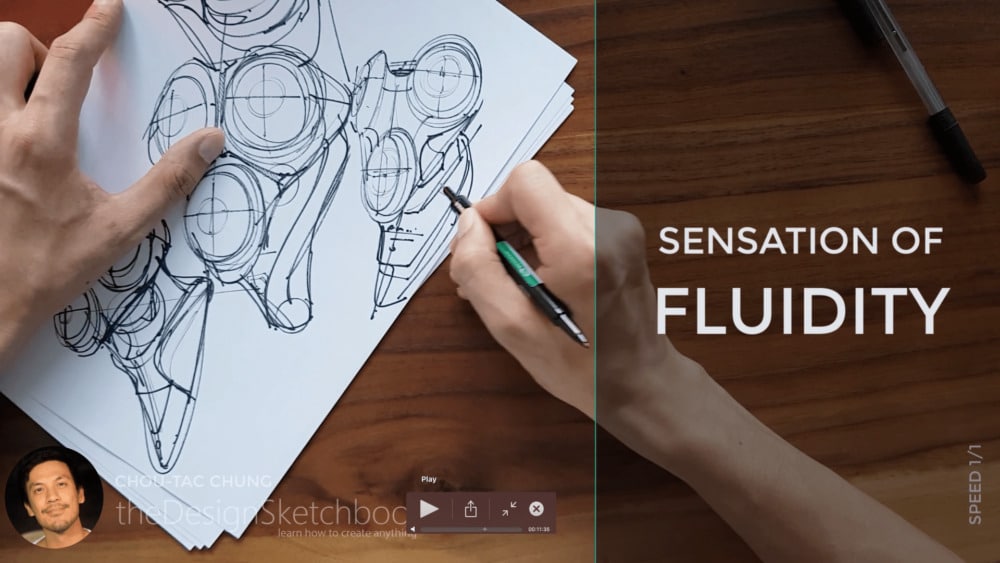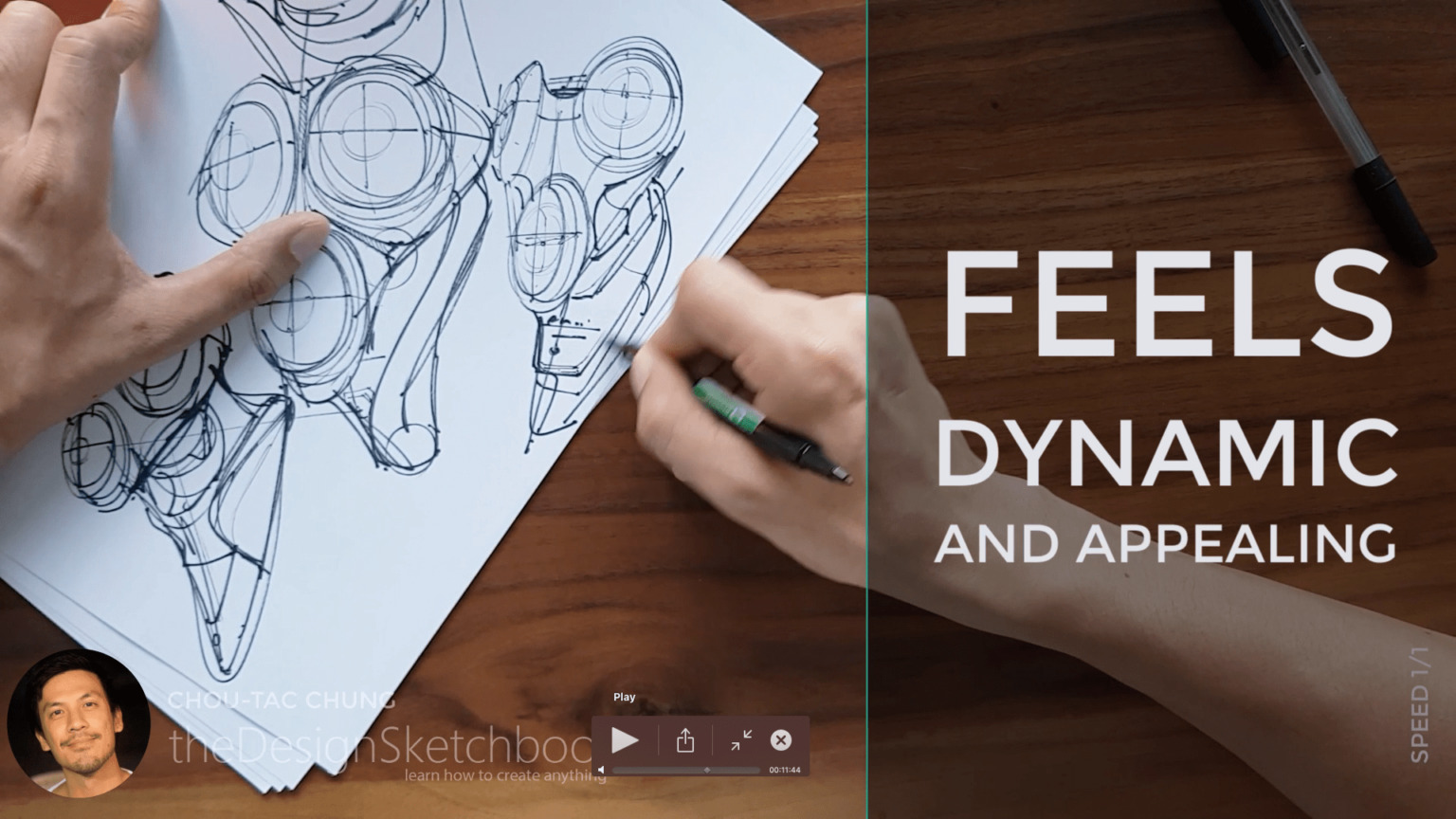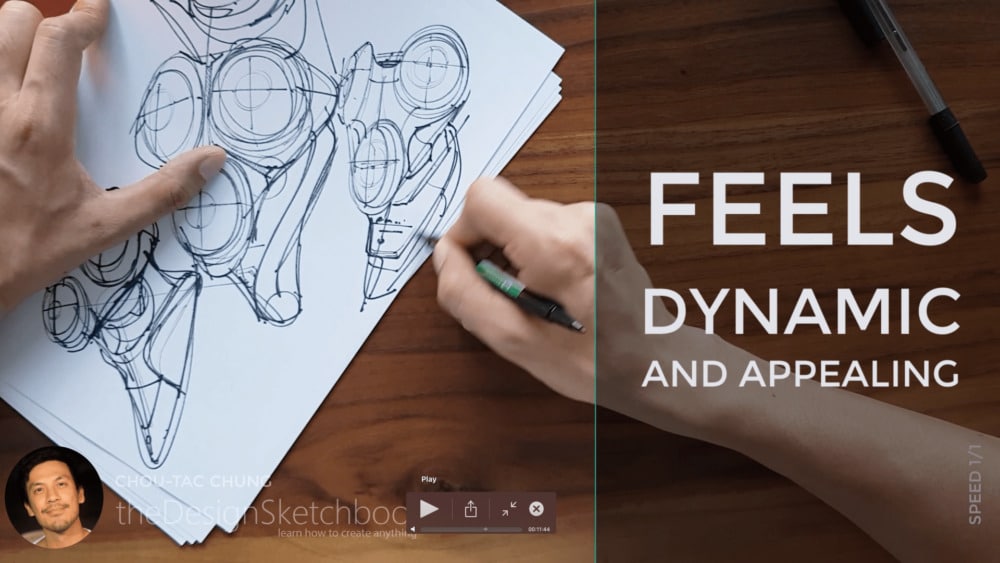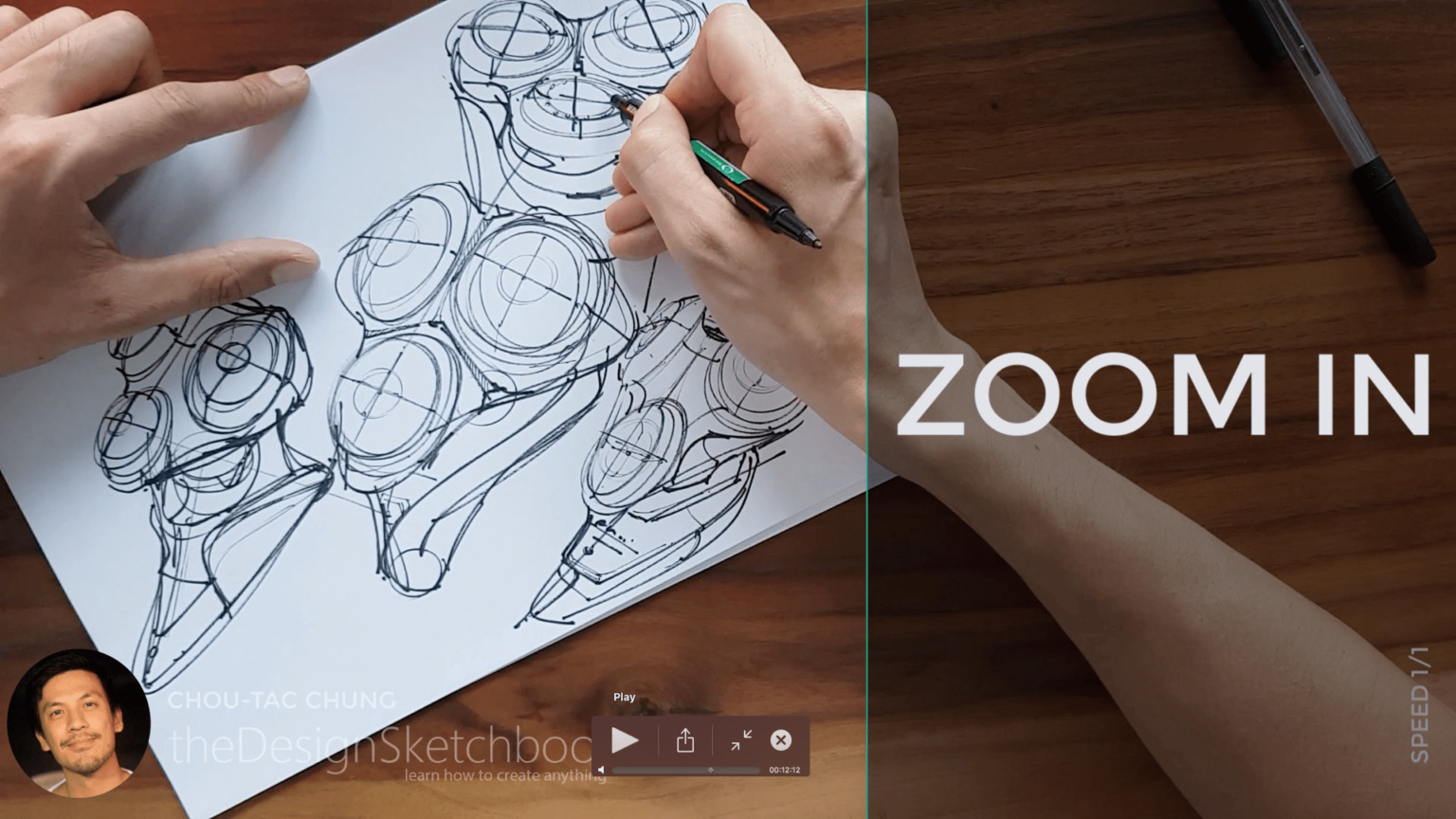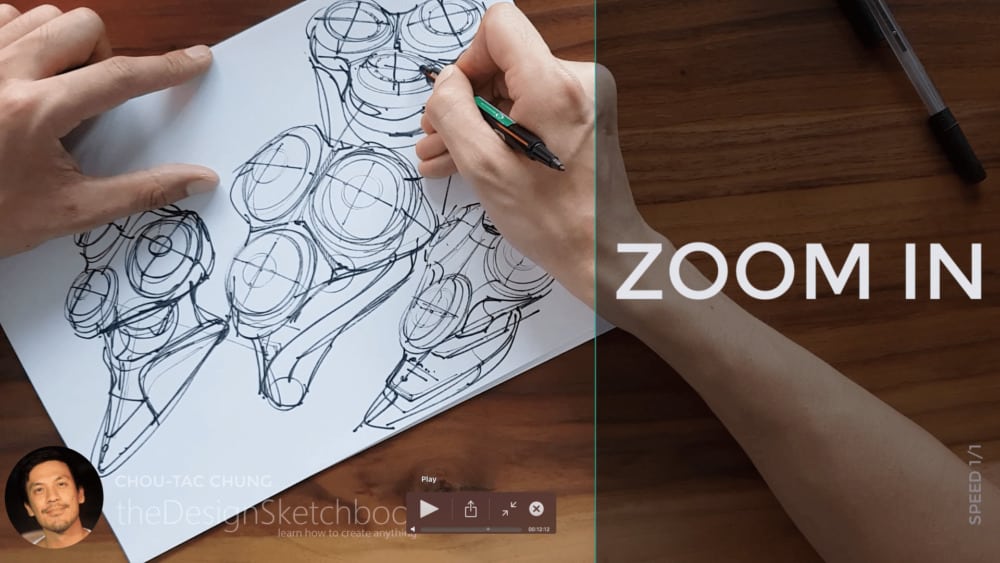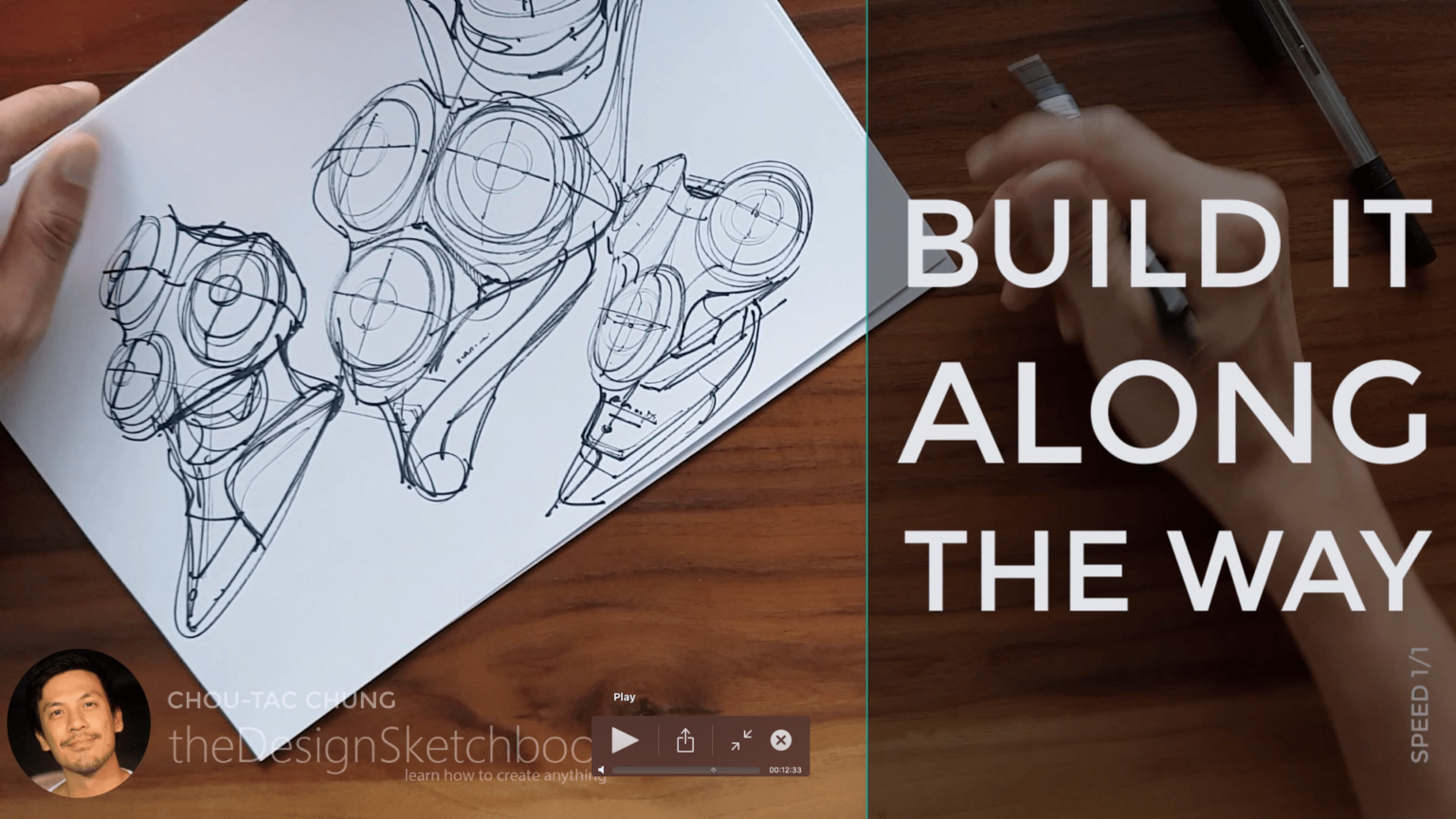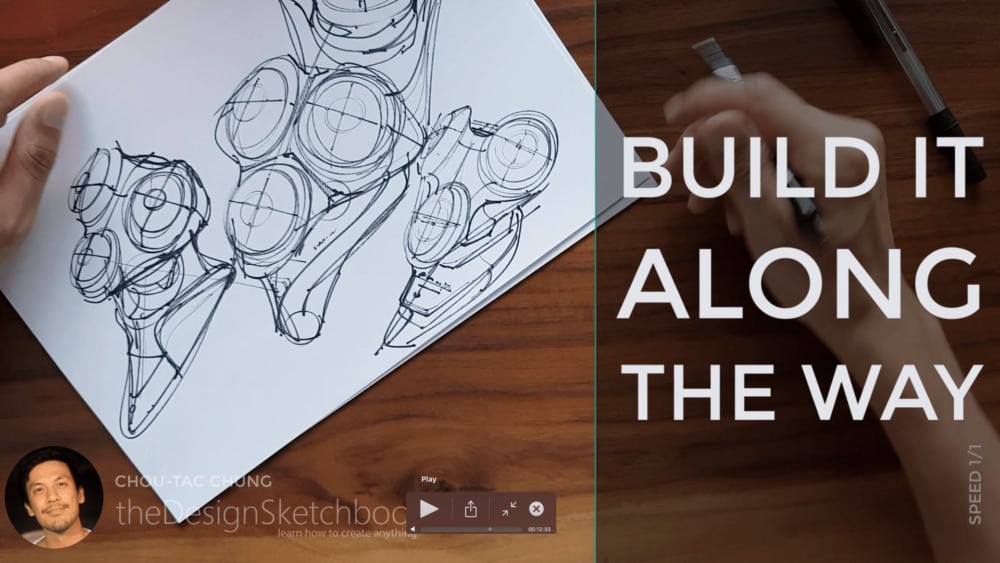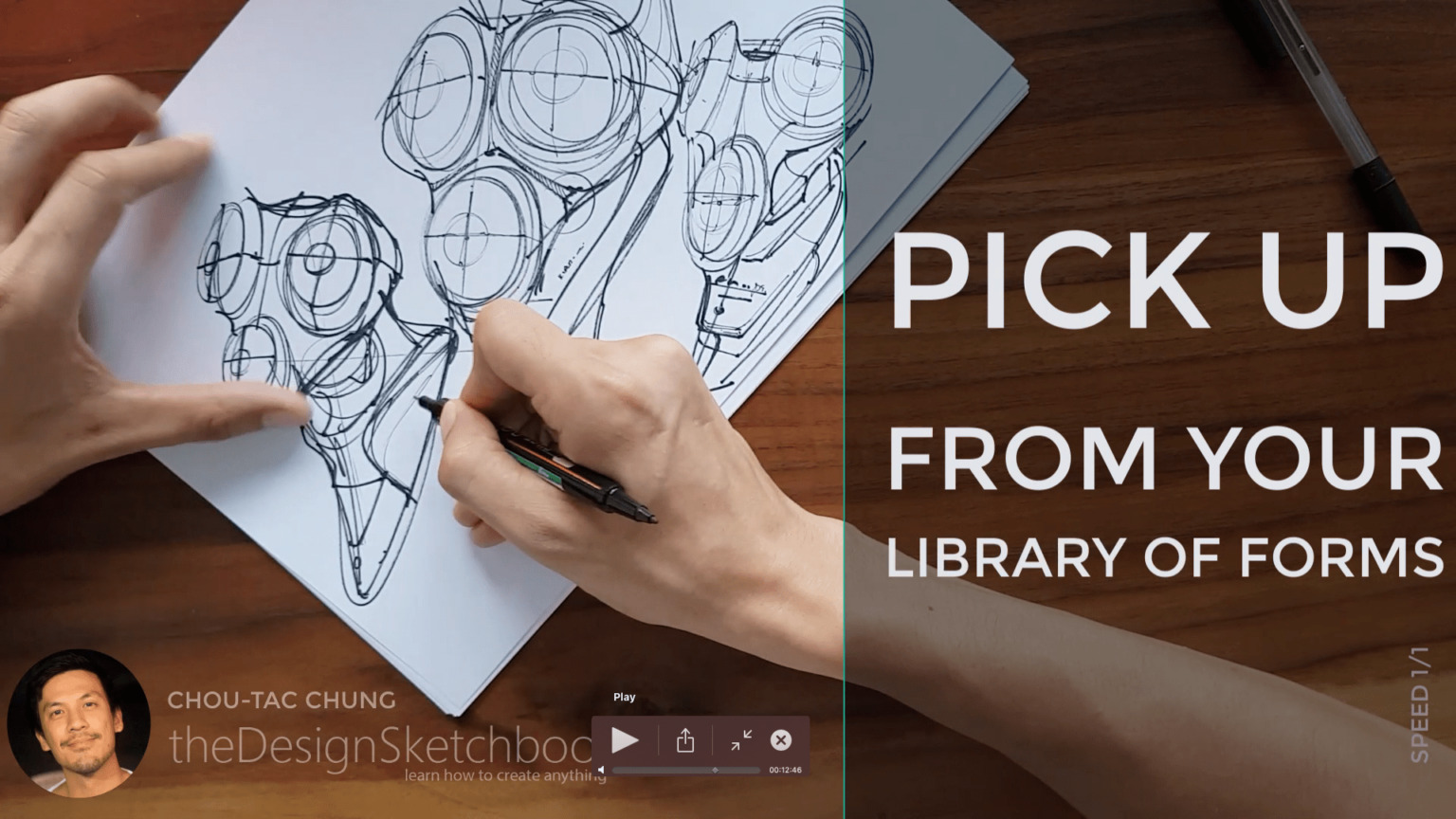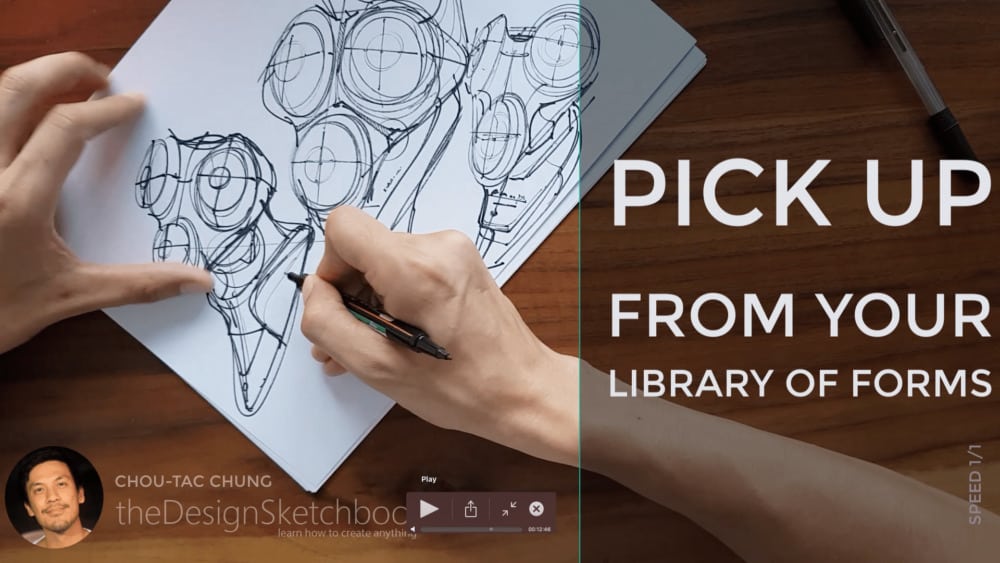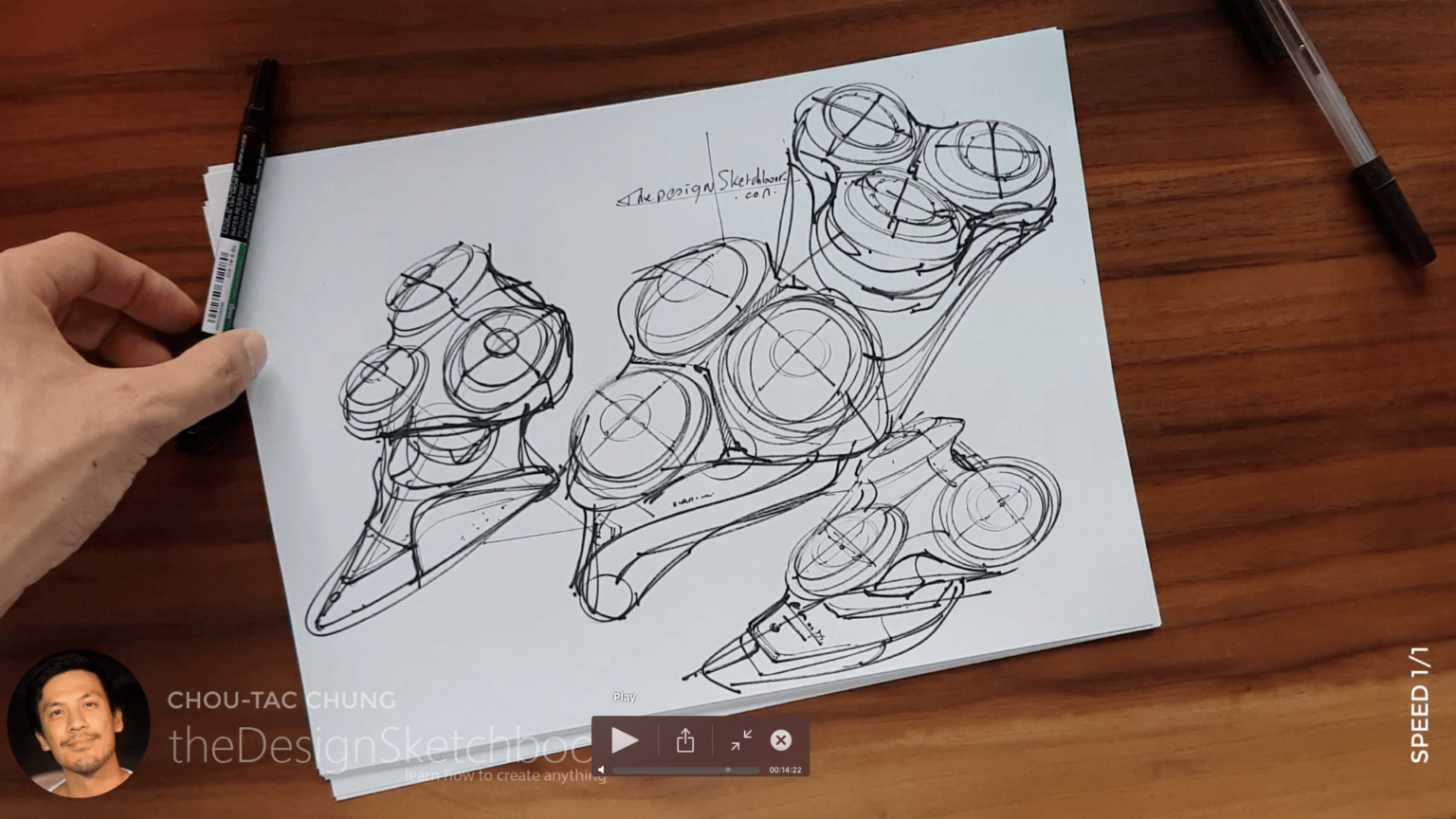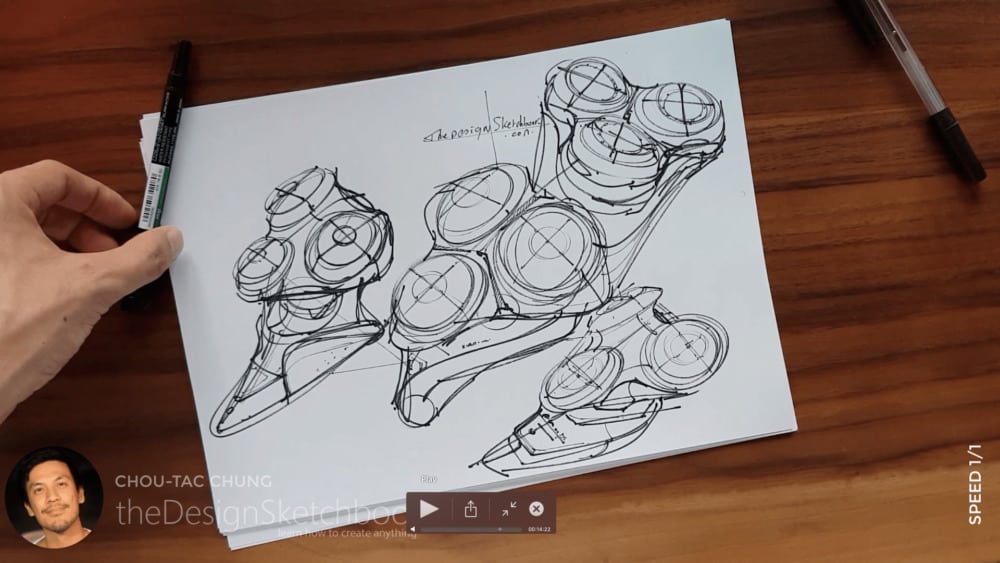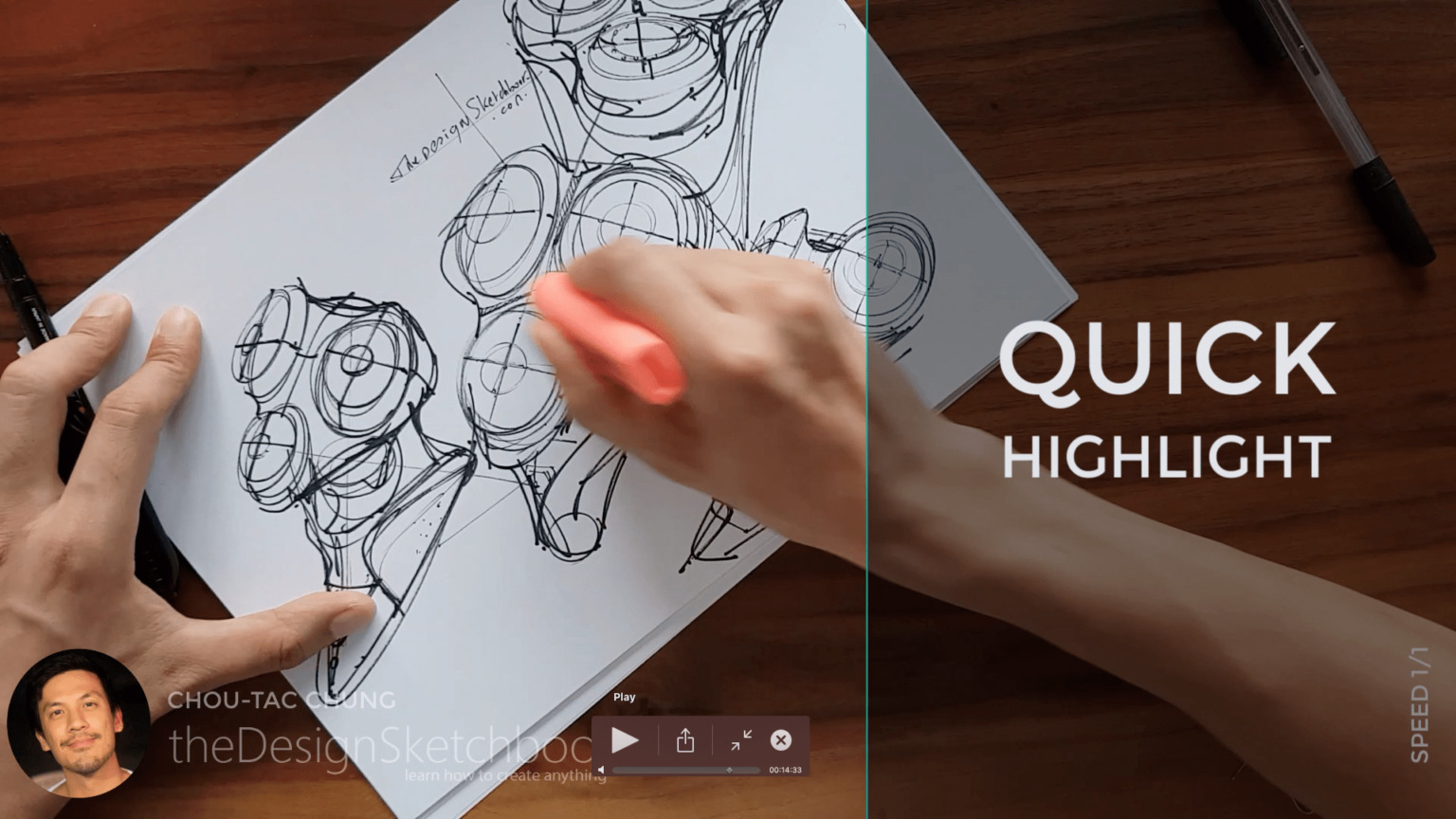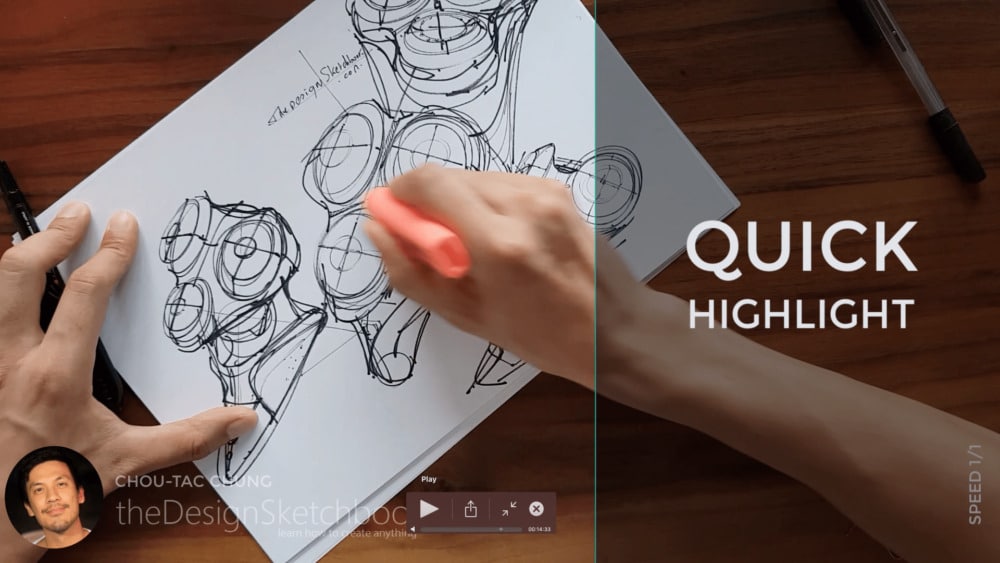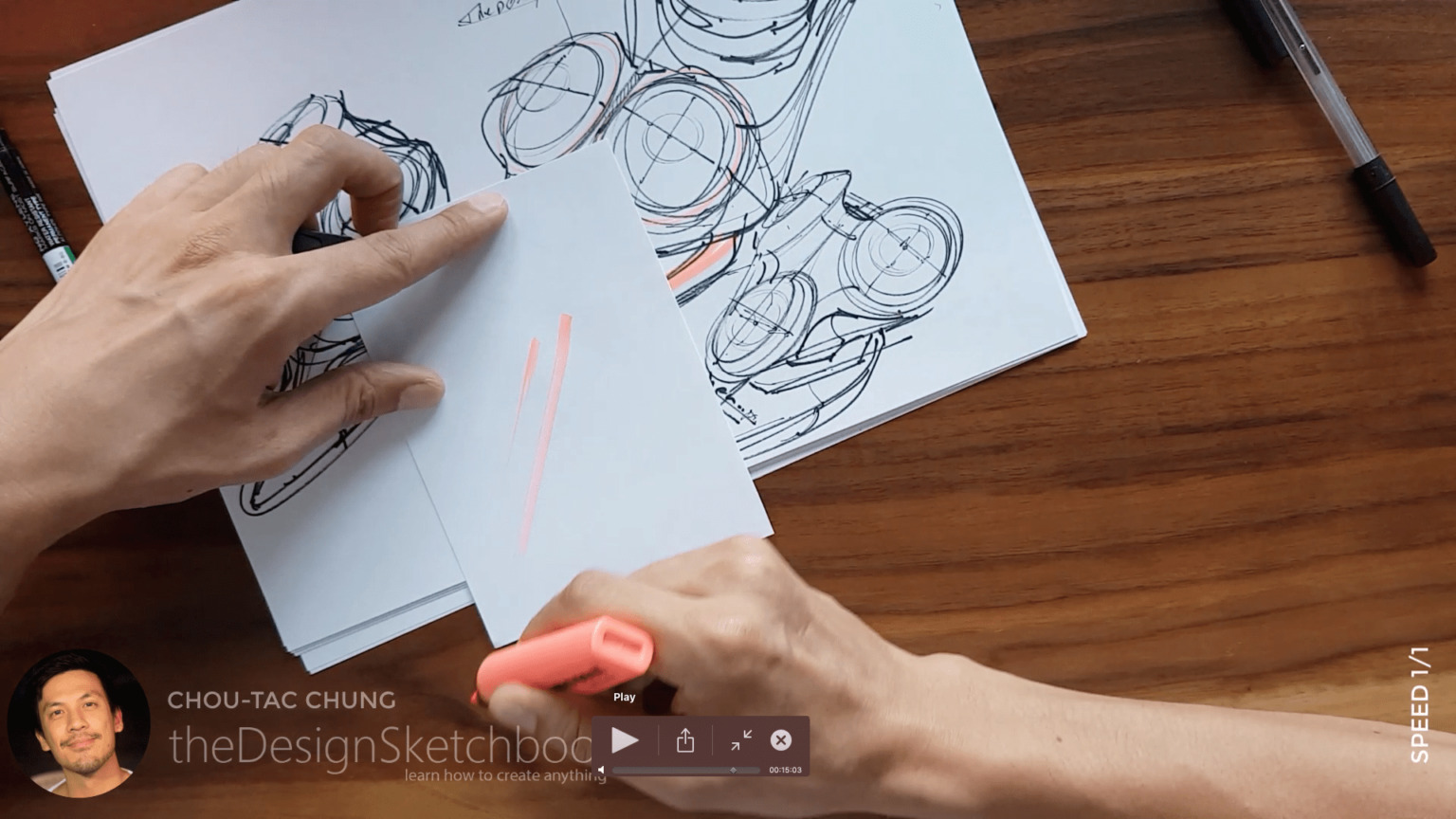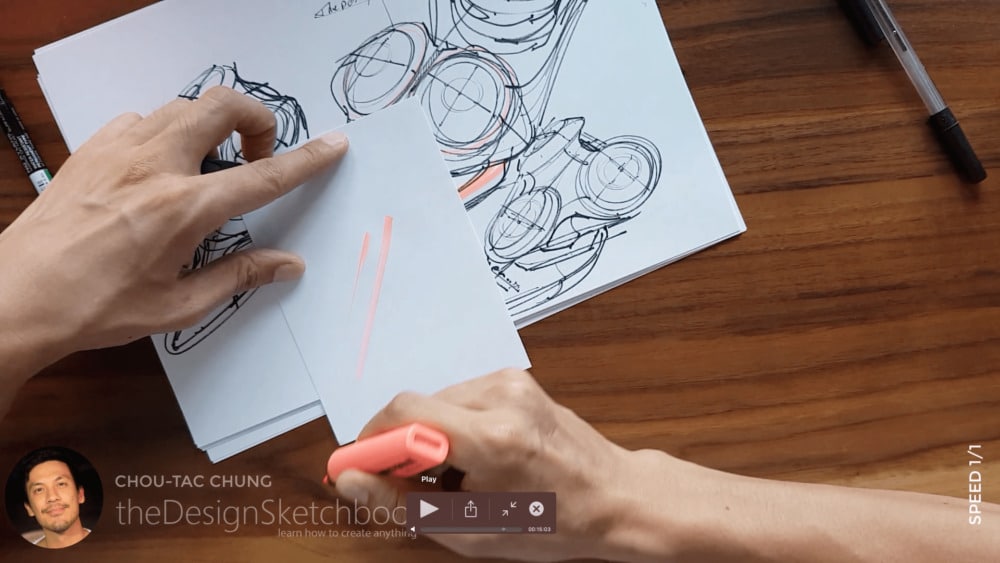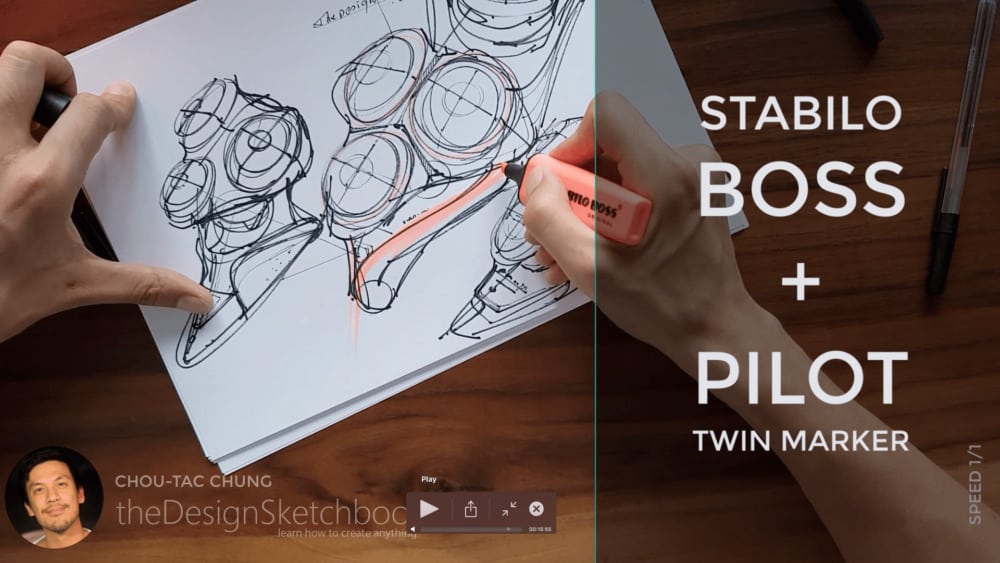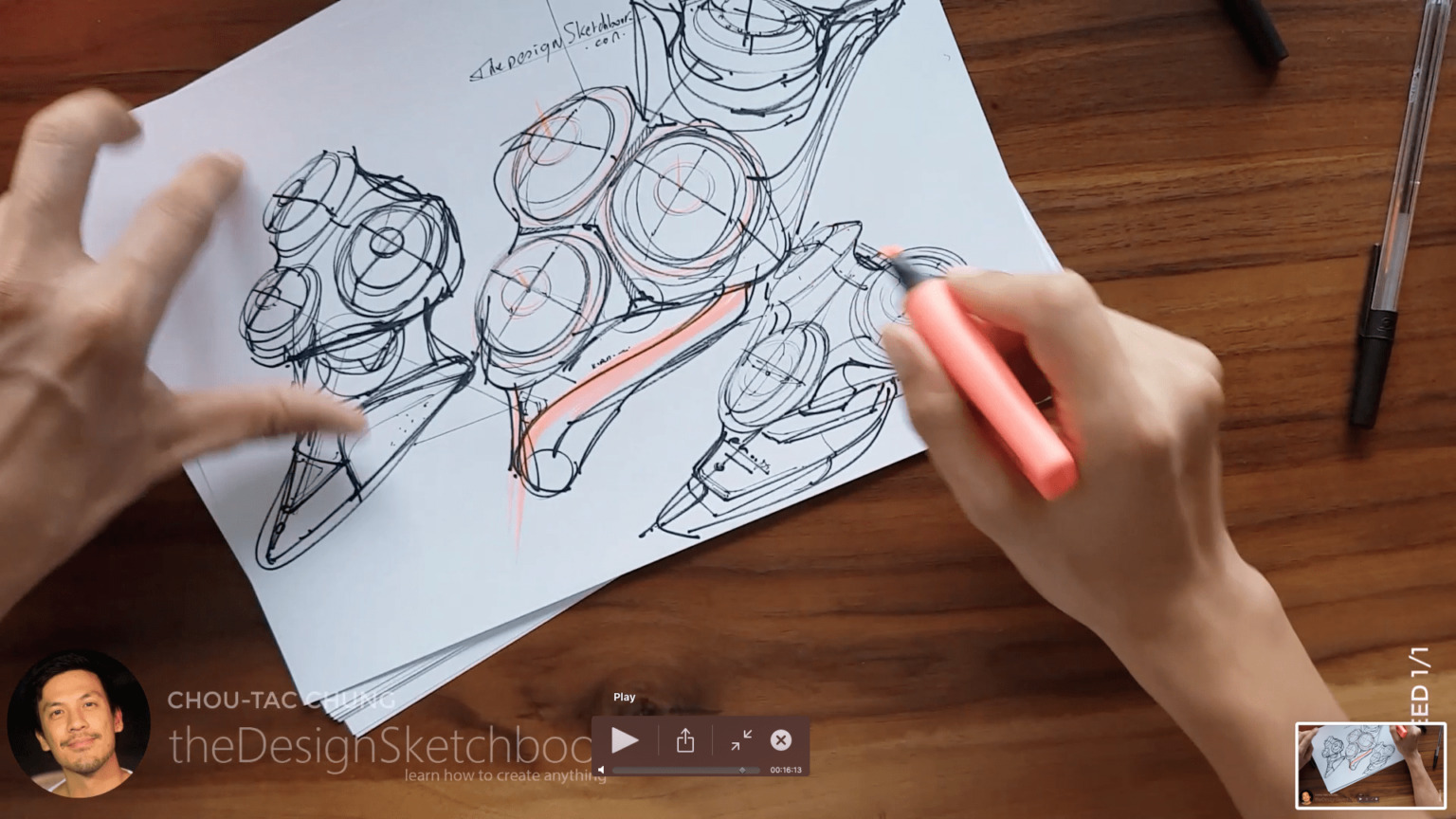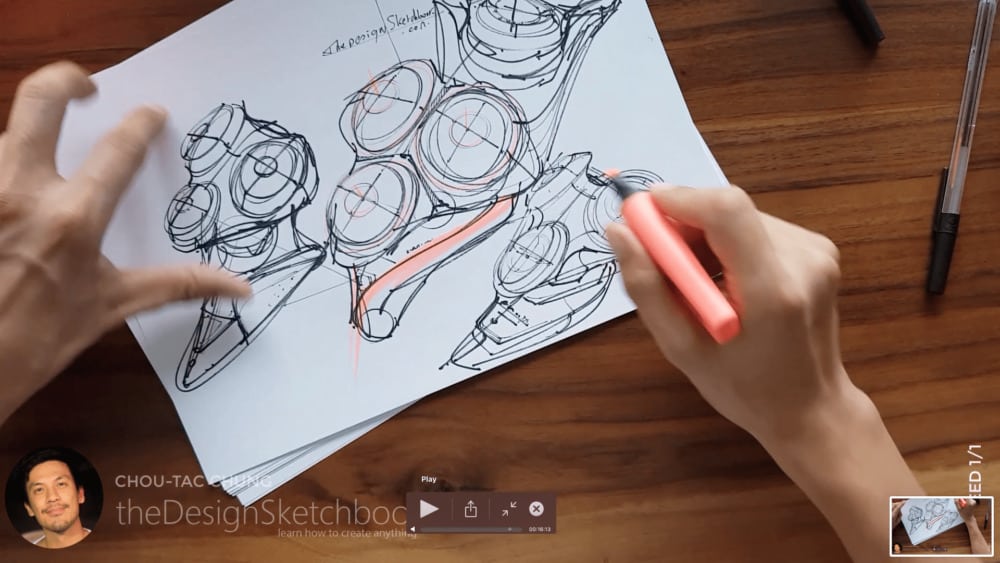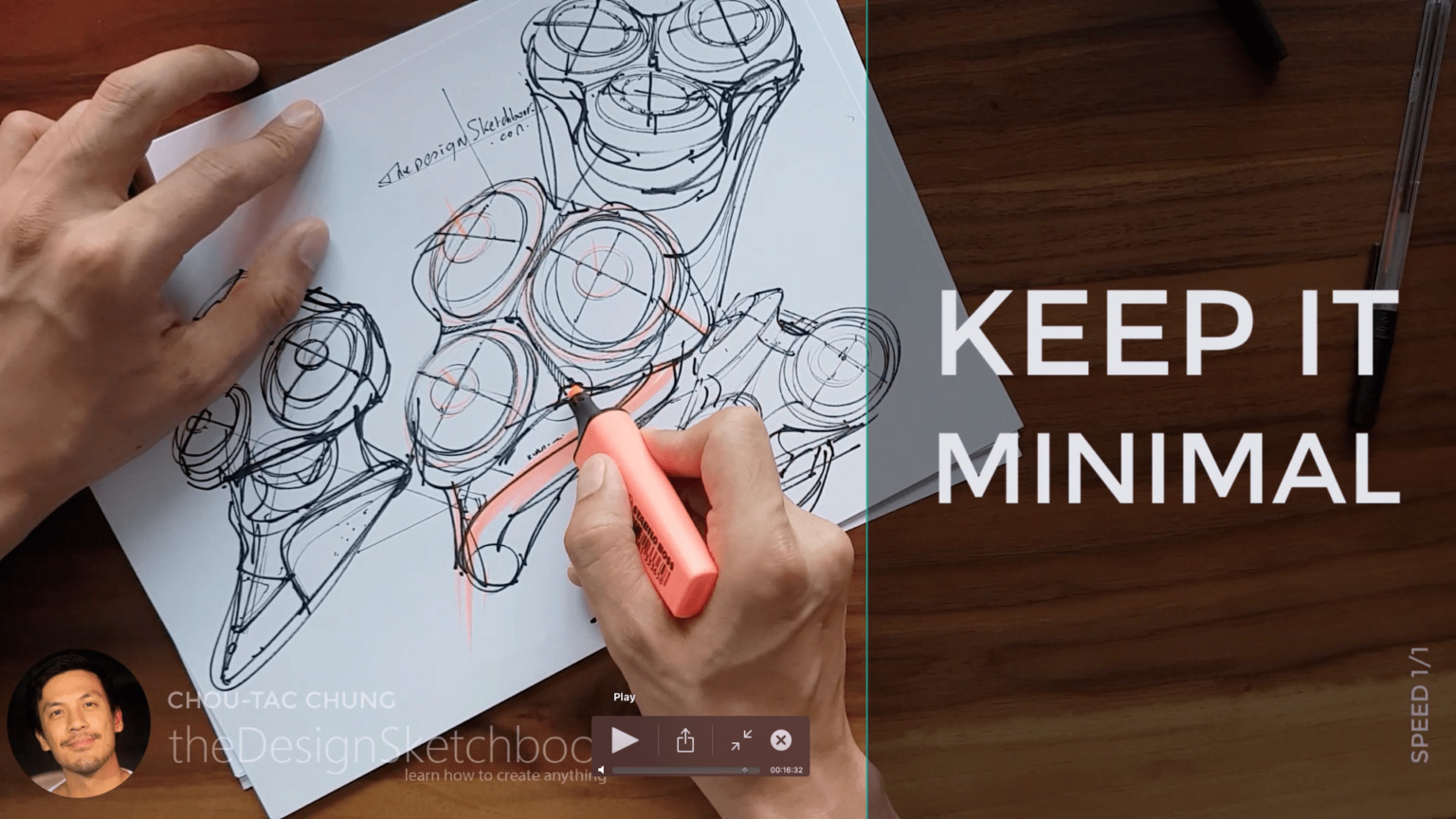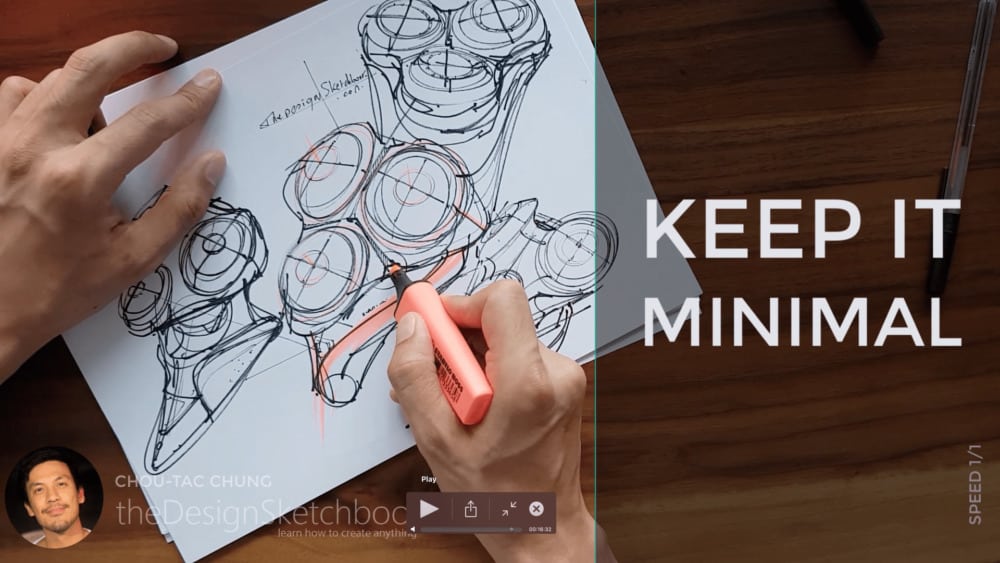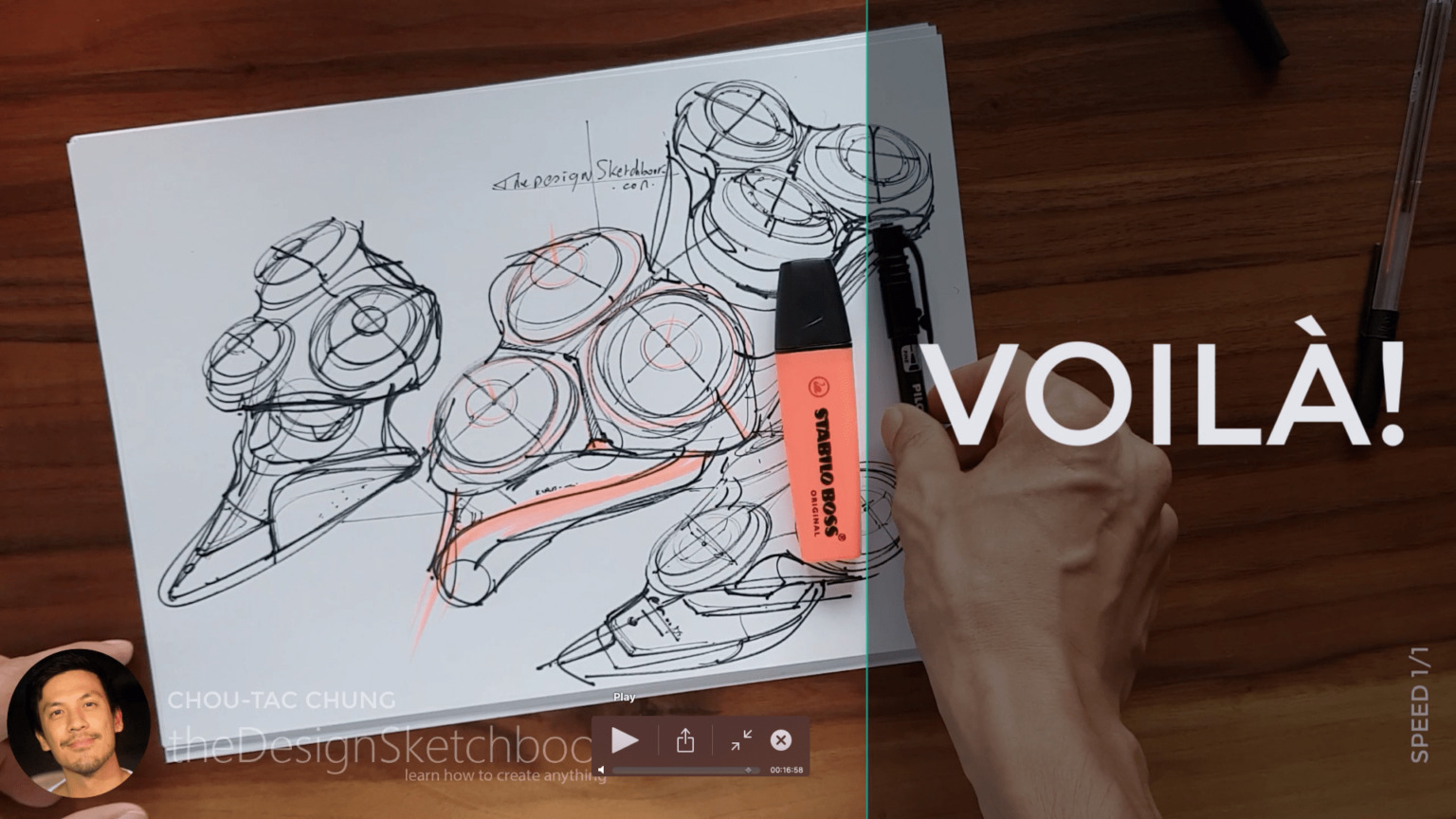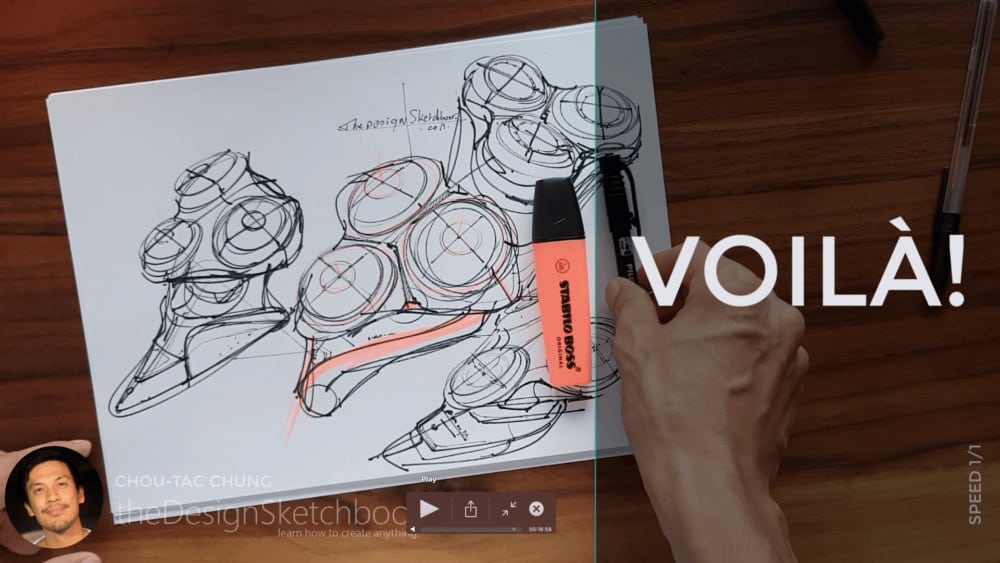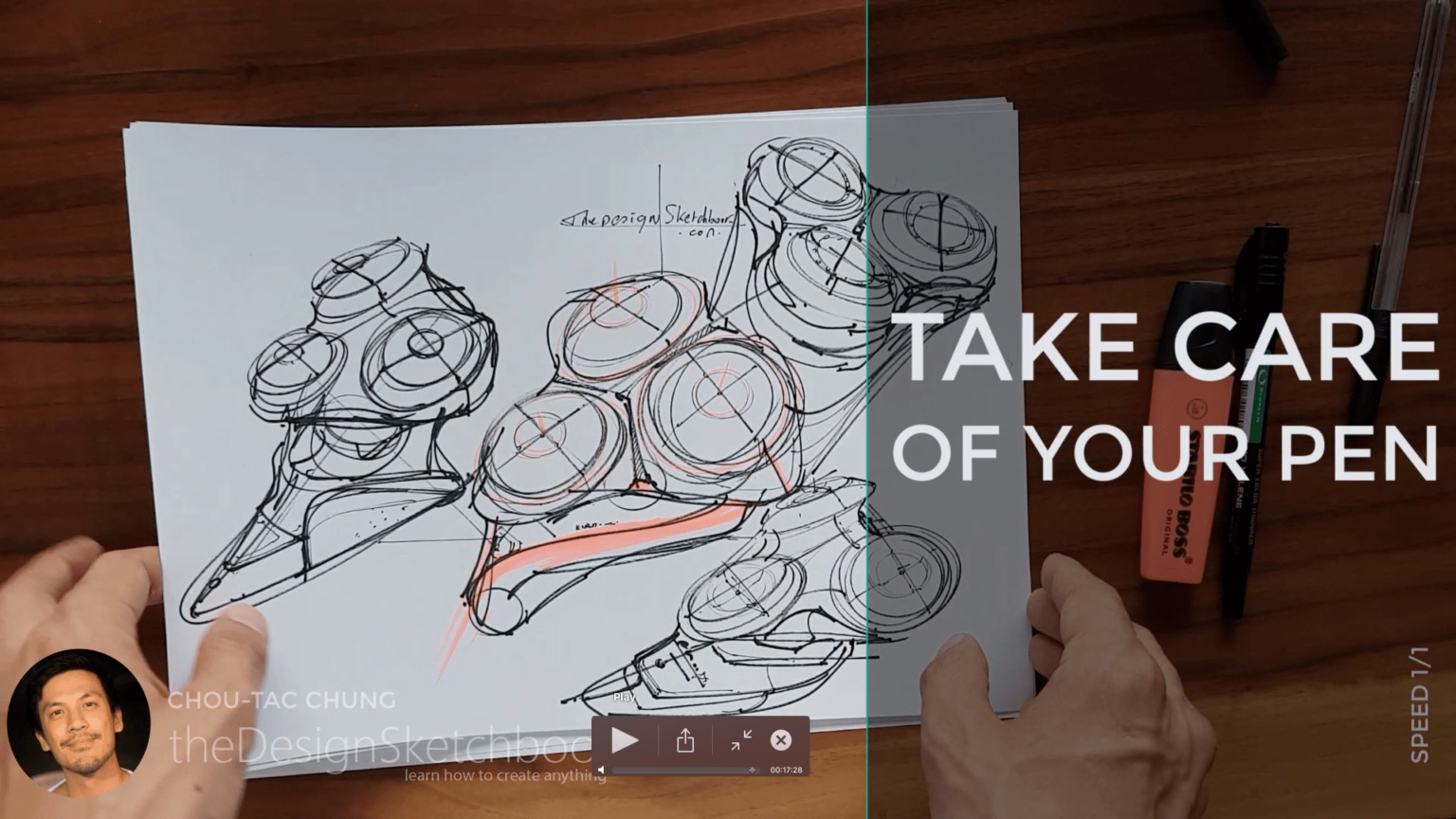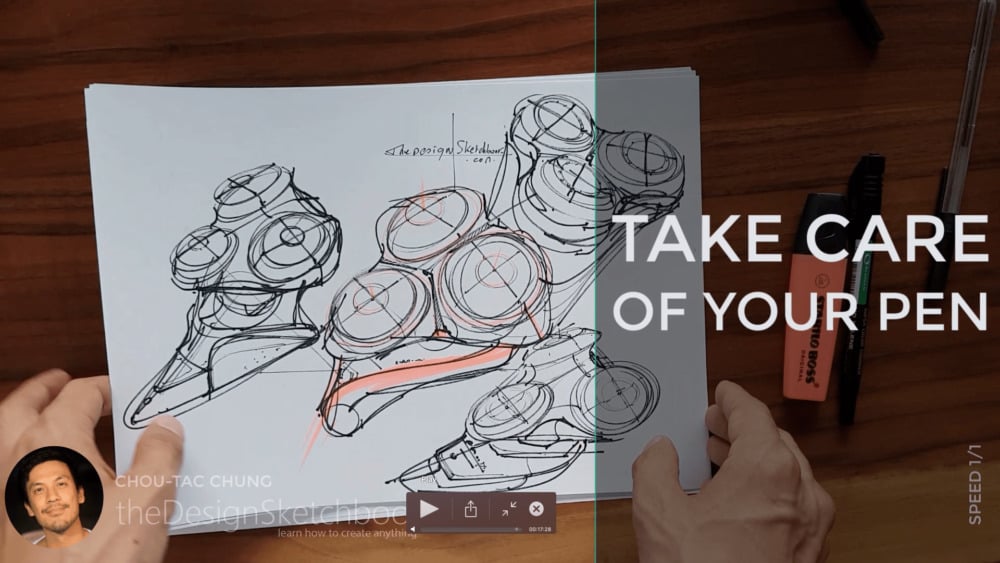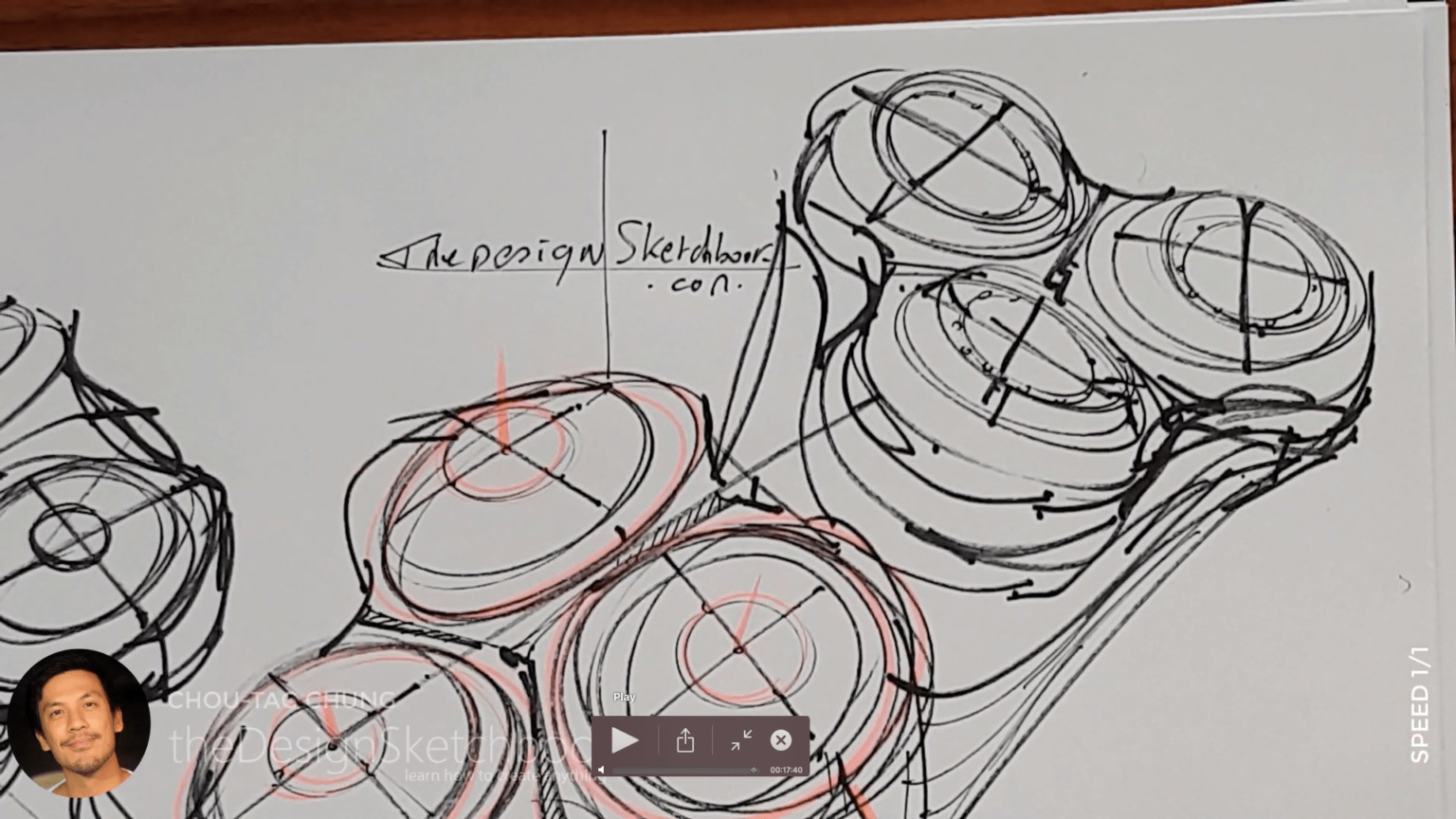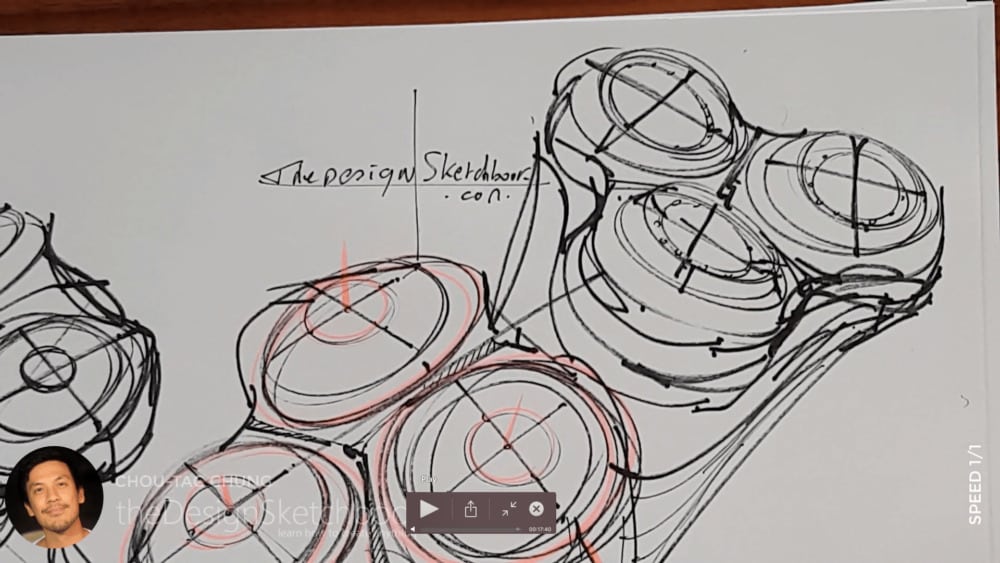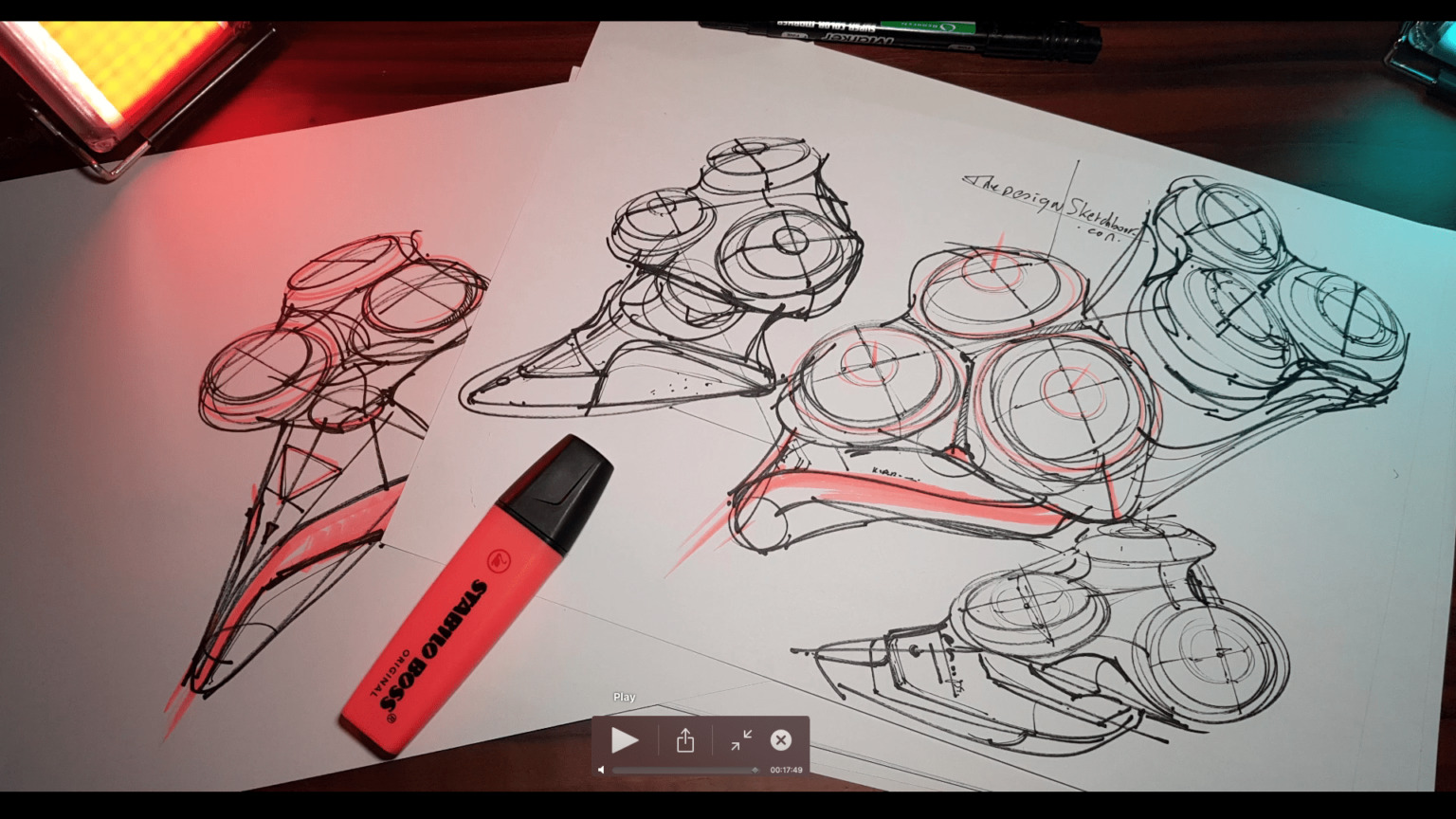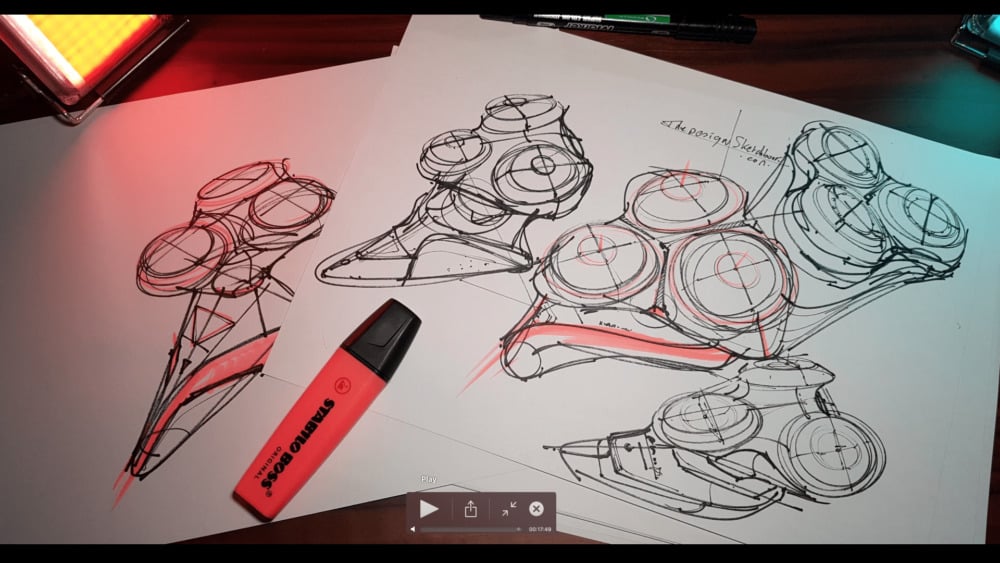 ---
It is not going to be so much like a tutorial but more like sharing some ideas all along the sketch that I made in about like 17 minutes, I think.
And I got to keep it in speed one so you can see like the whole process with a real speed.
Like no time lapse, something which is too fast.
It is for you guys to realize that somehow like it takes time to sketch. But it also get… you can get some super nice sketches very fast when you have the techniques.
And I would like to share with you some ideas all along the way like more like…
Like a podcast well I would say. Like more like on a freeway. Something new and let's see if you feel like it.
And if you find it helpful so feel free to let me know in the comments below. So it's pretty cool to try something new more like a discussion would say.
So today I'm going to draw some electric shavers. And as you would see in the beginning, I just take some references to inspire my brain with a few electric shavers.
I saw some nice ones from Phillips – I actually kind of like to see them when I go to the shop, to the store.
I already have mine but I quite like to just go there and check on some different shaver. Just to look at the shape as they are because it's very interesting to see some organic shapes they do have.
It's a mix of like something mechanical you can see from the shaver side, something very precise something which the pieces are refining.
And when you see the handle is very organic like when you're going to imagine when you're going to hold it in your hand – to see that feeling.
And it reminds me of some insect feeling. That you could see like two big eyes from this shaver.
And is really important whenever you draw to have that feeling, a certain picture of reference.
And something that you can feel and feel along the way, but you have to do it purposely, like when you're looking for some library of pictures.
Take some time to observe them and try to get that feeling. And whenever you're going to feel when you see a picture of them insect for example.
When you're going to do the shaver, if you think of this insect, like the curves are going to have that movement, that organic feel of the body of these insects for example.
It's really unconscious.
This is why like a designer when he draws, they could have their own personal interpretation because of the way that.
We feel it the way that you will feel it may be different. But in the end, we will still feel like insects filming and they will have some different interpretations but still be very personal. And this is why creativity is so fascinating.
Like we are all speaking the same language but we have a different affinity with that.
So I liked when I Joe some organic shake for some focus type of product is that you just need to you have to let it go.
Don't look I say a lot about that in the blog that don't look for perfection in that way you have to let it flow.
And the more you will know your perspective and you will have studied them in a neat way – the more accurate and easier will get your organic way of drawing – like the way the flow is going to go.
It's not hundred percent perfect, but it feels good.
It's because perspective will be your intuitive guidelines. Once again, you can go through the designer starter kit that you can download.
And the guy just give me your email and I will send it to you. And I will send you some videos for you to practice as well.
Take some time to learn the basics. And that part of the organic flow of drawing is so fun after that.
So once again, you know, you got to go to learn the rules, and then you can break them and that's one of the situations.
So you can see like some ellipses that I have drawn are not perfect. I just like doodling it. Just like sketching fast.
But it's fine because the overall is still ok.
Can you see the three cycles I have just done? Some circle ellipses. just ready to throw it the first one, the second one, the third one. With a certain rhythm.
So remember to draw the contour lines because they really help you to give more structure to your sketch. As you can see on the three main on the head, the three main circles.
Like this one that has some contour lines to help to understand the perspective very fast. And it helps you also in your mind to build up the general shape of it
It helps you to give the inclination of…
the three part of this three parts of the head.
So sketching is actually something that even if at the end it may look complicated or complex.
It is just thinking like a LEGO.
You're just assembling many simple things and sketching is about that. It's all about super simple rules of geometry.
And when you know them just need to assemble them all together.
So this is why when you learn step by step, you're getting progress. And then you're going to practice you're able to take one technique – you assemble with another one, and then you're creating your own sketch.
So that's really important and essential to learn from the basics. And then only to practice.
Because if you keep practicing, trying to get always some shortcut without learning the basics, it will take many many years for low or no results.
There is a French expression that says you're trying to hit the water, this is a sword.
It is actually not going to give any results.
But if you learn the strategy of sketching, then you will be able to have exponential progress.
There is a principle.
When people ask me if it's hard to draw to learn how to draw to sketch for a designer, on the one on first hand, I want to say no.
Because if you have the ability to learn the techniques step by step. And if you have the commitment to go through, then you will make it.
And yeah on the second hand is that it doesn't matter if it's about sketching, singing or playing sports or anything else.
It is that, it's not about something is hard or not. It is about how much you want to make it happen. Because when you're passionate about something, doesn't matter if it's hard because you will keep going.
You will do it anyway.
You will meet an obstacle and you will go through that because you will just love it.
So it's not about how hard is something. It is how much you want it.
Okay? So make sure that you make that difference. When you feel like you got an obstacle, don't think of it as a problem. Just take it as a challenge and you will solve it.
Take it as a game.
And if you fail at something just try again.
Like when you play a game and you lose. Okay, you learned something this one was not the correct way then try again. And once again if you have learned the basics of sketching you will find the answers.
And this is really a fun way – a really fun game.
Because whenever like you will progress all the things that were looking hard, actually get easier because you would have assimilated them.
But it is hard. Now it will be easy and then you will be able to get targets something in the higher level and you will keep progressing and whenever like you will learn some things getting.
What I love about it is you will keep them for life. It's really like a magic skill that's why I really like to see the game because you got these skills for life after that.
And yeah, it's really like a lifelong journey.
Like a good discovery.
So when I sketch the electric shaver, I go through the general shape.
The general shape is the one that takes the fastest way in the fastest time. And then I like to take my time when I draw the details.
As you can see, I slow down the rhythm. The movement gets more, tinier and more precise. And I take my time to think.
As you can see from the marker I got to use the 51st. And then I'm using the tiny side of the marker. This is why I like the pilot Twin Marker.
You can play both fitness. And the pilot marker gives a good sensation of fluidity, of energy in your lines.
This is very cool for a product design, especially for organic shapes because it feels more dynamic and more appealing.
And it helps you also to get more inspired to draw that way. You don't want to get the static thing.
The problem is the products that are really cool to give you a dynamic shape.
Feels like in movement.
So I invite you to try to draw some products with organic shapes.
An electric shaver and try to get some different sizes. You can zoom in like on the top right on some areas if you want to.
So when I draw this shaver when I started I don't really know what I'm going to draw. I don't have the hundred percent pictures – I just built it along the way, like along the inspiration come.
This is why is important to draw with your feelings. And all these shapes are going to be acquired and for the next sketches are something that I can pick up from my library of course.
Trying to get some bit of texture here.
So here is for some backgrounds to link the sketches all together.
We've just some simple lines,
Now we sign The design sketchbook!
So if you watch this video on YouTube, or elsewhere on Facebook, you can actually check the blog, the design sketchbook where you could get hundreds of articles about designs, motivation, tutorials, and so on.
And if you have any questions, feel free to ask me in the comments or send me an email, I would be very happy to look at this and if I can help you, I'll be very happy to.
Because I tried to share the things that I wish I wish to known when I was to them myself.
So thinking about the next move. All right, so it's pretty cool here.
How about adding a hint of colors?
How about highlighting this area in the center? So we'll just do a quick highlight. We go and the nib of the Stabilo (Boss) is very interesting because you can play with the different inclinations and try to give it a great dynamic sensation at the end of the stroke on the bottom.
Neon Lights I would say you can take some spare paper and try some different speeds. Try to incline in a different way try to lift at the end of the stroke and so on.
Your friend effect
Some of them are wider here.
Some are a bit wide and narrow and thin at the end. You can fade the effect.
Keep exploring
The pilot twin marker, and the Stabilo I feel like do a good match
I did a bit of the Y axis and if you have seen the video about the y axis if you haven't seen it yet I invite you to go have a look there is going to help you to do to draw in 3 dimensions.
And better you visualize it that way to
I try to keep it minimal. Just some hints of colors.
Here we go.
ET VOILA!
This is a sketch made with the Pilot Twin Marker
You can get also from Zeebra brand as well.
But I do have a preference for the pilot.
Just remember that when you finish drawing with that Pilot Twin Marker, always to put the cap back because if you let it overnight, you may have to buy a new one. So take care of your pen and your main tools.
So let's have a quick zoom on the sketch.
All right, so don't be perfect.
Learn your perspective neatly.
And carry on with some organic shape is super, super fun.
So I hope you enjoyed that video and the format of this podcast I would say and see you on the next one.
Cheers,
Chou-Tac