Today I show you a simple and powerful sketching technique
from product designers on How to draw transparent bottles easily.
It's a powerful technique to learn because you can use the same method to draw any product that is also the "Revolution".
(In other words, anything that the profile turns 360 degrees around a vertical axis. You may think of the pottery technique.)
In this video tutorial,
I show you how to draw a bottle (of any kind) with my digital tablet using Sketchbook Pro and its symmetry axis tools.
This technique is applicable to any bottle of your choice.
You can then have fun trying to draw your own designs of:
a baby bottle
a Soya sauce Kikkoman
a bottle of perfume,
a bottle of water
a wine bottle
a pill bottle
a Coca-Cola bottle
and so on…
---
How to draw a bottle easy
I use the drawing software Sketchbook Pro on my digital tablet.
To draw the bottles easily,
I activated the menu the tool: Vertical symmetry axis.
Sketchbook Pro is available for free!
And has an amazing quality of lines.
I used the pencil tool for this drawing tutorial.
---
STEP 2| Choose your viewpoint
We tend to draw things from how we see them in real life.
However, when you want to draw something for a presentation, always ask yourself from which viewpoint you want to show it to your audience.

---
STEP 3| Choose a front viewpoint for client presentation boards
Multiply the water bottle design proposals to show your project side by side to your client. It helps to make a selection with clarity.
---
STEP 4| Sketch with strategy
The video explains the 3 sketching approaches of "How to draw a bottle".
You will see that they are actually complementary and allow you to apply them on perfumes or sauce bottles.
---
STEP 5| Personalize your bottles
Add details and specific parts to the bottles.
For example the caps, the tag, the logo.
Feel free to experiment with various profiles.
On top of it, add some light reflection on the plastic.
The tip here is to use the eraser tool to clear these areas.
---
DRAWING EXERCISE OF THE DAY:
Observe all the things that use a "Revolution" similar to pottery.
Take note of them and try to draw them on Sketchbook Pro.
You can start with:
a glass or cup
a can
a tube of medicine
a missile
a small chair for kids
a flowerpot
a baseball bat
a Pantone Tria marker
an ice cream cone
…
---
Remember the revolution of Pottery – A bottle is made of an infinite number of ellipses.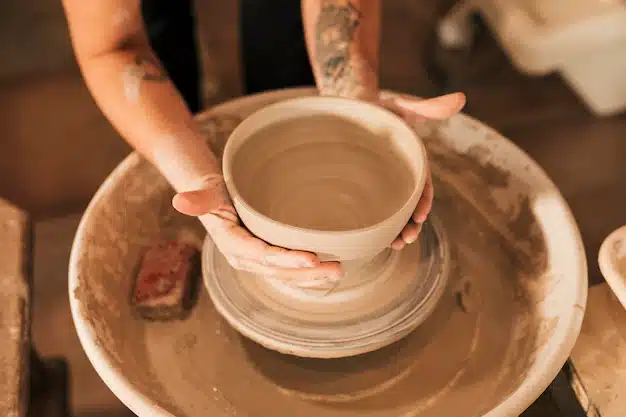 ---
BONUS:
It's so fun to see how the form of the bottle can reflect the personality and the body shape of the buyer.

For a sports brand of the bottle such as Gatorade, the bottle has a sporty design with a narrow waist.
A bottle of soda is more massive, cheap tasty, and big….
Hope it helps and see you for the next tutorial!
And feel free to leave a comment or question.
---
To get your basics in Design Sketching, I recommend you guys to download it first.
The Designer Starter Kit exercises in 6 videos:
Once again, these videos are linked to the Designer Starter Kit.