Ready to be an artist?
Learn these 10 easy drawing ideas and tips for starting your sketchbook.
You will make sketching easier and more enjoyable daily. Hop onboard and start drawing now!
---
10 Easy Drawing Ideas and Tips to Start your Sketchbook!
If you wonder "How to start a sketchbook",
my friend Daniel shares his Top 10 drawing recommendations.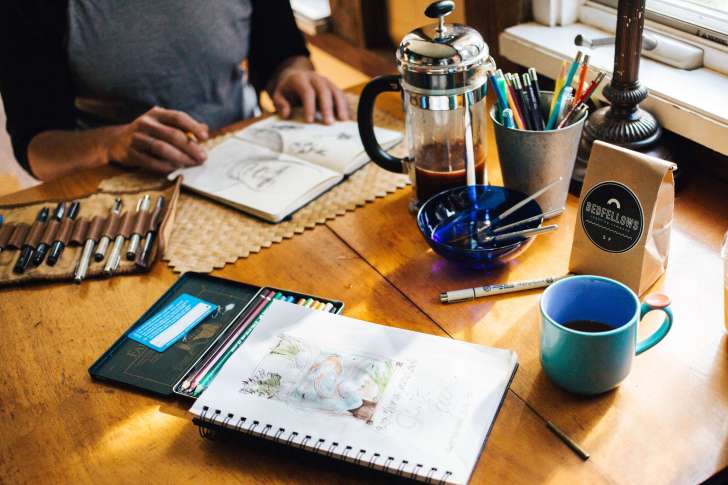 ---
TIP 1
Purchase a sketchbook to represent who you are personally
When looking to purchase a sketchbook that allows you to represent who you are personally, it's important to consider the type of paper used in the book as this will directly affect your artwork.
Different types of art supplies—such as paint, pens, pencils, and watercolor—will produce different results on different page materials.
Make sure to choose the best paper for your desired results.
The style or design of the book may also be important,
but it should take a backseat to the quality of the paper in order for you to get optimal results.
However, I like using cheap sketchbooks.
We can draw with less pressure, and less fear of failure and the price of the portfolio is not too high.
---
TIP 2
Choose a sketchbook that is easy to carry around with you
By carrying your sketchbook with you, it is easier to make note of ideas for future drawing sessions so you don't forget them.
Choosing the right size sketchbook is the most important part of this process because different artists prefer different sizes for their personal artwork.
For example, some artists carry pocket-sized sketchbooks similar to those found at Jofelo.com while her artists may find this too difficult because of how small it is. Whatever works for you personally.
---
TIP 3
Accept imperfection
When drawing in a sketchbook, you need to remember that not every
a single page is going to be as perfect as expected.
Sometimes it may be helpful to play around and test certain techniques out on paper. Enjoy the act of drawing and the process of creating art rather than worrying about what the result of the art process will create.
And avoid tearing pages out because the drawing idea that you think was done poorly today might be the drawing idea that you love in the future.
---
TIP 4
Draw every day
Constantly practicing every day will improve your artistic abilities because it
will help you discover what you like and don't like as an artist.
Practicing drawing every day will also improve your accuracy, your speed, your visual understanding, and your confidence as a designer or an artist.
---
Experimenting in your sketchbook is important to becoming a better artist. It
helps you grow and understand your full range of artistic abilities.
TIP 5

Try drawing new and unexpected materials, styles, and techniques that you have never tried before.
Make messes, make drawing mistakes, and add color or reduce color.
Use the paper in the sketchbook to discover what you like and what your certain style is.
---
TIP 6| Divide the page
Sometimes seeing a whole blank page can be overwhelming and may also
feel expansive.
To solve this, sometimes dividing the page can help you get started. Break down the page into smaller parts and then work trying to fill each smaller part to make a whole.
Post-it notes may help with this because filling a post-it note with art is easier to accomplish than filling a whole page of a sketchbook.
---
TIP 7 Get a head start
Try organizing your sketchbook pages in advance to actually draw on them.
Organize other pages and create ideas ahead of time.
Paint them in advance, draw random lines, or even let someone else near you draw in your sketchbook for more ideas. Noticing how the pages aren't perfect may take some of the pressure off to make mistakes when drawing.
---
TIP 8| Always carry your sketchbook
If you wonder what to draw or fill in your sketchbook, use the sketchbook you have for everything you do.
Whether it's drawing for observation, creating patterns, practicing doodles and techniques, sketching out concepts, or testing out new art materials, discover new things, and don't be afraid to change your drawing style.
Collect and attach things to your book (flowers, plants, tickets, cards, pictures, etc).
Use it for things you need in life, like grocery lists and flowcharts.
The best sketchbook is a part of your life every day.
---
TIP 9| Write in your sketchbook
Make notes about your drawings and keep notes in general, like calendars and to-do lists. Use the book as a diary and write down things that inspire you.
Make lists of artists you love, of techniques you want to practice, ideas obtained from social media, Pinterest, and the Internet in general.
---
TIP 10| Keep track of dates
Writing the date on every page of your sketchbook will help you see
your progress over time.
Seeing your progress over time can help you become more confident as an artist,
and confidence will help you become a better artist in general.
Overall, keep your sketchbook with you and make it a personal part of your life.
Become connected to it, as you would a friend or a family member.
Your sketchbook should be a reflection of you personally.
Don't focus too much on creating great masterpieces on every page but remember to experiment and trust the process of learning and making mistakes.
Be patient and let yourself be inspired by these mistakes!
---
Next article about the artist's drawing journey, I invite you to discover a TIP I learned from my friend Roy Pallas: "Don't focus on the end result, but your drawing journey!" – Roy Pallas
---