How to improve my concept art?
My goal is to produce concept art engines that are more believable and realistic.
To achieve this, I decided to learn more about the different parts of machines and how they work together.
This way, I can use them as inspiration and reference for my own concept art designs.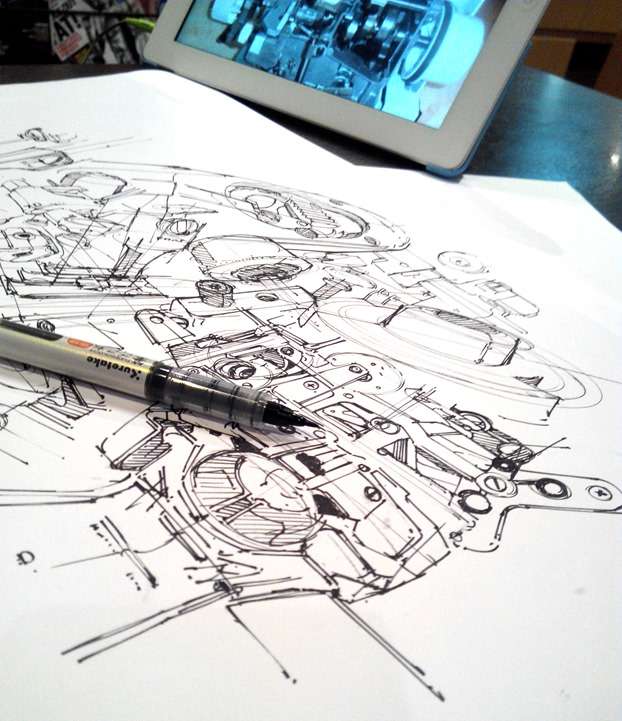 To increase my creativity while I sketch Concept art engine, I feed my memory of forms. It's good sometimes to select my own inspirational pictures. E.g.: going to a Product design expo, art museum, getting the art books of your favorite movies… or Google image".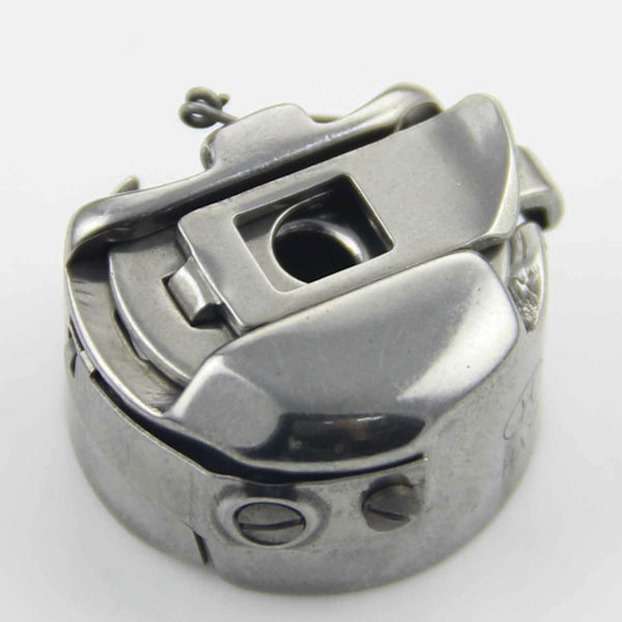 When I was a kid, my mom had a sewing machine at home.
I remember playing with that above bobbin case that I already felt modern and elegant.
I guess that's what attract me today to draw it.
It was so small yet composed of many rounded mechanical pieces, some more a bobbin could perfectly fit in.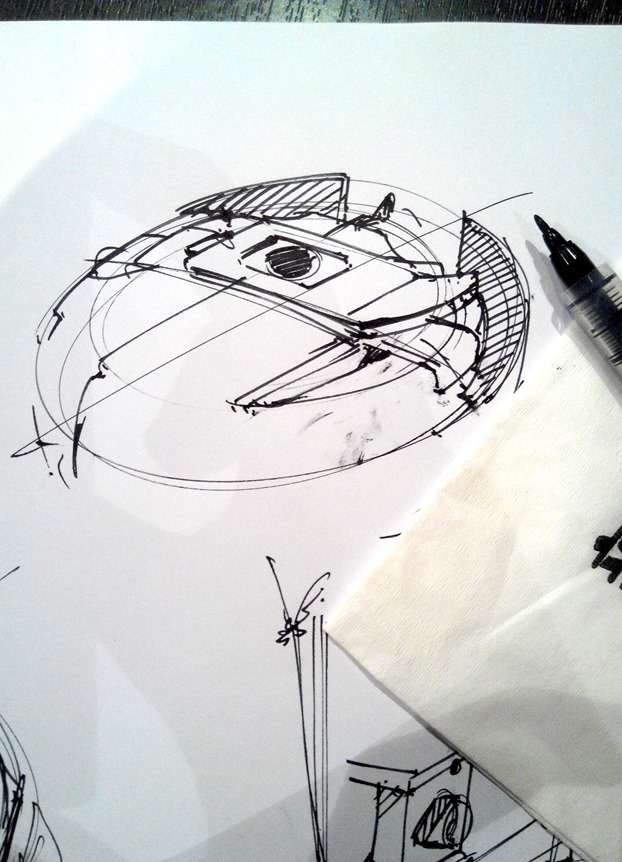 Ok, it looks complicated.
How to start ?
By identifying the main shape: a cylinder.
I trace 2 ellipses for the above surface skipping the bottom one.
Only the upper surface interests me.
Then the game is about detailing respecting some basic rules of perspective.
I will explain more about it in further articles.
This bobbin looks already like a spaceship.
Note that the bobbin is symmetrical.
That's a major information you need to identify before sketching anything.
The sewing head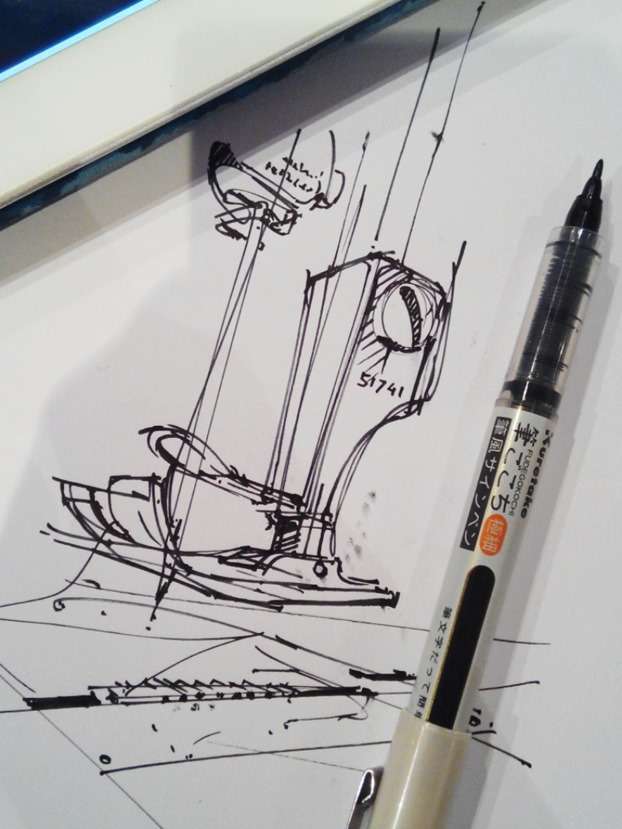 I like this shape. It reminds me of a walking/jumping robotic foot.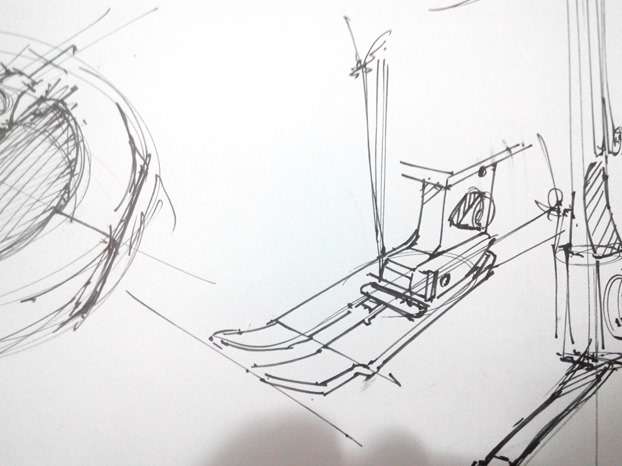 It's quite interesting to draw some in multiple views.
Tonight, let's explore the tough part of the machine!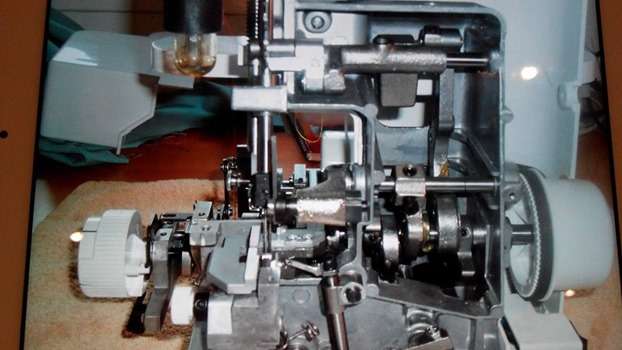 I have chosen this picture for its complexity.
I won't draw everything as it is (I guess I would go crazy :)) but extract the shapes that interest me.
Actually, after a couple of hours of seeing it, it looks less complicated to me.
I guess my brain has already gotten familiar with certain shapes.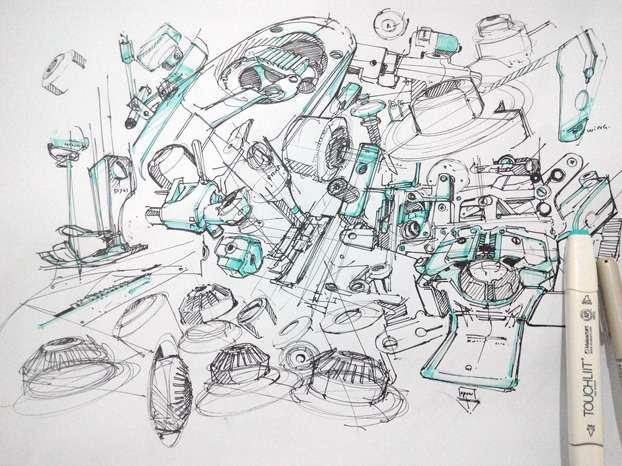 It's a big mess. But it's ok.
It's a combination of doodles for me to train.
It took me about 3 hours. It's definitely too long because I wanted to sketch as many shapes as possible.
Next time, I will draw with an even looser hand to sketch faster and explore more.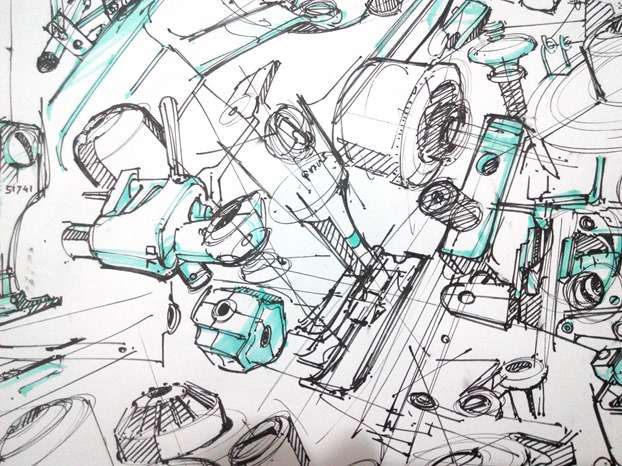 As soon as your brain has memorized the "logic" of a shape and mechanism, you should be able later to redraw it neater.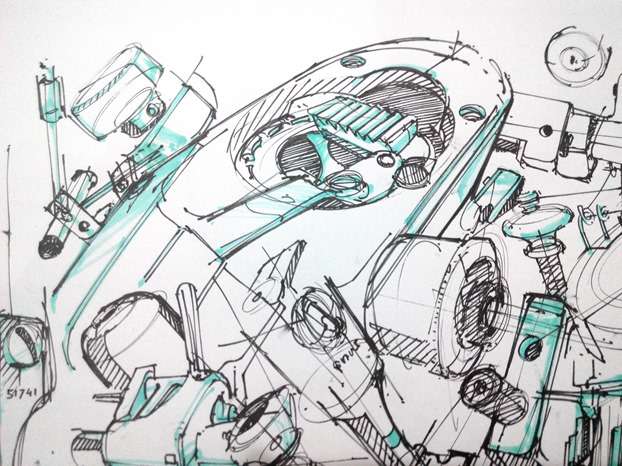 Have you noticed that most of the shapes use ellipses?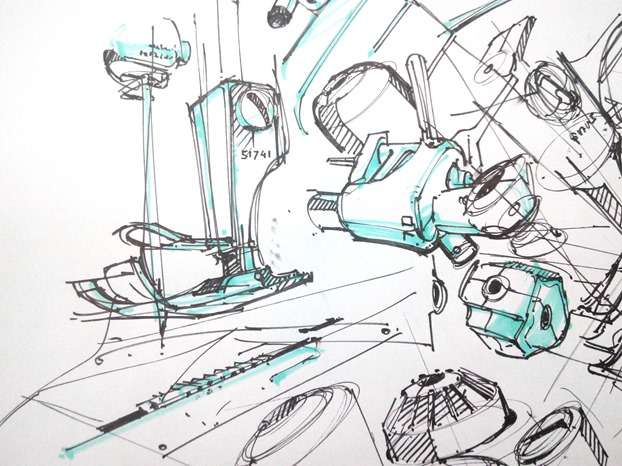 Because I draw metal pieces, I feel suitable to use a cold color marker.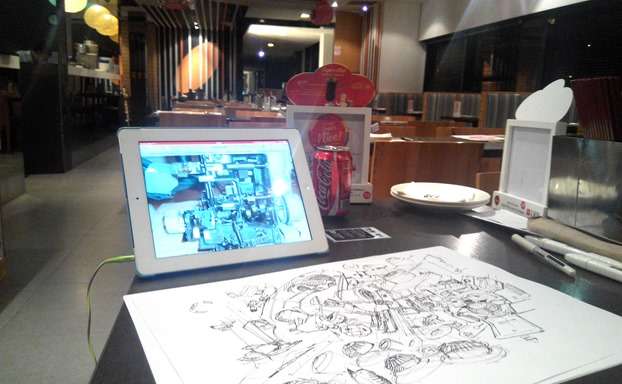 The cafe closed at 2am and I was the last client. Time to go home, write this article, and go to sleep !